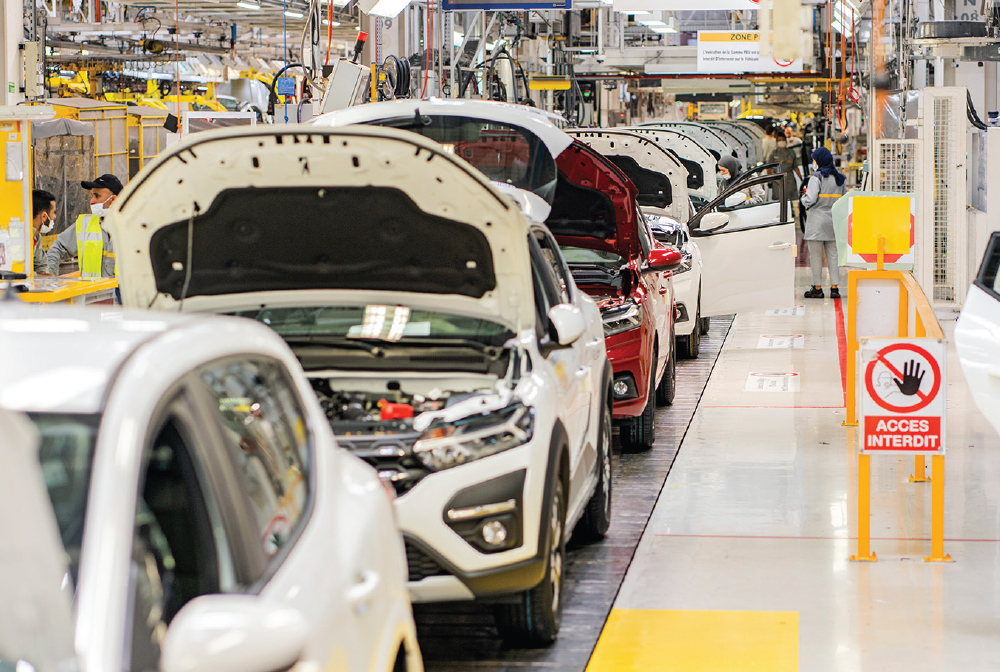 19 Jul

The largest exporter of cars into Europe
The country's expansive automotive sector is primed for an electric future
Morocco's biggest export sector is booming and it is now the leading producer of passenger cars in Africa. As well as Renault Group and Stellantis, 30 of the world's top 100 automotive industry suppliers are based in Morocco, with the sector employing around 220,000 people, 8,000 of whom are working in engineering, research and development roles. 
"Our automotive ecosystem covers the entire value chain and includes names such as Denso, Valeao, JTEKT, Lear, Delphi and Magna. That expansive ecosystem enables a 69% integration rate for locally made parts in the vehicle manufacturers' final products," explains Ali Seddiki, managing director of the Moroccan Agency for Investment and Export Development. Morocco's annual production capacity is set to rise this year from 700,000 vehicles to 950,000, following Stellantis' decision to double capacity at its Kénitra plant that is located in one of the state-of-the-art, well-connected industrial free zones the country has established specifically for the sector. Stellantis produces four models at Kénitra and two of them are electric: the Citroën Ami and Opel Rocks-e, with the Ami having been designed at the auto giant's Moroccan R&D center, where 4,000 engineers and technicians work. 
Renault's current capacity is 500,000 units a year. It operates two plants in the country, one of which is the largest automotive plant in Africa. Described by Mohamed Bachiri, managing director of Renault Group Morocco, as one of the group's most competitive factories, this facility is located in an industrial zone dedicated to the sector on the outskirts of Tanger Med Port that is just 9 miles from Europe. Opened in 2012, the plant was the first in the global industry to be carbon neutral, thanks to the country's pioneering investments in renewable energy. The group produces six car models in Tangier at the moment and has recently announced that an all-electric Dacia Sandero and two-seater electric Mobilize DUO will also be built there.
Home to 70% of the world's phosphate reserves, substantial cobalt reserves, leading-edge, low-carbon mining operations and chip-production expertise, "Morocco has all the assets needed to become the regional hub for electric vehicles," Seddiki asserts. Investors appear to agree: not only are Renault and Stellantis bolstering their electric capabilities, but a swath of suppliers for battery-powered vehicules are willing to enter the market. As well as catering to the local car makers, these firms are benefiting from the export potential of being located less than two days from over 30 other vehicle production sites in Europe. 
One example is Bertrandt, which has developed a project dedicated to electronic, process and mechanical activities for the automotive sector. Another is American-Irish supplier Aptiv, which now operates seven plants, plus a logistics hub and a development center in Morocco, having inaugurated its newest facility in March. Specializing in electrical harnesses, this plant is based in the eastern Oriental region, one of the parts of the country that is increasingly attracting investors as a result of government investment in infrastructure and advantageous incentives for new projects in less industrially advanced areas of Morocco.