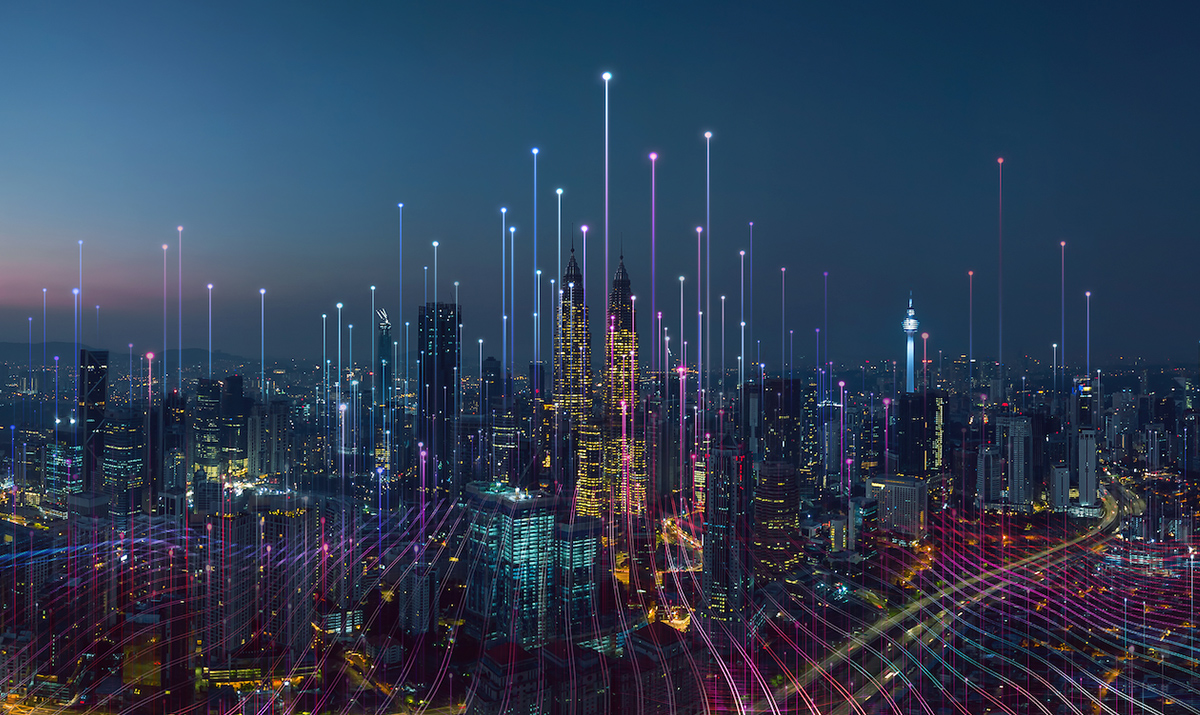 17 Nov

Redefining boundaries with technology
With tech-related investments of more than $775 million in 2022, Oman stands to lead the world's fourth industrial revolution
As one of the main focus areas of the government's long-term economic development plan, Oman has undergone a comprehensive digital transformation. There has been significant investment into the construction of a vital ICT infrastructure, new laws and regulations on issues such as cyber security have been introduced and an ecosystem of startups and SMEs has been created. 
Even the government has embraced the digital revolution and earlier this year introduced Manjam Labs, an initiative that aims to simplify more than 1,000 government services. 
"Digitalizing the government is crucial in ensuring our development process is done correctly. It is the nucleus for forming a digital economy and includes personnel development," explains Said bin Hamood bin Said Al Mawali, Minister of Transport, Communications and Information Technology (MTCIT). "Our digitization involves not just employees, but companies, startups and society. We launched a center last year to simplify our digitization process that will remain active for two years. There are around 1,800 different processes that need updating, and work on each one takes about two weeks. The center is buzzing, with around 200 people working at the unit at any given point. Furthermore, more effort will be made to link the digital world to commerce alongside building up green energy. We expect a lot of activity in cloud services, specifically where green efficiency is required. There will also be plenty of investments focusing on the creation of startups on the back of the availability of a qualified and competent workforce. Many exciting things are going on. "
In order to create a sizeable information technology sector and further digitize the economy, Oman has also invested heavily in subsea cables that provide excellent connectivity and reduce latency in communication. 
"We have a direct line from Australia to Africa, with India and Southeast Asia and across Europe. These connections support our digital connectivity goals and are part of our plans to grow a significant data center hub, especially in areas where these cables land," adds Al Mawali. "Currently, Oman has a high amount of cable and well-qualified information technology talent, but the digital economy is still underdeveloped. Our internal plan is to have 10% of the Omani economy coming from the information technology sector by 2040. An important component of this is logistics, which we also aim to grow to represent 10% of our economy. We have a national plan approved by the cabinet for digital economy development that encompasses countless distinct sectors beneath it, namely space, e-commerce, e-government, artificial intelligence, information technology and  manufacturing, as well as the fourth industrial revolution."
Assisting with this digital transformation is MADA, a company committed to improving ICT accessibility. Offering an array of enterprise resource planning (ERP) systems, its mission is to transform businesses by providing innovative solutions that enhance efficiency, reduce costs and drive growth. 
"In the rapidly evolving world of technology and innovation, the future is full of endless possibilities. Our company offers a variety of products and services such as ERP systems designed to integrate and streamline various business processes within an organization," states Safa Al Salmi, General Manager at MADA. 
"Our ERP system is powered by Google Workspace and includes applications for human resources, accounting, production, performance management, vendor management, sales management and inventory management. These solutions help optimize resource management across departments, from raw materials for manufacturing to hiring. The company aims to revolutionize the way businesses compete and grow by providing faster, simpler and more flexible financial, supply chain and production management solutions on a global scale. Our ERP systems are designed to be cost-effective and less complex compared to traditional ERP systems, allowing businesses to run more agile operations and fostering growth. Additionally, we have a partnership with SpinQ that involves the purchase of the Gemini-Mini portable nuclear magnetic resonance quantum computer 2-qubit desktop. The partnership emphasizes MADA's interest in quantum computing technology and its potential applications for enhancing business solutions."
Quantum computing is one piece of rapidly emerging technology that could well help to revolutionize industries throughout Oman. A relatively new area of computer science, it uses unique behaviors of quantum physics to solve problems that are too complex for classical computing.
"The potential of Oman's quantum computing market depends on several factors, including the country's investments in research and development, its collaboration with international institutions and its ability to attract skilled researchers and professionals in the field," says Al Salmi. 
"If Oman were to invest in quantum research and infrastructure, it could potentially position itself as a hub for quantum technologies in the region. Quantum computing's applications in areas such as energy optimization, logistics and finance would greatly benefit Oman's economy. However, building a quantum ecosystem requires substantial resources, as well as expertise and time.
"It is also still in its early stages and is not widely available. Several companies and research institutions have made progress in developing quantum computers and exploring their potential applications. The market value of the quantum computing sector is a challenging thing to pinpoint due to it being in its incipient stage. However, there are estimations that the quantum computing market could be worth several billion dollars in the coming years as it becomes more commercially viable."
While it may be some time before Oman is able to see the full benefits of quantum computing, the country's digital revolution is continuing apace and is playing an important role in transforming the logistics sector. The Sultanate already has a strong infrastructure of airports, ports and roads, but it is still in the process of maximising the efficiency of these assets. 
"A lot of reorganization has taken place in the inter-mechanics of ports to enable seamless operations between the port operator, freight forwarder, clearance agents and shipping agents," reveals Al Mawali. "We are now introducing digital port systems and connecting them with border crossings. We recently opened a border crossing with Saudi Arabia for the first time, which we will continue to grow and will service the Omani economy and the larger region."
Another tech-forward sector that is attracting significant investment is the space industry. Next year Oman will host the Middle East Space Conference, with more than 350 global space experts, including senior executives from both governmental and private sectors, expected to attend. 
The conference aims to address key challenges and opportunities in the space sector in the Middle East, with the MTCIT unveiling a national policy for the space sector earlier this year as it signalled Oman's ambition to boost space activities. 
"We have a well-structured plan and are about to launch the economic part of our space policy, with investments expected very soon," says Al Mawali. We believe this represents a significant area of opportunity for investors. An ample number of opportunities exist in Oman's space sector, especially in low-orbit satellites and related communications. There is also a lot of work to be done regarding the downstream sector of the space industry, including data analysis.
"We typically see that US companies do not seek opportunities in traditional industries such as logistics as they do not consider them growth areas. However, they are very successful regarding opportunities within the digital economy, and we are open to working with them."