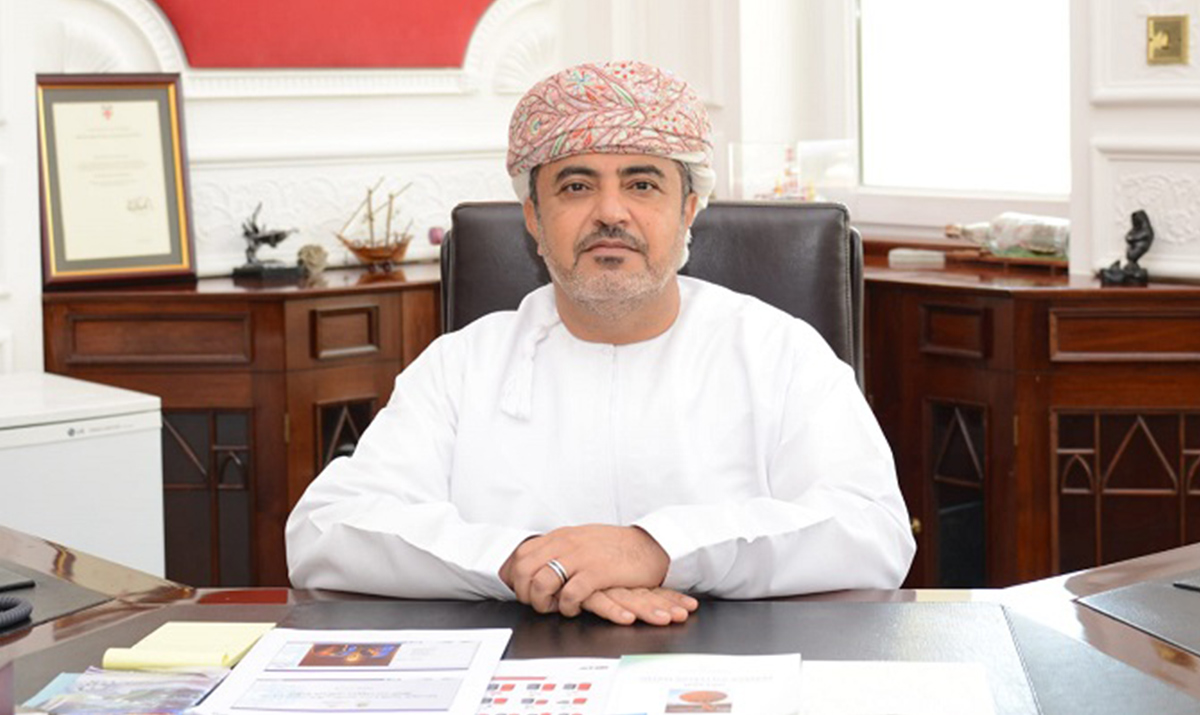 30 May

Interview with Interview with Said bin Hamoud Al Maawali, Minister of Transport, Communication and Information Technology, Oman

 

What main industries is Oman now focusing on as part of its economic regrowth plans?

There has been a lot of work done — particularly under his majesty's leadership — in terms of curbing spending and ensuring the country's debt is under control. Additionally, a lot of focus has been put on ensuring the right sectors are given enough attention, kept in good management and supported, including incentives to kickstart economic activities. The five most essential sectors we have focused on in the last few years are mining, logistics, tourism, information technology, telecommunications and industry, mainly manufacturing. The plan is working. Oman's debt has been reduced significantly, and we are moving away from our dependence on the oil and gas sector. There has also been a lot of work done to develop our clean energy sector. The country has set a target to have zero emissions by 2050. Our ministry looks after the green mobility side of the equation, and we have appropriately structured plans to achieve our objectives by the target year.

What plans does Oman have to build up its logistics sector to become a hub for the region?

We have been very efficient at building infrastructure such as ports, airports and roads. Oman is a global leader in this area. What we have not been good at is maximizing these assets and ensuring they work together adequately. We need our airports to work with ports, our ports to work with our land borders and seamless connectivity by roads. We will focus on this in the next five years. Our goal is to create a better environment for companies engaged in any form of logistics and attract investment into the country. The ministry also formed the Oman Logistics Centre. We have been laying the groundwork and implementing our plans to ensure it works. We have also been focusing more on public-private partnerships and green mobility. We want our logistics center to be the cleanest, most relevant and most efficient within the next 20 years.

We are currently renegotiating contracts with operators of ports and airports to ensure that key performance indicators are in place to make systems work together. A lot of reorganization has taken place in the inter-mechanics of ports to enable seamless operations between the port operator, freight forwarder, clearance agents and shipping agents. We are introducing digital port systems and connecting them with border crossings. We recently launched the country's first dry port and require at least four or five more. We recently opened a border crossing with Saudi Arabia for the first time, which we will continue to grow. This will service the Omani economy and the larger region.

The deployment of infrastructure needs to continue, particularly when it comes to the maintenance and management of roads. We are also encouraging public transport. Development of public transport must be done appropriately, with our transportation footprint kept under control. We are working on a rail network with the Emirates and a feasibility study for rail network connectivity with Saudi Arabia. The rail with the Emirates is at an advanced stage. We will go to the market with bids with awards handed out before the end of 2023 if possible. The railroad to Saudi Arabia is still at an early stage of development; we recently began its feasibility study and will probably award this project shortly. We are also conducting a feasibility study for a metro in Muscat. We are starting with a white paper and looking at the best options. We need to evaluate its capex and cost of upkeep. There are many options, including building a light rail or metro. We will prioritize these projects within the next five to 10 years. We need to be careful; there is no point in building more infrastructure if it does not serve an economic or social purpose.

Additionally, the green mobility market is open not just for Oman but globally; the barrier for entry is shallow. Those who work on a good idea and secure a good market share will have numerous opportunities in the future. There is an Omani company that is currently working on a co-combustion engine for trucks that will use a mix of hydrogen and diesel to reduce emission by 40%. Alternative technologies are a positive move forward.

What efforts is the government making to set up a sizable information technology sector and digitize the economy?

Oman has more access to the ocean compared to other countries in the region. In the past few years, we have invested a lot in subsea cables. Today, Oman has good connectivity in terms of cables from Marseille in Europe, a direct line from Australia to Africa, a line with India and Southeast Asia and a terrestrial cable extending from Oman to Saudi Arabia. These systems reduce the latency in communication, which is of interest to economic players that require speed. These connections support our digital connectivity goals and are part of our plans to grow a significant data center hub, especially in areas where these cables land. Oman is in a good position considering the location of these cables and our potential to produce green energy. Additionally, Oman has a high amount of capable, well-qualified information technology talent.

As of now, the digital economy in Oman is underdeveloped. Our internal plan is to have 10% of the Omani economy coming from the information technology sector by 2040. An important component of this is logistics, which we also aim to grow to represent 10% of our economy. We have a national plan approved by the cabinet for digital economy development that encompasses countless distinct sectors beneath it, namely space, e-commerce, e-government, artificial intelligence, information technology manufacturing and the fourth industrial revolution.

More effort will be made to link the digital world to commerce alongside building up green energy. We expect a lot of activity in cloud services, specifically where green efficiency is required. There will also be plenty of investments focusing on the creation of startups on the back of the availability of a qualified and competent workforce. Many things are going on, including excitement regarding investments and digitization of the government in the upcoming years. We have a well-structured plan and are about to launch the economic part of our space policy, with investments expected very soon. Additionally, we are working to build a sizable gig economy.

Digitalizing the government is crucial in ensuring our development process is done correctly. It is the nucleus for forming a digital economy and includes personnel development. Our digitization involves not just employees, but companies, startups and society. We launched a center last year to simplify our digitization process that will remain active for two years. There are around 1,800 different processes that need updating, and work on each one takes about two weeks. The center is buzzing, with around 200 people working at the unit at any given point. We also have an initiative called Makeen that is divided into many sectors with boot camps to develop youth. We started a program with five different companies to grant 15,000 people certificates before 2025 to ensure learners can directly support information technology companies and provide freelancing services. Likewise, we have signed a deal with Udacity to put Omanis through what they call nano degrees. These are tied to global freelance platforms that allow Omanis to graduate and serve the world from Oman. Additionally, we are working with our neighbors. For example, Saudi Arabia puts Omanis through their startup programs. They also have an excellent academy that brings future digital world leaders into Oman. The certifications and accreditations from these programs have received international recognition.

 

What has Oman done to encourage foreign direct investment from the US and other markets?

We have simplified the process. The point of entry for any investor is Invest in Oman, which was inaugurated in March 2022. The center also has a digital presence. Much effort was put into coordinating this project between this ministry and the Ministry of Commerce, Industry and Investment Promotion. There are a host of incentives available for serious investors entering Oman. Some incentives target digital investments, specifically in calculating taxes, while others are related to power usage. We have even promised to pay some salaries in specific sectors, especially if the workforce is national.

We are open to US investment. We think the most significant areas of opportunity are either in the digital economy or space segments. US companies typically do not seek opportunities in traditional industries such as logistics as they do not consider them growth areas. However, they are very successful regarding opportunities within the digital economy, and we are open to working with them. An ample number of opportunities exist in Oman's space sector, especially in low-orbit satellites and related communications. There is also a lot of work to be done regarding the more downstream sector of the space industry, including data analysis.

How has Oman positioned itself in relation to macroeconomic challenges currently facing the world today?

The economy is currently benefiting from added financing from the oil and gas sector due to improved oil pricing. We have been blessed. While the rest of the world is suffering from inflation, our region has not been affected. Oman has always tried to be on the right side of history when it comes to conflicts and has worked hard to ensure that we properly manage our relations with other nations; we see ourselves as a beacon of peace. We believe developing friendships with all countries will protect our interests and allow us to achieve our objectives. Dealing with conflicts, or becoming part of one, is a large distraction. It is important we provide a better quality of life for the masses.

On the world stage there is a bit of a crack regarding relationships between the East and West related to the conflict in Ukraine. This has prompted massive changes that affect all of life on a global scale, whether economic or political. Nowadays, it is impacting people's pockets with high inflation. We believe Oman will play a key role in bridging this gap, especially in the sectors I am personally looking after. We want to further the development of our logistics sector because there are significant changes in this area. Supply chains were shortened after the COVID-19 pandemic and the conflict in Ukraine. There is a lot of interest in moving away from the traditional manufacturing model between China and the West. In this context, we must ensure that we are part of the solution. There are also considerable developments related to the growth in Africa, and we want to be part of that as well. Our region is experiencing a lot of growth and we want to work alongside our neighbors, including Saudi Arabia, the UAE and Qatar. We want to ensure the region stays protected and continues to experience economic growth. We must remain at arm's length with parties involved in the current political divide and extend our support to safeguard globalization and stability.