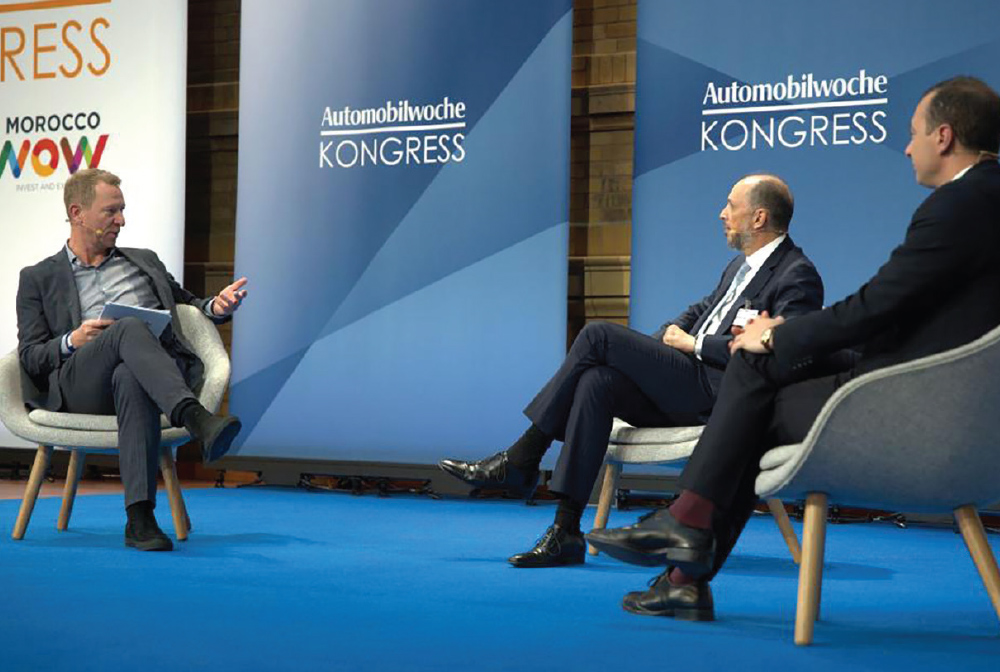 19 Jul

Morocco gains momentum as a destination for international investors
Mohcine Jazouli, Minister of Investment, Convergence and Evaluation of Public Policies, describes the country's advantages
Last November, the Moroccan parliament adopted the legal framework for a new Charter of Investment, one of the objectives of which is to attract $54 billion in investments that create 500,000 jobs by 2026. In this interview, Mohcine Jazouli, Minister of Investment, Convergence and Evaluation of Public Policies, introduces the charter and Morocco's wider investment climate.
How will the new charter impact private-sector investors and how does it align with Morocco's New Development Model, the roadmap laying out plans for economic and societal development to 2035?
The Charter of Investment is a major milestone toward maintaining the momentum in private-sector investments into Morocco, which is gaining traction every day. That is because, under the leadership of King Mohammed VI, the country is experiencing a historic transition and has entered a new development phase. The current worldwide situation — despite the effects of the pandemic, the war in Ukraine and climate change — is also filled with opportunities that Morocco can seize, and the new charter is just one of many assets the country holds, which enables us to look forward to the future with optimism. 
The New Development Model highlights the steps that need to be undertaken in order to support the modern, democratic and social state that the sovereign has created. That model inspired the development of our investment charter and its two main ambitions. On the one hand, the model calls for a bold set of social reforms, which must be met by proper financial resources. This is why the charter aims to inverse the current ratio between private- and public-sector investment: by 2035, they must account for two-thirds and one-third of total investment in the country respectively. On the other hand, the charter envisages creating a higher correlation between investment and stable employment creation. 
The charter's architecture is also deeply rooted in the New Development Model's core principles and is grounded on three main pillars. Firstly, our new Charter of Investment includes a comprehensive and unparalleled set of incentives, which are open to all investors, national and international alike, as well as to all investments, including ones relating to startups, small and medium-sized enterprises, large-scale and strategic projects. These incentives have been targeted to catalyze economic growth that is green, sustainable, independent, inclusive and oriented toward next-generation jobs and sectors. 
The second pillar is improving the business climate: the country has made considerable progress in this area over the last two decades and this progress must be continued. The third pillar is new governance for the development and promotion of investment, which will be clearer and more transparent in order to offer clarity and security to all investors. In line with this, a new National Investment Commission and regional investment centers have been established.
"Our new Charter of Investment includes a comprehensive and unparalleled set of incentives, which are open to all investors."

Mohcine Jazouli, Minister of Investment, Convergence and Evaluation of Public Policies
The value of Moroccan exports has multiplied four times in the last 20 years. As well as becoming a key partner in global trade, the country is increasingly a must-consider destination for international companies looking to invest in Africa. How important is foreign direct investment (FDI) to Morocco? 
Morocco is now an automatic point on the radar of international investors and it stands as a powerful, unrivalled example throughout the whole of Africa. FDI inflows have been steady over the last decade and they account for around 40% of total private-sector investment in the country. In 2022, our FDI receipts amounted to $3.8 billion, an increase of 20% in comparison to 2021, and this performance came with a surprise: for the first time, the US ranked first among foreign investors in Morocco. We wish to maintain this trend and attract even more American investments to our whole territory.
What is clear is that Morocco is on the verge of becoming a major investment hub, which is why it is strengthening its role as a regional economic model through a number of measures, including by introducing our new investment charter that will considerably boost private-sector investment in the country. In addition to that, the Ministry of Investment, Convergence and Evaluation of Public Policies has been created to act as a go-between for investors: we ensure the right connections are made between public- and private-sector operators in order to promote and develop investments. All investors are also accompanied on their investment journey by the Moroccan Agency for Investment and Export Development.
According to the US State Department: "Morocco enjoys political stability, a geographically strategic location and robust infrastructure, which have contributed to its emergence as a regional manufacturing and export base for international companies. The department also considers Morocco to have a "unique status as a multilingual, cosmopolitan nation situated at the tri-regional focal point of sub-Saharan Africa, the Middle East and Europe." Could you highlight some of the competitive advantages that have made the country a hub for various added-value industrial sectors? 
Thanks to King Mohammed VI's vision and strategic planning, Morocco is now a modern, competitive and attractive economy with a large and diversified industrial base. For example, as a result of his leadership, we have developed world-class infrastructure that includes Tanger Med Port, which is the most efficient port in both the Mediterranean and Africa, and we have constructed the first high-speed train in Africa, linking Casablanca to Tangier. In addition, we have heavily invested in renewables, notably in solar and wind power. As a result, Morocco is a leading generator of renewables within the continent and they represent 37% of our energy-capacity mix, a percentage that will increase to 50% by 2030. 
In parallel to those public-sector investments, numerous private-sector investments have been made over the last few decades that have enabled the country to develop brand new industrial sectors both swiftly and effectively. For instance, in the automotive industry, world-leading businesses such as Renault and Stellantis have trusted Morocco and relocated their production here. Billions of dollars have also been invested in aerospace, which is now a very competitive and attractive sector in the country, notably thanks to a sourcing contract signed with Boeing. Many contractors now operate in the country in a very effective fashion: just recently, for example, the Belgium-based company Sabca launched the first-ever airplane assembly in Morocco. 
Although Morocco is looking to grow private-sector investments, the state will continue to make significant inputs. For instance, the Mohammed VI Fund has been set up with a mandate to provide financing of up to $15 million over five years for major projects that can include the private sector. What are some of the biggest state-funded initiatives that are currently under development in the country?
Morocco is a stable economic power, which envisions growth that is future focused, substantial and sustainable, inclusive and effective. We are pursuing that economic development in synch with the pre-requisites of our New Development Model and the challenges that face the world. We are still creating more infrastructure: for example, new port developments are underway at Nador West Med in the north of the country and Dakhla Atlantic in the south. New high-speed rail lines are also in the pipeline from Casablanca to Marrakech and Marrakech to Agadir.
We are working hard to adapt our industries to new global challenges as well — electric mobility is already a crucial element of our automotive industry, while our aeronautical industrial base can serve as a stepping stone to develop activities in the new economic frontier: space. New opportunities are also emerging in fields like digitalization, new technologies and healthcare, and we are currently constructing the first African COVID-19 vaccine production facility.
Besides those opportunities, Morocco still stands at the cutting edge of sustainable development, thanks to our continuous investments in renewables. Solar and wind power remain paramount but, importantly, the development of green hydrogen has been set as a national priority by King Mohammed VI, which has multiple ramifications and will have profound effects on Morocco's future economy. 
The country's prospects are, therefore, very promising and filled with innovation and boldness in a way that is both ecologically and socially responsible. And we have launched our new national investment and export promotion brand Morocco NOW in accordance with that. We call on all American investors and entrepreneurs to follow Morocco's momentum.