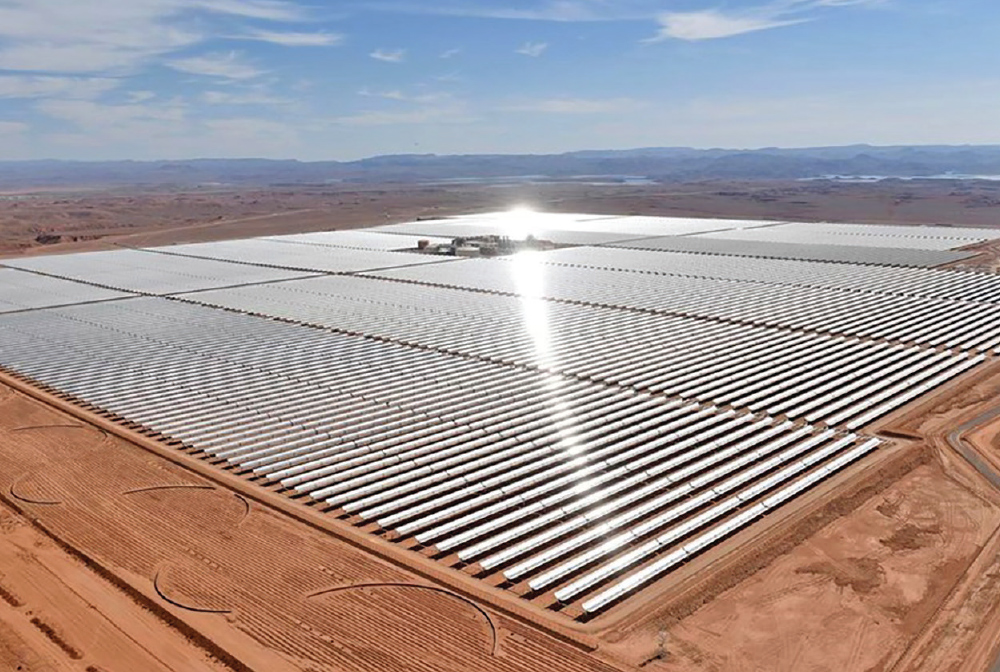 19 Jul

Huge potential for green-energy projects
Morocco ranks as a top global destination for investors in solar, wind and hydrogen
Morocco is one of the world's greenest industrial platforms, with 4 gigawatts of renewable energy  plants accounting for around 37% of its installed energy capacity. "To date, we have implemented 52 large-scale renewable energy infrastructure projects, the most notable being Noor Power Station, which is one of the largest solar parks worldwide, and the Tarfaya wind farm that is among the biggest wind facilities in Africa," says Ali Seddiki, managing director of the Moroccan Agency for Investment and Export Development.
The goal is for renewables to represent 52% of installed capacity by 2030, he adds: "That's achievable, as Morocco's potential in green energies is estimated to be equivalent to the capacity of Nigeria or Venezuela in gas and oil." With over 300 days of sunshine a year and abundant, reliable wind, particularly in its southern regions, Morocco boasts resources that can be harvested at an extremely competitive price in comparison to other locations in Africa or Europe. This has made it a magnet for manufacturers wanting a cost-effective destination to implement carbon neutrality and for investors in its liberalized energy market. Big names that have already invested include Engie, Gamesa, Acwa, Siemens, Acciona and Sener, while new projects are constantly being announced. In March, for example, Abu Dhabi's Taqa revealed that it intends to invest $1.6 billion on green-energy initiatives.
As a result of the country's far-reaching plans to develop the sector, EY's Renewable Energy Country Attractiveness Index rates it among the best places worldwide for investors in the industry. "To illustrate our ambition, Morocco currently has 1.5 gigawatts of installed wind capacity and we're targeting 10 gigawatts by 2030," states Seddiki. Those ambitions mean there are a wealth of opportunities in fields such as solar and wind generation, biomass, marine energy, engineering and maintenance services, equipment and component manufacturing, industrial decarbonization, storage and desalination. Another is hydrogen, as the International Renewable Energy Agency ranks Morocco in the top five countries globally for its potential in that green fuel. "Morocco could capture 2%-4% of the world's green hydrogen production market by 2030," Seddiki notes; "We are also getting ready to export more of our clean energy solutions to Europe, North America and Africa."
Morocco currently exports electricity to Spain via two interconnectors and a third is in the pipeline, as are connections to Portugal and the UK, but the establishment of a hydrogen industry will enable it to export its renewable resources even more widely and cheaply. The government has enacted a hydrogen roadmap to capitalize on this potential and investor interest from companies and other countries is high. 
One of the biggest investment projects involving the gas to be launched so far is valued at $13 billion and comes from the OCP group. The phosphate miner plans to boost its mining capacity and to install enough solar and wind power to make its activities carbon neutral, as well as to support desalination facilities, plus green hydrogen and ammonia production. This investment will see the world's largest importer of ammonia become self-sufficient and will make Morocco a leading exporter of sustainable fertilizers.