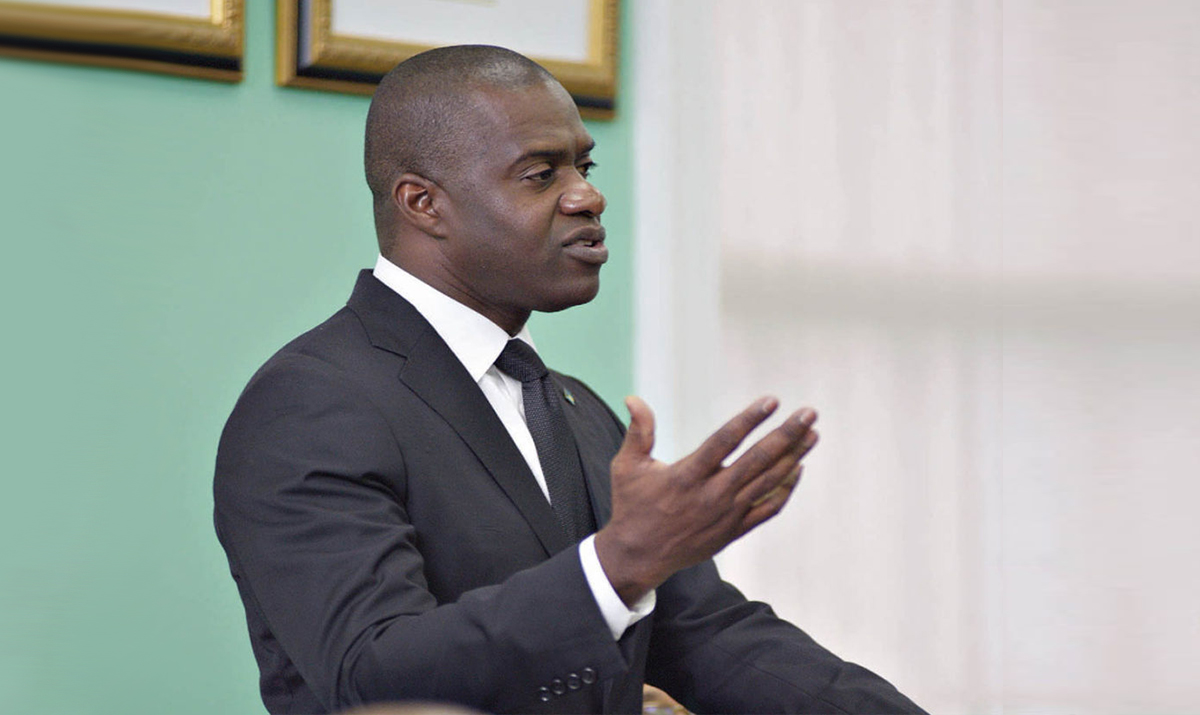 10 Feb

Interview with The Hon. Ellsworth Johnson, Minister of Financial Services, Trade and Industry and Immigration, Bahamas

BF: With the fact of this being on of our first meetings in your beautiful country we would like to have an insight into the most accurate picture of the Bahamian economy and the governments fiscal strategy as it relates to the current Fiscal Strategy Report (FSR). As minister of Financial Services, can you please provide us a deep dive into the current economic outlook of the country?

 MINISTER: We want the world to appreciate that we are open for business and experienced. Two of our major islands were affected by the hurricane, and their contribution to our economic well-being can be compared to having four high performing US states devastated. But we are a vibrant people and we have demonstrated that in our recovery. We have to thank our international partners like the UK, the US and a number of other countries who came to our aid and provided resources. We don't have a navy or air force, so they helped us. We are rebuilding, and we see chaos as an opportunity for creativity and enterprise and to rebuild those islands in a better way. We are in the throes of a climate crisis that we've done little to contribute to but we see the effects and need to prepare for that. In my ministry we are fully committed to rebuilding the islands and to assisting the country and its vibrant economy. We know we have an obligation not just to the Bahamas but to the international community and people who live, work, play and educate their children here. We have continuously properly regulated the country with legislation to prevent money laundering and terrorism financing and human trafficking. It is important we show the world we believe in the rule of law and are a country of laws and we believe in and enforce international best practices, including the universal declaration of human rights, and addressing the rights of refugees and children. I am happy that we have not received criticism from the international community when we claim to enforce our laws without fear, favour, ill will or malice. We don't consider origin or political opinion, economic status, sex or immigration status when deciding how to treat people. For the past 20 years we've been able to navigate the regulatory requirements the world has sent our way and even as a small jurisdiction we've been able to hold our own. We in the government partner with civil society, industry and Bahamians in the diaspora to bring our prowess to an industry that represents 15 percent of our GDP and undergirds a large part of our middle class. We've invited groups such as the Bahamas Financial Services Board to be a part of our process as representatives of industry, and we invited them to assist in the appointment of our directors and to lend their expertise and advice. We have limited resources but the industry has its hands on the pulse of the financial services industry. When we travel to New York, Brazil, Brussels, Singapore, Dubai we preach our message on what we offer: a stable government, a stable judiciary and we are properly regulated. We sit on the border of one of the most powerful countries in the world. And this is one of the most beautiful places in the world. People want to live and work and raise their children here. We are digitising every sector to improve ease of doing business. We are retraining in our ministry, especially in the ministry of immigration, we are bringing someone in with the authority to investigate freely. We have the industry providing secret customers to assess the quality of what we do. Professional development is ongoing in our offices. Once people pass a due diligence test they should be able to move, live and work and come and go with the protection of our sovereign and democratic state. In terms of the OECD, the Caribbean Financial Action Task Force and the Financial Action Task Force, I think we've done a good job of responding. The playing field is not always level, some European countries sometimes don't meet the standard but are treated as being more equal than others. But we are not here to complain, we are here to perform and demonstrate to the world that we are here to stay. We have come up with products and services that make us attractive to the world. Despite the hurricane devastation you will still hear that Freeport is being developed as a tech hub, we are leading the region in that respect.

BF: The Government has also made it more favourable for investors to invest into the areas affected by the hurricane, correct?

 MINISTER: Yes. For example if you have a cruise line that has signed an agreement; along with tourists we want people from the financial services sector to be able to come. One of the locations that was devastated, where there were expensive homes, Bakers Bay, has agreed to rebuild within 18 months. They represent people from the financial services sector so we have an obligation to ensure that due diligence is done for building and there is no money laundering. We will not entertain corrupt activity. As soon as the due diligence test is met the ministries that give approvals allow the rebuilding to go forward. Estonia is the prime example of digitalization, so we brought people in from Estonia to assist us. We will continue with our annual tech conference. We have a philosophy that if we want to be the greatest we must be servants to all and create an environment that is welcoming for people and industry. Correspondent banking and all that goes along with it is extraordinarily important to what we do so we facilitate that. Our tourism minister is vibrant and looking to bring more people here.

They aren't jaundiced by what we see as a problem. An experienced person will see all the ways something can't be done but a young a person will say, you just need to do this. We have a deep history that encompasses several past cultures so we're building the financial services industry on a foreign foundation. We encourage young people to come into the ministry. We need to always be thinking about training our own replacements so the industry can continue and grow.

BF: Recently Mrs Greenslade, high commissioner for the Commonwealth of The Bahamas to the UK, signed the EPA on 27 November 2019 at The Bahamas High Commission in London. Trade between The Bahamas and the UK increased by 138 percent in 2018, growing from $21.2 million in 2017 to $50.6 million in 2018.  You yourself met with Mrs Sarah Dickson last month. In what direction do you wish to see the Bahamas-UK bilateral relations today move towards, diplomatically and economically?

MINISTER: We wish the good people of the United Kingdom every success. We have had a long relationship, we are one of the former colonial territories of the UK. A lot of our laws come from the UK. We will do everything we can to ensure that our relationship with the UK and every other country is in the best interests of the people of the Bahamas.

BF: Complementary to Bahamas efforts in fortifying transparency and ease of doing business are the initiatives that encompass the Digital Bahamas Framework. It was you Minister who unveiled the Central Banks digital currency project in 2018, with comments also made to applications for blockchain technology entering government services. What current developments can you share with us around this topic?


MINISTER: We fully agree with the UN on sustainable development goals. It's critically important to ensure the protection of the dignity and fundamental human rights of the individual and the products and services the government is obligated to provide. So for example the passport office is fully digitised now. We want you to come to the Bahamas. You can get quick responses to your application. Regarding the UN sustainable goals, we understand the need to safeguard our own citizenry, but as we welcome others we know digitisation can help them too. We don't live in a bubble, we know what is happening in the Middle East and Latin America and some parts of Europe. The world must come together to ensure humanity is safe, that women and children are protected when they travel, and that in terms of human trafficking people are not forced to do what they don't want to do. It is critical in digitalisation to ensure we are fighting cyber crime and identity theft.

BF: Any last comments for our readers?

 MINISTER: We are open for business. We are still a place you can come to live, work, play. There's a folk song that says that if the good Lord ever went on a holiday he went to the Bahamas. And if the angels ever left the heavens to play they came to these islands. This is still that place. That's why people come. And we continue to safeguard the dignity and integrity of this sovereign and democratic commonwealth, so that all who come here know there is a standard and we are at the world's table and we aren't going anywhere.