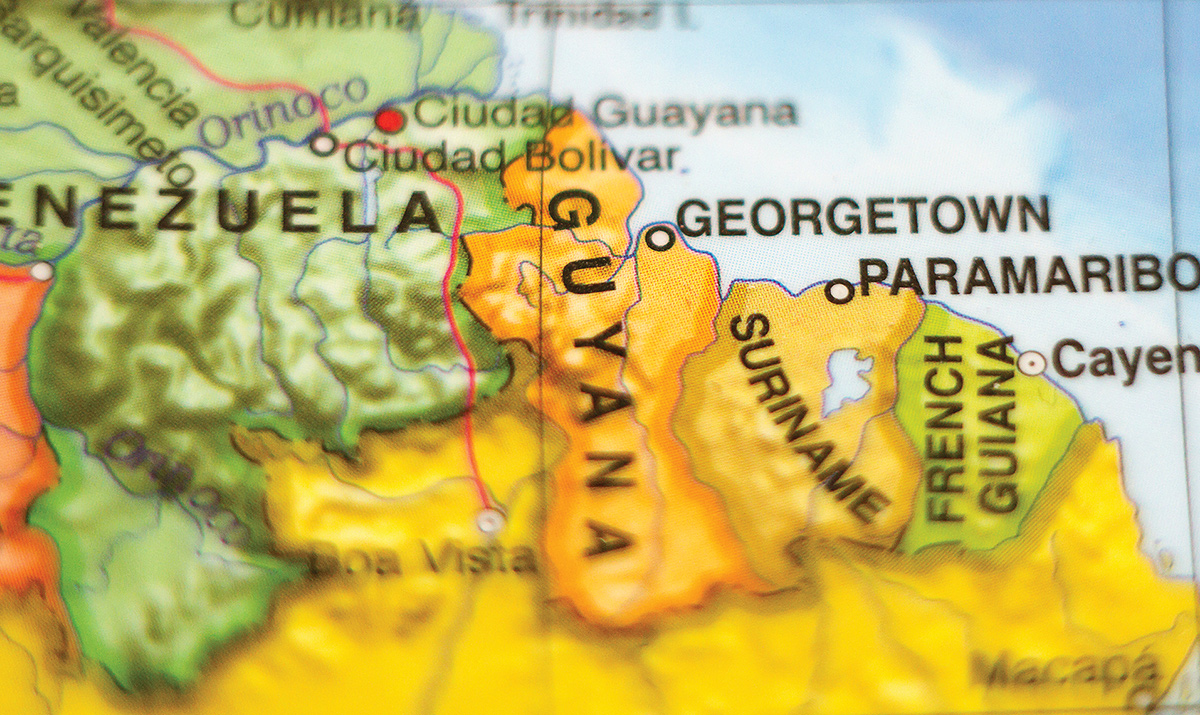 17 Aug

Vital transformation of legal framework
Attorney General reveals the steps being taken to lay the foundations of a freer and fairer society
Dedicated to ensuring proper legal services are provided to the government and that statutory services relating to the public trust and bankruptcy matters are available to people, Guyana's Ministry for Legal Affairs and the Chambers of the Attorney General is laying the legislative foundations for the country's most exciting chapter in its socioeconomic development story.
Spearheading this transformation is Guyana's Attorney General and Minister of Legal Affairs, Mohabir Anil Nandlall, who has spurred a comprehensive overhaul of the legislation governing the nation's business and social spheres. In doing so, his office has built a sturdy platform on which a freer and fairer society can be constructed and provided the building blocks necessary for the growth of business.
"Guyana is currently one of the most sought after investment destinations in the Western Hemisphere. It is in a very difficult international economic environment, and we are one of the fastest, if not the fastest, growing economy on the planet," highlights Nandlall.
"Guyana's economic, fiscal, commercial, and social landscape is rapidly undergoing a seismic transformation. In the face of this reality, our government recognizes that we must create, with commensurate dispatch, a commensurate and corresponding legal regulatory framework and the accompanying institutional capabilities to cradle, support and propel these transformative strides. We hold steadfast to the view that there is an irrefrangible causal nexus between economic and social progress and an efficient, and competent legal system.
"The ever-expanding economic and commercial activities flowing from the oil and gas sector — coupled with the government's policy of not only using revenue generated from this sector to diversify our economy and expand our traditional productive sectors, but also to modernize the country's infrastructure — accumulate to require an almost complete overhaul of our legal system."
Guyana is  currently working very hard to establish trade relations with countries across the globe; particularly those in the Middle East and Asia, such as India. The Attorney General feels such mutually beneficial partnerships would be very fruitful and help accelerate national development in a range of sectors.
"We have been left behind for decades and therefore we can't pursue traditional methods. We must think outside of the box and move outside of the box. That is where my ministry becomes so crucial, because it's my ministry that has to create the legal framework and the legal infrastructure that will cradle all the phenomenal and transformational development occurring in every sector of our country."
Local patrimony protection a priority
The legal expert, who later this year will celebrate the 25th anniversary of his admittance to practice at the Guyana Bar, is determined to protect Guyana's local patrimony from being exploited or excluded from the direct and indirect benefits of the huge waves of FDI flowing into the country in various sectors.
"If we allow huge firms to come into the country unregulated, then the local people will suffer," he states. "We have a content policy and legislation that protects local companies and allows them fair advantages or fair opportunities to participate in the competitive environment.
"We must also restructure the insurance sector to ensure we have the framework to bring in large insurance companies. We used to operate at a very small level but now insurance runs into billions of US dollars, which required large international companies. To get those companies to come here, you have to have the correct legal framework.
"In essence, growth begins with the establishment of a legal environment. Modern civilization is based upon law. No development can take place if the legal infrastructure that will be conducive to that development is not installed. In any country where law and order are absent, or where there is a weak legal system, there will not be economic buoyancy and prosperity."
Referencing the legend of the mythical golden city of El Dorado that first enticed famous explorers to Guyana's wealth of undiscovered treasures half a millennium ago, Nandlall believes his country is poised to become a powerful magnet for FDI as companies and investors race to tap into its lucrative resources.
"We now have an opportunity of realizing this El Dorado," he says. "I am fortunate to be part of that generation that is going to benefit and am blessed, more so, to have an opportunity to be part of the leadership of the country that is pioneering these initiatives to bring broader prosperity to the entire nation.
"I am humbled by the opportunity that I've been given in this regard. We all are a team, headed by President Ali and I really hope that we do justice to the opportunities that we have been presented with, and also that we create the type of tomorrow that future generations are entitled to."
Attractive legislative landscape takes shape
Turning to his key role in the introduction of a string of positive changes and policy adoptions to the legal terrain across the civil, commercial and criminal systems, Nandlall is extremely proud of what he has achieved to date and confident that future changes will act as an effective and protective conduit for fresh FDI.
"I can say with the greatest of modesty, that I am transforming the legislative landscape and the legal sector of Guyana," he states. "It is a work in progress. Last year alone, we passed over 60 pieces of legislation, 80% of which were new modern legislation not yet passed in this region. For example, the local content law, the medical health law, and the tissue and body transplant law.
"I'm also working on an arbitration bill that's going to be the most modern of its type. The natural resource law is set up for a sovereign wealth fund, which has never been done in the Caribbean. On top of this, I revolutionized the law of bail, where citizens can now obtain bail when they're charged. I have also brought a regime of new laws concerning drinking and driving, where you can now be charged with human manslaughter if you drive and cause death, whereas before it was an ordinary offense.
"This has led to a reduction in offenses and greater accountability. Traffic offenses are a very big problem in this country and I aim to address that. Finally, we had the common law of England applying here, which is centuries old. We passed a higher purchase law that protects the customer to a greater extent when they buy goods on credit. Before if you paid 90% and defaulted one payment, the seller could come and seize the goods and forfeit all your payments up until that point. Our new law provides more protective mechanisms to consumers."
Earlier this year, the country's top legal brain was successful in his attempts to improve the efficiency of court proceedings by getting the Court of Appeal (Amendment) Bill of 2022 passed in the National Assembly. The modern legislation, which was drafted in response to an increase in judicial workloads in recent years, aims to at least triple the number of permanent appellate judges that sit on the Court of Appeal from the current three, to at least nine.
Other new systems and processes implemented spearheaded by Nandlall in recent years include the introduction of audio-visual recordings, freeing judges from the onerous task of taking notes in real time with pen and paper.  Another development saw the introduction of new civil procedure rules and an increase in the field of High Court judges from 12 to 20.
"The propensity to litigate in Guyana has grown progressively over the years," said a delighted Nandlall on the passing of the bill. "It is both unreasonable and impossible to expect the same number of judges to cope efficiently in the face of such an increase in workload.
"Our government has been a willing and reliable partner in supporting the judiciary in every initiative designed to improve the justice system and bring to its processes greater dispatch."