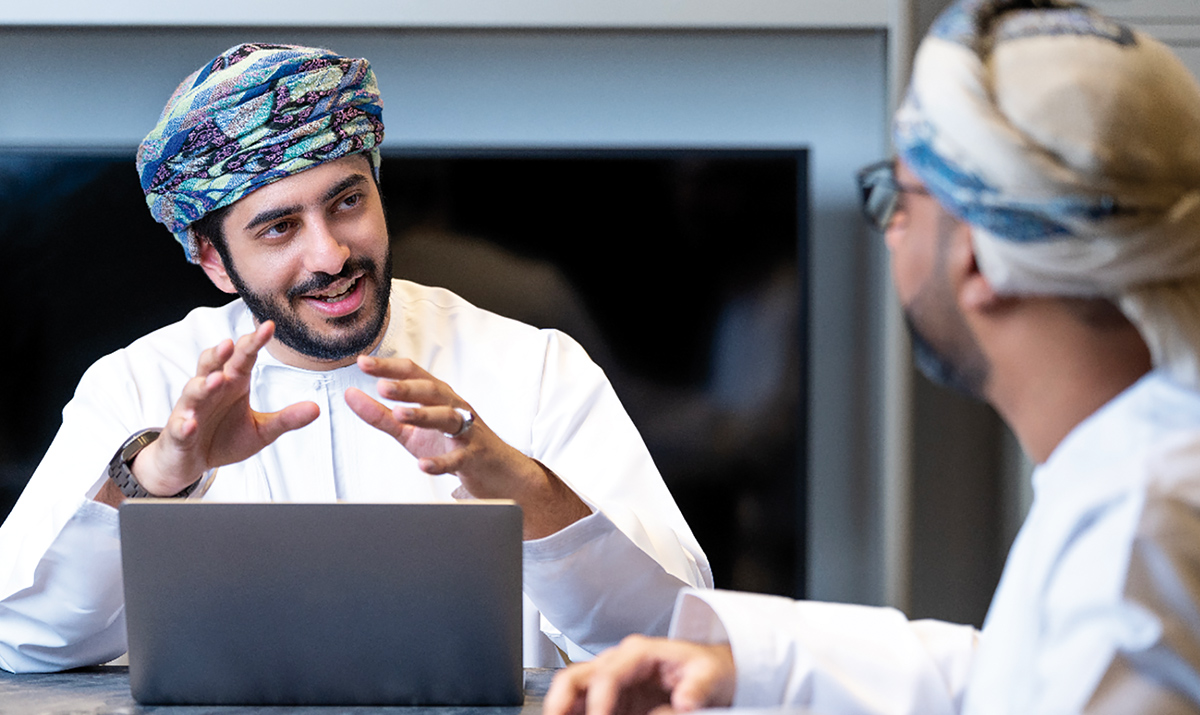 19 Nov

Utilizing the power of partnership
In the following interview we hear from Abdulwahab Al Maimani, Owner of Abdulwahab's Office, about the ambitious financial targets for his investment management company and its exciting plans for 2023.
How is Abdulwahab's Office part of your personal drive to support Oman's Vision 2040 initiative?
Our goal is to act as a private-sector player that contributes to the achievement of Vision 2040. We engaged with the Oman Chamber of Commerce to become part of the consultancy that goes into major policy making. There are many things that only the public sector can do, and many things that only the private sector can do. In Oman, the public sector is closely related to policymaking. Additionally, we continually assess whether Oman's Vision 2040 is applicable or if it will help us leverage opportunities in every country we penetrate. 
We began a couple of initiatives in the UK and even a couple at the level of the United Nations. The decision to support Oman's Vision 2040 is comprehensive; one can transfer this knowledge and implement it within global strategies and initiatives. Building a sustainable ecosystem is a very unique concept. We are committed to supporting companies or individuals by selling them products, providing services and delivering whatever they need. 
The main target we want to achieve before 2040 as a company is to represent at least 1% of Oman's GDP. Given that the country's GDP is around $88 billion, this is a very ambitious target.
What was the reason for extending Abdulwahab's Office's reach beyond Oman to markets such as the US and UK?
We have one objective; which is to build an ecosystem of numerous companies that operate in different areas and in different countries. This gives us many advantages, such as access to office space, commercial registration, company formation and company operations. 
We have a comprehensive presence in the UK and are focused on the financial sector, while in New York we have access to major financial institutions. In France you have access to many technology startups, some of which we have equity in, while in Italy there is access to robust luxury and watch manufacturing sectors. We have offices in all these places and follow trends that enable foreign investors. Additionally, we have companies from other countries wanting to come to Oman. 
Being present in many markets also allows us dual facilitation. We opened offices in these countries with the main purpose of facilitating foreign investors coming to Oman. However, we are also helping foreign investors on a global scale. We can facilitate investors wanting to establish companies in the US or UK, for example. 
There are also opportunities north of Europe in countries moving towards digitization. We want to explore different regions. We have established a digital bank with no branches through a partnership with the Central Bank of Lithuania. It is a fully formed digital bank, not simply an electronic money institution that handles only cash-handling services. All transactions can be done from our client's mobile phones, and they have access to all services without the need to go to any branches. We launched it in 2021, and the bank's client base is growing.
Can you give us a description of the company's software and computer subsidiary MADA and its trajectory since it was established?
MADA was a brave move. It began solely in software development; we were trying to design our own software in the most efficient way. We were invited to present the MADA concept of a smart or lean enterprise resource planning system in Paris, France, in 2018, which was the first main global marketing campaign for the company. 
We then went on to sign an agreement with Google to become a Google Cloud partner. Following that, we began developing inside the Google environment. 
Around the same time, we signed agreements to be the main distributors of web hosting entity GoDaddy's services in the region. We then moved into developing our own computers and we should now have a model that will be available for sale either at the end of 2023 or the beginning of 2024. 
We went from being a very niche software-oriented company towards providing comprehensive software development, hosting domains and selling hardware. We sell laptops and have agreements to sell commercial quantum computers.
What marketing strategy are you utilizing to bring the company's watch subsidiary to customers around the world?
Waqt, the Arabic word for time, is our watch brand. When we first started we introduced unique models before developing models for retail use. Waqt is unique as we do not produce more than 100 pieces of any model we are selling. All the models are limited edition, and usually only one of each is kept with us. 
We have hit numerous sales records in Europe of late, especially with our Arabic calligraphy models. We have been using multiple models and trying to lead some of the patents in the watch industry. We ensure that each of our watches can easily last for at least five to 10 years without serious problems. 
We want to introduce unique watches that can be competitive with luxury brands such as Rolex and other big players in the market. However, we are not looking to sell something that is completely top-shelf material; we aim to become a fashion brand that is accessible to the people. 
However, we are working on something that is highly competitive in the high-end market, especially regarding materials and the manufacturing process, that will be introduced at the end of the third quarter of 2023. This will be a very limited edition, with only 10 or 20 pieces produced for every model.
Why is Oman an attractive place for foreign investment, particularly from the US?
Oman plays a large role in maintaining the political stability of the region. Our current population is almost 50% Omani and 50% expatriates. We work to maintain good relations with every country in the world, which provides us with a competitive advantage. 
Oman is not on any political side, and we are not usually influenced by geopolitical activities. We maintain neutrality in the region and have peaceful agreements with all markets. We act as a mediator. 
US investors entering Oman were not very visible in the past. However, it is becoming more and more visible today and we are now seeing companies operating in Oman that are fully owned by US investors. This has been enabled by government policies in order to facilitate foreign investors. 
The government also established Invest Oman, an entity dedicated to facilitating all investments happening in the country that has representatives from all relevant government bodies under one ceiling. Investors can go into one place and complete all the necessary paperwork without the need to apply in different places. In countries like the US, investors need to spend around one month to complete all of the required paperwork, especially in certain states such as New York and California. In Oman, this can be completed in around one week or less if commercial activities are not overly complicated.
Furthermore, US investors will not solely benefit economically from investing in Oman. People do not want to live in a country solely for economic gain. The Sultanate provides many social incentives that attract people from countries around the world, including quality healthcare and a very high level of safety.