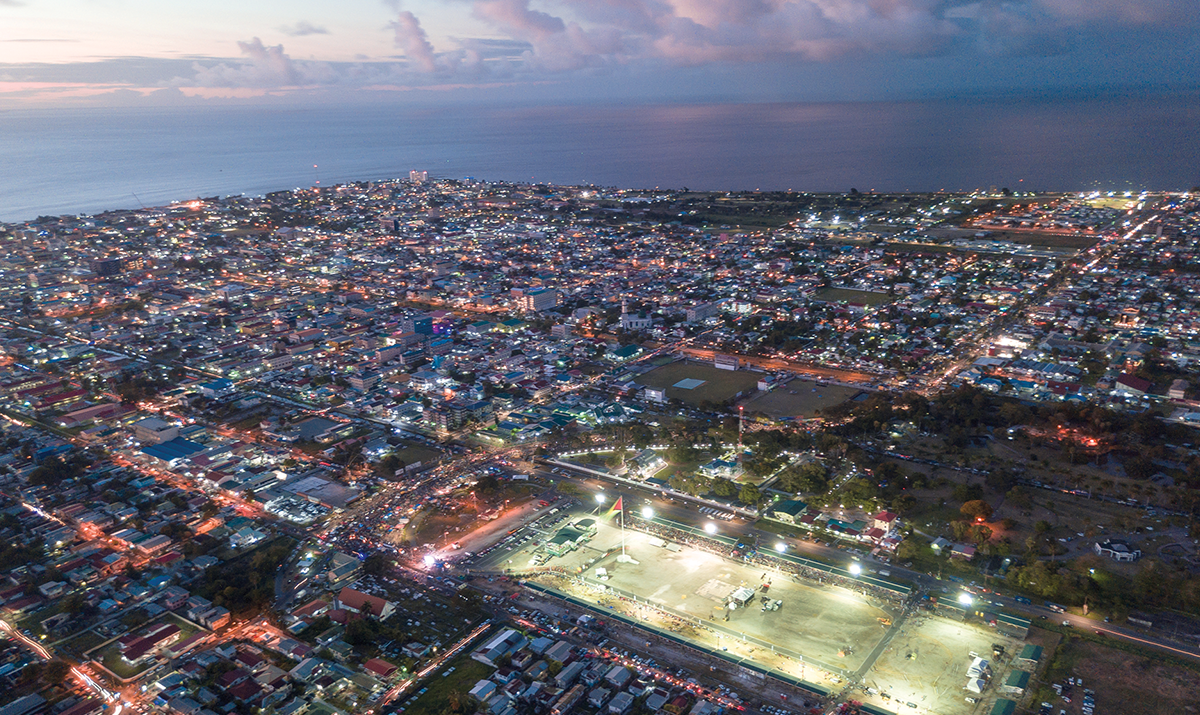 18 Aug

Transport projects given green light
Major investment in modern transportation systems and associated infrastructure is boosting connectivity and efficiencies
The acceleration in Guyana's transformation and modernization is underlined by the range of infrastructure projects taking place, including new highways, ports, homes, energy supply systems and telecoms networks.
Much of this key construction work is being overseen by pastor and politician, the Honorable Bishop Juan A. Edghill in his role as Minister of Public Works. His portfolio comprises vital sectors like transportation, which includes aviation matters and maritime affairs.
"When the current administration arrived in 2020 with Guyana now an oil-producing nation, there was no division in the maritime administration that dealt specifically with oil and gas," he recalls. "We have been able to put in place a special unit at the maritime administration (MARAD) that deals specifically and interfaces with the oil and gas sector.
"On average previously, you would only have had a handful of ships calling at Port of Georgetown each week, now it has soared tenfold to almost 50 per week. The growth has been phenomenal. We were able to do that. Safety is one of the key areas that we are focused on as we get in line and sync with international standards.
"Water taxis and speedboats are heavily used modes of transportation and we also have a large fishing sector, with trawlers and other boats that go out to sea. We've expanded in terms of reach and engagement with various stakeholders. We've also drawn up a new list of priorities and in doing so, have seen a reorganizing of the maritime sector."
No turbulence for aviation connectivity
Similar progress has been seen in the aviation sector through the allocation of capital expenditure on airside and non-airside improvements at regional and international airports ahead of a jump in passenger numbers following recent air service agreements (ASA) with economic powerhouses China and India.
Guyana now boasts more than 50 ASAs and alliances in recent years have been formed with partners on different continents. They include pacts with the Netherlands, Colombia and the Kingdom of Saudi Arabia.
The latest ASAs, which were signed by Minister Edghill, should act as a catalyst for the launch of scheduled services between the Asia Pacific powerhouses in the near future. This boost to air connectivity is expected to generate a string of openings for commercial and tourism activities and operations, as well as boost trade ties and bilateral relations in general.
The ASAs outline matters relating to the grant of rights, airline designation, and authorization, revocation, suspension of an authorization, capacity and frequency provisions, recognition of certificates and licenses, aviation safety and tariffs, among others. Airlines in partner countries are planning to capitalize on the opportunities for the movement of passengers and cargo.
Commenting during the signing ceremony with representatives from China in late 2022, Minister Edghill stated: "There is no direct flight between the two countries to date. The signing of the agreement puts the legal framework in place to address this challenge."
Back on terra firma, plenty of new highways are being constructed across the country to improve Guyana's road connectivity. The investment will not only support logistics activities, but also enhance the free flow of people and goods to surrounding nations via better transport corridors. Several such projects are open to international investors through public-private partnerships (PPPs).
One such project is a 500-kilometer-long highway linking Guyana and Brazil. Known as the Linden-Lethem Road, it has been built with funds from the Caribbean Development Bank and a grant from the United Kingdom Caribbean Infrastructure Partnership Fund.
"We are building new four-lane highways, creating connectivity with the central region and other areas," Minister Edghill adds. "All of these new roads and bridges are for a particular purpose: it opens up new lands. New lands mean we have opportunities for plantation-type agriculture. Every time we open these roads, we are also opening new areas for people to live. The building of low-cost and moderate housing are opportunities that are available to investors.
"We are building a bridge across the Courantyne River that links Guyana and Suriname. You could move in a seamless corridor from one end of Brazil through French Guiana, Suriname, and Guyana back into Brazil. Guyana used to once be a dot or a black spot in this part of the world. It's now the star; a shining star."
Creating communities
Guyana is building a pioneering smart city that will attract talent and tech investments while complement its existing urban areas
The government, since being elected to office in August 2020, inherited the burden of a poorly managed housing and homelessness crisis. Today it remains steadfast in its effort to provide affordable housing to Guyanese across the country.
These efforts are being organized and implemented by the Ministry of Housing and Water, which is utilizing two models for housing. The first is the ability to provide access to a house loan to Guyanese nationals who meet specific criteria.
The second is the allocation of house slots. The administration's manifesto includes a firm commitment to providing 10,000 slots annually, with more than 20,000 allocated by early 2023. "Access to housing is our main focus and we construct houses for all income brackets of pending applicants," explains, Minister of Housing and Water, Collin David Croal.
"For higher-income applicants, a pre-qualification with a bank is required to take a loan and pay for the house at an affordable rate. There is a huge demand for that, which is more than we can supply as we've kept the housing affordable.
"The majority of houses were low-income when we started, but now we have moderate-income, middle-income and high-income, young professional houses. Our mandate is to provide an opportunity for someone to have their own home and an environment they enjoy. Owning a home brings joy and happiness."
Infrastructure creates investment openings
The senior official explains that his ministry provides roads, drainage and utility services such as water and electricity to the new housing developments. This construction cycle has a domino effect for the wider economy as people in the transportation sector benefit, as do those supplying materials and support services.
 "It's a win-win for everyone," the minister notes. "It's a driver for the economy and satisfying a social need at the same time. Housing is no longer just a want, it's a need. We're helping people who are clustered in an environment and cramped for space that affects their psychological mood, which in turn is a big cost for the economy. The contribution of the banks also deserves recognition. They're partnering with us in the housing construction and mortgage sector by making lending rates affordable."
Minister Coral is eager to put the spotlight on some of the investment opportunities available in his portfolio for international investors. They include new urban areas, particularly a new city called Silica City, which is very close to the Cheddi Jagan International Airport. 
"We welcome investors in the construction of houses because we can't do it alone as a government," he admits. "We welcome those who want to maximize opportunities here and create employment for Guyanese citizens. There are also opportunities in construction and across the supply chain. Companies need to find their niche, calculate their costs and carry out some comparative analysis."