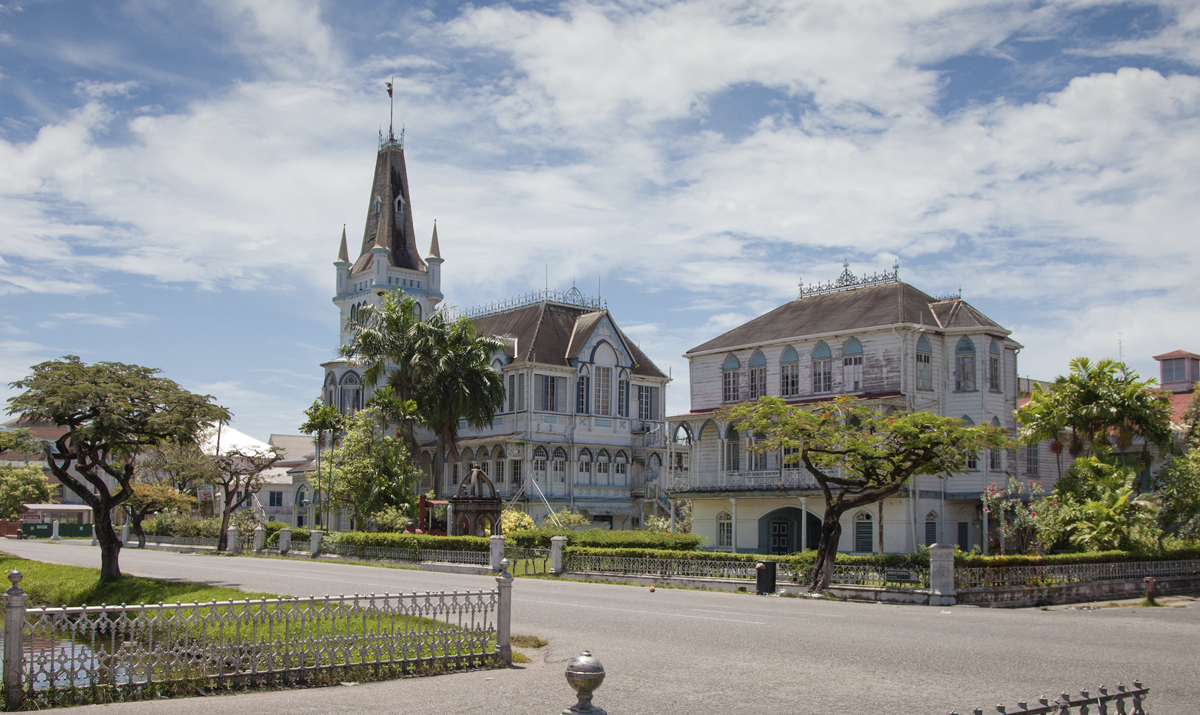 18 Aug

Showcasing its rich potential to the world
Officials are clocking up the air miles as they spread the word of Guyana's recent success
The ongoing development of a strong and diversified economic base remains a top priority of the government, as underlined in a recent address by Finance Minister, Dr. Ashni K. Singh, at the Forum of the Countries of Latin America and the Caribbean on Sustainable Development.
During his illuminating presentation in Santiago de Chile, the senior official reaffirmed the administration's commitment to the creation of a strong non-oil economy and policies focused on modernizing the traditional pillars of the economy and catalysing a rapidly growing and highly competitive non-oil economy.
"In this environment of rapid expansion, the administration has put mechanisms in place to mitigate the impact of external shocks on the country's economy," he told delegates in the Chilean capital in late April. "This is evident with Guyana's non-oil economy growing by an estimated 11.5% [year-on-year] in 2022, building on the 4.6% growth recorded in 2021 [versus 2020], and over the medium-term is forecasted well above global levels.
"Guyana has demonstrated intellectual leadership and global advocacy in climate action. The LCDS sought to transition its development along a low carbon development trajectory, while simultaneously combatting climate change," he explained.
"In 2022, a major milestone was achieved for Guyana and forest countries in the world in the achievement of that vision when the Architecture for REDD+ Transactions Secretariat issued the world's first jurisdiction-scale, market-ready carbon credits to the nation. Almost 33.5 million credits were issued for the period 2016-2020, one of the biggest issuances of carbon anywhere in the world.
"A second major milestone was also achieved in 2022, through the sale of a significant percentage of Guyana's ART-TREES credits. Under the agreement, Hess Corporation will buy 2.5 million credits per year for 2016-2030 […] for a minimum payment of $750 million."
Switching the focus to Guyana's impressive economic performances of recent times, he highlighted how it now ranks among the fastest-growing economies in the world, with year-on-year growth of 62.3% in 2022 and medium-term average annual growth projected at 25% for 2023-2026. "Guyana is now considered a premier investment destination, attractive for investment in the oil and gas sector, infrastructure and the requisite support services," Minister Singh added.
A couple of months prior to his visit to Chile, Minister Singh was on more familiar ground, when he attended the International Energy Conference and Expo in Georgetown. The networking event brought together heads of government, policymakers, academics, and industry professionals, as well as businesses, entrepreneurs and investors.
"The expo presented a fantastic opportunity to showcase the rapidly changing face of the private sector of Guyana because not only were the traditional big names and key players present, but also a number of companies, some of which are completely new," he said. "Some of those enterprises are local, some regional, some international, but they were able convey to this wide audience what they are already doing in Guyana and with Guyana.
"A lot of people clearly took advantage of the opportunity to introduce themselves to potential partners, potential clients and customers, which can only be characterized as an extremely positive thing."
National windfalls to benefit all citizens
Minister Singh also explained to around 1,000 delegates the function of the Natural Resource Fund, where all revenue earned from the energy sector can be deposited and only withdrawn in accordance with a transparent formula that is easy to interpret and free of political discretion or judgement.
Serving as a primary contact for investors and liaising with government departments throughout the investment process, investment agency Guyana Invest — often referred to as GO-Invest — provides investors in all sectors with a comprehensive summary of steps necessary to commence business operations and facilitate throughout the process. The entity also works to provide information on incentives available to investors and regulations relevant to the sectors of interest.
"The government is advancing a massive infrastructure development programme of national projects which includes the building of several four-lane highways, housing developments targeting 50,000 homes and land ownership by 2025," states chief investment officer and CEO of GO-Invest, Dr. Peter Ramsaroop.
"Energy is the driving force behind future large scale development projects in manufacturing and agro-processing and will create many more investment opportunities. President Ali is adamant to reduce the cost of electricity to further increase Guyana's competitiveness. There is also a tremendous amount of emphasis on the agriculture sector and building out the agriculture value chain to maximize efficiencies for getting goods to markets. 
"Guyana is well known outside of its territories as a business-friendly destination as there is a broad selection of incentives and protections for foreign investors. The country is led by bold leaders from all walks of life, qualified and optimistic men and women with the courage of their convictions and the vision to lead our nation to greatness.
"Working together with both local and foreign investors to attain these goals and make them into measurable realities. Guyana is more than an investment; it's a journey."