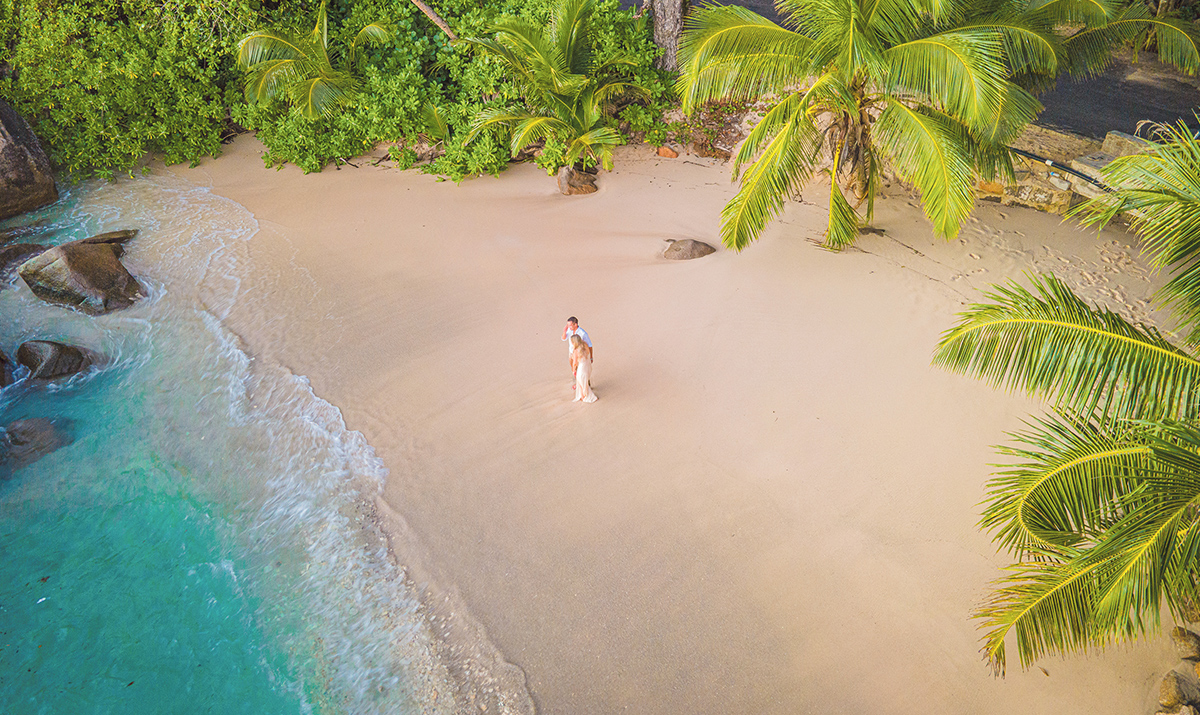 12 Oct

Seychelles: The beating blue heart of the planet
A tourism hotspot thanks to its pristine beaches and natural wonders, Seychelles is leading the way when it comes to preserving and protecting its environment
Located within the glass-clear waters of the Indian Ocean, off the east coast of Kenya and northeast of Madagascar, Seychelles stands out as not only one of the most picturesque countries, but also as one of the most prosperous nations in sub-Saharan Africa. Renowned for its exceptional marine life, breathtaking views and luxury resorts, the 115-island archipelago boasts a thriving tourism industry and stable economy, thanks in part to the incredible work that has been done to preserve the country's unique biodiversity. 
The only place in the world where the gargantuan coco de mer palm grows and where you can see giant tortoises roam wild outside the Galapagos, entire islands have been set aside as nature reserves, including the Aldabra Islands and Vallée de Mai National Park, both UNESCO World Heritage sites. 
Combine this stunning natural beauty with an enviable mix of first-class facilities and it is no surprise that the tourism industry in Seychelles has shown remarkable resilience despite the COVID-19 pandemic and ongoing global tensions. The country's National Bureau of Statistics has revealed that the islands welcomed around 332,000 visitors in 2022, exceeding all expectations, and there is growing confidence that 2023 will see another substantial rise in tourist numbers. 
"2022 was an excellent year for our tourism industry and was better than we expected for various reasons: Seychelles was one of the first countries to reopen its borders after COVID-19, which put us on the map for many travelers, and people also saw Seychelles as a safe destination. We want to build on that success going forward this year," says Sylvestre Radegonde, Minister of Foreign Affairs and Tourism. 
"A big challenge we have as a tourism destination is connectivity, due to the distances flights have to travel to reach us in the Indian Ocean. For 2023, we have conservatively targeted a 5% increase in tourist arrivals — however, rather than the number of visitors, our focus now is on yield. We want a low quantity of tourists, but we want them to be high-spending visitors who provide value to our local economy. So far, 2023 is looking good and, provided no more unforeseen events occur, we should have another very good year, both in terms of arrivals and yield. The sector ended last year with $931 million in revenues and this year we hope to exceed the $1 billion mark."
One of the ways the government hopes to attract additional guests to the country is by showcasing the unique offering of Seychelles within the region and by increasing the number of activities that highlight the nation's culture. 
"We want to make it possible for tourists to leave their hotel, leave the beach and go into our local communities to enjoy beautiful experiences," says Radegonde. "We're pushing for cultural tourism and community tourism that give visitors experiences that are different from our competitors in the region and which enable the local population to directly benefit from the industry. That is important for the country."
A sustainable approach
The government is also acutely aware of the dangers that come with overtourism, such as overcrowding and the potential destruction of natural habitats. "As an island nation, Seychelles has its own constraints in terms of resources, electricity, water and manpower. It's a big challenge for us and we don't want an industry that grows so big it spoils the environment. I believe there will come a point where we will have to set a ceiling on tourism," explains the minister. 
"People come to Seychelles for its natural environment, biodiversity, wonderful climate and friendly people, so we don't want to destroy those things. We want tourism to remain the main industry and income earner of the country but, at the same time, we need to be mindful that we do not overdo it. Ultimately, if you want people to be able to come in and enjoy our nature, it needs to be in small numbers so that people can experience peace and tranquility. We also want to make sure Seychelles remains unpolluted and that guests can fully enjoy their trip to paradise."
Discovered only in the early 17th century and formally annexed to France before becoming a British colony in 1814, Seychelles gained its independence in 1976, and has remained a cradle of diversity ever since. "Though it is small, Seychelles is culturally very rich. We have been blessed by the influence of Asia, Africa and Europe, which is an excellent blend that is visible in our way of life, languages and gastronomy. We want to encourage tourists to visit our farms and taste our delicious produce or to take part in cooking classes," he states. "Other activities we would really like to push include pottery and traditional dance classes. These are all great ways to sample our culture."
Seychelles is also looking to implement best environmental practices within its tourism industry. Existing hotels and businesses, for example, are encouraged to sign up to the government's sustainable tourism label, while any new initiatives must work with the government to assess and limit their potential environmental impact. 
"When it comes to smaller, locally owned properties and businesses, they understand the need for sustainability in the management and running of their establishment and they follow our guidelines," notes Radegonde. "With new construction projects, we provide an outline of what we believe should feature in their design, from solar panels to the use of resources. We are also looking to produce more of our own vegetables and fruits to supply visitors. Unfortunately, we still import the majority of what we consume in the country, so this is an area where we want to improve and we will get there."
Keep an eye on the US market
Europe is the largest source market for Seychelles' tourism sector, although the island nation is also increasingly welcoming visitors from the Middle East and Asia, and it recognizes the importance of the huge US market. While connectivity remains a major challenge, the country has engaged in discussions with a number of US airlines to ensure that potential American tourists are sufficiently catered for and that there is a strong network of flights from the US to Seychelles. 
Radegonde believes that relations between the two countries will continue to strengthen, even more so following the US-Africa Leaders Summit. Held in Washington at the end of 2022, the landmark event brought together African and the US's heads of state and senior dignitaries — including Seychelles' President Wavel Ramkalawan — to discuss ways of strengthening bilateral ties and cooperation in key areas.
"The Seychelles government is on the same page as the US, be it in terms of human rights or the rule of law, and we see the recent summit as a good sign that the US is coming back to Africa," says Radegonde. "The African continent includes lots of islands that must not be forgotten about in this process, especially when you are talking about trade and upcoming projects. It was important to remind people about our challenges as a Small Island Developing State and that message is now getting through."
In addition to fostering new economic engagements and consolidating political ties between the two countries, America is becoming an increasingly significant tourism market for Seychelles. "The US is a very important partner for us. Last year, it was in our top-ten sources of visitor arrivals," says Radegonde. "Even though the US offers a wealth of wonderful beaches in its vicinity, including in the Caribbean, many Americans are realizing that you can't find beaches as stunning as those in Seychelles anywhere else. What's more, we believe there are specific US tourism niches we can target going forward, such as fishing expeditions that are already popular among American visitors. Fly and troll fishing are areas we want to expand on, given that in 2022 we had around 10,000 US visitors who came to Seychelles to fish."
US citizens also don't require a visa to enter Seychelles, stresses the minister. "We are a safe and beautiful destination, we want to remain that way and to continue to offer improved value and service." 
Radegonde also reiterates that the country will continue to place the conservation of its natural habitats as one of its top properties, as this is what will keep visitors returning to the archipelago time and again. 
"People come to Seychelles because they know we take care of the country and protect its natural beauty. We want to maintain that and ensure that once people land on our shores after a long-haul flight, they see and appreciate our magnificent greenery, protected wildlife and turquoise oceans, and they know instantly that we are an environmentally conscious destination," the government official asserts. 
"These are the main characteristics of the islands that we will carry on promoting. In my opinion, this is what makes Seychelles so special and it is also why we plan to limit the number of people who come here."