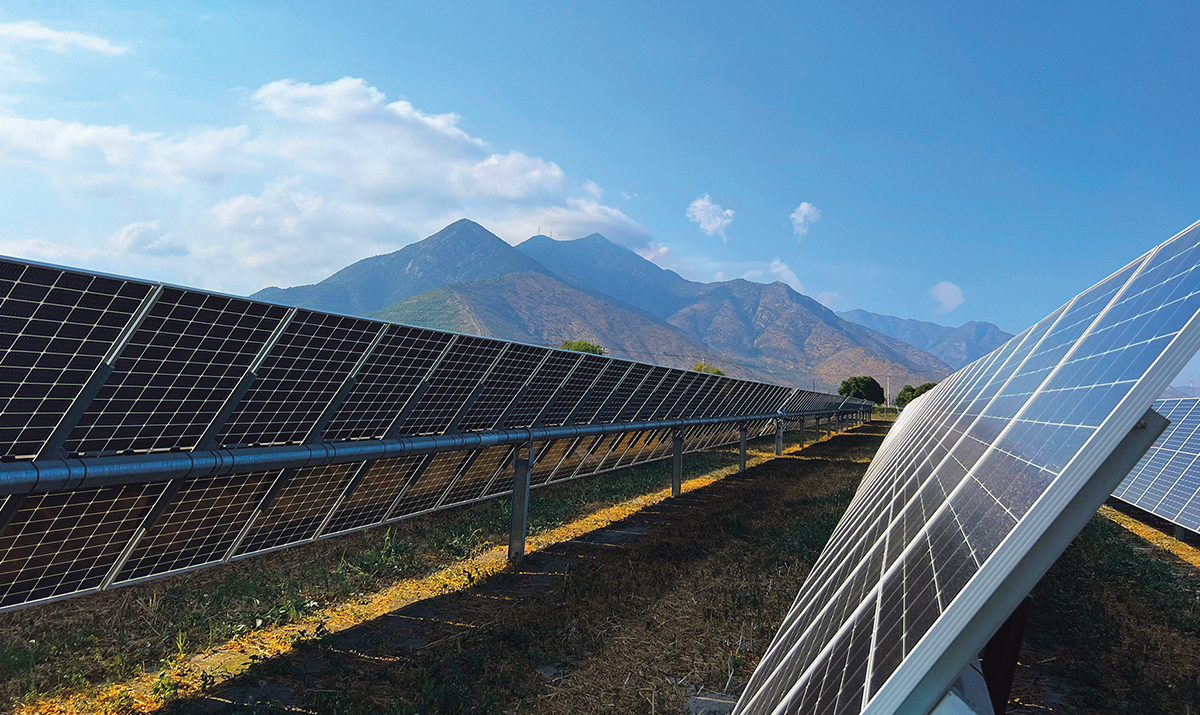 26 Oct

Providing renewable energy solutions

Established in 2010 by Czech entrepreneur Zdeněk Sobotka, SOLEK Holding has experienced rapid growth and has now become a leading renewable energy company with an impressive track record of successfully developing, building and operating numerous solar energy plants across Europe and Latin America. 

It's been a remarkable journey for a company that started with just three employees who all believed that renewable energy was the future. After successfully installing a photovoltaic (PV) park on time and on budget in the Czech Republic, SOLEK has gone from strength to strength and has since undertaken projects in Slovakia, Romania, Cyprus and Chile.  Now the Czech company is beginning to diversify its operations to include floating PV, hydrogen, wind and battery storage in a bid to further propel its growth and impact in the renewable energy industry. 

"Solar is our core business, however, to be successful in renewables you need to add other technologies. That's the reason that we acquired a BESS (battery energy storage systems) company last year as it was important for our internal development," reveals Sobotka, the owner and CEO of SOLEK. "We are now working on numerous wind projects which give us the freedom of delivery during all seasons and even at night. In fact, the future of the energy sector to renewables means being more flexible and utilizing both the sun and wind in order to balance production. As well as diversifying our products, we are also entering new markets. We decided to explore possibilities in Colombia and it looks very promising. We should start the construction of our first project in Colombia next year and our ultimate goal is to have 400 delivered megawatts in the country by 2028. We also have future projects in Chile, such as a hydrogen project in the Port of San Antonio which is more of a pilot scheme in adjusted profitability ratio. However, we firmly believe that hydrogen will be utilized more in the future and could possibly fill one of the gaps in the renewable energy sector."

Offering a comprehensive range of services, covering the development, construction, operation and maintenance of solar power plants, along with tailored solutions for commercial buildings through rooftop power plants and energy storage options, SOLEK is now beginning to explore a brand new technology that Sobotka fully believes could become more prominent in the future. 

"We're working with long-term duration storage providers like Energy Dome and their carbon-dioxide battery, which sees liquid CO2 evaporate through turbine. This, in turn, produces electricity and then stores it within the huge dome structure," he explains. "This is very promising when it comes to longer storage because batteries are more focused on the short term. We very much see the CO2 dome as the future, as well as pumped hydrogen storage."
The future of renewable energy
As a company with a successful track record in solar power plant development and operations, SOLEK has witnessed firsthand the increasing demand for renewable energy from countries around the world. To date, 196 nations have signed the Paris Agreement — a legally binding international treaty on climate change — and world leaders have stressed the need to limit global warming to 1.5°C by the end of this century.  With an increased focus on renewables by countries around the world, SOLEK hopes to play a major role in driving the transition toward a more sustainable landscape. 
"We are in the Spanish market which has a good penetration of renewables but there is a problem with a lack of connection as the grid is really overloaded. This is why we are now looking for a solution that will make renewables
the king in the supply of electricity," reveals Sobotka. "Currently conventional sources are needed when there is no wind or sunshine but we need to avoid this for countries to reach their sustainable targets. The goal of Chile is 90% renewables by 2050 which is a huge goal that would require the perfect energy mix matrix of solar, wind, hydro and storage. This is what we want to help the country achieve by storing the energy produced and then it can be released when the customer needs it. We want to see the future only dependent on renewables.
"Greece is another great example because they started with battery options. They have a great position within Europe with excellent irradiation and wind conditions that would allow them to transmit a lot of energy to the center of  the continent. Now it is a matter of simply promoting the country and putting the right conditions in place to attract serious investors from around the world."
Sobotka has certainly witnessed increased demand from across Europe, with SOLEK currently active in France, Spain, Serbia, Romania, Slovakia, Greece, Cyprus and the Czech Republic. The projects in these countries vary, with the company offering a range of services that include everything from design, procurement and construction to operation and maintenance. 
However, with the renewable energy industry being an ever-evolving landscape, Sobotka  is always having to look towards the future and now has ambitious plans to take the company to the next level. "It's all about growth as if you want your business to be healthy then you simply have to grow. That's why we have ambitions to double our revenue and megawatts year by year," he states. "Our goal is then to become an independent power producer. "We are also restructuring our activities where we will have an operational part of the business which is focused on the development of design, operation and maintenance. Meanwhile, a separate arm of the company will concentrate on increasing the long-term value of our assets. Ultimately, we hope that all countries will fully embrace renewable energy in its many forms and that we can continue to contribute not only to the industry, but also to help stop global warming."