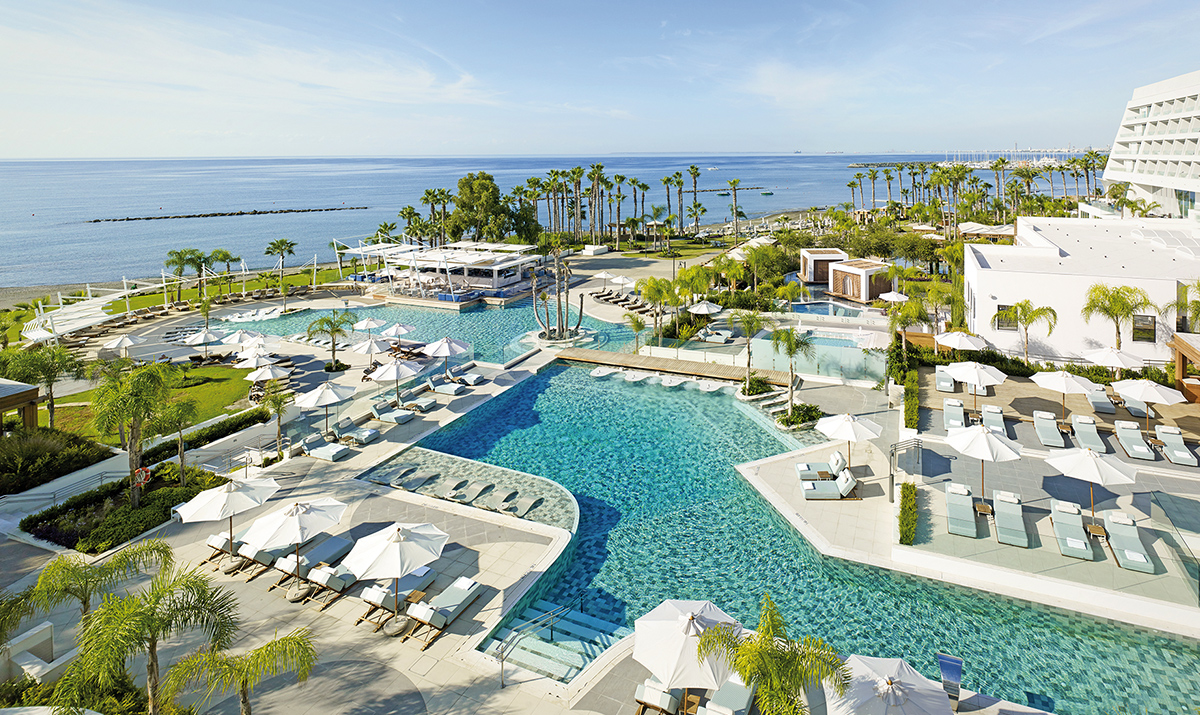 20 Nov

Promoting year-round, luxury tourism
Investments in premium resorts will make Cyprus a pole of attraction for high-end guests
Cyprus is an up-and-coming destination with excellent tourism potential, asserts Grant Johnson, senior vice president, property general manager of Europe's largest integrated resort, City of Dreams Mediterranean, that opened on the island this July. "Cyprus is clearly a hidden gem. It has the most days of sunshine of any country in Europe, 77 Blue Flag beaches, as well as tremendous culture, heritage and a mix of historical influences that culminate in one unique environment. The people are incredibly hospitable and service oriented, and it's an hour away from Egypt and North Africa, 45 minutes from Israel, close to all the Middle East and part of Europe," he declares.
"As it continues to develop, I think hospitality companies from the US will be looking to get a foothold in this market. We're one of the largest private investors in Cyprus' history and we've had great success here; the Cypriot government is clear on what it wants and was supportive in bringing our resort to life." That $630-million, 500-room luxury resort is Melco Resorts & Entertainment's first major venture in Europe and it is a landmark project for both the group and the country. It boasts, for example, a 7,500 square meter casino, the largest in Europe, and the biggest meetings, incentives, conferences and exhibitions (MICE) footprint in Cyprus at over 8,000 square meters. 
Among its other first-class offering are an outdoor amphitheater, a ballroom that can accommodate over 1,000 guests, a family adventure park, a vast pool complex, eight premium dining outlets, designer retail outlets, a spa and awe-inspiring views of nearby beaches, mountains, Akrotiri Salt Lake and the vibrant city of Limassol. Despite only starting to welcome guests this summer, City of Dreams Mediterranean has already won numerous accolades, including three from the European Property Awards 2023: Best Hotel Architecture Europe, Best New Hotel Construction and Design Cyprus and Best Sustainable Commercial Development Europe. "Sustainability is a core pillar of Melco. We have over 4,000 solar panels at our facility, use gray water for irrigation, bottle our own drinking water and City of Dreams Mediterranean was the first development in Cyprus to receive the BREEAM Excellent rating for its sustainability strategy at its design stage," explains Johnson. 
The premiere resort is expected to attract thousands of additional tourists a year to Cyprus. "We really have something for everyone and what we're offering complements the amazing things Cyprus already had. We add a new layer of tourism that is truly year round and that's why there was a good match between us and the government, because developing year-round tourism is so important for this market," enthuses Johnson. "Cyprus has always been a seasonal, summer holiday market, so we have helped make it multi-dimensional. For example, we intend to fill the resort with top international entertainment artists every week and we've provided Cyprus with facilities that it didn't have to compete with Europe for MICE business. Having all these integrated facilities under one roof lets us compete with the biggest destinations in Europe and we're really excited about that element."
According to Christophoros Papachristophorou, founder of private equity firm Invel Real Estate, "Cyprus needs to move toward more luxury offerings so it can become a pole of attraction for that market segment. Invel is paving the way for the country to become an upscale destination by adopting this approach at our hospitality projects, Aphrodite Hills Resort, the Landmark Nicosia and Parklane Luxury Collection Resort and Spa Limassol. With the City of Dreams and some other hotels that have embraced the same concepts, we're creating a reality of high-end alternatives for clients visiting the country."
Since its establishment in 2013, Invel has built up a strong real estate portfolio in a broad range of asset classes across targeted Europe countries, particularly in the south. It has deployed $1.7 billion in capital to date and manages assets worth a total of $3.9 billion through both funds and co-investment structures on behalf of global institutional investors. The firm's strategy of using its in-depth knowledge of markets to identify value-oriented, opportunistic projects is illustrated, amongst others, by its Cypriot hospitality portfolio. "Aphrodite Hills was our first investment in my home country in 2015, following a lengthy negotiation that started in the middle of the banking crisis. Few investors were looking at Cyprus at the time and even fewer would have been able to entertain a transaction of such complexity. Our hands-on approach and active asset management resulted in a complete revamp of the project by, for example, diversifying the food and beverage (F&B) outlets and upgrading the golf course, which became one of six PGA-accredited courses in Southern Europe, growing exponentially the resort's profitability," says Papachristophorou. 
Similarly, the beachfront premium resort Parklane was bought from a risk-concerned family during the pandemic, he adds: "Parklane is a testimonial of our strong belief in the Cypriot hospitality market and its potential. We've worked hard to enhance its luxury appeal, introducing international F&B outlets, as well as a luxury mono-brand retail village." Hospitality is not the only property sector with potential. "The Cypriot real estate market has been rather one dimensional — roughly 90% of all transactions are linked to residential properties. It's important the market expands to accommodate the demand from the growing number of businesses relocating to the island. There's an increasing need for real estate projects supporting education, healthcare, affordable housing, retail and so on," he states.
"Invel is the number-one ambassador" for investors wanting to consider those opportunities, according to Papachristophorou. "Over the years we have collaborated with many US private equity and financial institutions, including York Capital, CastleLake, Goldman Sachs Asset Management and Oak Hill Advisors. US firms seek out local partners who are trustworthy and dominant in the market. Of course, our international experience, fiduciary background and financial expertise also contribute to their decision to invest alongside us," he says. "We'd like to expand our US investor base, building on our successful track record and taking advantage of the interest of US capital to find further attractive opportunities."