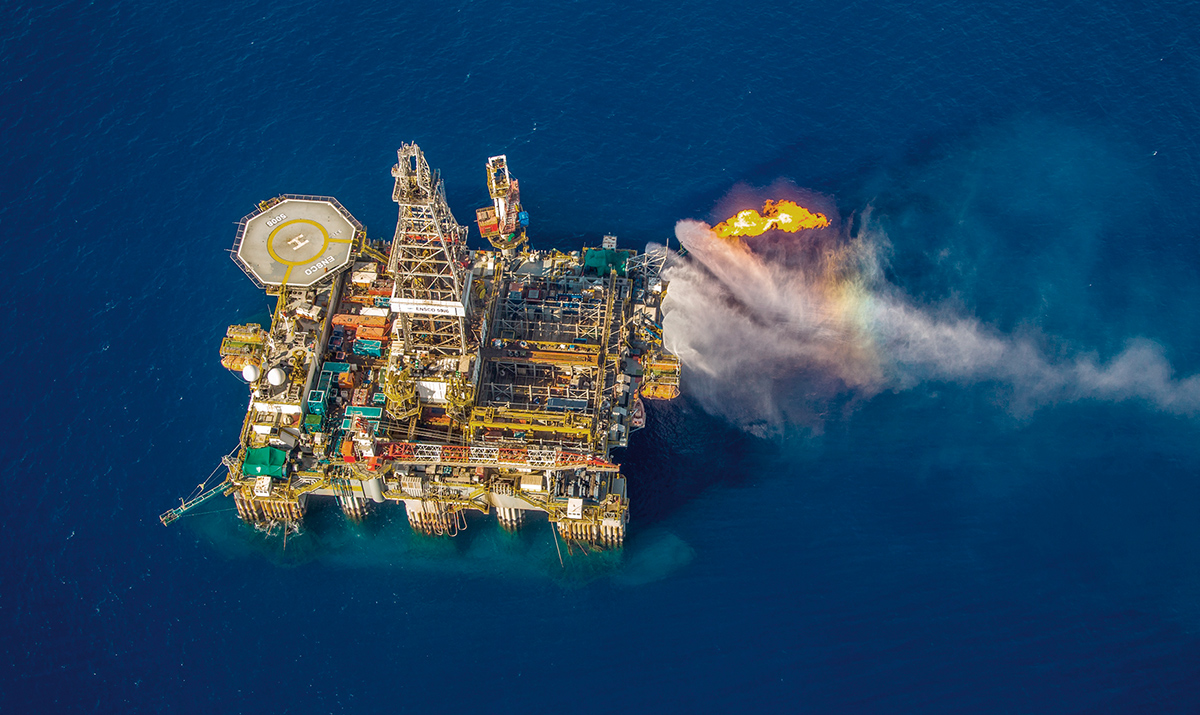 20 Nov

Positive news for gas in the East Med
Recent discoveries give Cyprus a new role on the international energy chessboard
Promising natural gas discoveries in Cyprus' 38,100-square-mile Eastern Mediterranean exclusive economic zone (EEZ) are set to turn the country into major hub for energy production and exportation. Four finds have been made to date by consortiums involving the oil giants Chevron, Shell, NewMed Energy, ExxonMobil, QatarEnergy, Eni and TotalEnergies, with the latest coming in 2022. To realize their potential quickly, President Christodoulides has appointed a Minister of Energy, Commerce and Industry with decades of experience in the oil and gas industry: George Papanastasiou. In this interview, Papanastasiou reveals his vision for the Cypriot energy sector.
What is the status of explorations in the 13 sectors of Cyprus' EEZ and what measures are you taking to speed up the exploitation of the country's gas reserves?
Our most mature discovery is Aphrodite [3.5 trillion cubic feet], which goes back to 2011. Southwest from that, we have Zeus and Cronos-1 in block 6, plus Glaucus in block 10. In total, it is estimated that these southwest discoveries hold reserves of close to 9.5-13.5 trillion cubic feet. The discoveries in the EEZ are a bit dispersed, which causes some difficulties because there is no infrastructure yet to connect them. There is an intention to get all the companies operating in the southwest cluster together to investigate what synergies can be applied to make the best use of their discoveries and what infrastructure we can put in place to develop them.
There will be further explorations. Eni and TotalEnergies will be doing an appraisal well in block 6 in 2023 or the beginning of 2024, and we are doing a subsea seismic assessment in block 5, awarded to ExxonMobil and Qatar Energy, by the end of 2024. In addition, we have another block that may deliver good news in the next few years. If this materializes alongside positive news from block 6, we may be able to decide what infrastructure makes sense for Cyprus to develop, based on accumulated gas quantities.
Aside from this, we are trying to develop alliances in the East Mediterranean to create infrastructure in Cyprus' EEZ and there are ongoing conversations with Egypt and Israel about developing infrastructure to connect the three countries. There is quite a lot of infrastructure sitting in the EEZ of Israel and even more in Egypt's. Cyprus is a little late in developing infrastructure, but our discoveries have also been made later than those of Egypt and Israel. 
It will require synergies among cooperating parties for the gas to find its way to Europe, which is trying to end its dependence on Russian gas. The East Mediterranean is a potential new source of energy supply for the European Union market and that includes the gas reserves in the EEZ of Cyprus, an EU member state. 
Could you expand on the ongoing talks with Israel about constructing natural gas infrastructure that would allow Cyprus to import Israeli gas until its own resources are extracted and which could help to develop both countries' upstream gas markets in the future?
A natural gas pipeline connection between Israel and Cyprus is being discussed in a working group. Cyprus' power generation is still heavily dependent on fossil fuels, but our electricity market is not big enough to pay back the significant investment needed to develop this infrastructure. To justify investing in a sizeable pipeline, you need to provide an incentive to potentially interested parties to push gas from Israel to Cyprus in quantity and for that you need a destination. This could be Cyprus' power stations that require 1 billion cubic meters a year and the markets of Europe and beyond, to which another 2.5-3 billion cubic meters a year would be exported as liquefied natural gas (LNG), with the gas being liquefied in Cyprus. Therefore, we need to develop an additional solution, which could be a floating liquefaction plant. The alternative is a small modular LNG plant on shore that can liquefy gas and then to ship that to European markets.
In fact, the first natural gas that will arrive in Cyprus for power generation will be imported as LNG at a new terminal being constructed at Vasilikos Port, which should be completed in 2024. A floating storage regasification unit will be moored at a jetty and the gas will then be transported to our power generators. That will be the moment when we achieve the first substantial reduction of our emissions in Cyprus.
The EU aims to be carbon neutral by 2050, while Cyprus' own sustainability targets include raising the share of renewables in its electricity mix from 9.8% in 2019 to over 30% by 2030. What are some key elements of your strategy for attaining these goals?
We see natural gas as a transitional product to help support our end destination, which is green. Our targets are in alignment with the EU's and we know the bar is high with regard to our 2030 goals and the 2050 target for climate neutrality. How can we achieve them? It's not rocket science: we need to develop power from sun and wind. As Cyprus doesn't have substantial wind potential, we are focusing mostly on photovoltaics and for the last few years our efforts have been directed toward developing PVs. However, there is now so much renewable generation that our grid can't support it, because Cyprus has an old grid designed to support centralized electricity production, not dispersed. 
Due to a lack of energy storage systems, we sometimes have to curtail and discard green power generation, which is not sending us in the right direction. Therefore, our plan is to promote the installation of storage systems, both front-of-the-meter central ones and smaller hybrid systems that are combined with renewable energy projects. With that, we will be able to store renewable generation instead of curtailing it. We have a time horizon of 18-24 months for the central system and two to three years for the hybrid systems. 
The second thing we are doing is examining the promotion of electricity interconnections with neighboring countries. The one being discussed extensively is connecting Cyprus with Greece. At present, we have no energy infrastructure connecting the island of Cyprus with the rest of the EU and developing this interconnection with Greece would connect Cyprus to the EU grid. This would provide better security of supply and any overproduction of green electricity could be transfered toward another market. There is also a working group discussing an interconnection between Israel and Cyprus. For Israel, this will bring security of supply, because eventually Israel will be connected to the EU grid via Cyprus and Greece. When there is overproduction anywhere on that grid, electrons can flow south or north. It's a good project in our opinion that needs to be further examined from a financial viability point of view and as a geostrategic project of added value to the area.
How can Cyprus' energy developments alleviate tensions in the region?
Energy can be used to bring peace to the East Mediterranean region that is, generally, an area of geopolitical tension, but one that has started to become rich with natural gas. It's a widely expressed opinion that this wealth can be placed on the table to bring some peace and minimize the risk of further tension, at least between countries that are looking toward that wealth. We would like to see Cyprus bring its wealth to the table for the energy security and prosperity of all citizens of the island of Cyprus, both Greek and Turkish. Any excess can be exported for the prosperity of other nations. These are exactly the conversations we are having with Israel, Egypt and the EU.
What are your priorities as Minister of Energy, Commerce, and Industry? 
My first is to make use of Cyprus' natural gas. The second is to make Cyprus independent of the ongoing global energy-related crisis and, at the same time, work to ensure low-cost energy to support households, industry and the Cypriot economy generally.