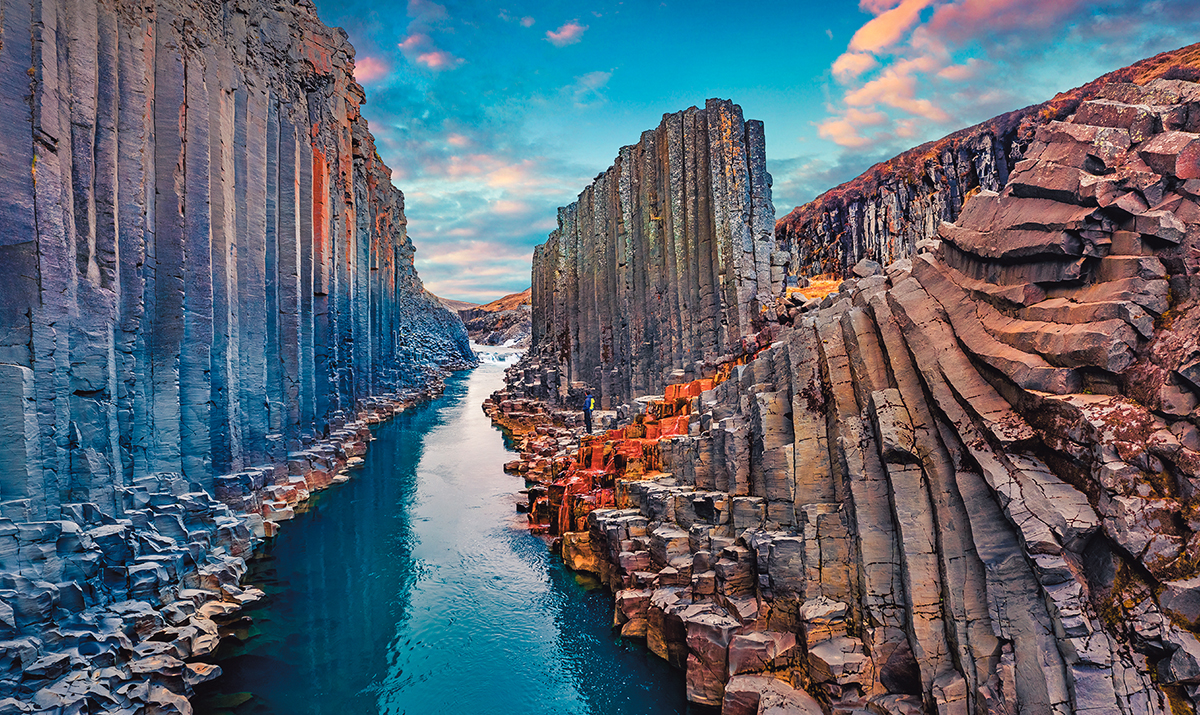 05 Oct

Out of this world experience

Known in tourism marketing shorthand as the Land of Fire and Ice, the countless breathtaking landscapes dotted across Iceland's often ferocious terrain range from thundering waterfalls, active volcanoes, erratic geysers, towering mountains and vast glaciers that creep across huge plains.

Over the past decade or so — and despite the major disruption caused by the COVID-19 pandemic — Iceland's reputation as a tourism hotspot has grown impressively as word of its unmatched natural treasures has spread far and wide. At the same time, the increasing appetite for adventure among vacationers of all ages and growing interest from outdoor enthusiasts has made it a leading tourist destination.

This positive development is also reflected in the many international airlines that now run regular services to and from the island from other European countries and continents. Many will land or take-off from Keflavík International Airport close to the Nordic capital, Reykjavík. In turn, the government and private sector has invested substantial sums in tourism-related infrastructure, especially the supply of accommodation, which at one point was struggling to keep up with visitor demand.

"We have been strengthening the infrastructure of our tourism sector and also ensuring that our nature is protected," confirms Prime Minister Katrín Jakobsdóttir. "First and foremost, people are coming here because of our amazing nature; that is the main reason."

Cabinet colleague Bjarni Benediktsson, Minister of Finance and Economic Affairs, echoes this view and adds: "The tourism sector was particularly hard hit by the pandemic, but when tourists were ready to return to Iceland, the essential services and facilities were in place to welcome them."
Visitor numbers rocket on space campaign
This last point is illustrated perfectly by data collected by the Icelandic Tourist Board — which is keen to promote the importance of sustainable tourism — the total number of foreign overnight visitors was more than 1.7 million in 2022, a 146% increase from 2021, when foreign visitors totaled just over 700,000. For 2023, around 2.5 million visitors are expected to arrive via planes and cruise liners.
It is not just the sheer number of arrivals that has been hugely positive, as feedback from tourists revealed they were eager to return and explore more of the country's wonderful landscapes and formations, while also highly recommending a visit to family and friends.
One of the phrases often used to describe Iceland's scenery is "out of this world," which is apt given that one of the first sights that greets visitors arriving by air is a moon-like landscape. Unless hidden by winter snow, a seemingly endless lava field topped with green-grey moss blankets much of the Reykjanes peninsula that turns out to be a teaser for all that Iceland has to offer visitors. Late last year, tourism chiefs launched an innovative marketing campaign that saw a special billboard lifted into space by a huge weather balloon. Dubbed Mission Iceland, the billboard aimed to encourage potential space tourists to consider Iceland as a viable alternative offering the chance to soak up incredible earthbound wonders without the need to launch themselves into the stratosphere.
Sigríður Dögg Guðmundsdóttir, head of the official destination marketing office Visit Iceland, said of the campaign, which made headlines across the world: "You don't need to leave Earth to have an experience that is out of this world. There are otherworldly adventures to be found right here in Iceland, where you can enjoy the same lunar landscapes that NASA astronauts used as a training ground before the inaugural spacewalk.
"We've seen an increase in the popularity of space travel over the last two years, and some even believe that this is the future destination of the super-rich. We want to put this trend into perspective and point out that you can experience the unexplored beauty here in Iceland and many other things that are unique in the world."
Due to its favorable size for road trips and the lowest population density in Europe that means highways are almost empty, many visitors opt to hire an automobile to see as much as the country as they can, although campervans and 4×4 vehicles are considered by many as the best way on wheels to see the "real" Iceland.
Not only do they allow users to get off the beaten track, such transport provides far greater flexibility when it comes to choosing itineraries and adventures, meaning you can park up in designated areas and wake up to a different view every morning.
Hit the highway for a road trip of a lifetime
Iceland is not just famous for abundant elements like fire and ice; as the country is also referred to as the Land of Light and Darkness. Long summer days with near 24-hours of sunshine are offset by short winter days with only a few hours of daylight — the perfect scenario for enjoying the magical Northern Lights.
Official statistics show that after flying into the capital and spending some time exploring the city's incredible cultural and historical delights, the majority of visitors then head east on coach tours or in car/campervan rentals as they embark on journeys along the well-maintained national Ring Road.
The famous highway is 825 miles long, entirely paved and takes drivers and their passengers across all regions — except the Westfjords and Snæfellsnes Peninsula — and since it forms a circle, you always end up where you started.
The first set of memorable sights lying in wait for travelers when heading counterclockwise along the extensive stretch of the south coast include many of Iceland's most popular tourist destinations. Known as the Golden Circle, the 200-mile-long sightseeing trail features the gorgeous Thingvellir National Park, the imposing Gullfoss Waterfall and the unique Geysir Geothermal Area.
Continuing east and after passing eye-catching black sand beaches, the nation's largest rhyolite formations directly accessible from an inhabited area are found close to Borgarfjörður Eystri. Impressive magma chambers filled with colorful mineral deposits can be witnessed and visited along the eastern coast. From a cultural perspective, during the long summer months the eastern region becomes a creative hub for artists and young people from Iceland and abroad, as a variety of music and art festivals have popped up and expanded in recent years.
As the Ring Road swings to the left, a land of contrasts awaits visitors to the north of Iceland. Stunning valleys and peninsulas are interspersed with mountains, lava fields and smooth hills carved out by rivers, while the deep and numerous indentations in the coast of the north are at times lush with vegetation, at others barren. As one nears the Arctic Circle in the northern latitudes, the midnight sun is invariably awe-inspiring.
One of the most popular destinations in northern Iceland is Akureyri, frequently referred to as the Little Big City of Iceland. Home to less than 20,000 people, its collection of brightly painted wooden houses offers a warm welcome and boasts a rich selection of entertainment, art and culture, yet is still small enough to be personal and close to nature.
Indeed, the city is the ideal base from which to participate in whale watching tours and arctic sea angling tours. Just along the coast, similar marine-life-based adventures can be found at the beautiful little town of Húsavík. Other regional highlights include the Húsavík Whale Museum and the Seal Center in Hvammstangi. 
Meanwhile, situated in the northern reaches of the Vatnajökull National Park, the spectacular Ásbyrgi Canyon and the Dettifoss Waterfall — the most powerful in Europe — provide plenty of photo opportunities and chances to boost your social media accounts with shots of yet more natural wonders.
Heading west for the best flora and fauna
West Iceland is undoubtedly one of the island's more geologically diverse regions, featuring everything from slumbering volcanoes, hot springs, valleys and caves, fjords and majestic waterfalls to great wildlife and flora.
Popular with hikers and outdoor enthusiasts, the area is home to Snæfellsjökull National Park — named after the mystical ice-capped volcano that dominates the skyline from miles away — which is Iceland's only national park that reaches the sea.
Even further west are the Westfjords, a natural unspoiled wonderland so special and unique that it scooped the coveted title of Best in Travel in 2022 from the famous Lonely Planet travel guide book organization. "The Westfjords is where Iceland's dramatic landscapes come to a riveting climax and where mass tourism disappears — only about 10% of Iceland's visitors ever see the region," the prestigious publication enthused about the remote area.
Travel companies in the Westfjords are mostly family-run by former farmers or fishers. As a result of their success, young people now see opportunities in tourism that able them to continue living in their remote home region, where as many before had to consider relocating.
The Westfjords peninsula is a true Icelandic wilderness area and undoubtedly the ideal place for spotting birds and arctic foxes in their natural habitats and exploring the dainty sub-arctic flora of Iceland. Látrabjarg, on the southwest side of the Westfjords, is Europe's largest bird cliff and home to more than a million seabirds, including puffins, guillemots and the biggest razorbill colony in the world.
The bird cliff is a breeding area for up to half of some of the species' global populations and is therefore listed as an internationally important bird area and a nature reserve. Látrabjarg is also Iceland's furthest point to the west and one of Europe's westernmost outposts.
Geothermal region is hottest destination
The geological wonder that is the Reykjanes Peninsula is an area where, rather incredibly, lighthouses outnumber villages. As well as hosting the world-class Keflavík International Airport and a famous geothermal pool, the Blue Lagoon, the region is a hugely popular tourist destination in its own right. and a UNESCO Global Geopark.
This special status recognizes the region as a cultural, geographical and historical treasure trove that is worthy of exploration. Featuring endless lava fields, craters and a treeless environment, the area produces much of the country's electricity and is also a veritable hotbed of recreational activities.
Arriving back in Reykjavík and the urban sprawl known as the Capital Region, where roughly two-thirds of Iceland's population of 370,000 people live, visitors can return their hire cars and campervans. And as you would expect in such an environment-focused country, the vehicles available to hire are increasingly electric. "With tourism being a fast-growing industry in Iceland, it's crucial to encourage sustainable travel," stresses Guðmundsdóttir. "Sustainability is a serious matter, but it doesn't mean we have to stop doing fun things or enjoying life while traveling."