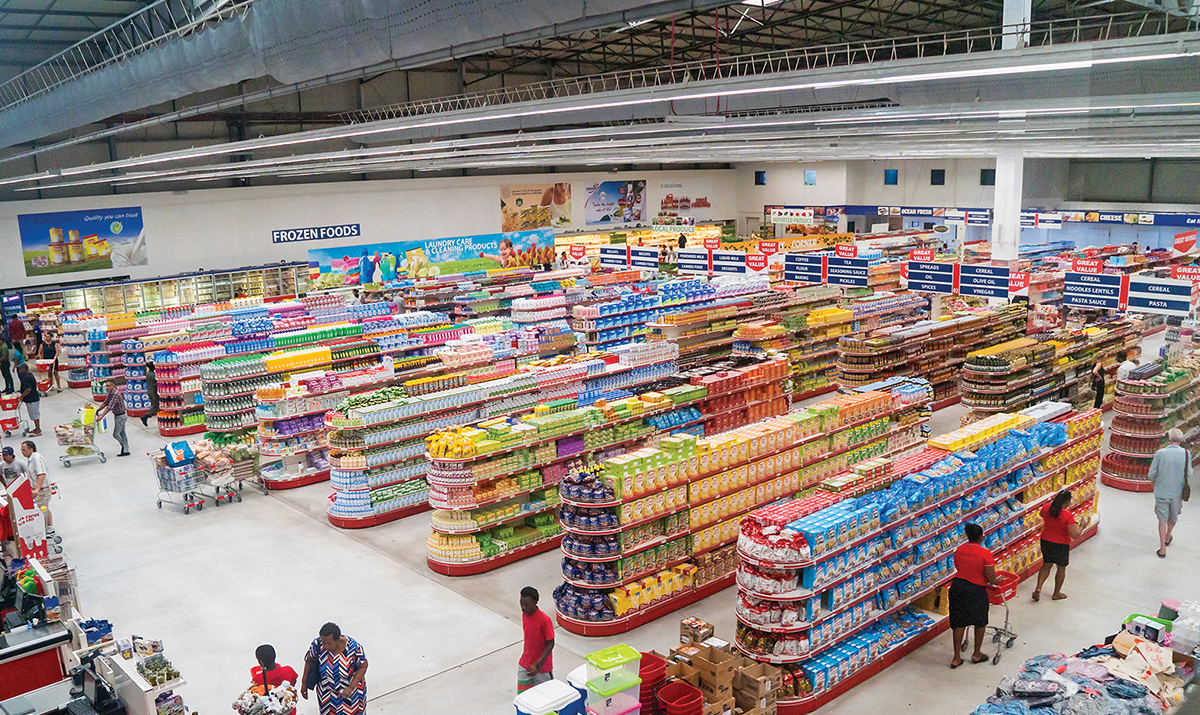 12 Oct

Keeping Seychelles inflation proof
Despite recent global crises, quality FMCG goods have remained available and affordable
Island nations across the world are dependent on imports for many of the commodities they consume and Seychelles is no exception — currently, 90% of food and other basic goods sold in the archipelago are imported. This dependency makes those countries particularly vulnerable to external crises and their resilience has certainly been tested over the last few years, with the pandemic, energy crisis and war in Ukraine bringing serious disruptions to supply chains and soaring inflation globally.
As a result, numerous island and non-island nations have seen product prices multiplying and empty shelves in grocery stores. In Seychelles, however, retail prices for key basic items have not only remained stable, some have fallen. Credit for that achievement goes to the state-owned Seychelles Trading Company (STC), which is responsible for importing, retailing, wholesaling, distributing, manufacturing and other value-added activities that are mainly connected to essential fast-moving consumer goods. 
STC was established 40 years ago specifically to avoid market volatility. "Our role is to help maintain prices, so that citizens can always afford to buy basic commodities, and to guarantee their availability at all times. As part of our mandate, STC contributes to sustaining a decent cost of living for citizens through its anchoring of prices and by importing high-quality, affordable products for the entire population to meet its needs," explains CEO Siana Bistoquet. The ongoing relevance of its mandate is clear, she adds: "If STC didn't exist, Seychelles would have suffered the full-blown impact of the recent crises. Instead, we managed to stabilize prices."  The company accomplished this in various ways. Firstly, it has a diverse network of international suppliers, which enabled it to shop around for cost-competitive quality products. Secondly, STC always maintains at least six-months-worth of stock in its extensive warehouses to protect against unforeseen international events that might affect food security. And thirdly, the company took the decision to reduce the price of strategic items in its retail outlets that include the archipelago's only large-scale grocery store: STC Hypermarket. "The government had been subsidizing goods such as rice, oil and sugar through STC, but as well as being bought by citizens, they were being purchased in bulk by big private-sector customers — the subsidy was being directed toward the wrong group. We stopped subsidizing those goods and brought down costs of essential items that only ordinary people buy, such as soap, toothpaste, cheese, pasta and baby-care products. That made a big difference and reduced the average shopping-basket price," reveals Bistoquet.
To further bolster the country's food security, STC is investing in expanding its assets. Additional warehouses are being built, as is a substantial cold-storage facility that should be completed this year. The company is currently sourcing energy saving technologies for these and its other properties, including solar panels for their roofs, she states: "This will cut down our utility bills, while enabling us to go green."
STC is reducing import dependency by fostering domestic production as well. It supports local farmers and manufacturers by providing them with a sales platform at its retail and wholesale outlets, and the company also manufactures some goods: for example, its bakery generates Seychelles' most affordable bread. STC's latest endeavor in this area is to encourage poultry farmers to process chicken into parts, which they — and domestic producers of other goods — will be able to store in its new cold-storage plant.
Bistoquet wants the country to go further: "Increasing local production cuts down on imports, enables us to consume local goods and helps our farmers and businesses. At the very least, we should aim to import more raw materials for local manufacturing and we need to venture into more value-added activities, such as importing milk in bulk and packaging it here." 
STC is also looking to expand its import-trading network, which is concentrated on nearby countries to minimize freight fees. High shipping costs make trading with US manufacturers difficult, she notes: "However, we would really like to explore the possibility of forming franchise partnerships with any established international grocery stores that sell affordable goods: having an STC-Walmart or STC-Costco here would be amazing! STC is open for negotiations with all international value stores, so that we can benefit from knowledge transfer and efficiency that would be geared toward lowering the cost of living in Seychelles."