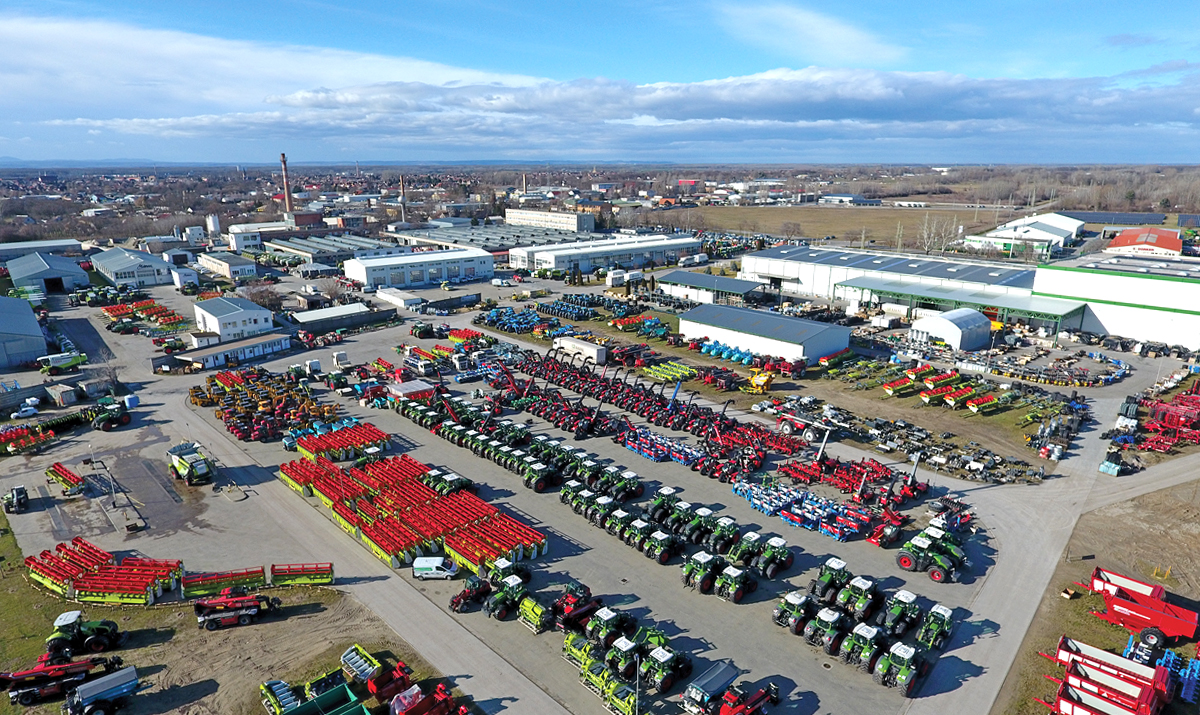 09 May

Interview with Zsolt Harsányi, CEO of Axiál, Hungary

BF: Hungary is a resilient, export-driven economy with lucrative opportunities in agriculture. Agricultural exports accounted for 8.9% of total exports from Hungary in 2021. Could you give us a rapid overview of the sector: what are some of the key trends that you have seen shape over the years, what are the main challenges, perspectives, and opportunities in agriculture at present?

One of the biggest challenges in the agricultural sector is drought, but luckily there are multiple solutions to this problem, aside from irrigation. For example, switching to a sustainable cultivation method can also help with prevention, if combined with the right equipment. With this in mind, AXIÁL has organized a series of nationwide events, where we focused on improving soil condition, and highlighted the importance of water retention while showcasing the related modern agricultural machinery. We also explored the link between no-tillage and soil quality. We had great success at all five locations, so we'll surely continue with another roadshow in 2023.

Returning to the challenges in the sector, I shall also mention the difficulty of finding competent staff with appropriate agricultural expertise. Empowering young generations with up-to-date knowledge and experience is greatly needed, so our sector may rely on them in the future, when they enter the job market.

At the same time, we are seeing machinery manufacturers designing ever larger models in terms of size and performance, with digital solutions to facilitate more efficient agricultural production. Meanwhile, they also try to remain compliant with the forthcoming Green Deal in the European Union.

 

BF: How has the war in Ukraine, the energy crisis, the inflationary situation, and supply-chain disruption impacted the sector?

The sector has faced delays in production and suffered from logistical issues, while the purchasing power of farmers has been weakened by adverse movements in exchange rates. The pace of machinery deliveries is slowly normalizing, but there are still some latencies here and there. We see a limited chance for prices to return to previous levels, or even to stagnate, as equipment manufacturers are now expected to increase their rates by another 3-7% from January. Meanwhile, farmers are trying to invest in more stable assets, one alternative is to buy modern agricultural machinery that can retain its value. AXIÁL has responded quickly and efficiently to these changes, with larger stocks and favourable financing conditions.

 

BF: As a leader in machinery distribution in Hungary, AXIÁL is at the forefront of agriculture development in the country. The company was founded in 1991, you took over the following year in 1992, and today AXIÁL has deployed many sites across the country and counts several hundreds of employees. Can you give us a rapid overview of the company and its development over the past 30 years? What type of products and services does AXIÁL offer today, and how does it position today in Hungarian agriculture?

 

The AXIÁL Group (comprising of AXIÁL Ltd., MANAX Ltd., and AXIÁL FINANCIAL SERVICES Ltd.) is committed to serving the needs of the agricultural sector, the construction industry, and the area of warehouse logistics in Central Europe with machinery, rental equipment, hired labour, aftersales services, while also offering spare parts and financing solutions. In Hungary, we are present with 19 branches, employing nearly 1,000 people, while being in contact with more than 20,000 partners. We are also present in neighbouring countries, through our subsidiaries in Romania (MUNAX) and Slovakia (HRIADEL), constantly improving our infrastructure in these regions as well, with an aim to serve our partners at an even higher level.

 

BF: AXIÁL is striving to provide high-quality service, distributing distinguished products and brands in the industry, and high-standard machines such as CLAAS.  How would you rate your company's contribution to the agricultural sector in Hungary? How does AXIÁL contribute to the advancement of Hungarian agriculture, and its transformation into a more sophisticated, automatized, digitalized, yield-efficient, and modern agriculture?

 

As a machinery supplier, our job is to deliver the right technology to the farmers who can rely on these tools and solutions to achieve their goals. For that reason, we place great emphasis on educating our customers. Our expert colleagues attend a great number of trade shows and conferences, while we also organize a multitude of own events each year. Our goal is to share all the international and national expertise that we possess, including the vast knowledge coming from strong partnerships with our suppliers. We also provide operator training, where our engineers share all the know-how related to the operation of a particular type of machinery with the employees of our customers. Fundamentally, we want agriculture to be seen as a modern sector, also by people with entirely different occupations. Through our activities we want to provide visibility to the dynamic development of this sector, where highly skilled professionals work with advanced technology, ultimately achieving their long-term vision.

 

BF: To what extent are you working to transform from a technology distributor to a technology integrator? What are some of the projects you are working on in terms of research and development? 

As a distributor, we have been striving from the very beginning to offer the best possible range of equipment and accessories to our clients, tailored to their specific needs and requirements. This perfectionist approach is highly valued by our suppliers, enabling us to regularly participate in the testing phases of their prototypes and pre-production models, while the feedback coming from our colleagues and customers is also taken seriously during the planning of their product developments. Over the years, many great models from many brands have been brought to market this way, to the satisfaction of farmers in Hungary and other nations.

 

BF: A couple of years ago you introduced GPS technologies into your machinery. What kind of new products, concepts and technologies are in focus at present that will enhance farmers' efficiency and productivity? Are you working on integrating any new digital technologies for AXIÁL at present?

Our team responsible for precision farming technologies was established in 2013, exactly ten years ago. Their mission is to enable farmers to maximize yields, while decreasing the quantity of input materials used, ultimately helping them to become more profitable via increasing cost-efficiency. In the last decade, we have witnessed rapid technological development in this field. Aside from the continuous evolution of precision farming hardware, the quick emergence of various data integration and data processing software is also apparent. These new solutions can provide compatibility with the systems and formats of different manufacturers. At the same time, a completely new profession has also emerged in agriculture for evaluating the vast amount of data that we can collect nowadays. Our company offers 3 distinct ranges within the precision farming portfolio. Firstly, we distribute the brand-independent solutions of Trimble Agriculture, including hardware and software. Secondly, we provide an in-house developed precision farming software called mAXI-MAP for unrivalled data visualization and easy planning of operations, accessible from any internet browser as a subscription-based service. And lastly, we operate a 4GNSS network for an RTK correction signal, used for the automated steering of machines. The latter is called mAXI-NET 2.0 and it's also a fully internal solution, created via AXIÁL. This network has country-wide coverage and incorporates data from 4 different satellite constellations: GPS, GLONASS, GALILEO, and BeiDou. Supported by the latest technology, mAXI-NET 2.0 can connect to significantly more satellites compared to the minimum requirement of 10-12 units, resulting in unmatched reliability.

 

BF: Going forward are there some specific segments in agriculture present the most potential or have the most need for your products?

Earlier I mentioned the importance of drought control, an effective method for this can be no-tillage. Our range includes a family of implements for this purpose, the HORSCH Joker compact disc harrows, which are very popular all over the world and can be fully configured to the needs of the customer. Of course, the other aspect of drought control is irrigation, for which we do not have a specific product yet, but we know that in the future there will be an increasing demand for this in our region.

 

BF: The European Green Deal is pushing for a paradigm shift in the agricultural sector: one of its objectives to build a more sustainable and healthier food system, through initiatives such as farm to fork. How do AXIÁL products and services enable to infuse better environmental practices and standards within Hungarian farmers communities?  

For one, the use of chemicals can be reduced by implementing different camera-based weed detection systems or by spraying the fertilizer in a targeted manner, supported by the intelligent solutions of precision farming. Drone weed mapping also has potential. On the other hand, mechanical weed control can also be effective, with the use of a weeder harrow at the right time for the right crop. The technology is there and all available from AXIÁL.

One of the more problematic issues of the Green Deal is the reduction of carbon dioxide emissions, affecting internal combustion engines and the use of diesel fuel. There are some concepts to meet these more challenging requirements on the side of the manufacturers, such as electric machines with batteries, and the usage of hydrogen as fuel. These are not yet fully developed to meet the performance demand in agriculture.

 

BF: As a leading player in its field, AXIÁL has developed a series of partnerships with
Western suppliers. As the sector continues to develop at fast pace, with automation and technologies evolving so fast, how is AXIÁL working to expand its partnership network, including with the US, a major leader in agriculture machinery?

We have a number of suppliers whose parent company is American, such as Trimble or the AGCO Group, the latter of which supplies us with Fendt tractors made in Germany. Beyond that, we are of course always interested in expanding our portfolio.

 

BF: In view of the current challenging context, what are your plans for this coming year in terms of company expansion, what are some of your priorities? How do you see 2023?

We are constantly upgrading our facilities and expanding our service capacities, because the machines that we sell need to be well-maintained, and for this, we also have to supply high-quality spare parts. At the end of 2022, we opened a completely new site and built a separate workshop for our mobilized service technicians.

 

BF: From a marketing and communication standpoint, how is AXIÁL working to grow its brand reputation and image globally?

Since 2007 AXIÁL has been participating in the AGRARTECHNIK Service Award competition in Germany, where we have been successful every year. Thus we have been able to demonstrate that our facilities, equipment, and colleagues represent the highest standard, and can successfully compete in a demanding international environment.

Thanks to our close relationships with our suppliers (often going back several decades), our team can regularly attend exhibitions and training courses abroad, where our highly skilled professionals reinforce our reputation.

However, our efforts are mostly focused on the domestic market. We regularly organize trade events with our employees or take part in sectoral exhibitions. For example, most recently we attended the AgrargépShow event from 25 to 28 January 2023, where we showcased our portfolio on an area of 5,000 square meters, with nearly 100 machines. Aside from periodic print materials we also maintain a complete online presence, including a website, webshop, and various social media platforms, such as LinkedIn, Youtube, Facebook, Instagram, TikTok, and Spotify.

BF: Do you have a final message for the readers of USA Today?

We encourage people around the world to buy the products of Hungarian agriculture, which can offer healthy food and beverages of exceptional quality, let it be wine, wheat, meat, or cheese.