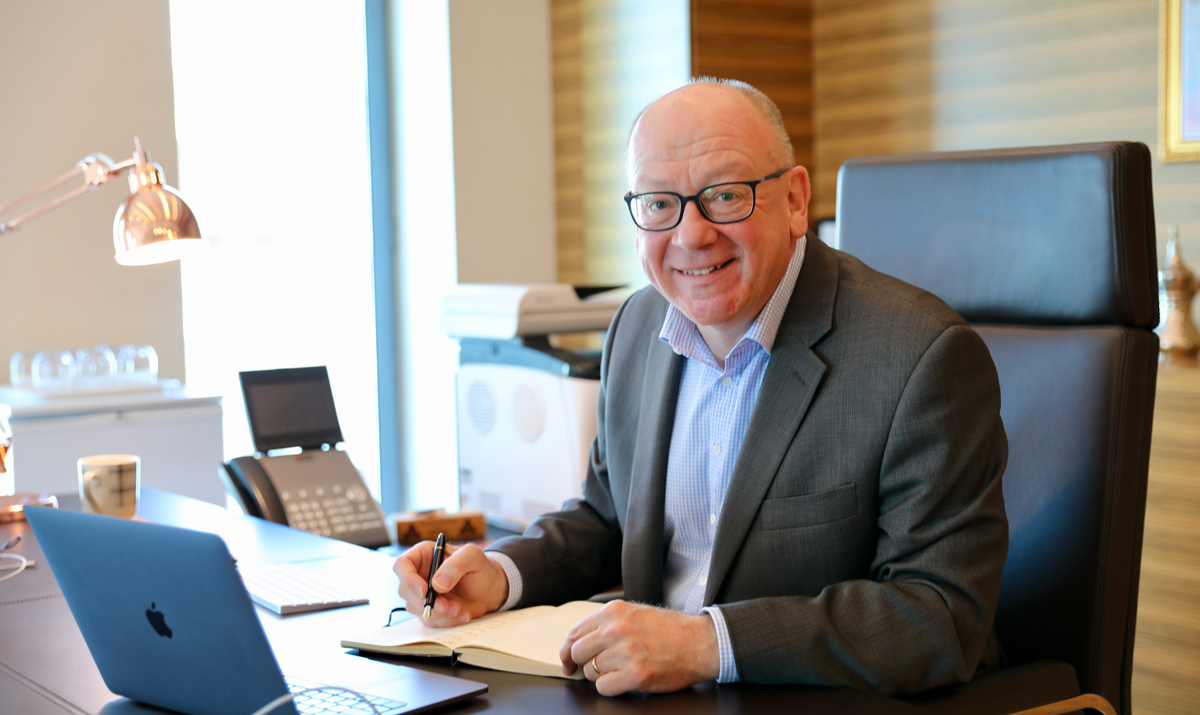 30 May

Interview with Walter Simpson, Managing Director of CC Energy Development

How successful has Oman's oil and gas sector been in helping to diversify the country's industry and develop the economy?

The country's fast development and increase in infrastructure has made it unrecognizable from when I arrived in the early 1990s. While rapid, its progression has been done in a very sympathetic way. All funding towards minerals, hydrogen and other projects is effectively funded by revenue from the oil and gas sector. The sector has faced many challenges, including a hiatus due to the COVID-19 pandemic, OPEC+'s caps on production and a decline in oil prices. However, the breaks have now been taken off. Oman aims to be a vital financier of the energy transition and ramp up activity to meet the requirements of the worldwide hydrocarbons industry.

Can you give our readers an overview of CC Energy Development's assets in Oman and their current level of development?

We are developing Block 3 and Block 4. Although they are effectively two blocks, we treat them as one entity. We have five main producing hubs comprising three different previously explored production zones. The first is a conventional plastics reservoir, which is sandstone, and the second and third are fractured carbonate reservoirs. We are currently shooting a considerable 3D seismic program over the remaining areas of the blocks and launching an extensive drilling exploration program, both of which will carry on through 2023 and into 2024. We recently acquired a fourth rig specifically geared toward exploration appraisal. Our special license on blocks 3 and 4 runs to 2040, and we aspire to be here beyond that. We want to remain sustainable as a business and continue to be a long-term value generator for our shareholders and Oman. We are looking to expand our operations and are looking at other blocks in the country. 

How does the company's unique growth strategy relate to Oman's In-Country Value initiative?

The three following things are valuable to us as a business: being a low-cost producer, having a low environmental footprint and being valued by the communities we work with. These segments are interlinked; a company can only be a low-cost producer if it has an educated, efficient and capable workforce that understands the environment and gets support from the community through local companies.

Our strategy has always been to hire the best people and make sure they are trained effectively and gain the same level of experience available in international markets. We want internationally capable people who can get a job done anywhere in the world. Fortunately, 95% of our people in the field have gone through a City and Guilds diploma program in oilfield maintenance and operations. The Omani education system is excellent. When we advertise graduate positions, we receive several thousand graduates applying for each job. The graduates we select are comparable to anywhere else in the world; they are magnificent. What we offer is development and experience so they can be superb in their roles.

Our current nationalization rate is 92%. We still maintain several expatriates to provide the necessary knowhow. These tend to be older with a great deal of experience, while our young graduates are all Omanis. We will always require around 10% of our staff to have expertise in international markets to help improve the organization. We also require competent contractors. We have a staff of around 700 and around 2,000 contractors working with various service companies. While our percentage of Omani contractors is less, we are working to build local partnerships and build skill sets. We have a moral responsibility as international operators to develop our country and help people get educated. It is also in our best interest to develop local companies and capabilities and use these services to improve our operations. For example, it is far more cost effective for us to buy electrical cables from a manufacturer in Oman than importing products from China, the US or India. We also prioritize safety. It is critical that people understand we are looking after them. After the COVID-19 pandemic, we set up a mental health campaign. Many people were isolated, and we received feedback that people felt that life was not the same. We worked with our in-house doctors and medical teams to help manage stress levels and address mental health issues.

How is CC Energy Development incorporating new digital technologies into its operations?

We have a digitization team to incorporate these innovations into our operations. If one wants to have low costs and maintain a low environmental footprint, it is impossible to be successful without adopting these technologies. We operate over a vast geological area with sometimes hundreds of kilometers between our facilities. We need to manage our activities effectively while lowering risks and increasing safety. New digital tools are integral in attaining our goals, whether through remote operations of wells or receiving data to optimize our processes. There are also many advantages to using drones and other innovations in doing surveys. Instead of putting workers in a car or helicopter or building scaffolding, we can now fly a drone and get the same information more rapidly, cheaply and effectively. The industry has always been excellent at incorporating new tools once it recognizes an advantage.

Before the COVID-19 crisis, many parts of the workforce were technology resistant. For example, there was a hesitance in using video conferencing. Since having to work from home during the pandemic, there has been a significant rise in the level of comfort people have with technology. While digital meetings, for example, are not a complete substitute for face-to-face meetings, they are treasured for specific tasks and certain parts of the business. Being able to do things remotely and still be effective is a revelation that has made an enormous difference. For instance, we have done training courses where the trainers are overseas while our trainees are together here in a room. It is unusual but much more cost-effective with top-quality trainers available. With new technology, it is just as effective as having them in the room.

What is the company doing to align with Oman's target to have net-zero carbon emissions by 2050 and create more sustainable operations?

Our primary role in this is on the revenue side. We are keeping the production of hydrocarbons going to help drive revenue streams to fund sustainable developments in the country. We are a small company, and our focus is on hydrocarbons. Furthermore, we do not see oil and gas rapidly disappearing from the energy mix. Even with some of the best predictions, we will still require around 50 million barrels per day of hydrocarbons to meet demands by the middle of the century. We support the country's ambitions but are not investing in hydrogen, for example. It is not our skillset, and there are those who are better placed to bring these new energy sources to the market. Our objective is not to diversify as we are not a big company and do not have the required revenue streams for such a move. However, we want to remain one of the better players in the hydrocarbons industry, which means having a low environmental footprint. The Omani market is cognizant of the importance of producing hydrocarbons in the most environmentally conscious way and has far-thinking green targets.

Internally, we will achieve zero flaring by 2027 along with a significant reduction in greenhouse gas emissions. Additionally, we are constantly looking at how we can manage our water and waste more effectively. Environmental stewardship is not only about addressing greenhouse gas emissions. We have directly engaged with our staff, with some of our best ideas coming directly from the team such as exploring technology used to treat saline water and composting our food waste. We are using mobile reed beds to treat our gray water. By using waste products, we can achieve a better environment for people to live and work in. While these investments do not always bring in considerable returns, they significantly raise the morale of those working at the sites and help workers be more efficient. There are countless ideas and technologies emerging that can be beneficial; it is down to us as prominent organizations to make sure these ideas get a fair hearing and are tried out.

What kind of corporate social responsibility initiatives is CC Energy Development involved in? How important is building ties with the local community?

We have a fund with our partners that we pay into every year that is distributed towards good causes. We have three teams focused on education, health and social welfare with specific criteria and a scoring system to ensure sustainability. It is not enough to give our money because of a good idea; we need to know if it will be sustainable and benefit the community in the long term. The projects we support tend to be very effective. We have supported child education and combating cancer and diabetes in children. We have given funds to hospitals to buy state-of-the-art equipment and have supported maintaining water systems in villages. We are also currently building fish, fruit and vegetable markets. While these efforts are an essential element in being valued by the community, it is not our only goal. These initiatives also help to build adjacent small and medium-sized businesses and develop staff. Social welfare is just one aspect of our outreach strategy.

How significant is the US market in terms of a place to invest and as prominent players in Oman's hydrocarbons sector?

We are already participating in the US' upstream sector and will continue to invest. An integral part of our business comes from the US; many of my board are Americans or reside in the US. Occidental Petroleum Company is involved in Oman, which is a superb company to do business with because of its fiscal stability. Numerous companies want to enter the market. Oman has a stable regime, an attractive hydrocarbons basin and a capable workforce. We regularly get approached by investors seeking opportunities and partners in the country that have knowledge of the market.