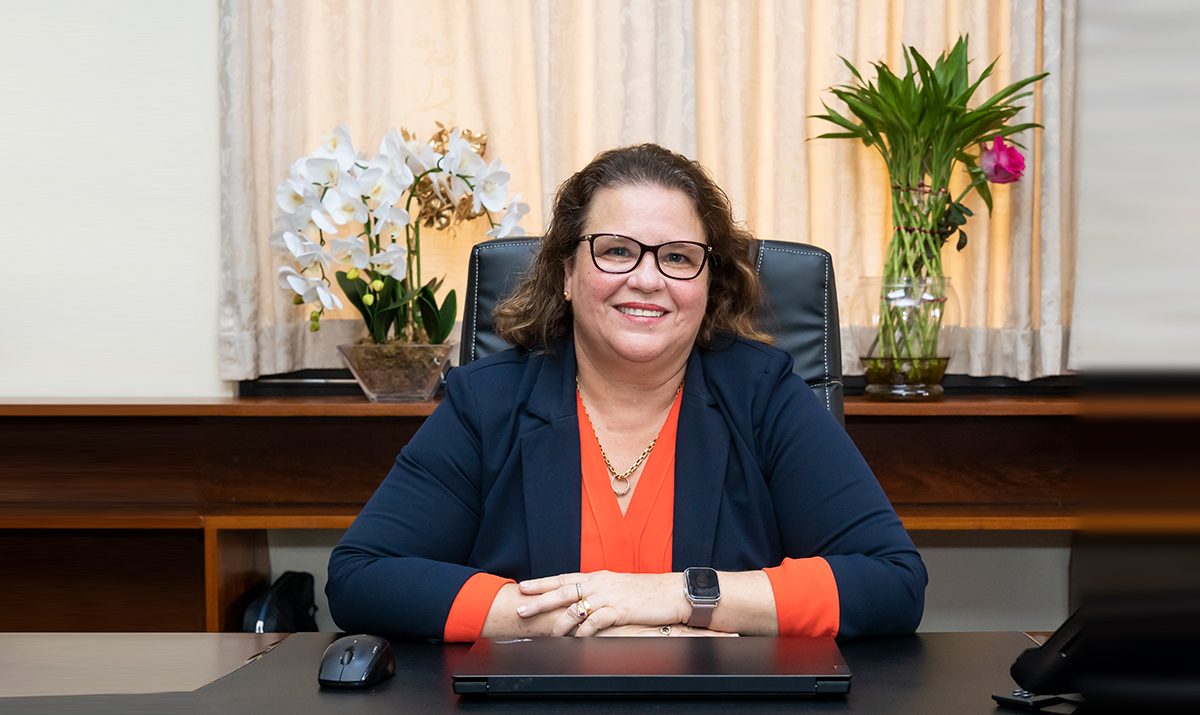 12 Oct

Interview with Siana Bistoquet, CEO of Seychelles Trading Company

BF: According to the World Trade Organization, Seychelles' commodities market represented almost $1.6 billion in export of merchandise and commercial services in 2021 and around $1.3 million in exports, with its top trading partner being the EU. To begin the interview, can you give our readers an overview of the country's trade dynamics? What are its largest imports and exports and how is this changing?

Siana Bistoquet:  Seychelles Trading Company (STC) essentially imports goods. We don't export anything, so we are purely imports focused. Our importation is mostly for the local consumers, for our local population. Due to the state of our infrastructure, we are not concentrating too much on the tourism sector (HORECAS – Hotels, Restaurants, and catering services). Once we get our infrastructure in order (of which the projects have already started), we will be in a better position to diversify our services to other sections.

BF: What is your assessment of Seychelles' current import/export framework? What policies are in place that support easy trade with foreign partners and protect local industry?

Siana Bistoquet:  Seychelles forms part of the World Trade Organization (WTO) and by being a member, there are not many policies or limitations that can be imposed as far as the treaties are concerned. On the one hand, we do need to import because we form part of the WTO and we signed a treaty, and on the other hand, we have to support our local producers and manufacturers, so we have to balance both ways.

As for local production, we are doing our best to support the local farmers and manufacturers by providing a platform at both our retail and wholesale outlets to assist with the sales of their products. This way, we help and protect local producers and suppliers while complying with our obligations as a WTO member.

BF: STC is currently in the process of expanding by building a new cold storage facility, which is expected to cut down on overall expenditures. What key facilities does the company own and what is involved in its day-to-day operations? Tell us also about STC's current mandate in ensuring stability and affordability of basic goods in Seychelles' retail and commodities market.

Siana Bistoquet: The company itself has been in existence for over forty years, but it has changed its various names over time. The company was changed from Seychelles Marketing Board, created under an act of parliament to Seychelles Trading Company Limited, a registered Limited Liability Company under the Seychelles Company Act. So, it's a company operating within the same business arena as other similar trading companies since March 2008. Therefore, whatever business we do, we need to comply with the Business Act; we cannot just run it blindly just because it's a state-owned enterprise. On the contrary, we have to operate the business efficiently by following all applicable trading regulations.

Our main activities are imports, retail, wholesale, manufacturing, and value-added activities. For our manufacturing activities, we bring in raw materials such as bulk tea, for example. We grow our own tea, however. Since we can't produce large volumes of it, we import part of it as raw materials, then we mix and make our Seychelles flavored tea (Seyte). We also do this for toilet paper (Orchid): we import jumbo rolls, and we turn it into smaller rolls locally. We also own our own bakery which allows us to produce the most affordable bread for the population while stabilizing the market price of bread.

STC's role is to help maintain prices so that average citizens can afford to buy basic commodities. In an open market economy where businesses are profit driven, prices can rise very fast to follow the market demand. STC was created in order to avoid these volatile price fluctuations. Our mission is to assist in stabilizing the prices of commodities and guarantee their availability at all times. In the event of unforeseen circumstances anywhere in the world, we do have at least six months buffer stock in our warehouses. Consequently, as part of our mandate, STC contributes to maintaining a decent cost of living for the average citizens by anchoring the prices and by importing quality, affordable products for the entire population.

BF: With the aftershocks of the pandemic, the global energy crisis and value chain stoppages due to the conflict in Ukraine, island nations like Seychelles are increasingly vulnerable. In May 2022, STC reduced prices on 69 items purchased in the country in order to combat rising inflation rates and lower the cost of living for citizens. What lessons have Seychelles and STC learned throughout the pandemic, and how are they apparent in new legislation and operations?

Siana Bistoquet: The pandemic did bring about a hike in shipment costs and disrupted the regularity of shipments, meaning there were less shipments coming around, and later on the sector had been further impacted by the considerable hike in energy prices. If STC did not exist in Seychelles during that time, the population would have suffered the full-blown impact of such crises. But we managed to stabilize the commodity prices.

STC came up with 14 essential products category, which we normally call "Category 1." Previously, the government was subsidizing these products categories. However, STC was losing on these products because it was not only the average citizens that were buying these products, but the entire population, including the tourism sector. For instance, when you are subsidizing rice, oil, milk, sugar, and if all these products are bought by five-star hotels, then you end up subsidizing these hotels and their clients as well, meaning the subsidy was being directed towards the wrong group. The basic earners were subsidizing the hotels because they were paying other categories on higher rates to subsidize the Category 1 that the hotels were buying. We decided to stop the subsidy on those categories, and we brought down the costs on 69 other essential products that the ordinary people buy every day. These included a range of other essential household products, such as washing powder, soap, toothbrushes, toothpaste, cheese, pasta, meat products, baby care etc. This changed the equation and made a big difference.

BF: While the EU remains the country's top trade partner, recent shifts in value chains are opening opportunities everywhere. New markets such as the Middle East and CARICOM represent a wealth of opportunities for Seychelles, both in terms of trade and in terms of investment. What is STC's current global footprint, and what international markets present the most opportunities for trade with Seychelles?

Siana Bistoquet: At the moment, our trade with the EU is at a minimal level, for instance countries such as Holland, Ukraine and Turkey. We mostly trade with nearby and regional countries such as South Africa, Mauritius, India, and Pakistan to name a few, or Dubai rather, to keep our costs lower. One of the main reasons why we tend to trade more with closer partners is because the farther away the country, the more the freight costs.

BF: How has the geopolitical situation with Ukraine affected STC, and to what extent are you trying to diversify your trading partners?

Siana Bistoquet:  We were not directly affected by the war in Ukraine. It was rather the freight costs that went up a considerable amount; often times it tripled. To note, we do not buy directly from Ukraine, but we trade through Turkey, which gets its goods (such as grains and sunflower oil) from Ukraine, their next-door neighbor. And yes, we are trying to diversify our trading partners! This is all with the aim of getting the best deals to pass on the benefit in the form of better prices to our customers as per our core mandate.

BF: Seychelles and the U.S. are firm partners, both in trade and in investment. The U.S. and COMESA run under the TIFA agreement signed in 2001. U.S. imports and exports to and from Seychelles rose year-on-year by just below 30% in 2019. U.S. investment in the country in the same year stood at $325 million. How are current trade deals with the U.S. defined in terms of agreements and partnerships, and what more could be done to reinforce relations between the two markets?

Siana Bistoquet:  Trading with the U.S. is very difficult for us because of the distance and the shipment cost that is quite high. However, we do bring in products from South America, such as Brazil and other countries from whence we import meat. If there is a line that we would like to explore in the U.S., it would be to get into a partnership with established international grocery retail budget stores that sell affordable goods. With that being said, can you imagine waking up to an STC-Walmart or an STC-Costco in the Seychelles? It would be amazing! We would partner with them as a franchise and sell their name. I would love that!

BF: When it comes to climate change and sustainability, what efforts has STC made to cut down its carbon footprint and create more circular economies as well in its operations, such as its push for solar panels at its facilities?

Siana Bistoquet:  The sustainability issue, as well as the rise in energy prices, have motivated STC to explore other energy saving options. We are still sourcing for the right company which can provide us with the equipment and facilities, but we are definitely going to use solar PV panels on all our infrastructures. We have a massive warehouse already and we have got new ones being built, primarily our cold storage which will be using a solar PV panel. This will cut down on our utility bills while enabling us to go green. We have started a pet project whereby we are extracting underground water for the external use and gardening at the hypermarket instead of using tap water. This is recycling water which will help.

BF: What is STC doing to support local entrepreneurs?

Siana Bistoquet:  We try our best to give them the platform they need, however we find ourselves in a situation where we have two hats. One, we are supposed to keep down the cost of living, but, on the other hand, we have to support the local entrepreneurs as well. How can we do that when most local products are more expensive than the imported ones? The cause behind it is that they are producing on a minimum scale; the volume that is produced is unable to cater for local demands and therefore cannot benefit from economies of scale.

BF: You stepped up as the CEO around a year a half ago during a very interesting time for both trade and the local economy. You've had a lot of experience in a variety of fields, including construction, tourism, and hospitality.  What potential does Seychelles have in terms of trade and logistics, and what steps does it need to take to reduce external dependence and strengthen economic development

Siana Bistoquet:  In order to relieve external dependence, Seychelles needs to expand in the manufacturing sphere. At the very least we should aim to import the gross raw material and do manufacturing here. There is some activity going on but there is room for a lot of improvement. We need to increase local production: when you increase local production, it cuts down on imports, it enables us to consume local products, and it helps the local farmers and businesses. In parallel, we need to venture into more value-added activities. For example, we import a lot of milk like tin and packet milk, but we can import milk in bulk and package it here. We create jobs for our population. Countries such as Dubai and Europe do that: they bring in milk from New Zealand and package and export all over the world.

At STC, we are currently encouraging our local poultry farmers to produce parts. That would minimize the importation of such products because there is a big demand for parts, and we are encouraging them in this direction. With the new cold storage that we are building, there will be the facility where we will be able to do value addition.

BF: How would you define your current priorities as CEO and what vision do you have set for the company for the next five years?

Siana Bistoquet:  The ultimate vision is for STC to continue to fulfil its mandate. We have a mandate to guarantee food security, sustain prices, ensure that the population gets its needs met, continue assisting to lower the cost of living. This is our vision.

BF: What would be your final message to our readers?

Siana Bistoquet: To the likes of international value stores, STC is open for negotiations so that we can benefit from the knowledge transfer and better efficiency, all geared towards the cost of living in the Seychelles.

Don't look at Seychelles as a tiny dot in the ocean. Although we have a small population, we have our values, and we want to put ourselves on the map. We want to make a difference in the blue economy by protecting our environment, but we also want to see sustainable development that will continue to benefit our people.