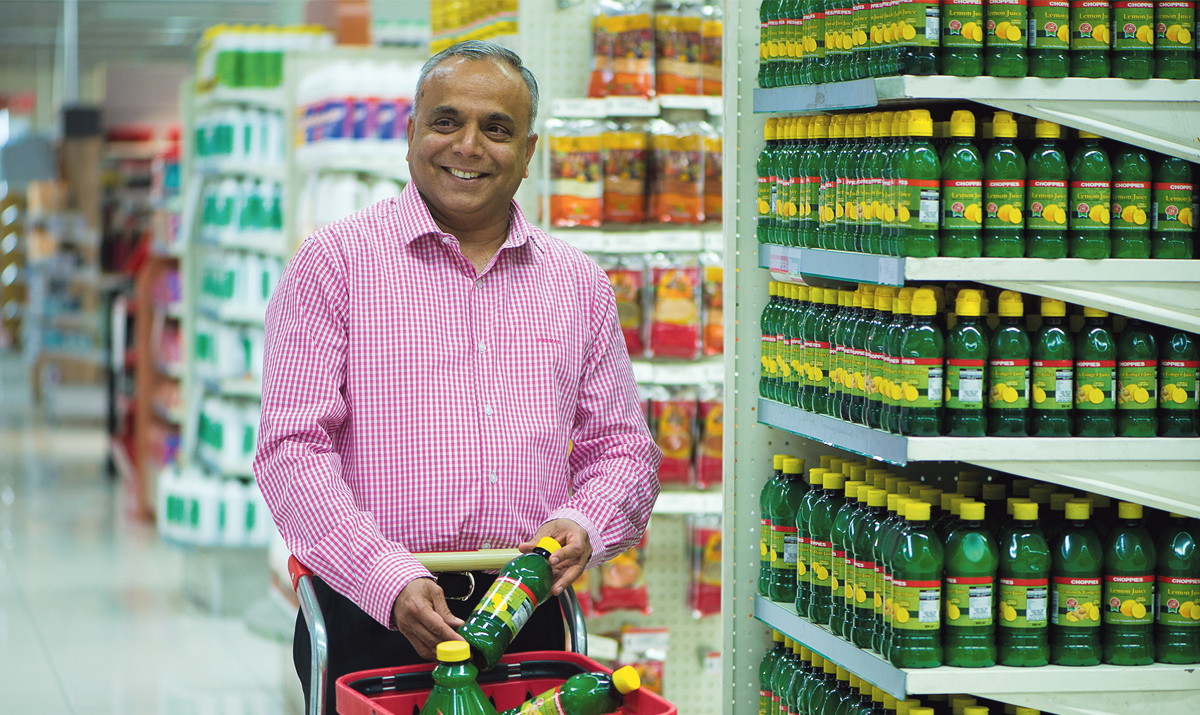 02 Nov

Interview with Ramachandran Ottapathu, Founder of Choppies

 

What key factors have kept Botswana's economic growth on a solid journey? And what kind of programs has the government initiated to support its main industries, diversify the economy, and meet its goal of being a high-income country by 2036?

OTTAPATHU: First and foremost, it's important to acknowledge Botswana's remarkable journey as a democratic leader in Africa. The country has successfully promoted private sector development, resulting in improved well-being for all segments of society. This favorable environment has allowed us to focus solely on growing our business without unnecessary concerns. The government's supportive policies have played a significant role in the remarkable growth of numerous businesses over the past two to three decades, both domestically and regionally.

The credit for this achievement primarily goes to the government that has been in power for the past five decades. However, it is particularly noteworthy that the government since 2018 has implemented significant policy changes and opened up the economy. This administration has also streamlined decision-making processes, leading to faster and more efficient outcomes. These factors have collectively contributed to the current acceleration in private sector growth.

 

Choppies is the largest supermarket chain in Botswana with over 100 stores offering a variety of goods to clients. With a 10% rise in year-on-year group sales in 2022, can you give us an overview of the company's current performance?

OTTAPATHU: We hold the distinction of being the largest retailer and private-sector employer in the country. Our operations span four countries: Botswana, Zimbabwe, Zambia, and Namibia. Currently, we have a total of approximately 180 stores.

It's worth mentioning that our journey began with just one store. This highlights the incredible growth the company has experienced in the past two or three decades. The progress seen in the overall economy is also reflected in the private sector's success.

Furthermore, we recently entered into a partnership with downstream petroleum company, wherein we will oversee the management of convenience retail across all their outlets. This collaboration will expand our reach to an additional 40 to 80 outlets, albeit of smaller size. Over the next few years, we aim to further expand this approach in Botswana, Namibia, Zimbabwe, and Zambia.

Choppies has recently acquired 76% in Kamoso Africa, one of the South Africa's leading manufacturing, supply and distribution companies. What kind of impact will this latest acquisition have on the company's operations?

OTTAPATHU: A key aspect of the business strategy with Kamoso is supplying products to Choppies, which can be seen as both diversification and backward integration. This partnership grants us significant market access, particularly in the commodities sector since Choppies engages in extensive commodity trading. As a result, this synergy is expected to generate increased revenue and profitability for our company.

Additionally, this collaboration enables us to better serve the farming community. Kamoso, our company, procures a substantial amount of produce directly from farmers and maintains strong linkages with them throughout the country. This positions us to provide optimal synergy between the farmers and our company, benefiting both parties.

 

What kind of role, in your opinion, has the US played in developing Botswana in the region's logistics and retail sector, so far?

OTTAPATHU: USAID plays a significant role in providing advisory support and financial service to small and medium-sized enterprises (SMEs) in this region. Our company is actively engaged with USAID in various projects, particularly in the introduction of retail to selected companies. These initiatives are carried out under the umbrella of Prosper Africa, an initiative led by the US government. We are actively collaborating with USAID on these endeavors.

Importing hybrid cattle to Botswana is expected to unlock numerous growth opportunities for the country's cattle and beef sectors. This move will not only facilitate exports but also contribute to the development of the domestic market. Over the coming years, it is anticipated that the presence of these hybrid cattle will bring about significant changes in the country's cattle stock. This transformation will enhance the overall quality of the stock and open up new opportunities for exporting to a greater number of countries and expanding into more markets.

 

How can Choppies benefit from this expected wave of investment from the USA? Do you have any expectations from the US market?

OTTAPATHU: The United States represents a market where cutting-edge technology, advanced financial systems, and the Internet of Things are implemented from the outset. To illustrate this, let's consider an example: if we were able to partner with a top-tier company that provides financial services, we could bring banking access to every citizen of our country through the Choppies outlets' till points. These are the kinds of opportunities that hold tremendous potential.

Currently, we are actively collaborating with a US company to introduce block chain technology app to farmers. This implementation is expected to be realized in the near future. Such advancements represent tangible value additions not only to the nation as a whole but also to society and the small and medium-sized sectors. By leveraging US technology, company processes, and intellectual property, we can propel our country to the next level of growth.

What are some of Choppies' main growth goals and key focus areas?

OTTAPATHU: In the next three to five years, our goal is to become a paperless and contactless retailer. To achieve this, we recognize the importance of leveraging US technology and systems. By embracing these innovations, we can transition towards a more advanced digital infrastructure. This digital adoption will not only streamline our operations but also facilitate access to the international finance market. Improved connectivity to global financial services will enhance money transfers and align our financial services sector with international standards.

Currently, we have got a huge opportunity in Zambia and Namibia. We are expanding at a very high rate in both of these countries. Maybe in the next two or three years, once we develop those markets to full capacity, we will look at other countries in the region as well.

 

What would you like to see from the Botswana government in terms of policies, to fortify the economy and to give the private sector more power to grow?

OTTAPATHU: The Botswana government has made strides in implementing business-friendly legislation, which has greatly supported the growth of businesses without undue interference from regulators or the government itself. Compared to other countries, Botswana experiences minimal interruptions to business operations. However, one area that requires attention is access to finance. The financial markets in Botswana are relatively small and have yet to reach their full potential. This is where countries like the US can play a significant role in enhancing and elevating them to the level of a regional market. Once this development occurs, companies in Botswana will have the opportunity to expand not only regionally but also globally.

Another noteworthy aspect of the country is its lack of foreign exchange restrictions. Investors have the freedom to bring in or take out investments as long as they fulfill their tax obligations. This freedom from unnecessary interference is a fundamental aspect of doing business in Botswana. Additionally, taxation in Botswana is among the lowest in the region, making it an attractive destination for businesses. Moreover, the country offers various incentives for manufacturing aimed at exports, such as a 5% tax rate and tax-free periods, among other advantages available to businesses operating in the country.

What is Choppies doing as the number one largest employer in the country to create more opportunities for growth and development for the local population?

OTTAPATHU: We prioritize training our workforce. While there may be a shortage of high-level skills, there is ample talent available in the country for middle and lower management positions. The population is generally well-educated, and with a solid foundation in basic education, individuals can be effectively trained. Looking ahead to the next decade, the rapid development in technologies such as AI will challenge the relevance of traditional degrees and post-graduate qualifications. Instead, the focus should be on equipping individuals with the skills required for specific job roles. Thus, it becomes essential to prepare people for the workforce rather than solely emphasizing the accumulation of numerous degrees and doctorates.

Considering this perspective, the country possesses a population with a solid base of basic education, good-quality education, and a high rate of graduation. The key lies in identifying and nurturing these graduates, providing them with the necessary training to meet industry demands. In this regard, the country can be regarded as having the best resources in the region.

We take pride in having a significant number of skilled individuals within our organization, making us a major contributor to the country's skilled workforce. We are committed to their ongoing development across all sectors in which Choppies operates, as well as my personal role as a businessman. Our focus extends to serving the local community and fulfilling the long-term vision set forth by the leadership.

 

You stepped up to the lead seat at Choppies in 2000, what are your main priorities for the company and what is your strategic vision? 

OTTAPATHU: First and foremost, our primary goal is to transform our company into a technology-driven enterprise. We envision becoming a retail tech company or even a fintech company. This transformation journey is our utmost priority and ambition.

Secondly, we have achieved remarkable success in adding value to Botswana's society. Now, our objective is to replicate this success in the other countries where we operate. We are actively engaged in the process of expanding our positive impact beyond Botswana's borders.

Thirdly, it is crucial for us to introduce the concept of a living wage measurement within our sector before my retirement. This initiative will ensure fair compensation for our employees.

In terms of technology in retail, we envision a significant transformation. Our aim is to operate as a paperless and contactless retail establishment. To support this vision, I specifically recruited a deputy CEO who is a graduate of the Indian Institute of Technology and brings valuable expertise in this area.

Do you have a message that you would like to put out to our readers including the administration and the investors?

OTTAPATHU: Investors should know that it is important to recognize that Botswana is not only an emblem of democracy but also a beacon of development in Africa. The country deserves the utmost priority when it comes to support and further advancement. Rest assured that every cent invested in Botswana will be carefully utilized and safeguarded, and returns will be repatriated without any complications. Consider Botswana as a secure oasis in Africa, where you can confidently invest your money.