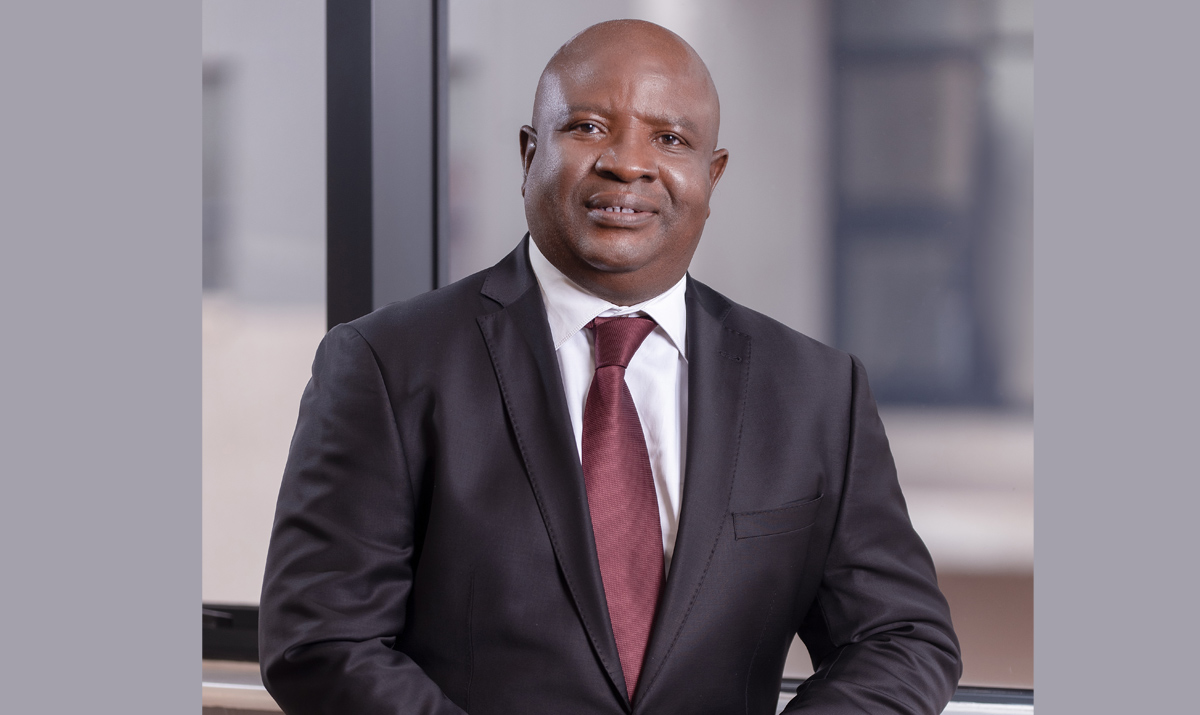 06 Nov

Interview with Matome Malema, CEO of Minerals Development Company Botswana (MDCB)

BF: Could you offer us an overview of the mandate of Minerals Development Company Botswana (MDCB), its current assets and the services that you offer?

MALEMA: MDCB is a private company owned entirely by the Government of Botswana. It is important to note that although the MDCB is a state-owned entity, it operates as a private company and is regulated by the Companies Act, unlike  parastatal companies that have been  established by act of Parliament to mainly provide certain services required by the nation. Its main purpose is to enhance and expand the government's revenue in the mining sector, with a focus on diversifying mineral revenues beyond diamonds. MDCB was established to manage and safeguard these mining assets on behalf of the government, ensuring that revenue generation is optimised. Additionally, MDCB collaborates with organizations like the Botswana Chamber of Mines and other sector players to promote the development of the mining industry in the country. Another role of MDCB is to provide technical and commercial advice to the government. Like any government-owned company, MDCB aims to contribute to the socioeconomic development of the country. The company houses the Government Diamond Valuation Function, which ensures that the country gets optimised value for its diamond resources.

The Government formed MDCB because it recognized the need to separate its roles as a regulator, policymaker, and investor in the mining sector. This role separation led to the creation of MDCB as an independent entity, operating commercially as a private company with government as sole shareholder.

Regarding the assets held by MDCB, it owns a 15% interest in De Beers on behalf of Government. MDCB also has full ownership of BCL, which is currently undergoing liquidation, and the coal assets of Morupule Coal Mine as a 100% Shareholder. MDCB's other interest is in the form of debt that can be converted to equity in Minergy Coal. Although MDCB does not currently hold equity in managing the coal asset, the debt has significant equity attributes, so it is considered one of MDCB's subsidiaries. It's important to note that MDCB does not possess all of the government's assets yet, such as BOTASH, which still needs to be transferred to MDCB. Additionally, in the case of Debswana, MDCB's involvement is primarily focused on providing technical and commercial advice to Government, due to it being a 50/50 joint venture company between De Beers and Botswana Government.

BF: Since coming into existence in 2015, what have been the major milestones and accomplishments of MDCB?

MALEMA: The formative years of MDCB presented numerous challenges and obstacles as would be the case with the birth of any organisation. Traction in the first four years was hampered by various factors, prompting Government to re-evaluate MDCB. As a result, some assets were transferred back to the Government while ensuring that the right leadership was in place for MDCB. One could say the organisation is now in the company is in the transitive stage between the norming and performing stages of the Tuckman model, this having started in 2020 when new governance and leadership structures were entrenched. Despite these formative challenges, the company has proudly (and continues to) provided best possible strategic advice to Government, including but not limited to some mining assets in the country (two successful and in operation and another under liquidation). The company has also played a big role in the review of the Mines and Minerals Act as well as policies related to the sector. MDCB has developed an ambitious strategy that will be quite instrumental in the upward trajectory of the sector in particular and the wider economy.

Our primary goal as a company is "To create a sustainable Botswana for future generations". This means that everything we do must demonstrate a socioeconomic contribution to the country. Additionally, we aim to play a significant role in developing the mining industry, aligning with the President's RESET agenda to establish a robust mining sector where Batswana can actively participate. It is crucial for us to change course and ensure that the minerals mined in Botswana are processed and beneficiated within the country, emphasizing the importance of value chain development.

To illustrate our progress, take our coal asset, Morupule, as an example. Over the years, Morupule has substantially increased its revenue by expanding its production and sales capacity from 2.8 million tonnes per annum to 4.2 million through the establishment of a surface mining and coal processing plant that targets regional markets. As a parent company, MDCB has backed this development, which does not only support the regional industry, but diversifies Morupule's revenue streams as well as enable the mine to contribute significantly to local communities. For instance, Morupule is currently constructing a small but scalable sports stadium in Palapye and supports various initiatives in the area that include partnering with banks to fund citizen economic empowerment projects. These efforts align with our purpose of creating a sustainable future for generations to come.

However, our coal assets face challenges due to the global transition towards a net-zero economy. Although Botswana possesses coal assets with high calorific value and superior in many aspects to some of the more well known and exploited coal resources globally, we acknowledge the need to navigate the energy mix transition while developing these coal resources responsibly. In the future, we envision Morupule exploring alternative avenues such as green energy to reduce our reliance on coal resources, obtaining the wherewithal to traverse this from monetizing its endowment with world class coal deposits.

Furthermore, we have invested significantly in research and development to gain market intelligence on green minerals, including manganese, lithium, copper, cobalt, and others. Working with our R&D partners, we aim to acquire the necessary information to inform our decision-making and ensure beneficiation of these minerals within Botswana. As part of this effort, we are currently conducting due diligence on a key manganese project near Gaborone, which we believe has huge potential and to attract investment and create a new pathway in development of batteries and alternative energy.

We are starkly conscious that Botswana is not isolated from global concerns like climate change. Although our carbon footprint may be insignificant in the global scheme, we recognize the importance of gradually diversifying away from coal and making substantial investments in low carbon energy generation alternatives. This approach represents a significant and positive move forward in line with our ESG agenda.

BF: What is your role within midstream and downstream diversification of operations and how are you being positioned as a partner of choice?

MALEMA: This is an important issue for us. A case in point is the recent partnership between HB Antwerp and the Government. Although HB Antwerp is a new entrant in the diamond industry, we see it becoming a prominent player in the industry particularly its innovative and technological approach to creating value in the midstream sector, therefore providing us another lever in the optimization and maximization of our diamond revenues. We can only look at the value of the innovation and technology that this partnership brings to our market intelligence across the entire value chain, the use of big data that comes with it to enrich our Government Diamond Valuer function. The partnership with the Government sets  Botswana producers to play a significant role in the midstream sector. Historically, Botswana has primarily dealt in rough diamonds. However, if we look at the industry as a whole, during prosperous years, the global rough diamond sales revenues amount to around USUS $17 billion. When one considers the midstream sector, that number increases to approximately US$22 to US$23 billion, and a whopping US80 billion in the downstream retail jewellery sector. Clearly, there is a substantial value that we as the largest diamond producer by value in the world, have no choice but to tap into.

As the largest contributor to diamond revenue worldwide, Botswana needs to adapt to the changing times. To promote value chain development, we must expand our presence in the midstream and downstream sectors. This objective is reflected in our persistent stance, which you may have noticed in news publications and discussions. As the Minerals Development Company of Botswana, we serve as the Government's technical and commercial advisor, playing a pivotal role in guiding them on matters of this nature and more.

Our focus on these endeavors stems from our commitment to developing a sustainable Botswana for future generations. While we have made progress in various initiatives, citizen economic empowerment remains of utmost importance to us. In all our contracts, partnerships and subsidiaries such as with Morupule Coal Mine, citizen economic empowerment is a critical aspect of how business is conducted. We firmly believe that any company we engage with must prioritize the empowerment of our citizens. Our dedication to this principle demonstrates the seriousness of our approach.

It is essential that a country's resources meaningfully benefits its people. Botswana has gained a worldwide reputation for effectively utilizing its resources to improve the lives of its citizens. The concept of "diamonds for development" exemplifies this approach, as Botswana has established a unique and enduring partnership with a private company for over 50 years, before the term PPP was invented. This partnership has grown stronger over time, and it continues to ensure that our diamonds are used for positive purposes. The ultimate goal is to ensure that the benefits of these resources reach the average person on the ground. This commitment is a crucial aspect of our country's development.

BF: How has a major international corporation like Debswana prepared you to work with large multinationals?

MALEMA: Botswana holds the prestigious position of being the world's leading diamond producer, reclaiming its status as a top mining destination globally. In fact, we are the most attractive jurisdiction for mining investment in Africa, ranking first on the continent and second worldwide out of 62 jurisdictions, only surpassed by Nevada. Our country possesses unique sustainable qualities that make it an ideal choice for mining endeavors. Debswana has been key in this phenomenal journey and remains a global benchmark for successful and  sustainable mining.

Several factors contribute to Botswana's appeal. Firstly, our policy framework, including regulations, environmental standards, legal system, and tax regime, is highly favorable. For instance, our corporate tax rate stands at a remarkably low 22%, possibly one of the most competitive rates on the continent, and a mere 15% for manufacturing. Such favorable taxation is rare in most countries. Additionally, our policy environment is not only stable but also predictable and progressive, as recognized by esteemed organizations like the Fraser Institute.

Furthermore, our country boasts a harmonious labor relations atmosphere and maintains a high level of transparency and integrity, ranking among the least corrupt nations in Africa and the world. Foreign exchange controls are nonexistent, allowing investors to freely repatriate their funds. In terms of mining, Botswana surpasses renowned mining nations like Australia and Canada, placing us second in the global rankings. These assessments are conducted independently by the Fraser Institute, and we take great pride in the credibility and impartiality of these evaluations.

It is crucial for the international community, particularly the United States, to recognize that investing in Botswana guarantees legislative predictability and safeguards your investment. Our country offers a conducive environment for long-term investments, which cannot be said for many other nations. Under the leadership of President Masisi and his visionary "reset" agenda, our administration is not only passionate about Botswana but also inspires progress and development in our nation.

BF: With the importance of coal in the transition of global energy supply, how are you positioning coal assets in today's context and what role do you see it play moving forward?

BF: Botswana has been proactive in addressing climate change through its long-standing climate change policy. We recognize the environmental impact of coal and other fossil fuels. However, our approach is to maximize the value we extract from our coal resources while transitioning towards green energy. This is a key strategy for MDCB, which is actively focusing on battery minerals as part of this effort.

While our current contribution to climate change is relatively small, we acknowledge that climate change affects everyone globally. Therefore, it is essential for us to do our part and contribute responsibly. We believe in the energy transition, but we also emphasize the need for a just transition that considers our country's development stage. Simply shutting down all coal power stations in Botswana, or globally, would have severe consequences. It is crucial to improve technology, similar to high-efficiency, low-emission power stations found in countries like Japan, to reduce our carbon footprint. Our flagship coal asset has developed a long term strategy that embraces transition while monetizing current reserves to be able to finance the transition. At this stage, the mine operations selectively mine the best coal in the seams for generation and the technology deployed in the generation facilities encompasses issues of flue gas desulphurization, water use and more efficient generation in form of circulating fluid bed technology, that produces more electricity for less coal consumption.

We advocate for a deliberate but gradual move towards achieving net-zero emissions. As part of our energy strategy, we are exploring coal-to-liquids conversion methods. Additionally, our integrated resource plan for electricity generation commits us to the transition pathway where by 2027, approximately 30% of our energy sources will come from low carbon alternatives. Few countries in the world have made such significant progress.

BF: What is your personal vision for the growth and development of MDCB?

MALEMA: MDCB is close to my heart. As a professional in the mining industry and one who has worked in the industry in various forms in my entire 35-year career, it is almost what I was born to do for my country. MDCB is fast becoming the spearpoint through which edges of developmental envelope of our economy are being expansively pushed out. The  establishment of the MDCB by the Government was visionary as well as pragmatic, and by all means commendable. It reflects a deep  understanding of,  and a value for progress and good governance. The separation of commercial and mining technical roles  hitherto held by government departments in the Ministry of Minerals has created a platform where the  private company is the spearpoint in government's mining investments, distinct from the regulatory and policymaking functions. This also affords the regulatory and policy making functions the length and breadth within which new developments in these areas can be made to continually position Botswana as a global mining investment destination of choice. Notwithstanding this, the MDCB of today is different from the MDCB of 5 years from now as that organisation will be standing on its own without government financial support, will be a diversified revenue earner constantly paying dividends to the shareholder and pushing the edges of technology and human capital capability with our partners of choice to open new frontiers in our development.

Botswana stands out for its strong governance practices, political stability, and progressive legislative framework in the mining and minerals sector. We are committed to continuously improving our systems and processes. Our country's socioeconomic stability and impressive Sovereign Credit Ratings further attest to our reliable business environment. Moreover, Botswana offers a competitive tax regime, with the lowest corporate tax rate in the region—15% for manufacturing and financial services and a slightly higher rate for other activities. We also boast favorable industrial relations and a young, educated workforce. The adult literacy rate in Botswana is among the highest on the continent, currently at 82%.

Our expertise in mining sets us apart globally. Botswana is one of the only countries in the world to successfully demonstrate a longstanding partnership between the government and a private company in mining. We possess all the factors that companies or countries may seek. Furthermore, our road infrastructure has significantly developed since our independence in 1966, with considerable expansions made over the years. In fact, when we started in 1966, we only had 6 kilometers of paved roads. If you choose to do business in Botswana, you not only benefit from the aforementioned advantages but also have the opportunity to unwind and explore the remarkable Okavango Delta. We take immense pride in being the only country that has allocated 40% of our land mass for wildlife conservation. Botswana truly offers a remarkable destination for investment and leisure.

BF: Do you have a final message to the USA readers?

MALEMA: Botswana is a gem in the southern tip of the continent. We possess unique qualities that make us highly appealing, not just in the mining sector, but across various domains. Botswana is known for its warm and welcoming nature, modesty, education, peacefulness, and openness towards people from diverse backgrounds. We embrace multiple perspectives on various matters and have a business-friendly environment. Our experienced individuals have demonstrated their expertise, particularly through the successful Debswana partnership, which stands as the only long-standing public-private collaboration in the diamond mining industry. Our youthful populace amongst the world's bets educated and provides a myriad of opportunities in development of technology and innovation across various economic fields.

The stability of the diamond mining industry owes much to the essence of Botswana. Without the positive impact and contributions from Botswana, the industry might not have enjoyed the same level of stability it does today. It's important to acknowledge the significant role played by De Beers as well. In summary, Botswana is the place to be, offering a combination of outstanding qualities that make it an excellent choice for any endeavor.