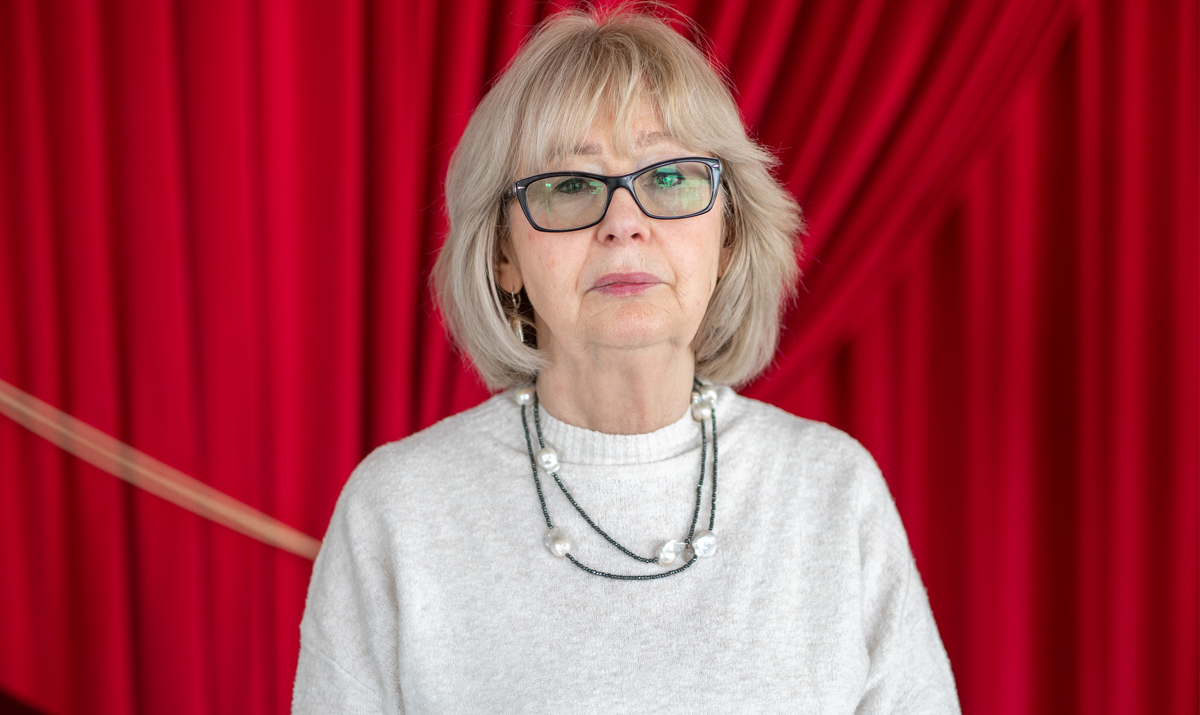 15 May

Interview with Márta Fekszi, CEO of Origo Film Group, Hungary

BF: Hungary has become the second-biggest player in the European industry. How does Origo Studios stand out in this local environment. Could you give us a rapid overview of the group and highlight some of its key strengths and competitive advantages?

Márta Fekszi: Origo Studios is the largest and most versatile movie studio complex in Hungary, and we pride ourselves on being one of the biggest in Europe. Our facilities are designed to cater to the specific needs and demands of our clients, and we offer a wide range of services that include soundstages, post-production facilities, trailer parks, shooting and other equipment, offices, warehouses, and backlots.

Our Hollywood-standard studio complex is fully equipped and includes several 1,200-4,400 square-meter facilities that are sound and echo proofed; high-ceiling buildings with wide doors. We have created an indoor space that has been soundproofed to ensure that no external sounds disrupt production. The walls are thick and absorbent, preventing reverberations of sound, and the floors are bare for easy camera movement. Our soundstages are fully equipped with rigging, lighting, cast and crew rooms, and catering facilities. Our equipment is state-of-the-art, and we have the capacity to suspend a tank, a helicopter, or even an airplane from the top of our stage. We are able to manage eight tons of pressure for productions like Inferno, which required a large water tank at one point during shooting. Our studios are located 15-20 minutes away from Budapest's city center and 20-30 minutes from the airport.

We pride ourselves on being the second-preferred studio in Europe after London because we can serve all our clients' needs and demands. With a total of ten studios, including studio 11, a medium-sized, high-quality studio that is currently under construction until this summer, we can accommodate a variety of requests and desires from different production houses. Our studio 6 is our largest and has been the location for major feature films like Dune, Blade Runner, Inferno, Die Hard, 47 Ronin, and many other big television shows, like Ninja Warrior.

Our soundstages number 1, 2, 3, and 4 can be rented together for large productions or separately for smaller ones. We offer not only fully equipped stages, but also necessary warehouses, offices, and a range of additional complex requirements that production houses may need. We have the largest fleet in central and eastern Europe, providing over 80 special film trailers that cater to various services like catering, wardrobe, and artist trailers. Our state-of-the-art post-production facility, located within the Origo Studios Budapest complex, offers clients 16mm and 35mm negative processing, 2K and 4K dailies, and final finishing support for feature films, television, and commercial projects. At Origo Studios, we pride ourselves on delivering high-quality, flexible, and professional services that meet and exceed our clients' expectations.

BF: What are some of the selling points of Origo, the most sought-after services that Origo studios offer? In other words, why should production houses come to you?

Márta Fekszi: Origo Studios is committed to delivering the best-in-class services to our clients. We are proud to offer a comprehensive range of services that sets us apart in the industry. One of our primary advantages is the Hungarian tax rebate, which is one of the most supportive in the industry. Our studio complex is a full-service solution for film productions, and we offer a range of services that cater to all of our clients' needs. Our focus on lowering the carbon footprint has made us a "green studio," which is very important to many production houses that care about the environment.

In addition, we have an in-house medical facility with infection control and a mobile laboratory for COVID tests. We take the safety and well-being of our cast and crew seriously, and our security systems are certified to ensure their protection. We believe in providing a safe and friendly environment for everyone on our sites. We are committed to sustainability and are heating all our stages using recycling methods. Our goal for the next five years is to change the original heating and air conditioning machines to self-supporting equipment, making us independent from the main electrical and gas grid.

Our medical services have been essential in the COVID era, and we were/are able to perform more than 1,000 PCR tests. Origo Studios is the only studio in the world with a mobile laboratory inside, which allows us to check tests right here on our site. We strive to provide a wide and holistic set of services to our clients, and it is this level of commitment that has seen many productions return to us time and time again. We also offer a fun fact about Origo Studios that is close to our hearts. Our site is dog-friendly and cast and crew are welcome to bring their furry friends with them. In fact, Henry Cavill, who starred in The Witcher, lived on our site during filming. It is these little details that make Origo Studios unique, and we are committed to providing the best services to our clients to ensure that they have an enjoyable and memorable filming experience.

BF: From a green stage and a post-production division to a large water tank, Origo seems to have it all. In this field, technology evolves rapidly. How is your company adapting to new production and post-production requirements from clients in terms of technology? What new infrastructure have you put in place to meet these needs, and how do you go about training and retaining the talent that you need?

Márta Fekszi: Origo Studios is constantly evolving and adapting to new production and post-production requirements of our clients. We work closely with them to ensure that their needs are met and that their conditions are fully understood. We are proud to say that we are able to meet most of our client's requirements immediately, and we have a proven track record in delivering quality services that exceed their expectations.

Our security clearance for IT and perimeter security is used by major studios and is a testament to our commitment to meeting our partners' needs. We have invested in special equipment and have highly scalable and flexible post-production services. For example, we recently signed a cooperation agreement with Qumulo, a high-quality post-production services provider which has enabled us to add a new level of service to our offerings.

At Origo Studios, we believe in continuous improvement, and we strive to add new services every year to meet the ever-changing needs of our clients. Our experience in digital workflow has proven invaluable in understanding the special requirements of many major productions, and we have the expertise to support these needs. We are committed to training and retaining top talent, and we have a team of highly skilled professionals who are dedicated to delivering the best services to our clients. We provide ongoing training and development programs to ensure that our team is up-to-date with the latest industry developments and trends. Our team is the backbone of our business, and we are proud to have some of the best and brightest in the industry. At Origo Studios, we believe that our success is driven by our commitment to quality, innovation, and the highest standards of excellence.

BF: Since 2004, a tax rebate system was put in place in Hungary to attract film productions. Today, most European countries have one in place, except for Denmark. How efficient have these been in attracting investors and producers to Hungary? How has it, in turn, developed and boosted the entire ecosystem?

Márta Fekszi: At Origo Studios, we believe that the Hungarian tax rebate system has been an essential tool for attracting investors and producers to Hungary. Since 2004, when the tax rebate system was first introduced, we have seen a significant increase in the number of productions that choose to film in Hungary. Today, productions are eligible for a 30% tax rebate, and, over the Hungarian costs, there is eligible foreign spend up to 7.5 % of the Hungarian spend.

We understand the importance of time for our clients, and we make sure that they receive their rebate quickly, usually within one to three months. This is much faster than in other countries, where the process can take six to eight months. We believe that this has been a critical factor in attracting productions to Hungary and has helped to boost the entire ecosystem. It's worth noting that the tax rebate is independent of any other bilateral taxation agreements, and productions can reclaim VAT as well. Hungarian tax regulations allow for only post-production or separately ordered screening services to be eligible for rebate.

We believe that the Hungarian tax rebate system is a significant competitive advantage for Hungary, and it is one of the reasons why Origo Studios has been able to attract so many major productions to our facilities. Our commitment to providing high-quality services, combined with the benefits of the tax rebate system, has helped to make Hungary an attractive destination for film productions from all over the world.

BF: Your foreign partners include household names from Hollywood, and you also participate in important Hungarian productions. Can you tell us more about your Hungarian productions? How important are they in terms of turnover for your company?

Márta Fekszi: At Origo Studios, we are proud to be involved in many significant Hungarian productions. Some of the most notable include "Liza, the fox fairy," "Mesterjátszma," and the series "Terápia." We treat all of our productions with the same level of care and with special offers for our Hungarian productions.

At Origo Studios, we believe that our international productions, such as the major feature film Dune, have a positive impact on the Hungarian film industry. By bringing top talent to our facilities, we create opportunities for local professionals to work alongside some of the best in the industry. This, in turn, helps to boost the local industry and provides new opportunities for Hungarian filmmakers and actors. As a testament to our commitment to the film industry, we have a Walk of Fame in our main building that features Oscar, Golden Globe, Emmy, and BAFTA awards that have been given to productions made at Origo Studios. We also have a wall dedicated to Hungarian-related Oscars, which highlights the 120-year heritage of the Hungarian film industry.

At Origo Studios, we believe that our Hungarian productions are an essential part of our business, and they are critical to our turnover. We are committed to providing high-quality services to all of our productions, both foreign and domestic, and we are proud to be a part of the Hungarian film industry's continued success.

BF: How important is the U.S. market specifically for Origo?

Márta Fekszi: At Origo Studios, the U.S. market is incredibly important to us, with over 90% of our productions coming from the United States. We are proud to provide high-quality services and facilities to our U.S. partners, including soundstages, shooting, and other equipment.

While the U.S. market is a critical part of our business, we are also committed to supporting the Hungarian film industry and that of other European countries. We believe that Hungary is currently the leading country for international filmmaking in eastern Europe, and we are proud to have played a role in some of the most significant recent productions, including Marvel's latest Disney+ show "Moon Knight," the upcoming Dune sequel, and the adaptation of the famous video game series "Borderlands." We are honored to have worked with some of the biggest names in the film industry, including Denis Villeneuve, who returned to Origo Studios to film the adaptation of Frank Herbert's classic novel Dune. This multimillion-dollar production was nominated for ten Academy Awards this year, winning six of them in technical categories.

At Origo Studios, we are committed to providing our clients with the best services possible, and we are proud to be in partnership with all major film service companies. Our international partners include Warner Studios, Legendary Entertainment, SONY Pictures, Netflix Studios, Amazon Studios, Lionsgate, StudioCanal, Skydance, Gaumont, TNT, Paramount Pictures, Alcon Entertainment, Disney, FOCUS Features, Columbia Pictures, and Twentieth Century Fox. We are always open to inquiries from new partners and believe that our dedication to quality and service sets us apart in the industry.

BF: The rise of global streaming platforms has urged the industry to adapt to new challenges. What effects has the rise of global streaming platforms had on film studios worldwide and in Hungary more specifically?

Márta Fekszi: The rise of global streaming platforms has certainly presented new challenges for the film industry worldwide, and Hungary is no exception. Streaming platforms often favor series over films, which can have different needs in terms of production and timeframes. At Origo Studios, we recognize the importance of adapting to these new challenges.

One significant difference we have noticed in the streaming industry is on the contractual side. Streaming platforms often have longer-term contracts, which can last for several years. At Origo Studios, we offer flexible terms to start with the first season, and we prioritize prolonging their contract. We offer an affordable "holding period" for their set in our soundstage, and we are able to let daily sets inside the studio. Our lease agreements also give these productions the right to the first place to prolong their presence in the studio. Streaming productions also rely heavily on our post-production services, which require more storage capacity. We have invested in a highly scalable IT system to support these needs. Furthermore, we have noticed that many A-list stars are now appearing in streaming series, and they often stay in Hungary for longer periods. At Origo Studios, we work to make their stay is as comfortable and enjoyable as possible. We want them to feel at home in Hungary and at our studio.

In summary, the rise of global streaming platforms has certainly presented new challenges for the film industry worldwide, but we are committed to adapting to these changes and are offering flexible, high-quality services to our clients.

BF: You joined Origo Studios in 2016 as company manager after some experience working with the group in 2014-15. You had an outstanding career before that in foreign policy and diplomacy. Tell us a little about why you came to this industry. What are your personal priorities and your vision for Origo over the next three to five years?

Márta Fekszi: I have always been close to the film industry, as my late husband was a cameraman and filmmaker. Filming runs in our family, and I've always had a passion for it. Even though I had a successful career in foreign policy and diplomacy, the transition to the film industry was a natural one for me. For me, it's all about building relationships and nurturing them, something that I've always excelled at. Moving forward, my vision for Origo Studios is to continue to grow and improve. We're currently building new stages and warehouses, as well as extending our backlot with an additional 10,000 square meters. In the next three to five years, I'd like to focus on making Origo Studios more environmentally friendly by changing all the mechanical engineering equipment to self-supporting green equipment and renovating older facilities to accelerate the quality of post-production.

My priority is to always put our clients first and to preserve the high quality of our services and our friendly approach to all productions. I also want to ensure that we retain our personal touch, even as we continue to expand and improve. Ultimately, my vision is for Origo Studios to continue to be a leader in the industry, and to provide our clients with the best possible experience.