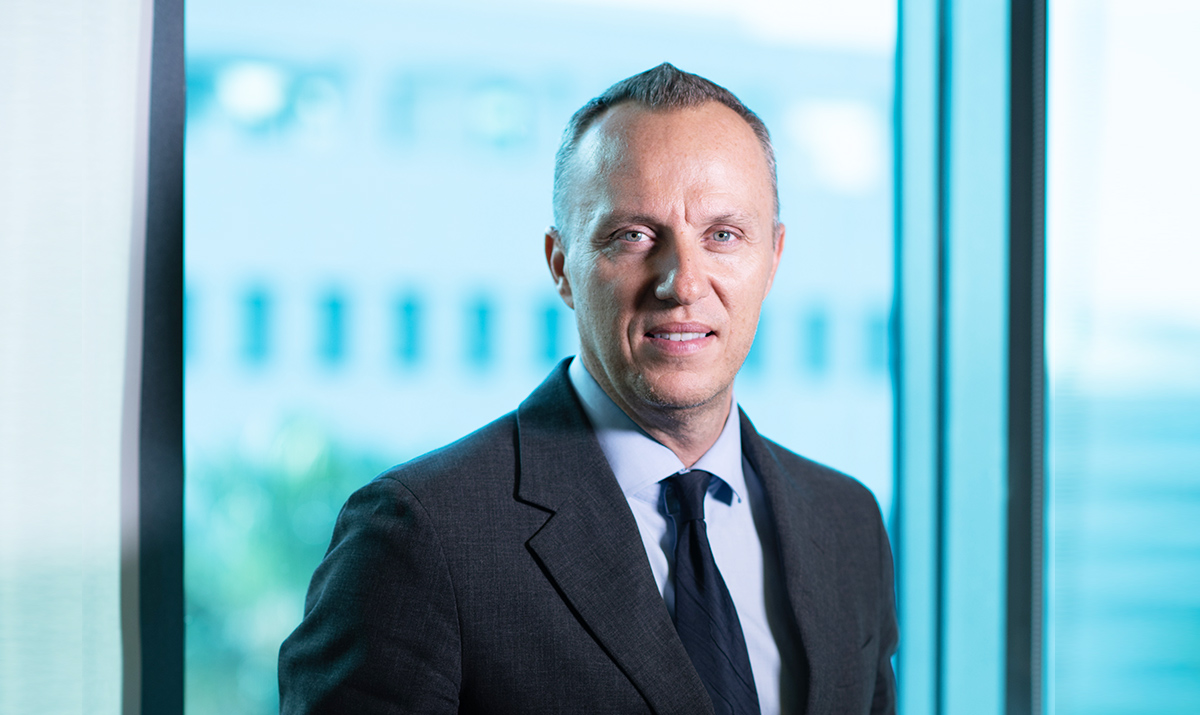 21 Nov

Interview with Louis Loizou, Executive Director, Louis Group

BF: The tourism sector is a key pillar of the Cypriot economy, representing about 15% of GDP prior to the pandemic. How is the sector performing now and what are some of the key trends?

 

Louis Loizou: 2019 was Cyprus' best year for tourism, with four million vacationers visiting. Then Covid-19 struck and 2020 and 2021 were practically non-existent; for nearly all the business sectors, it was a case of survival. In 2022, Cyprus achieved around 3.2 million arrivals and for 2023 there is a strong possibility that we will be close to, or even surpass, 2019's numbers. The length of stay has increased as has the daily average expenditure by visitors. Today, tourism-related activities generate approximately 20% of our GDP.

Both the government – through the Deputy Ministry of Tourism – and the private sector, are focusing more on quality, while trying to constantly upgrade the tourist product. Whether it's a 3, 4 or 5-star product, all stakeholders are striving towards providing better quality tourism and higher end facilities to visitors.

Obviously, challenges persist as Cyprus, like many other destinations, has been severely affected by the war in Ukraine, losing around 800,000 visitors from Russia and Ukraine combined. This large number is not easy to find in existing or new markets. However, we are seeing some nice increases from existing markets like Israel, Germany and Poland, which have really helped minimize the gap. The war in Ukraine has had a significant impact on international tourism, affecting hoteliers through a number of factors: prevailing uncertainty, increased energy costs, supply chain disruptions and higher finance costs. Tourists themselves are facing challenges due to rising commodity prices, inflation and narrowing budgets.

 

BF: Why should visitors consider Cyprus as their next tourism destination? To what extent is its tourism package unique compared to neighboring markets?

 

Louis Loizou: Cyprus is a small country, everything is so close: you've got the sea, the mountains, the rural areas. You can do a lot of things in a short period of time, and there's a beautiful variety of products to explore in different areas that can be visited within a day. There's something for everyone. It has an extended summer period and there is a lot of interaction with locals, who understand and speak English very well. Additionally, Cyprus offers a great level of security with low crime rates. Being in the travel industry, I always advise travelers to see the good things in the destination they visit. If you're going to pick on the negatives, you're not going to have a good time!

 

BF: Louis Group was established in the 1930s and has a strong history and a heritage in the tourism industry. The group works in many segments today, providing cruising and hotel ownership management in Cyprus and in Greece through its various subsidiaries. Louis Hotels Public Company will soon have over two dozen 4- and 5-star hotels under its belt. Can you give us a quick overview of your current assets in terms of hotels and resorts in Cyprus and Greece?

 

Louis Loizou: My grandfather founded the company in 1935 in Limassol as a transport and travel agency. My father took over in 1971, and through the years the company expanded into various activities and divisions and is now one of the leading tourism and leisure groups in Southeastern Europe, employing approximately 4,000, mainly in Cyprus and Greece.

We opened our first hotel named Semmering in the mountains in 1942, followed by Louis Hotel in Nicosia. In 1969, we acquired the luxurious Ledra Palace Hotel, a landmark of Nicosia. In 1978 we established Sunotels which was the first hotel company we had, with over 30 units on the island. However, we gradually moved into the higher end, namely the ownership and management of 4 or 5-star hotels, both in Cyprus and the Greek islands (Rhodes, Corfu, Mykonos, Crete, Zakynthos, Cephalonia). To maintain and strengthen the loyalty of guests, Louis Hotels Public Company offers value for money holidays by categorizing its hotels into "Exclusive", "Elegant", "Villa" and "Family" collections. All units are distinguished by their warm hospitality, authentic local experience and friendly service, and respect for the environment.

We're focusing on Cyprus and Greece, and if opportunities come around, whether it's for ownership or management, we're seizing them. It's an ever-changing environment. Things are looking good for the hotel sector.

Meanwhile, it's important to note that the provision of food and beverage (F&B) services is an integral part of Louis Hotels. In 2003, the company opened its first restaurant, Akakiko (simple Japanese fusion), followed by Elliniko (Greek style cuisine), which later expanded to other towns. The company's franchise restaurants harmoniously complement the international, thematic restaurants located within the company's hotels, offering truly refined culinary options to guests.

 

BF: The cruise industry is also booming, with passenger volumes forecast to reach 106% of 2019 levels in 2023 at 31.5 million passengers worldwide. Louis Group runs its cruising operations under its Celestyal Cruises associate company, which acquired the Aegean Goddess in February. How has the rise of cruise tourism impacted Louis Group's operations, and how is it taking advantage of this upsurge?

Louis Loizou: The Louis Group first became active in the field of cruise ship ownership and management in 1986, even though it had been involved in the representation of passenger vessels and cruise ships in the past. We acquired the first ship and started cruising to Egypt and Israel. That was the beginning of the boom of cruising on the island and the Mediterranean region in general. Our group was a pioneer, introducing the concept of mini cruises (1-3 days), which were promoted as short excursions to neighboring countries; this initiative enhanced the whole concept of the Cyprus holiday product. For this reason, among others, my father and Executive Chairman of the Louis Group, Costakis Loizou, was awarded by the International Society of Hospitality Consultants (ISHC) the "Pioneer in European Tourism" award in 2005.

Since then, homeporting in Cyprus has not evolved much; cruising from Cyprus has some way to go. In recent years, a few international companies, such as MSC and Royal Caribbean, have established business on the island. Cruising in Greece is picking up, the numbers have increased, cruise ships are homeporting there; Greece is in a much better position than Cyprus in that regard, Cyprus is more like a port of call on a cruise.

Celestyal Cruises is an associate company of the group that sails from Greece. We are partners and have a substantial minority share in the business. Although we started cruising in Cyprus back in 1986, today we are not involved in such activities; we are only involved through Celestyal operating from Greece, offering mainly three-, four-, and seven-day cruises with a trio of medium-sized cruise ships. Cruising used to be a big part of the group, but now we are more concentrated on the development of the hotel sector both in Cyprus and Greece.

 

BF: What kind of potential would you say Cyprus holds as a hub for the Mediterranean cruise industry? What kind of steps is the local government taking to improve maritime infrastructure in that regard to make it happen?

 

Louis Loizou: International cruise companies are increasing their calls and their visits not only in Limassol, but also in Larnaca and Paphos. A seven plus day cruise which includes Cyprus has a lot to offer, including a variety of excursions of historical interest. The infrastructure is constantly improving: a lot of investments have been made in the ports and marinas, especially in Limassol, Ayia Napa, Paralimni; hopefully Larnaca will follow. Another vital factor is that air connectivity has improved, which has increased the options when deciding to cruise in and out of Cyprus.

 

BF: One of the related impacts of the Covid-19 pandemic is the pressure on human resources and the lack of talent availability in the sector. In September, the Director General of the Cyprus Hotel Association, Philokypros Roussounides, called out the government for the abundance of red tape on permits for overseas workers who are crucial in meeting the expected demand in 2023, particularly in the summer period. How would you assess the level of local talent within the nation's hospitality industry, and what gaps are we seeing in terms of skillsets?

 

Louis Loizou: It's a huge problem, not only in Cyprus but across the world. The post-covid era finds the hotel industry in Cyprus and Greece grappling with a staffing crisis, as many workers left during the pandemic. This shift has caused labor shortages, rising wages and operational disruptions. Since the outbreak of the pandemic we have observed, not only in our industry but also in many others, a rising tendency of people leaving industries that depend on manual labor and seasonality. Similarly, for new workers entering the job market, at the time of choosing an occupation there is a strong shift towards better quality of life rather than, for example, only the economic benefits offered to an individual. The market in Cyprus is of no exception: it's very hard to find locals to work in specific positions across a range of industries such as the hotel, F&B and construction; Nowadays, people tend to move toward office work and year-round employment.

Speaking about our group, our policy is "locals first". Our first port of call is the local community, whether it's for employment or procurement needs. Following consultation with the Cyprus Employers & Industrialists Federation, Cyprus Chamber of Commerce and Industry, as well as trade unions, we have requested the government expedite the procedures for third country nationals undertaking specific labor positions, especially in areas such as kitchen and housekeeping – a sort of a fast-track system to get people in. We are on the right track raising the importance of the issue, we have established direct communication with government authorities, and we'll get through it.

In any case, it's important to note we provide continuous training to our staff whether local or foreign, existing or new.

 

BF: How significant is overseas employment in the Cypriot tourism sector? What more could be done to ease the hiring of foreign workers?

 

Louis Loizou: Overseas employment is of vital importance. Whether in the hotel, cruising or F&B industry, it's very difficult to find locals to work. Healthy businesses complying with their labor and financial obligations should be rewarded by granting them fast-track access to personnel of third countries. One idea we have put forward as a group is not to open this scheme to all third countries, but to choose specific countries which have shown no signs of utilizing Cyprus as a steppingstone to get into Europe.

In any case, if we have four million tourists coming in tomorrow, we need people to cater for them. It is evident that the local population cannot itself sustain this increase, so we definitely need to find a viable way to open employment to people from abroad. The government and various authorities, like the Ministry of Labor, recognize this. Various officials such as ministers, members of the Cyprus Employers & Industrialists Federation, as well as the Cyprus Chamber of Commerce and Industry, publicly stated recently that Cypriots themselves cannot meet the increased needs of the Cyprus labor market, and they brought the example of many sectors of vital economic activity such as construction, tourism, agriculture and animal husbandry, which today have a notable presence of foreign labor.

Bureaucracy and government authorities go hand in hand and certainly do not find solutions to problems as fast as the private sector. You need to push and push to get things done, but these processes take time.

 

BF: The digital revolution is rapidly changing the shape of business with new innovations in the realm of big data, artificial intelligence, fintech and smart machinery. You have your own Information and communication technologies (ICT) entity, Fourth GL Prodata. How are you leveraging this entity and technologies, in general, to build up your other segments? What advantages does owning an ICT company give to the parent company?

 

Louis Loizou: We set up this business in 1991 when we were much smaller. Basically, the thought behind it was to have a specialized internal team that could step in and cater for situations that were imminent. Over the years, with the increased business the team has grown. Today, we create our own products, but we also have representations of international products which we either use in-house, or we sell to other companies offering comprehensive services and turnkey solutions to maximize productivity and competitiveness.Prodata's services include, but are not limited to, those related to workflow and enterprise content management; ICT infrastructure and IaaS; software development and upgrades; digital engagement and business intelligence solutions; plastic card personalization services and solutions; and CRM, POS and loyalty services.

Obviously, it's very helpful having them around considering the serious data protection issues threatening today's digital business landscape. Thanks to Prodata we have very few malicious attacks. Any cruise ship or hotel that is either going to be renovated or is new, we undertake the whole setup: infrastructure, security, Wi-Fi, computers, handhelds, etc; all these things are done internally. If we cannot, we've got a fantastic team that liaises with international ICT companies and vendors. Adding to the security segment, it is important to note that we are GDPR-wise keeping up to date and complying with all relevant regulations and as such, we're in a very good condition. We make sure that all this infrastructure and knowledge is readily available at our guests' fingertips; for instance, a hotel guest can order food and drinks from their sunbed or a taxi from their room, or search places to visit on the island and even book excursions.

 

BF: Cyprus has also set ambitious goals to decrease greenhouse gas emissions by 55% by 2030 under the new Fit for 55 EU program, which now includes a plan for road transport and buildings – including hotels. What efforts has Louis Group made to cut down its own carbon footprint and create more circular activities in its various operations, including hotels, cruises, restaurants and beyond?

Louis Loizou: Our commitment to sustainability has been there since the beginning, but lately was further enhanced, as ESG criteria are becoming a top priority for travelers and guests globally. Organizations in all sectors are expected to behave responsibly and ethically in every aspect of their operations. All of us here at the Louis Group view corporate responsibility as part of our culture and corporate values. It is – and always has been – the only way of conducting business and the only way of safeguarding our resilience, in order to navigate through the multiple challenges that we face year after year. We have incorporated sustainable principles into our business strategy which guide every decision. Through systematic engagement with our key stakeholders, we make sure that our policies, operations and practices leave a positive footprint on both the environment and the societies we are operating in.

We do a lot of things; we recycle paper, plastic, glass, batteries, inks and even frying oil. We're committed to energy, water and chemical reductions. We use LED bulbs everywhere. We've got the key fob systems in the hotels so that the lights and the climate control air conditioning are switched off. We've got solar panels in various hotels, whether for energy saving or for hot water. Our cleaning materials and our bath amenities are all environmentally friendly. Our hotel teams clean the beaches in front of our hotels daily and we have won awards for these initiatives. We participate in a rigorous food waste program where we collaborate with outside companies separating the different waste and are growing our own in-house botanical gardens. We have a detailed ESG report published every year recording what we've achieved regarding ESG. Two quick examples are a) when Louis Hotels was awarded the Social Responsibility Award at the Zero Waste Beach Awards which is organized every year by AKTI Project & Research Centre and Coca Cola Cyprus and b) when Louis Hotels was awarded for its food waste management practices and for bridging the gap between awareness and behavior of key stakeholders about the environmental problem of food waste in Cyprus.

 

BF: The UK traditionally represents the largest influx of tourists to Cyprus. This is changing as other markets open up. The US is a faraway market, but is growing. There was a visit by the previous Deputy Minister of Tourism to the US to promote Cyprus as a destination for American visitors. How important is the US market for Cyprus and for Louis Group? What efforts are you making towards this market?

 

Louis Loizou: The UK market is the largest market in tourist numbers in Cyprus, with about 36% market share. It used to be over 60%, and there was a strong dependency, which obviously didn't help the island as you don't want all your eggs in one basket. We have seen the negative consequences in the sector following the loss of the second biggest market – the Russians.

The farther away the market, the more difficult it is. For the US market or any long-haul market, it's very difficult to have Cyprus as one destination. You usually combine Cyprus with another country. We tried to set up a regional triangle including Egypt, Israel, Cyprus and Greece, but the results were not as expected.

Cyprus needs a lot of marketing and as a group we support the digital marketing campaigns initiated by the Deputy Ministry of Tourism. It needs a lot of effort to have Cyprus being a one-center holiday from the US. If you're traveling to the area, you need another destination: a two-center holiday. The Middle East is closer and easier to attract some numbers, but for the US, apart from targeted marketing, you need strong connectivity. Lately, air connectivity between Greece and US has rapidly improved; there are a lot of flights to and from Greece, and US tourists can combine it to come to Cyprus.

BF: You stepped up as Executive Director of Louis Group almost 30 years ago. How would you define your priorities for the group? What is your own vision as executive director?

 

Louis Loizou: The group is more concentrated on the development of the hotel sector in Cyprus and Greece, but also the F&B services, mainly through its hotel units. What differentiates the group from the competition is the excellent collaborations it maintains for decades with the largest international tour operators, particularly those from the UK. These partners, through their global networks, require high standards to ensure the best possible service experience for their clients. This helps the group to align with best practices and to constantly improve and upgrade its service offering.

 

In the last couple of years, we have focused on differentiation and last year launched an additional pillar to Louis Hotels' collections, the "Exclusive" collection. At the World Travel Market (WTM) 2022 exhibition, the "Exclusive" collection was presented for the first time, which includes five-star luxury units with special architecture, quality services and an emphasis on lifestyle. Transformation was not an easy task – to run 4-star family hotels and to go to lifestyle luxury 5-star boutique hotels – but capitalizing on our experience and deep knowledge of the market we achieved it, step-by-step and without making sudden huge moves. This collection includes the two luxury units of Louis Hotels in Mykonos, Mykonos Theoxenia and Once in Mykonos, as well as Asterion Suites & Spa in Chania, Crete. Next year the brand-new King Jason Zante will also be added to the "Exclusive" collection.

Having said that, we're not stopping our other businesses and investments, whether in airports, cruising or in the F&B industry. They are projects where we want to solidify the position we have and move forward in steady steps. We have three new hotels arriving in 2024.

What is always important when going forward is to have a happy team and be close to your people; without interaction within the group companies, it's difficult to go forward and be productive and successful. We are lucky that in Cyprus due to the culture people are much closer, and the intimacy between them is much easier to be achieved.

BF: What's your final message to our readers?

 

Louis Loizou: Cyprus continues to be a trusted tourism hub between three continents. I suggest you read about Cyprus and plan a visit to the island when you are in the area; trust me, you will create memories to cherish forever. It's a small island, with good weather all year round, good food, friendly people, with lots of things to see and do in a very short period.