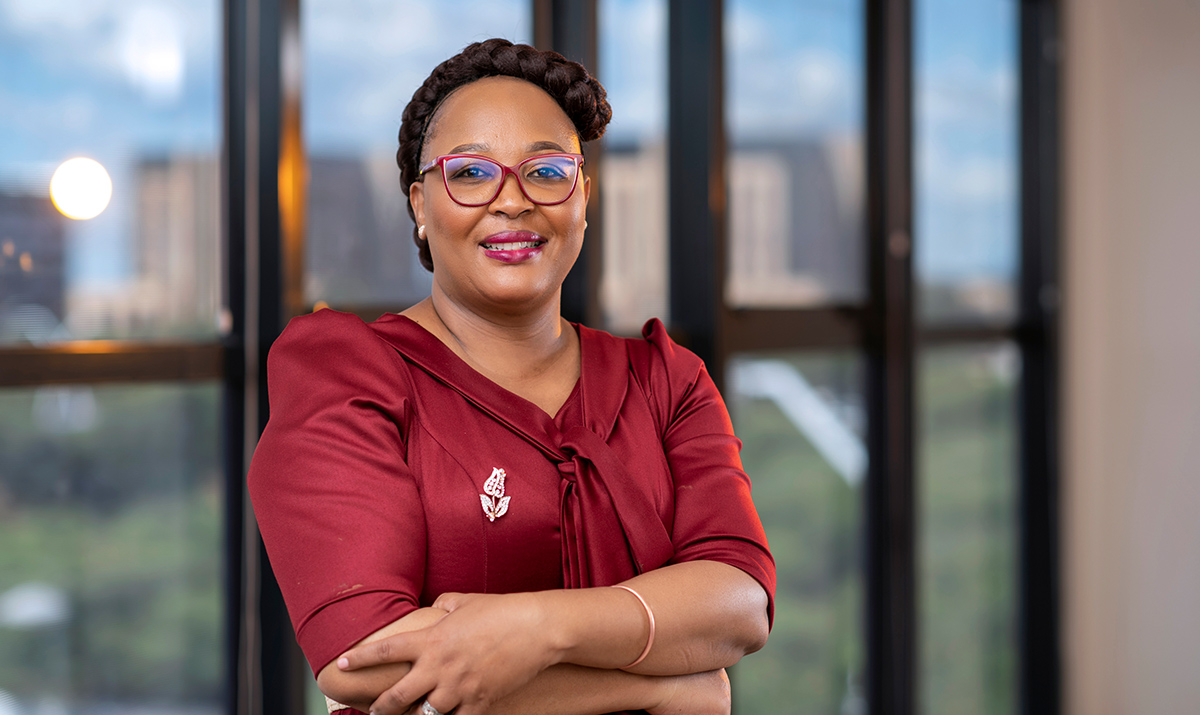 02 Nov

Interview with Keabetswe Pheko-Moshagane, Managing Director, Absa Bank Botswana

H.E. President Masisi's 'Botswana Excellence' Strategy has turned the country into a role model for development in Africa with one of the worlds' fastest growing economies. In February, the country's commercial banks posted record profits for the first 11 months of 2022 – largely due to sharper credit risk controls introduced during the pandemic. What key factors have kept Botswana's economic growth on a solid journey and what role is the banking sector playing in supporting the country's goal to become a high-income country by 2036?

Botswana's economic growth has been supported by several key factors, including political stability, sound macroeconomic management, prudent fiscal policies, and a focus on diversifying the economy. Additionally, the country's rich natural resources, particularly diamonds, have contributed significantly to its economic growth.The banking sector in Botswana plays a crucial role in supporting the country's goal to become a high-income country by 2036. Banks will continue to facilitate capital mobilization and allocation, promoting investment and economic development. They provide essential financial services to individuals, businesses, and the government, fostering economic activity and growth. The government of Botswana recognizes the role of the financial sector in economic growth and development as evidenced by the financial sector development policies that have been put in place over time. The banking sector enjoys relative stability and effective regulation which contribute to overall economic resilience, attracting foreign investments and enhancing confidence in the country's financial system.

 

US President Joe Biden stated during last December's U.S.-Africa Leaders' Summit that 'over the next three years, working in close cooperation with the United States Congress, we plan to commit $55 billion in Africa to advance the priorities we share and to support the agenda 2063.' What kind of role has the US played in developing Botswana's industrial landscape? And what new opportunities are we now seeing that might be of interest to potential US investors, given the country's renewed interest in Africa?

The United States has played a significant role in developing Botswana's industrial landscape through various channels, including foreign direct investment (FDI), trade partnerships, and technical assistance. The U.S. Agency for International Development (USAID) has a long history of working to address development needs in education, training, entrepreneurship, environmental management, and reproductive health all of which have a role in shaping the broad industrial landscape of the country. Botswana enjoys preferential trade benefits under the African Growth and Opportunity Act. Botswana belongs to the Southern African Customs Union, which has signed a Trade, Investment, and Development Cooperative Agreement (TIDCA) with the United States. The TIDCA establishes a forum for consultative discussions, cooperative work, and possible agreements on a wide range of trade issues, with a special focus on customs and trade facilitation, technical barriers to trade, sanitary and phytosanitary measures, and trade and investment promotion.

The renewed focus in Africa presents opportunities for both the US and Africa. Absa Group's partnership with the U.S.-Africa Business Summit is a testament to the bank's dedication to Africa's growth and its vision for fostering meaningful partnerships that will benefit the continent.   There are a number of opportunities in Africa in general and Botswana in particular  that may be of interest to US investors.

Infrastructure Development: Africa seeks to improve its infrastructure, such as transportation, energy, and telecommunications, offering potential investment opportunities in these areas.

Manufacturing and Agribusiness: With a growing middle class and a focus on economic diversification, Botswana offers potential for investments in manufacturing and agribusiness industries.

Technology and Innovation: Botswana and the greater African continent's commitment to technological advancement presents opportunities for U.S. investors in the technology sector and startups.

Tourism and Hospitality: Botswana's unique natural attractions, including wildlife and landscapes, make it an attractive destination for tourism-related investments.

Renewable Energy: Given Botswana's commitment to sustainable development, investments in renewable energy projects hold promise for the country's energy needs.

Absa Bank Botswana saw a giant rise in annual profits before tax of 33% in 2022. The bank has been doing extremely well on the bank of increases in net loans, customer deposits and balance sheet growth. Tell us about the bank's current operations, services, and assets? What recent milestones has the bank recently passed under its current growth strategy?

Absa remains committed to developing relevant solutions in response to customer's ever evolving needs. We are focused on being a digitally powered bank and our strategy is working as we continue to see positive momentum on our business. We have been recording impressive results over the past years and we remain positive that our performance will remain strong. In line with our strategy, we continue to post key milestones which gives us the confidence that we are on the right track.

This year we continued to improve our customer value propositions and offerings across various segments. As we have managed to launch the Absa, SHE account targeting women owned business which is aligned with our inclusive banking agenda. True to our drive to be an employer of choice, for the second year running, Absa Bank Botswana has been recognized as Top Employer by The Top Employers Institute. Governance remains key in our strategy. We have already issued out our second integrated report, which is an important part of our strategy to fully embrace and execute on our ESG commitment.

 

The digital revolution is having a transformative effect on all industries – in particular, finance. New innovations in fintech and big data as well as increased digital connectivity are completely changing the game for all levels of banking clients. In 2022, Absa Bank launched six digital suites in its retail branches. How would you assess the level of digitization of Botswana's banking sector, and what new disruptive technologies and initiatives has Absa Bank introduced under its digital transformation strategy?

Digitization of Botswana's the banking industry has progressed steadily of time. Almost all banks have embraced digitization well. As an industry we pride ourselves as having a wide range of online banking, mobile apps, digital payment methods, and digital customer experiences.

As Absa Bank Botswana our digital transformation has been impressive. Over the years we have rolled out customer focused digital solutions have significantly improved customer experience. Over the years we have deployed a number of digitally relevant and innovative offerings and we recently launched the Absa Mobi Tap solution becoming the first bank in our market to provide such innovative and market changing solution. Absa Mobi Tap is a solution that allows merchants accept payments from their customers by simply tapping their Contactless cards on NFC enabled android devices as opposed to traditional point of sale terminals.

Absa bank Botswana continues to give customers convenient options of managing their finances. We have enhanced our credit card offering through enabling a digitally driven Buy Now Pay Later Solutions which provides clients with an option of choosing when they would like to settle their credit card obligations.

There are also significant developments that we have made to enhance our credit card offering such as the Buy Now Pay Later functionality which allows our customers to manage how manage their credit card payments. These are some of the few examples of the solutions that underscores our digital transformation journey.

 

Botswana has set a target to cut its carbon emissions by 15% by 2030 from 2010 levels, which involves industry-wide participation. Alongside this move, the world is seeing a giant rise in green investments, pushed by both financial institutions and local governments. Absa Bank is partnered with BITRI in its research excellence awards, with a strong focus on environmental issues. Additionally, the bank is heavily involved in tree planting and recycling initiatives. How has the rise of green investment changed the landscape for financial institutions in Botswana, and what is Absa Bank doing to help the country meet its ambitious green goals?

Green investment is an emerging area which will continue transforming the financial sector and how financial institutions provide support to the economy. We have witnessed policy positions, incentives and solutions being developed by the key stakeholders to ensure that green financing is embedded across the country.

While we recognise Africa's particular vulnerability to climate change, our approach to Net Zero also takes cognizance of the development needs of Africa's people. Our Net Zero declaration underpins our belief in and support for a Just Transition hence as a Group we issued a statement at the beginning of the year citing our position.

It is worthy noting that as Absa Bank Botswana, we have already started to offer solutions and financing that support of ambitions. As n example we have partnered with some of our clients who are involved in the installation of solar streetlights in efforts to drive the use of renewable energy. We also have made significant steps in managing electricity and water in our some of our offices.

 

A major challenge for the financial services industry is the onboarding of trained and experienced workers. In April, the bank entered into partnership with the Ministry of Entrepreneurship for upskilling in the finance sector. Absa Bank is also actively involved in developing talent through its ReadytoWork program. How would you assess the level of talent within Botswana's financial services sector, and what is the government and the bank doing to enhance human capital and train the next leaders of tomorrow's banking industry?

Education and skills development has been a priority for the Botswana Government and a lot of effort continues to be put in place to develop human capital. As a sector we have a member owned and driven organisation called the Botswana Institute of Banking and Finance whose sole mandate is to train and develop skills for the banking sector. We also have a number of universities and colleges which offers courses and degree programmes, relevant for the industry.

While certain skills still remain scarce in the market. we have other options that are available of managing any skills gaps that may exist. As a bank will continue to leverage on the skills that exist within the broad Absa Group. As Absa Bank Botswana, we have a number of training programs that contributes to enhance our countries human capital such as the FG Mogae scholarship program and ReadytoWork just to mention a few.

You stepped up into the lead seat of Absa Bank in April 2019 during a quite eventful time. Since then, you have successfully carried the bank towards increased profits and its digitization agenda. Previously you sat as the bank's COO for three and half years. Your career is quite inspirational, from an original career in IT to where you are now!  What are your personal top three priorities as Managing Director of Absa Bank Botswana, and what vision do you have for the bank and the country's banking sector in 2023 and beyond?

My vision for the bank and the industry are as follows:
To get return Absa Bank Botswana to its number one position across all the different performance metrics in the market –
To make Absa Bank Botswana the best place to work at for all our employees,
Adoption of the broader scope for financial inclusion by in the banking sector to provide access to all Batswana who require banking services especially the youth, women, and disadvantaged people in society.