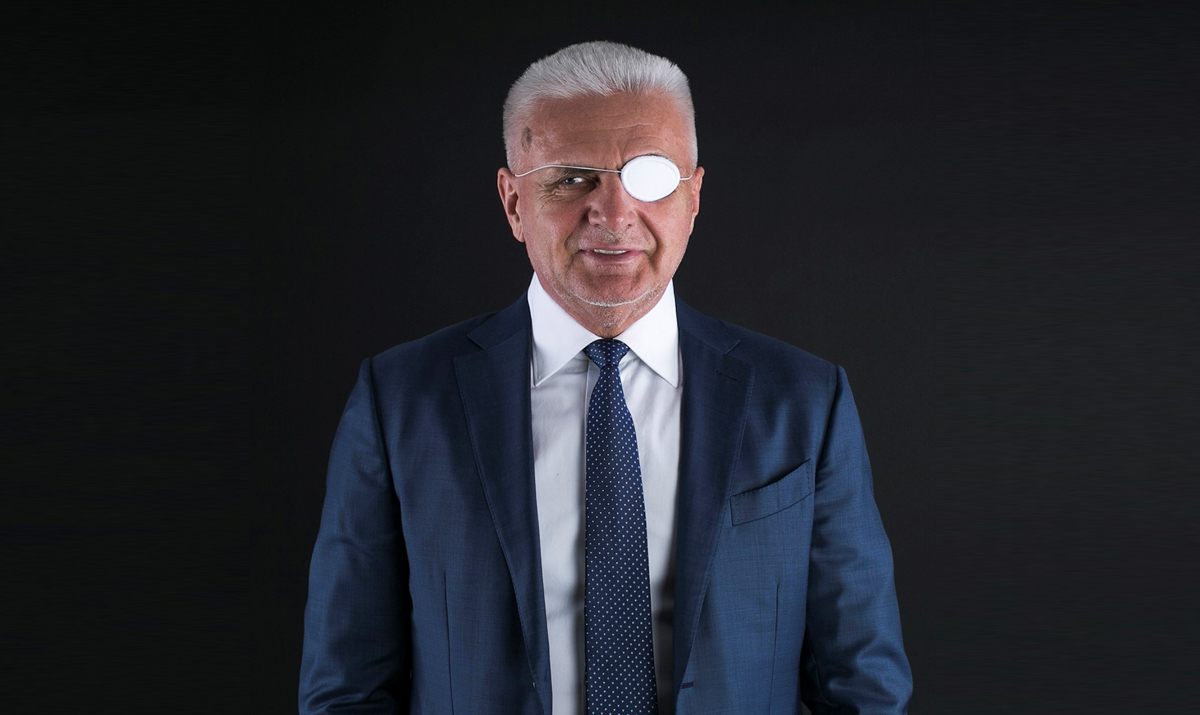 14 May

Interview with Joseph Felföldi, Founder and CEO of Felföldi Confectionery Ltd., Hungary

Business Focus: Since 1986, you've grown Felföldi into becoming the leading confectionary producer in Hungary and a prominent name across the region. As founder and CEO, could you give us an overview of your company? What have been some of the key factors behind your success?

Joseph Felföldi: The story of Felföldi started back in 1968. Back then, I was a frequent visitor at exhibitions around the world, where I saw many big U.S. or European companies with 50 years of experience, and I knew I wanted to get into this business, next to these companies, even though I knew it was going to be hard for me. That was the dream, and the bigger the dream, the greater the fight.

I started with inventions, like the tank painter. I came up with very innovative candies such as the candy shaped like a school, candies with 'blood' that came out of the eyes, or candies shaped like an ear and the cotton bud where you could eat the 'wax' coming out of the ear. They were innovative sweets and I wanted to shock everyone, and these things were new for the market. That was the plan initially, when I started the brand: shocking children and parents with innovative sweets. Later, I saw that this was not going to be the way and I adopted a different strategy.

Today our flagship product is 'quick milk.'  It's a straw with natural flavoring inside: when kids drink milk sipping through the straw, it gives the milk a color and a taste. This is how we are helping children to drink more milk, making milk drinking fun.

That was the first real innovation. Since then, I have had a lot of ideas. At the moment we have more than 30 active products and more than 100 products in development. My strategy is to figure out what the market needs and come up with some products that are not already on the market. So, innovation is at the core of Felföldi Confectionery. We are always striving to offer something new to the market. Another of our innovative products is the chocolate-coated pretzel, which is booming in Europe. Five full trucks are exported to Europe every week.

Last year, the CEO of a big chain of grocery stores asked me to give them a fixed price over 15 months for this product. They have this brochure where they have the products they want to announce and the discounts. The product was in the brochure, but they did not have any price in it. Because of the world situation and what is going on with COVID, with the war and inflation, raw materials are increasing crazily and continuously, so it was really hard to give a fixed price. But I said, I will do it for you. The result was that, as I was so cooperative and made an exception with them, this year they are listing eight of our products.

BF: Can you give us a couple of facts and figures about your company and your turnover?

Joseph Felföldi: Felföldi achieved a turnover of €15 million in 2022. This is quite big considering that our products sell for a very low price in stores (of just a couple of cents in average). Our goal is to double our annual turnover in 2023. We are actually in a good way, since we already had a very strong month in January, with €3 million turnover in just one month.

Felföldi has around 300 employees. In addition to doubling our turnover, our ambition this year is to come at par with other similar international companies, like French or Austrian companies, regarding the salaries of the employees. A lot of young people are leaving Hungary, moving to London or elsewhere, and I would like to keep the young Hungarian people in Hungary; that's why Felföldi offers higher salaries. I would like to be an example in that regard.

BF: At Feldföldi, you're advocating for more sustainable practices by responsibly interacting with the environment and communities, and sourcing locally where possible. Could you tell us more about your sustainability strategy and how you promote better and more sustainable production?

Joseph Felföldi: Protecting the environment is one of the most important things for me. At Felföldi, we strive to follow the regulations and best practices in this area. We have a team that is responsible for guaranteeing the quality of the product and its content. For example, our flagship product, the straws, used to be 100% plastic. There was a regulation not allowing plastic in some countries, so we came up with biodegradable straws, a green solution to following the rules and regulations in regards to the environment.

In addition, we are also striving to cut all chemicals from our products and use only natural ingredients. That's really important for me. There's a special gas in all the packages which is protecting all the products, but there are no chemicals or any additional colors or flavors. It's all natural.

BF: The company is very much revolving around innovation. How are Felföldi products disrupting the market today, and how does innovation inform the company's product development? What other key projects are in the pipeline in that regard?

Joseph Felföldi: Usually we have 40 or 50 new products in development at all times, but there are even more this year. In January, for example, we had over 100 products in development. We are always monitoring all the markets and trying to find those standards that we can be innovative in, starting from the packaging if it's a gift box to the product itself.

For example, we will soon offer a whole series of chocolate gift boxes with personalized messages. We have our own printing room, our development department, and do everything in-house. The whole factory is 10,000 square meters. We are not only producing sweets, but snacks as well. "Let's Cheese" is our second biggest brand. It's a 100% cheese-based snacks. It's sugar-free, lactose-free, and nothing is added, not even oil as it is baked in a special microwave machine. That is innovative as well.

As another example: at Walmart, customers can buy our cocktail mix glass jar product. The jar includes several layers with all the ingredients that you need, with the exact volume of spices and the sugar that you need. You just have to mix it with the alcohol that the recipe says. We also have another product, our Classic Kitchen Cookies, which is the same concept as the cocktail but for cookies. You just add milk and butter, stir it, put it in the oven, and you'll have your own cookies. This is very clever because if you want to make your own cookie, you don't have to buy all the ingredients separately. Here you have them all in the proportions that you need. We have a great market in the UK for this product, and they have it in gift shops.

BF: The company has around 10,000 square meters of modernized manufacturing featuring unique production technology run by highly qualified specialists. How advanced are the company production facilities and how you are leveraging new and digital technologies to continue to enhance your production?

Joseph Felföldi: Our chocolate-covered pretzel production line is 120 meters long and all automatized. We see the dough that is going in, and at the end, the chocolate-covered pretzels that are coming out. Only four people work at the factory side, and they can produce one full lorry in one working day. This is unique in Europe!

That said, I don't want to have the whole factory running with automatic machines because workers and employees are important to me, be it in the office or on the factory side. We're like a big family.

BF: Your confectionery products are currently sold in more than 40 countries across the globe and are especially popular in the USA, UK, Germany, and the Netherlands. What are some of the priority markets for the group at present, and what is your strategy for enhancing distribution networks in high-potential markets beyond Europe, like the U.S.?

Joseph Felföldi: You can find our products now in 50 countries around the world. However, the biggest markets for Felföldi at the moment are the UK, Canada, France and Germany. These are the main markets for us, but we're continuously expanding and trying to find new markets.

As one of the latest developments, we are opening our own retail chains, with gourmet chocolate shops. The first one opened in February. In the next five years, our plan is to open around 50 shops like these in France, Austria, and other European countries. Our ambition is to distribute and propose over 500 products in these shops, such as our chocolate-coated pretzels, snacks, and sweets. One of the products that we are planning to offer are gift boxes with small, personalized messages. For example someone has been rude with his girlfriend, he can go to the shop and buy the 'sorry' box. We will have more than 50 messages for different occasions and events, like Mother's Day, weddings, birthdays, etc. We will have also chocolate letters so that the customer can create the message he wants.

BF: You mentioned in the U.S. your distribution already with Walmart. Can you tell us more about the importance of the U.S. market for Felföldi? What are you plans there?

Joseph Felföldi: Felföldi products are already distributed in the U.S. at Walmart, even though we don't work with Walmart directly but through a distributor. At Walmart you can find several of our products, including our 'quick milk' product with the straws. This product alone generates about €2 million every year in the U.S.

Our goal ultimately is to expand our business in the U.S., of course, and everywhere. We would like to have more SKUs and more products listed in Walmart. We would also like to add additional distributing partners, such as Costco, for example, in the next two years. However, the situation that we are faced with at the moment, between the war and the pandemic, and other issues have slowed things down and made things more difficult at the moment. Yet we do have other requests from the U.S. that we are working on, and we are getting there.

BF: What would you say are the key success factors for your products in the U.S.?

Joseph Felföldi: Our products are all natural! Besides, we have our own R&D department, and we are constantly monitoring all the market. We are very open to changing any colors and tastes in our products. Our straws are made in over 50 different tastes already, and we are now working on developing some more tastes that are more fitted to the U.S. market, such as coffee and cream, which American customers like a lot. We have our own development department: we can do any taste and any color that the market requires, so we are flexible and that's really important.

Many of our products have already received FDA approval, which I'm really proud of. We are closely assessing and monitoring the U.S. market to fulfill the needs of the local consumer. We are working with some key experts in the U.S. to provide us all the relevant information regarding the regulations, so we have no surprise.

BF: You expanded as well into cosmetics. Can you tell us about the importance of this activity for the group?

Joseph Felföldi: That's an old story, before the sweets. 35 years ago, Body Shop was built on my idea, because I had a good friendship with the owner. I made natural soaps, bath salts, for women and children, and natural cosmetics for women. At the moment though, I am more interested in food, sweets and snacks, and this is what I'm mostly focused on. Yet business never stops, and I like to use my creativity for a lot of innovative things, so I may come up with new ideas in other segments in the future.