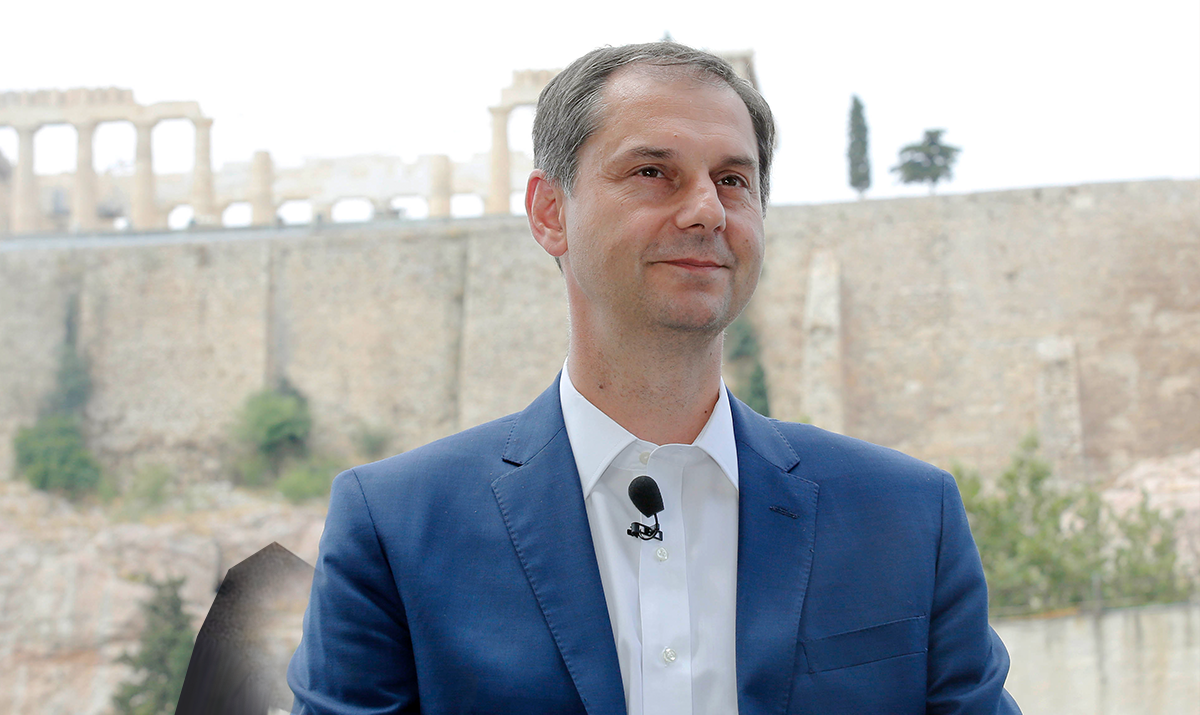 03 Feb

Interview with Hon. Harry Theoharis, Minister of Tourism, Greece

As the maximum representative of Greece's champion sector – tourism – how would you sum up the "Essence" of Greece and what makes it so unique as a destination?

First of all, Greece is, by large, an unspoiled nation. It is very difficult to find such pristine quality in Europe. The second thing that makes us unique is the people. We say that we are the people that invented hospitality, in the sense that Zeus – the god of gods – was the guardian of foreigners. We always view and welcome tourists in a unique and open way. Even market research tells us that the number one thing people remember when they leave is the people and the kind of hospitality they offered. The third element that makes Greece unique is that, even if only for a few days, you can feel and experience freedom. You can explore, feel secure and be in a totally different and beautiful environment without fear that something might go wrong.

Having recently returned from the Capital Link investor forum in New York, throughout your many conversations with international investors, how would you describe the current sentiment or perception of Greece as a lucrative investment destination?

Greece is now on the radar of more regular investors, not just those who seek distressed opportunities and problematic, high-risk, high-return types of investments. More bread-and-butter and brick-and-mortar investments are being considered for Greece. It is very fortunate that all the reform efforts of this government, even if it has only been five months, have been well-received by the investor community. All of the investors are goading us into continuing the kinds of efforts that we started with the change of government. I feel that the calculators are already working in those investment firms to see what kind of opportunities exist and whether they make sense for the firms' plans and strategies. We will certainly see a lot of activity in the years to come.

Since we're on the topic of investors, why don't we talk a bit about some of the large-scale investments happening in the tourism sector, ie Hellenikon, Kassiopi project in Corfu or Elounda Hills in Crete. Is it safe to say that the tourism sector in Greece is currently the most successful in attracting FDI? What other projects are in the pipeline – both in and outside of government privatizations?

Tourism is something that we know how to do well, and it has a proven track record. Therefore it is easy for the investment community to consider investments in this sector. At the same time, a lot of opportunities exist because the crisis created problematic assets that are in the hands of the banks, which want to sell in order to put them back to productive use. Tourism is a sector that has a lot of potential and, at the same time, there are a lot of assets that could be used, refurbished or upgraded in order to be used to create profit. You have already mentioned some of the big projects; there are other projects in Crete that we have recently approved for the fast-track process. There are also other projects in Atalanti, Messinia, Eleon, and many other areas of Greece that may not necessarily be well-known yet. This is part of our active strategy to promote those areas as well in order to create more opportunities and demand for tourism in the lesser-known tourism areas.

Tell us a bit about your new strategic plan for the development of Greek tourism: how to maintain Greece as a 365-day destination? What new niche areas are you keen to tap? How to include all 13 regions and draw visitors to these?

Our high-level strategic goal is to move with the times. Greece has been successful in attracting a large number of visitors. We have more than doubled the number of visitors between 2010 and today. This means that we need to shift our focus towards more quality visitors. As a result, we are creating a new 10-year strategic plan during 2020. This strategic plan will allow us to give more clarity to investors as well as to operators and enterprises of tourism in order to promote and align their activities with our long-term strategic goals. At high-level, our strategic goal is to shift towards more quality, shift towards more authenticity and experiences that we can provide to the tourists, and to shift towards more sustainable investment and functioning of the tourism industry. At the same time, we want more diversity in terms of time, the 365-day, 12-months tourism. Greece has a lot of assets that can be used. Our cities of Athens and Thessaloniki are not well-known as year-round tourism destinations. Our mountains are another asset; 80% of Greece is mountainous, and people don't know that. By promoting this kind of tourism, we can bring additional value to the high-quality well-known islands and the "sun, sea and sand" type of product. We are looking to increase diversity in terms of time, unknown destinations and geography, and the types of quality products we are offering such as hiking, skiing and climbing. To give you an example, the number one place for climbing in the world is Kalymnos. It has the best rocks to climb. People come from all over the world and the world championships are held there.

 I saw at one point that Athens was not even among the top five destinations in Greece in terms of visitors, but this may change. I know, for example, that Athens has been transforming in terms of the Athenian Riviera, welcoming the Four Seasons, and many people are now opening boutique hotels in the city. It is definitely shifting. What is your mission in that regard and what kinds of efforts are you making to promote Athens as an all-year-round city break?

We are actively promoting it. There is currently a campaign running for Athens and Thessaloniki in four countries to promote Athens as a destination. There has been a lot of investment lately, and more is coming, both in the city centre and in the Athenian Riviera. We feel that in the next 2-3 years, we will see a huge boom – possibly in the city centre. Then the Hellenikon project will come alive. As soon as that happens, the Athenian Riviera will transform, together with the hotels you have mentioned. It will be a game changer.

Last elections in the UK have finally given some certainty to the country's future, with the re-elected PM vowing to push Brexit through by the end of January 2020. What will this mean for Greece, whose largest source market is the UK, and what are your views on how to tackle this new reality in Europe? 

We have always had a very good relationship with the UK. Our efforts to attract more tourists from that market over the past few years have worked. As a result, for the first time in 2019, the UK has become the number one market for us in tourism. This is very good for us, and we welcome it. At the same time, we have a couple of issues that are clouds on the horizon. The short-term issue is how to deal with Thomas Cook and the changes this created in the UK market and try to replace the connectivity – the flights and seats that come from the UK to Greece. We are hoping to conclude this process in January 2020 and stabilise the situation. The second issue is Brexit. After last week's elections, it is clear that Brexit means two things. First, we need to do a lot of work as soon as we know the terms of the separation to ensure that the experience of UK tourism firms and tourists is as smooth and cloudless as possible. We do not want to introduce difficulties for people coming from the UK to Greece or for people working for UK tourism operators and travel agents in Greece. Secondly, the clarity that this will bring will allow people in the UK to plan better for the family expenses and holiday plan. This should remove uncertainty and allow them to come to Greece and plan their vacations without problems.

Perhaps an area that will draw much interest from post-Brexit UK citizens is the Golden Visa program. Do you believe that the new measure accepting credit card payments will attract a new wave of UK investors / buyers to Greece?

We feel that Greece is very attractive with the Golden Visa programme. We have been very successful with countries that, perhaps, have some uncertainty in their internal politics and mechanisms. As the UK leaves, perhaps this is another incentive for UK senior citizens to come, buy, and stay longer in our country. At the Ministry of Tourism, we are doing all we can to streamline the process and ensure there are no problems. We certainly would like to share homes with citizens from the UK who feel they would like to spend more time in our country.

As you wrap up your first 6 months in office, what are some of the highlights so far in terms of implementing your vision for Greece's tourism sector? What will be your key priorities for the upcoming year kicking off the new decade?

The first six months, we mainly dealt with ensuring that the year will end well despite the disruptions and problems that arose. We were very successful at that. This year started with predictions of lower revenue, and we ended up with 15% higher revenue than last year. We feel that this was the result of ensuring that advertisement plans and so on were efficiently executed. We are happy that this planning went well. For 2020, we are shifting our focus to more strategic areas. The first thing is to complete the strategic plan, as an umbrella to all of the initiatives. Under that, the first focus is on efforts to create sustainable tourism. We will introduce a number of initiatives in order to accredit businesses on green credentials and alignment with the SDGs the UN has set for 2030. The second thing is reforming tourism education and ensuring that we have a high-class education for the tourism sector. The third thing is to shift our focus to a different market plan and digital means. For example, a highlight is the new campaign that starts in January this year, of which 70% is an online campaign. We are switching from traditional media to a more online presence. The fourth initiative is on streamlining investment and creating infrastructure needed for tourism, such as marinas. The final initiative is to help more digital transformation start ups in the tourism sector to transform the way that we do business in the tourism industry.

I would like to invite you now to make some concluding remarks, and share a powerful and insightful message about Greece with the readers of The Guardian

As far as tourists are concerned, there is a whole, undiscovered Greece that offers unique experiences they never imagined existed here. It is as if Greece is many countries packed in one. We invite them to unbox them. As far as the investment community is concerned, tourism in Greece is a huge investment opportunity. It is a sector that is less plagued with red tape. Of course, this is a problem that all governments, including Greece, face. We invite them to start considering the types of investments they would like to do, beginning with the tourism sector.