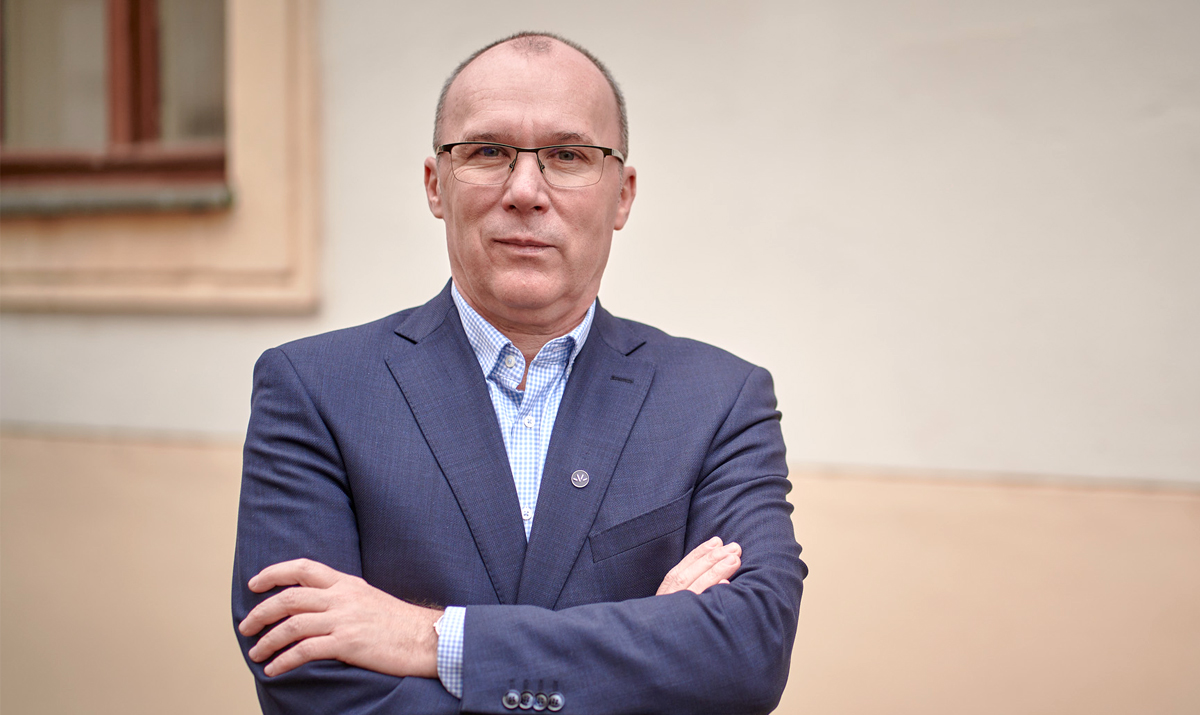 01 May

Interview with Gyula Porga, Mayor of Veszprém, Hungary

BF: The city of Veszprém, more commonly known as the 'City of Queens,' is a place of distinct natural and environmental assets. Besides the perfect location of the Bakony Hills and the biggest lake in the European Union, Lake Balaton, the city is a great cultural destination in which to discover more about Hungary's heritage. For our readers who may not be familiar with the city, could you give us a rapid overview of Veszprém? How important is the city in Hungary? Can you give us some facts and figures to understand how Veszprém stands out and positions itself in Hungary?

Gyula Porga: Veszprém is one of the oldest cities in Hungary, founded around the same time as the state foundation of Hungary, in 1001. The first King of Hungary, King Stephen I, gifted the city of Veszprém to his wife, Gisela, and that's why Veszprém became the city of queens. King Stephen established the first archdiocese of Hungary in Veszprém. With the establishment of this very first archdiocese, Veszprém became a significant religious and educational center. Veszprém was also the city in Hungary where the first higher education institution was established. Veszprém has since been a center for state organization, government organization, as well as a center for religion, culture, and education.

Veszprém is more than a millennium old, but it never seems to age because, with citizens having a strong intellectual background, it always adapted and developed over the years. The city's population is around 60,000. There are strong economic investment groups who have their headquarters in and around Veszprém. These multinational companies are not only active in the manufacturing sector of robotics, automation and electronics (which all contribute to the region's strong economy) they also all have a strong foothold in research.

Veszprém is also home to the University of Pannonia, which has five faculties, the two strongest ones being engineering and information technology. The old, chemical engineering image of the university has evolved throughout the years, to a point where their main focus is on sustainability and climate awareness.

BF: Veszprém is one of the three European Capitals of Culture (ECoC) in 2023. It is raising the voice of arts and conveying the message that European culture is a result of regional cultural activity. How important is this nomination for Veszprém, can you give us some insights into the bidding process, and tell us what's on the agenda for Veszprém-Balaton 2023?

Gyula Porga: The European Capital of Culture project is considered to be one of the most successful cultural initiatives of the European Union. The project took flight in 1985 and Veszprém is the second Hungarian town which has had the honor of receiving the title. The first town was Pécs, one of the bigger towns of the country and, this time around, it seemed as though another more populous town would be awarded the title, however Veszprém managed to edge out Győr and Debrecen as well. Veszprém is a culturally rich community. We received the UNESCO City of Music title, and our musical festivals are popular worldwide. Still, we applied for the ECoC title together with the entire Bakony-Balaton region. Eventually we were right, as our regional approach managed to win over the international jury. We are utilizing this unique opportunity to improve the community and infrastructure of our town. The European Capital of Culture title is a tool and an opportunity to reach our long-term goal, which is to become one of Europe's top 20 most livable cities. This is quite an ambitious undertaking, as we're currently occupying 54th place.

BF: What are some of the key attributes or factors that will help you to join this top 20? What are you capitalizing on to make it happen?

Gyula Porga: Our main aim is for different lifestyles and demographics to find their own community and experience the beauty of Veszprém and the region. We are aiming toward a vibrant green city image, with people-oriented public spaces and a strong background in the creative industries. We would like to become a place where it's enjoyable to work, raise a family and live an eventful life. An example of the most visible quality improvement we managed to reach in our services was in our public transport, where we managed to revamp our entire bus fleet. Our road system has undergone a massive refurbishment as well.

Our children and students staying here is a vital issue for us. Our high schools are exceptional, our university's model change opened new possibilities, and our newly opened vocational training center guarantees the resupply of the workforce of our local, innovative multinational companies.

Another important aspect is that the city and region have to operate in complete harmony. We have the Bakony Hills in our immediate vicinity, which offer great trekking routes during the year and ski slopes in the winter. Veszprém is also less than 10-15 minutes away from central Europe's largest sweet water lake, Lake Balaton, which is the country's most popular holiday destination during the summer. We would like to disrupt the touristic seasonality and expand on the usual three month period during the summer. This proposed elongated touristic season does require festivals and loads of cultural events.

BF: Veszprém County's economy very much revolves around processing, building, wood, food, and the services industries, mainly tourism. Furthermore, it is one of the counties with the lowest rates of unemployment and it is a perfect cultural, educational, religious, and tourist destination. Which industries do you consider are growing and showing a lot of promise for the next years? Which industries are you aiming to focus on going forward?

Gyula Porga: The biggest industry in the Veszprém region is, without a doubt, the presence of multinational automotive companies. One important thing to note is that it's not only manufacturing that occurs in these companies, but rather significant research processes as well. We have more than 3,000 research engineers working at these companies. This clearly demonstrates the intellectual background of our town and our citizens. The second biggest industry in the region is automation. We have three of the biggest companies of the industry present around Veszprém, as well as a number of mid-size companies.

BF: In the aftermath of the COVID-19 pandemic, and in preparation of the European Capital of Culture events, how are you also working to prepare for tourism to rebound in the city?

Gyula Porga: During the pandemic period, the city provided substantial aid to help small- and medium-sized businesses and entrepreneurs in certain sectors, as they were struggling to make any income.

The pandemic also affected our cultural capital preparation program. We could not travel abroad to other ECoC cities at the time, to gain experience and learn the dos and don'ts. These preparatory periods are vital for European Capitals of Culture. The city and the ECoC team also planned to host introductory projects and programs through 2019-2021, but some of these were limited due to the pandemic. Hopefully this year we will be able to carry out all of our planned projects and elevate our already existing events and festivals, to attract more and more tourists. In recent years we have renovated a number of abandoned but historically significant buildings in the city center which we plan to fill with cultural content.

The European Capital of Culture project had a separate budget for the enhancement of accommodation options in the city, therefore we managed to increase our hospitality capacity by a large margin. In order to attract more and more tourists to Veszprém, we are reconstructing the entire castle area of Veszprém, which was built in the medieval times, to create new exhibition spaces. The train station of Veszprém is receiving an entire revamp as well, to accommodate those coming by train. We are also in the process of establishing a brand-new Digital Experience Center in the heart of Veszprém, which will be one of a kind in Hungary.

BF: In January of 2023 you signed a Memorandum of Understanding to improve the ties between the city of Shusha in Azerbaijan and the city of Veszprém. In line with this, what is your strategy to attract foreign investment, international partnerships, or collaborations to improve the local economy and create better living conditions for your residents?

Gyula Porga: Turkic countries have a separate process choosing their cultural capital each year, just like the European Union. We continued the tradition, where the given year's Turkic Capital of Culture and European Capital of Culture cooperate with each other. A couple of years ago, a Croatian city was the European Capital of Culture and they also had their Turkic capital of culture as a partner.

This MoU with the city of Shusha encompasses solely cultural cooperation. We will be working on bringing the Turkic world's attractions, artistic and gastronomy touchstones to Veszprém, to familiarize European people with the culture of Azerbaijan, and vice versa.

Regarding new foreign investments, the current unemployment rate in Veszprém is an impressive 1.5%. A number of local companies even struggle with workforce shortage. We could say that we have reached the capacity of the city. Currently, we don't have concrete plans for large foreign investments.

BF: VRIC Regional Innovation Centre and the University of Pannonia are two organizations that have been contributing to internationally recognized R&D and professional development in this county. How does the city work with the university and the Innovation Centre to develop a competitive advantage in terms of R&D and in terms of training and skills?

Gyula Porga: The Regional Innovation Centre was acquired by the university. The University of Pannonia can be considered the biggest, most influential, and most important institution of our city. The two strongest faculties of the university, engineering and information technology, are a great contributor for our local multinational companies in terms of workforce supply. Furthermore, the university and local companies work together in research and innovation. In addition to the main curricula, these companies organize special courses for engineering and IT students to further their technical training.

BF: In 2012, you received the Climate Star award from the European Climate Association, making you a leader in climate awareness. As Hungary's target is to reduce carbon emissions by 55% to 60% by 2030, and achieve net zero by 2050, could you share more about Veszprém's sustainability strategy and how the city aims to reduce carbon emissions contributing to Hungary's 2030 targets?

Gyula Porga: In order to reach our 2030 long-term goal, which is to become one of Europe's  top 20 most livable cities, we must increase and improve on our green spaces and cut down our CO2 emissions to create a safer and cleaner environment for our citizens. The city does have a concrete strategy and it did receive an award from the EU, however every strategy is worth as much or as little as it is implemented. Naturally, the aim is to carry out as many points from this long-term strategy as we can.

As I already mentioned, regarding public transportation, our city's entire bus fleet was exchanged. As of January 2022, all our buses are EURO6 engine standard, which are complemented by five completely electric buses as well. Our entire public lighting system is receiving an overhaul, where we change every streetlight with cost-efficient LED lightbulbs. We are constructing a huge new green space in the city center via the Green City Project on behalf of the Hungarian government. An old, abandoned area, currently functioning as parking space, will be turned into the biggest contiguous green space in Veszprém. Our new e-bike system is arriving soon, with a fleet of 100 fully electric bicycles. Many of our bike roads have also been refurbished in order alleviate the traffic in the city center.

In recent years, we managed to modernize the heating systems of numerous local institutions, as well residential buildings, thanks to EU funds. We have also constructed brand new green spaces and playgrounds for children, complemented by fitness equipment.

BF: What would your final message be for our readers?

Gyula Porga: The 20th century was the century of the big, metropolitan city. I believe that the 21st century will be the century of the mid-size city. Our plan for Veszprém is to create a livable and safe environment for our citizens. I would like to encourage everybody to visit Hungary and once you are in Hungary, do not miss out on visiting Veszprém and the Bakony-Balaton region. You will have an experience similar in quality to French Provence or Italian Tuscany. Last but not least, you will get to experience our famous Hungarian virtue and hospitality.