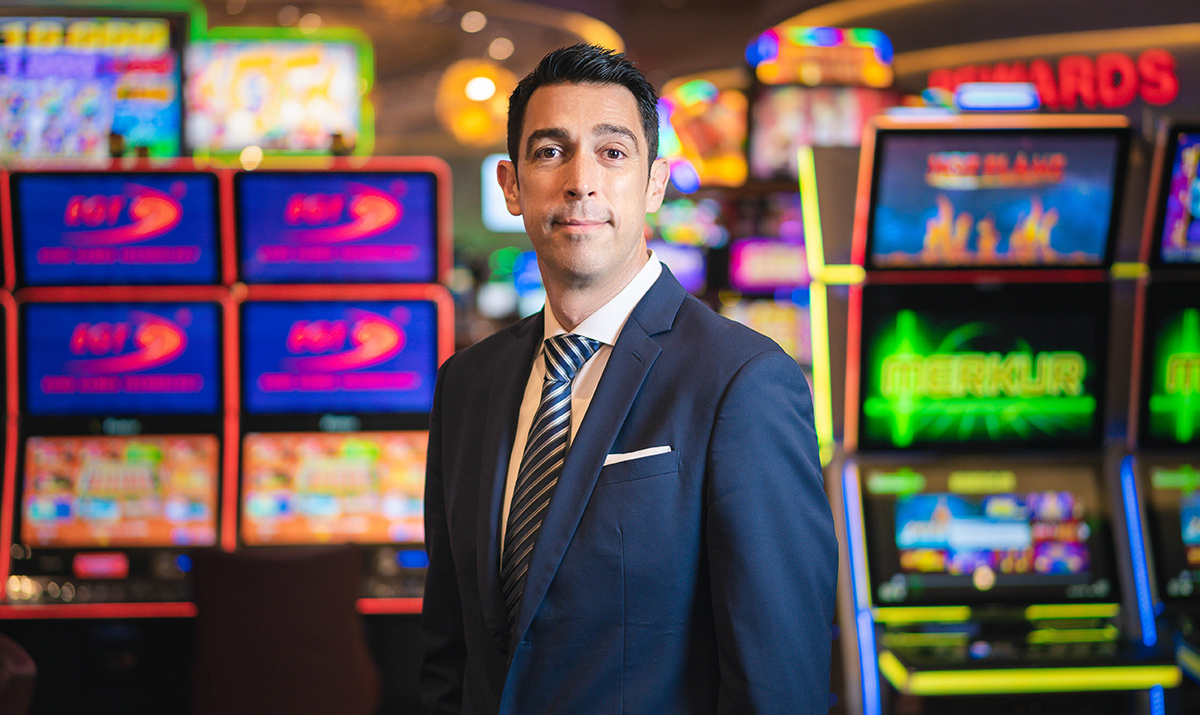 21 Nov

Interview with Grant Johnson, Property General Manager, City of Dreams Mediterranean

 

BF: The tourism sector is a key pillar of the Cypriot economy. Please provide some general insights into the industry and share with us the sort of trends that you have witnessed lately.

 

Grant Johnson: Cyprus is clearly a hidden gem in the Mediterranean. It has more days of sunshine than any other European country, along with nearly 80 Blue Flag beaches, very hospitable people and a tremendous culture with an interesting heritage and a mix of historical influences from different cultures. All these elements offer great tourism potential.

Four years ago we enjoyed record visitor numbers, so all of us were set back by the pandemic; however, there was lots of pent-up demand that then built up. Today, tourism has rebounded strongly. We are seeing not only a return of our core markets, but new markets, including more Middle Eastern travelers than ever before. Israeli visitation continues to increase with new routes; and as more routes are added, Cyprus is reaching more markets than ever before.

BF:  The sector has not been short of challenges since the unfolding of the pandemic followed by the war in Ukraine, the rising energy costs and so on. Tell us a little bit about how the sector has been impacted by these challenges and overcome them. How has the recent national tourism strategy helped?

Grant Johnson: Russia has always been a big market for us. We saw a decline in our Russian visitation during the conflict in Ukraine, but the Ministry of Tourism has done a good job of building new routes. For example, we're getting more routes from the Middle East and seeing an increasing number of flights from the Emirates, Qatar, Jordan and Beirut. The Middle East has emerged as a much bigger market than previously and that's countered some of the softness we saw from Russia.

BF: The €600 million City of Dreams officially opened in July, placing Europe's largest integrated resort in Cyprus' portfolio. The project has already won many awards, including three from the European Property Awards in 2023. The development looks to reposition Cyprus as a year-long travel destination for high-end tourism. What can visitors expect when they come to visit?

Grant Johnson:  City of Dreams Mediterranean is a 500-room luxury resort offering several amenities. We have the largest casino footprint in Europe at 7,500 square meters, as well as the largest meetings, incentives, conferences and exhibitions (MICE) facility in Cyprus and one of the largest in Europe, with over 8,000 square meters of dedicated space. We provide lots of family activities, ranging from Adventure Park – an outdoor climbing and adventure area – to our Wave Rider and Kid's City. We also have seven different signature restaurants.

What we add is an integrated resort on top of all those beautiful beaches and the historical elements of Cyprus. We add a new layer of tourism, that is truly "year-round" – that's one of the keys for us and the reason why there was a good match between us and the government because year-round tourism is so important. Having all these integrated facilities under one roof lets us compete with the biggest destinations in Europe. We're really excited about that element.

 

BF: Please give our readers a brief history of the City of Dreams project inception and construction. What challenges did the company need to overcome to open its doors?

Grant Johnson:  The project was built through the pandemic so that was a challenge. Supply chain and labor issues were a challenge throughout, but we persevered. We continued to fulfil   our commitment to the government to deliver on this project. Working through the pandemic was probably the toughest task; another big challenge was the labor shortage and trying to find enough hospitality staff to serve the resort. We went from a team of 700 to a team of 2,000 very quickly. We're still looking for another 400 positions.

BF: How do you expect the project to transform the tourism market in Cyprus? What expected impact will it have as well on the economy of the island?

Grant Johnson: We expect to attract an incremental 300,000 tourists a year; that's a number we are committed to. Our project takes entertainment to another level, turning Cyprus into a real entertainment destination, not just a leisure destination. We have a program every weekend and intend to fill this place with content every week.

We have brought 500 luxury hotel rooms to the market. Cyprus now has the facilities it needs to compete with Europe for MICE business. The year-round offering is key. Cyprus has always been a seasonal, summer holiday market, so we have become multi-dimensional. This puts us in the game for year-round tourism.

BF: Regarding the MICE sector, what are your plans to really promote the industry and put your name out there all year round?

Grant Johnson: Since 2022, our sales team has in talks with meeting planners from Europe and the Middle East. We've hosted one of the most important meetings and incentive events in the region and concluded several hosted tours of meeting planners and organizers. It's taken a year to just put ourselves on the map with all those decision-makers that determine where those events go.

BF:  Cyprus has set ambitious goals to decrease its greenhouse gas emissions by 55% by 2030 under the new Fit for 55 EU program, which now includes a plan for road transport and buildings – including hotels. How significant has the topic of sustainability been in the construction and operation of the project? How are you working to implement more circular economies in the daily operations of the resort?

Grant Johnson: Sustainability is a core pillar of Melco and something that our chairman and CEO, Mr. Lawrence Ho, is very focused on globally. As a result, our property, City of Dreams Mediterranean was the first property in Cyprus to receive the BREEAM Design Award which is one of the region's leading sustainability benchmarks. We also have over 4,000 solar panels at our facility and use gray water for all irrigation. In addition, we bottle our own water on the property to eliminate single use plastic bottles and have several other sustainability initiatives.

BF: New technologies such as AI, big data, robotics, or smart devices have changed how real estate projects operate and what visitors demand. New real estate assets like City of Dreams need to be aligned with the next level of innovations to remain competitive as the digital revolution plays out. What kind of disruptive technologies are being employed in the City of Dreams project? What kind of technological advances can visitors take advantage of?

Grant Johnson: Our whole building management is high-tech, from the solar panels to the irrigation systems. It allows us to be efficient and sustainable behind the scenes. On the customer side, all our suites are equipped with a type of room technology called Mail Suite. This is a proprietary room management system (RMS) which allows you to control everything in your room through these devices. We have a lot of new CSR initiatives as CSR and engagement with our customers is key for our success. We have an integrated system to communicate with our customers.

BF:  On the issue of talent recruitment and retention you mentioned earlier, what are your plans to fill the gap in skill sets, training and upskilling talent for the project?

Grant Johnson:  Melco's hiring philosophy is "Hire on attitude, potential and image; and we train on skills.". Most of the colleagues that we took on in a mass hiring for the resort did not have experience in the casino or hospitality sectors. We have an extensive training program that we adapted from other properties and trainers that come over. Out of necessity, we hired those that we thought had the greatest potential. We're building them into future casino and resort professionals. We have been operating for so long and are one of the global leaders in hospitality, so we have the DNA and look for potential to train up to our standard.

BF: How happy you are with the commercialization of the project and what were the first results of your operations?  

Grant Johnson:  It's been a long time coming. It was a five-year process to get to this point and we opened our doors on July 10. It was a combination of pride and gratitude. I am proud of our team for bringing us to this point through adversity, the pandemic and a new market. Frankly, now is when all the real work starts so that we deliver on these incredibly high expectations.

Early results show we're doing very well in the Middle Eastern market. For the European markets, where tourists traditionally already booked and planned their summer holidays last year, we have work to do. But in time and as awareness spreads, those European markets will come for the festive season. It's just based on proximity and the shortness of the market. Most of our bookings come from the short-haul markets.

BF: How significant is the US in terms of a market for tourism to Cyprus and how does the City of Dreams fit into the country promoting itself to the North American market?

Grant Johnson: The US is such a big market that every destination considers it as a priority. We haven't had enough traction in the US market, but the Ministry of Tourism is focused on growing there. It's one of those longer-term markets for us. When Americans think of the Mediterranean they think Italy, Greece and Southern France, but Cyprus is not on the radar. Our project will help put Cyprus on the map and, longer term, the US definitely has potential.

BF: In terms of investments and FDIs, to what extent could Cyprus be of interest to foreign investors, specifically in the hospitality segments?

Grant Johnson: We are one of the largest private investors in Cypriot history. Tourism is a key pillar of the economy and the government was supportive in bringing us to the market. We work closely with all aspects of government to make that happen. Longer term, from a tourism perspective, Cyprus is up and coming and hospitality companies from the US will be looking to get a foothold in this market. In terms of accessibility, we are an hour away from North Africa, 45 minutes from Israel, we are close to all the Middle East, and part of Europe. It's a really unique dynamic. As it continues to develop, there is an opportunity for US companies.

BF: You have been working in executive positions for Melco Resorts & Entertainment for more than 12 years. How would you define your long-term vision for the resort complex and for Cyprus' tourism sector?

Grant Johnson:  I said at our Grand Opening in July that I was fortunate to be a part of this company and I'm grateful for the opportunity from our chairman, Mr. Lawrence, to be a part of this project. I came here three years ago, and it has been a real challenge to get to this point, but now the challenge is that we have the hardware, the trained staff, the software; now we must bring it to the market. That's where some of my marketing background and previous hospitality experience will come into play. I am confident that next summer the property will be completely full. Then we have got to tackle off-season because no-one in this market has done off-season yet. We will be the first.

 

BF: What would be your final message to readers of USA Today?

Grant Johnson:  Cyprus is the hidden gem of the Mediterranean; at the heart of which lies City of Dreams Mediterranean, the largest integrated resort in Europe. It's something special to come experience for yourself.