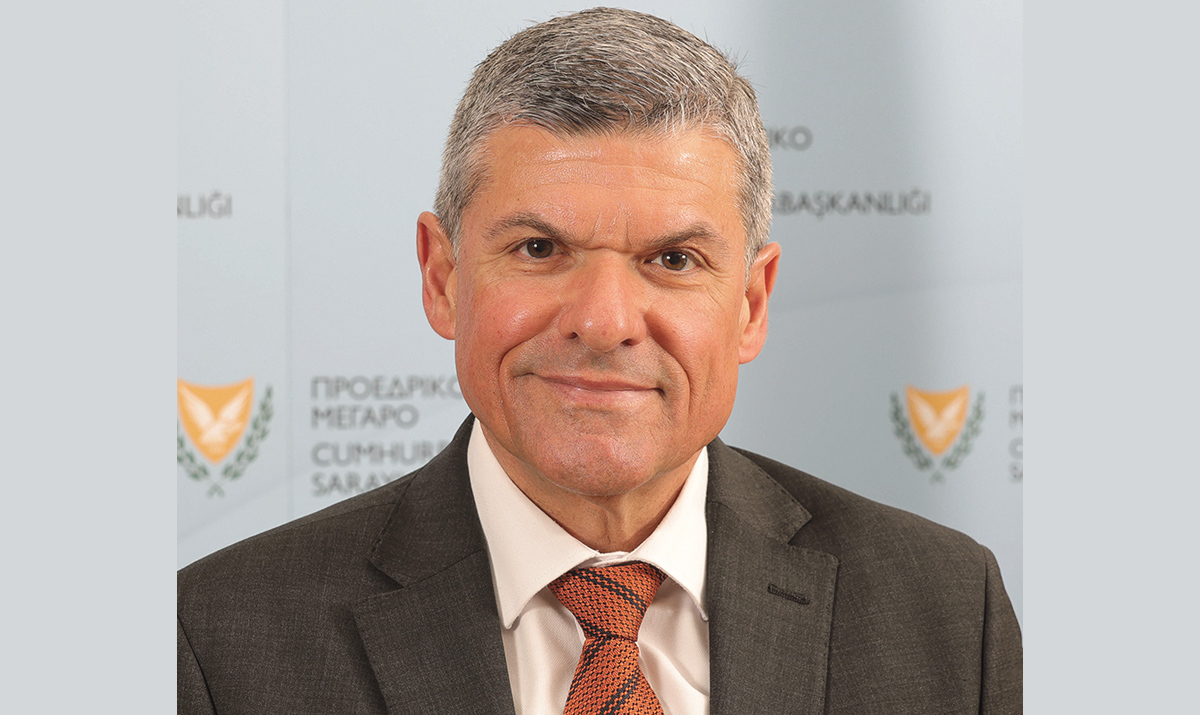 21 Nov

Interview with George Papanastasiou, Minister of Energy, Commerce, and Industry of Cyprus

BF: Cyprus is leveraging Europe's energy crisis to set itself up as a major hub for the production and export of energy. Recent finds in the country's Exclusive Economic Zone (EEZ) have revealed significant reserves, including finds in blocks 12 and six. Tell us a little about the exploration plans that are underway to up the country's oil and gas reserves, and how has the macroeconomic climate affected investments in finding fresh reserves?

George Papanastasiou: Starting from the most mature discovery, Aphrodite – which dates to 2011 – this find was estimated at that time to be 4.2 trillion cubic feet of recoverable natural gas. We have carried out drillings – referred to as A1 and A2 – and more recently a third drilling, known as A3. The latter took place at the very center of Aphrodite, which is where the main source of gas is found. We have drilled in the center to appraise the whole discovery in a better way and confirm the quantities and quality of the gas. To date, we have not received any official announcement on the A3 findings. However, verbally we have received certain positive news, which essentially has confirmed both the quantities of 4.2 trillion cubic feet of recoverable natural gas and its the high quality. That is the most mature discovery that we have in the EEZ of Cyprus.

Moving further southwest, we have the findings of Zeus in block six and the discoveries of Glaucus in block 10 and Cronos-1 in block six. In total, despite not receiving any official announcements by the operators, it is estimated that all these southwest discoveries are close to 9.5-13.5 trillion cubic feet. As the discoveries in the EEZ are a little dispersed, this causes some difficulty in moving the product towards any direction, simply because there is no infrastructure yet connecting these discoveries.

American operator Chevron provided certain modifications to the approved development and production plan of the Aphrodite field. There is the intention to get all the companies that sit in what we call the "Southwest Cluster", to see what synergies these firms can apply to make the best use of the discoveries. We want them to get together to exchange information and discuss the infrastructure that can be put in place to develop these resources.

Aside from this, Cyprus is having conversations with Egypt and Israel to develop infrastructure to connect the three countries. The connection for natural gas between Israel and Cyprus is already being discussed in a working group, which aims to gather technical experts to see how our countries can develop this connection via pipeline to get Israel's connected to ours. Connecting Cyprus' grid to Egypt's is a separate conversation.

We are trying to develop alliances in the Eastern Mediterranean to create infrastructure in our EEZ. There is alreadt infrastructure sitting in the EEZ of Israel and far more infrastructure in the EEZ of Egypt. Cyprus is a little behind in this regard, but this is because our discoveries were made later than those of Egypt and Israel. Certainly, the Eastern Mediterranean needs synergies among the co-operating companies for the gas to find its way to Europe, which is trying to end its dependence on Russian gas.

BF: Cyprus' energy industry is largely tied to regional markets. In June, you visited Israel to talk about several energy-related projects, including construction of a gas pipeline and a subsea power interconnector linking the power grids of Israel, Cyprus and Greece. What steps are required for the countries to share resources to develop these upstream plays?

George Papanastasiou: We have started talking to Israel and have a working group processing how we can develop infrastructure so their grid is connected to ours. The most important aspect is to find interested parties to push gas via this infrastructure to reach the destination. Cyprus' conventional power generation is still heavily dependent on fossil fuels and if infrastructure is developed and we find a couple of companies that own gas in our EEZs, the two countries can push gas through this infrastructure. However, the Cypriot electricity market is not big enough to pay back the substantial investment needed to develop such infrastructure. We need to develop another outlet, which could be a floating liquefaction plant (FLNG) to provide an incentive to these parties to push some gas in a quantity that can justify the payback of these big investments. The alternative to the FLNG is to develop a small, modular LNG plant onshore that can liquefy the gas and put it on ships and move it to European markets. To justify the investments connecting Israel to Cyprus with a sizeable pipeline, you need a destination, which could be: the conventional power stations of Cyprus which require 1bcm per annum; or the markets of Europe and beyond to which another 2.5 to 3bcm per annum will be exported as LNG, with the gas being liquefied in Cyprus.

The first natural gas that will arrive here for power generation will not be from our EEZ or from offshore exploration. It will be imported as LNG at the terminal that is being constructed at Vasilikos, which is scheduled for completion in June 2024. The delivery will happen in two phases. The first will be the FSRU (Floating Storage Regasification Unit), which is a LNG carrier that has been converted to an FSRU. This is expected to happen at the shipyards in China before the end of 2023. The remaining offshore facility is a jetty where the FSRU will be permanently moored. The gas will then be transported for use in power generation. That will be the moment when we achieve the first substantial reduction of our emissions.

BF: The EU has set a goal to be carbon neutral by 2050, which has generated a slew of large investments related to the EU Green Deal. In April, you proposed setting up a subsidy plan for installing renewable energy sources in Cyprus. The government has also suggested a reduction of value added taxes on solar panels, launching incentives for green investments and purchasing electric cars. How is the country making green investments more attractive?

George Papanastasiou: Indeed, moving from high emission fossil fuels to natural gas for conventional power generation is a big improvement. Still, natural gas is a fossil fuel and we consider natural gas for Cyprus as a transitional product to help support our destination, which is green. We have certain targets that are in alignment with the targets of the EU. We know the bar is high with regards to our 2030 goals, as well as the 2050 target for climate neutrality. We needed to develop ways to deliver those objectives. How can we achieve that? This is not rocket science. We need to develop power generation that comes from solar and wind resources. As Cyprus doesn't have substantial wind potential, we are focusing mostly on the PVs – photovoltaics. Our efforts have been directed towards developing more PVs and more electricity that comes from renewables. In this context, we have reached the position where there is so much generation of electricity from renewables that the grid cannot support it, simply because we have a very old grid, not only in terms of the quality of cables, but also in terms of operations. The grid was designed to support centralized electricity production, not dispersed. In the old days, we had three power stations of conventional power generation and at the other end of the grid, you had many consumers of electricity. That is a very simple grid. Once we decided to go green and started giving licenses for the development of renewable energy sources, we had an issue as these resources are not sitting together; they are dispersed and the conventional grid cannot support them. This means we hit a bottleneck where at some points of the year – usually in the spring and autumn when the consumption of electricity is low. In Cyprus at any given time, a minimum of 210MW of conventional generation should be synchronized, so when demand is low and we have a surplus of renewable power, we must curtail renewables capacity due to lack of storage.

We aim to promote the installation of electricity storage systems, both central systems (upfront of the meter) and smaller hybrid systems, combined with renewables projects next to them or nearby at strategic locations. As such, we will be able to store renewable generation instead of curtailing it and use that electricity for a few hours after the sun disappears and the wind stops blowing. We have a time horizon of 18-24 months for the central system and 2-3 years for the smaller hybrid systems. That is the immediate plan we have in front of us now and we started the implementation through a public consultation, so that we get the private sector to express interest in these investments.

The second thing we are doing is examining the promotion of electricity interconnections with neighboring countries. The one which is being discussed extensively is the connection of Cyprus with Greece, and then Israel. In every respect, we do not have any energy infrastructure connecting Cyprus with the mainland. We are trying to develop this electricity interconnection with Greece; and because Greece is already connected to Europe, it's as if we are connecting Cyprus with the European grid. This will provide some security of energy supply as with this interconnection and by using batteries, blackouts are more unlikely. Also, if you have the interconnection in place, when you have overproduction of green electricity, you don't discard it, you throw it into the interconnector and transfer it to another market.

BF: How important are FDIs to carry on with the plans that you have in terms of exploration of infrastructure development as well? What are some of the new opportunities that you would like to highlight that might be of interest to foreign investors?

George Papanastasiou: There will be further exploration, with Italy's Eni and France's TotalEnergies. They will explore appraisal wells in the blocks in which they are operators. We are doing a 3D subsea seismic assessment in block five as well. This is an ExxonMobil/Qatar Energy awarded block. We have another potential block that may deliver some good news in the next few years for Cyprus. So, we receive positive news from Block six, we can decide what infrastructure makes sense for Cyprus to develop based on accumulated gas quantities in terms of trillion cubic feet. We expect the first drilling in block five by the end of 2024, and another appraisal well in block six in the next few months.

BF: How can the energy field and the investment that we're seeing help alleviate the tensions that exist with Turkey?

George Papanastasiou: It is a question that has been in the air for many years. Energy can be used to bring peace to a region which is suffering because of geopolitical turmoil. The Eastern Mediterranean is becoming rich with natural gas and this wealth can be placed on the table to bring some peace. Any conversations linked to geopolitics always bring energy to the table because the two go hand in hand. It is a matter now of how the experts in politics manage this wealth in a proper way to bring some prosperity to the countries in the region. We would like to see Cyprus bring it to the table for the prosperity of all our citizens, including the Greek Cypriots and Turkish Cypriots. Any surplus can be exported for the prosperity of other nations, which need to have access to such wealth for their quality of life and economic development. This is exactly the conversation that we are currently having with Israel, Egypt and Europe.

BF: You stepped up as minister in March following a highly successful career at VTTV and BP. Alongside your long experience in the oil and gas field, you also served as President of the Board of Directors of the Cyprus Organization for Standardization and the Cyprus Certification Company. Tell me a little bit about your current priorities for the rest of this year or for the medium term as the new Minister of Energy, Commerce, and Industry. What sort of vision have you set for yourself, for the energy sector and the country?

George Papanastasiou: I have quite an extensive career in multinationals, in BP and VTTV. Both companies provided me with quite some experience – for almost 40 years in total – and I understand the sector well. My immediate priorities are to evaluate what resources Cyprus has and what is missing in terms of developing or creating an environment of supply security. My first priority is to make use of the natural gas and the second is to make Cyprus a country that is independent of the global energy crisis. To deliver these objectives and ensure Cyprus is unaffected by all these crises, you need to create a plan and vision and deliver it via strategy. This is what we have been doing since the very first day that I was appointed. You need the knowledge from my past private sector career to do that. Of course, my colleagues at the Ministry of Energy understand the public sector better than I do, but we need to bring this knowledge together to deliver the vision and objectives which I just described.

BF: What is your final message to readers of USA Today?

George Papanastasiou: My vision is to get Cyprus to become independent from international crises and, at the same time, work to ensure low-cost energy for the country, to support households, industry, and the Cypriot economy in general.