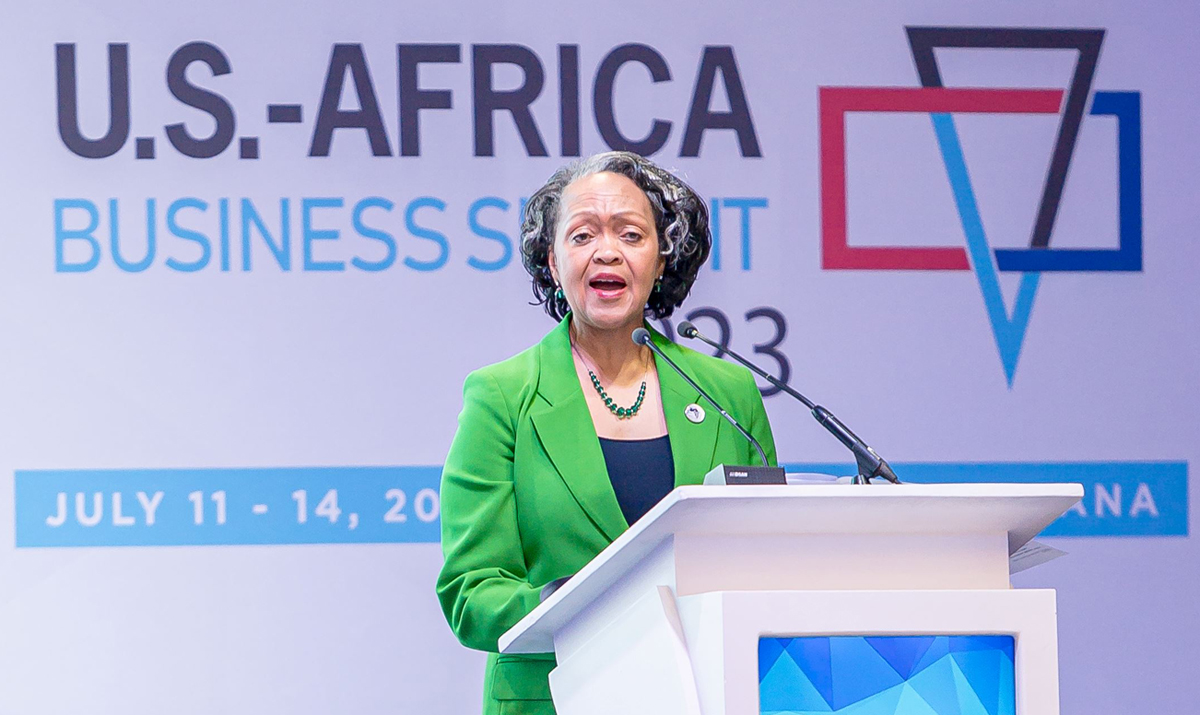 08 Nov

Interview with Florie Liser, President and CEO of Corporate Council on Africa
Interview with Florie Liser, President and CEO of Corporate Council on Africa
What hurdles need to be overcome in portraying the nascent potential and global significance of Africa in terms of development? 
We find ourselves in a different place today than we were in the past when Africa was sometimes perceived as a single country instead of recognizing its diversity as a continent with 54 unique nations. Although this understanding has evolved, we still encounter instances where clarification is necessary. It's crucial to recognize that, with the establishment of the African Continental Free Trade Area (AfCFTA), an extraordinary opportunity has emerged. The commitment holds immense value — especially for smaller companies and those owned by the diaspora, minorities and women — as managing business operations across all 54 countries simultaneously is impractical.
The AfCFTA serves to break down barriers, allowing Africans to enhance their trade with one another and simplifying interactions with global partners such as the USA. For businesses seeking to engage across the continent, several strategic options exist. One might establish their base in Nairobi, Kenya, using it as a hub for pan-African business endeavors, or they could choose Morocco and leverage the market as a gateway to various countries. Alternatively, key economic powerhouses like Nigeria or South Africa may be the preferred base for operations. What's truly remarkable is the creation of a single extensive market that boasts a combined population of 1.3 billion people and a GDP of $3.4 trillion. This presents a unique opportunity, one that holds vast potential for growth and prosperity.
We're actively spreading awareness about the significance of the AfCFTA at Corporate Council on Africa (CCA). This unified market represents an incredible opportunity for both US and African companies to streamline operations through reduced barriers. The shift eliminates the challenge of dealing with 54 distinct sets of regulations when exporting products and instead offers a harmonized approach. Our collaboration extends to the AfCFTA secretariat headquartered in Accra, Ghana. We are actively engaged in supporting the implementation of AfCFTA and its various protocols, including those focused on women, youth empowerment and digital technologies. Addressing competition is also a part of their agenda. We're actively involved in their initiatives while simultaneously ensuring that our member companies remain well informed.
Additionally, based on the theme of our recent US-Africa Business Summit in Botswana that focused on enhancing Africa's value in global value chains, we're keenly addressing the reality that Africa — despite its abundant resources — accounts for less than 3% of world trade. This is because Africa usually exports raw commodities at the lower end of the value chain, with value addition or beneficiation taking place elsewhere. This pattern results in other countries benefiting more from Africa's raw materials.
It's now crucial to forge partnerships with African nations and empower them to carry out more value addition and resource processing within the continent itself. Botswana recently reached an agreement with De Beers, a long-standing partner, to enhance the beneficiation of their diamonds locally. By doing so, they seek to capture more of the benefits that others higher up the value chain currently enjoy, ultimately benefiting Botswana and its people.
What are the key objectives of Corporate Council on Africa (CCA)?
CCA functions as a member-based business association that bridges US and African interests, including multinational giants and SMEs. Our core aim is to equip businesses with the vital access, connections and insights necessary for success in Africa. Our 13th anniversary as a champion of US-African trade, investment and commercial relations follows a legacy of achievements.
When discussing CCA, I always emphasize its distinctiveness. While many organizations, such as the Carnegie Endowment for International Peace, the Brookings Institution, the US Chamber of Commerce and the Atlantic Council, operate globally and include Africa in their efforts, my extensive experience suggests that Africa isn't always their foremost priority. While valid reasons exist for these organizations, it's essential to note that Africa is our sole focus at CCA. Our mission revolves around enhancing the economic relationship between the US and its African partners across the continent. We don't divert our attention to other regions —our unique identity lies in our unwavering commitment to Africa. We've been able to successfully advance and nurture this relationship over the past 30 years through various events, programs and initiatives leading up to our flagship summit.
My vision for the organization centers around fostering continued growth, particularly among our African members. Currently, we boast over 125 members from both the US and Africa. Our goal is to expand African membership and recognize the pivotal role their voices play. Collaboration is crucial when engaging with various US government agencies and African governments, establishing optimal policies and frameworks and ensuring effective business operations on the continent. The presence of more African voices at the table is of paramount importance in achieving this objective.
We consider ourselves a prime force in advancing the US-African relationship. During the United States-Africa Leaders Summit in December 2022, CCA played an active role as a co-partner with the Chamber of Commerce and the US government This event marked the beginning of a dialogue that we aim to perpetuate using CCA as a platform. Our focus lies in strengthening the US-African relationship by building upon the commitments made during the summit.
In December 2022, there was a significant emphasis on several critical areas: healthcare, energy transition, infrastructure development and women's empowerment. Both the US and African governments were deeply engaged in these sectors with private sector backing. We're enthusiastic about lending our support to the goals of the Biden-Harris administration and the broader US government in Africa. It's our mission to contribute to the advancement of these objectives, and we look forward to the positive impact we can collectively create.
The most important achievement for CCA to date is its ability to both survive and thrive as an organization solely dedicated to Africa. Many Africa-focused organizations have fallen by the wayside such as TransAfrica, the Sullivan Foundation, Goodworks International, Africare and Institute for Global Dialogue. The Africa-America Institute continues its mission as does the Constituency for Africa, albeit in a slightly different capacity as a business association. It's important for companies invested in Africa to be aligned with a business organization that can advocate on their behalf with a unified voice.
Additionally, we're diligently pursuing a US-Africa health security and resilience initiative. We're intently focused on bolstering secure health systems in Africa, ensuring access to medicines and driving local production of medical supplies. During the summit, we dedicated sessions to these topics. Our commitment spans across healthcare, energy and the imperative of transitioning to sustainable energy sources, infrastructure development, harnessing the potential of the digital economy for Africa's competitiveness, financial services, fintech advancements and agribusiness. The scope of our efforts is expansive.
We're eager to collaborate with major stakeholders, including the US government and diverse agencies with vested interests in Africa. We are excited to work alongside British Robinson, the new director of Prosper Africa. While we certainly play a vital role in encouraging and facilitating investment from our end, the critical factor is creating an enabling environment on the other side. We're equally enthusiastic about engaging with African heads of state, government officials and ministers to enhance the business environment on their side.
CCA is not merely persevering; we're flourishing. We remain resolute in our commitment to continue making a significant impact throughout our thirtieth year and beyond, reshaping the narrative and strengthening the relationship between the US and its African counterparts. In celebration of our thirtieth anniversary, we will be hosting a gala in December. This event will be an opportunity to recognize individuals who have contributed to CCA's journey over the years and present awards to commend outstanding achievements within the private sector.
How did the United States-Africa Leaders Summit in 2022 highlight a hard shift towards renewed investment in Africa from US players?
There are several milestones we can proudly celebrate. For instance, we've seen the significant engagement of US cabinet officials in Africa since last December, with at least six or seven officials making a trip to the continent, including Vice President Kamala Harris. Biden has also announced plans to travel to Africa this year, and we are eagerly awaiting details regarding his destination and timing. While rumors suggest November or December, the consensus points to a trip after the UN General Assembly. CCA hopes to leverage the visit by facilitating a private sector round table that will bring together representatives from both US and African companies to meet the president.
One highlight from the recent summit that I found particularly impressive was the high-level US government delegation, expertly led by Scott Nathan, CEO of the US International Development Finance Corporation, formerly known as the Overseas Private Investment Corporation. It was truly gratifying to see Nathan spearheading the US delegation and representing the Biden-Harris administration during the opening ceremony. His articulation of Africa's significance to the US underscored the country's dedication to the region and aligns closely with the objectives under the Prosper Africa initiative. It's noteworthy that multiple US government agencies working under the Prosper Africa framework hold a bullish outlook on Africa. Their focus on a diverse range of programs, loans and initiatives reflects a genuine commitment to strengthening this vital relationship.
We were also privileged to have Judd Devermont, President Biden's senior adviser on Africa from the National Security Council at the White House, actively engaging in our summit. During his session, he provided comprehensive insights into the significant developments that have transpired since the December summit. Hearing from Judd was truly enlightening and valuable.
We welcomed British Robinson, who was announced as the new head of Prosper Africa during the event. We are excited about her leadership. Among other key figures representing vital US government agencies, Enoh T. Ebong, head of the US Trade and Development Agency, also joined us. Having these key agencies present was important to us. African heads of state and ministers from 23 countries across the continent participated along with the private sector.
We were also pleased that top CEOs from both US and African companies were actively engaged. US companies have a reputation for both technology and skills transfer, particularly through hiring local talent. The growth of local talent on the continent eliminates the necessity to rely heavily on expatriates to fulfill required skill sets. US companies and others remain crucial in training and exposure.
How has working with Botswana on the summit differentiated from working in other markets?
Botswana's story underscores why we find it so essential to engage with such nations. Despite being a relatively small country with approximately 2.6 million people, Botswana has made remarkable strides in leveraging its natural resources to uplift its population, particularly in diamonds. The country has invested in infrastructure and has committed to offering government-funded university education that is akin to public education in the USA or Europe. The country's reputation for good governance, financial stability and responsible financial management adds to its appeal.
When his excellency president Masisi approached me last year in Marrakesh, Morocco, and expressed his desire for Botswana to host the next summit, I assured him that I'd bring this proposal to my board of directors. I wanted to make sure they understood the responsibilities that come with being our co-host and emphasized the importance of readiness on their part, and Masisi enthusiastically confirmed their readiness for the role. I was pleased the board approved the idea. Working with Botswana has truly been a pleasure.
While it's fair to acknowledge that we faced some challenges, as is expected in any large-scale event, what sets us apart is our belief in the potential of individuals to achieve beyond their past accomplishments. If we solely judge individuals on what they have done in the past, we limit the opportunity to witness how far people can go in the future.
One of the aspects I loved about collaborating with Botswana was their approach. Even though the country may not have had the same level of experience as others in hosting large events, our summit of more than 1,300 participants was an enormous success. Masisi stated it was the largest business event they had ever hosted. Our board of directors — some of whom were visiting Botswana for the first time — were deeply impressed with the summit's execution and hospitality offered by Botswanans. In particular, the gala dinner was a standout moment that featured incredible displays of dance, song and fashion. It was an impressive showcase of Botswana's culture and warmth.
What can we expect from proceeding United States-Africa Leaders Summit events?
I'm excited to reveal that the upcoming US-Africa Business Summit will be held in the USA. While we haven't made an official announcement yet, we are currently considering Dallas as a tentative location. We've chosen to move away from Washington D.C., opting instead to bring the summit to a central hub where businesses thrive. As of now, the plan is set for Dallas unless unforeseen circumstances arise and my board decides to take a different approach.
Typically, we've maintained a back-and-forth pattern between the USA and Africa in terms of holding the summit, although we recently had two consecutive summits in Africa. We may consider a different sequence; we could potentially explore a repetitive schedule that includes two consecutive summits in Africa followed by one in the USA. There has been strong interest from various countries in Africa to host our summit. In 2025 we are planning to open bids to African nations to host the event. Our current focus is to ensure a successful summit in Dallas for 2024.
What efforts is CCA making to promote empowerment of women in Africa?
The challenge is not exclusive to Africa; it's a shared issue in the USA. Less than 1% of venture capital funding in the USA goes to women and minority entrepreneurs. Remarkably, Africa boasts a significant number of women entrepreneurs. There are also more African American entrepreneurs in the US than any other group. Ensuring women receive proper training, access to technical skills and access to capital is essential. Recognizing the crucial role women play in the business landscape is paramount if one's goal is to achieve success and substantial financial gains.
The CCA consistently directs its focus in this area. In every event we host, we emphasize the significance of women's leadership and crucial roles played by women and youth in business engagements in Africa. On the US side, we value partnerships with small women-owned businesses, minority-owned businesses and diaspora-owned businesses. These entities align well with women-owned small businesses prevalent in Africa, and connecting these two groups is a key part of our focus.
During our summit in Botswana, we held a remarkable women's leadership session. The conversation revolved around the fact that companies led by women or those with more women on their boards of directors tend to be more profitable. Having women in leadership roles isn't solely a socially commendable endeavor, but a profitable one. This assertion is supported by various documented studies. We place significant emphasis on highlighting this perspective.
Additionally, we hosted a focused women's brunch in December alongside the US-Africa Leaders Summit. We had representatives from Coca-Cola discussing a significant project centered around women and heads of the US agency US-Africa Development Foundation dedicated to working with African women, SMEs and micro-SMEs in attendance. Another notable presence was the head of the International Trade Center (ITC) based in Geneva – not the US ITC, but the international ITC. She shared insights into their various programs empowering women and supporting women entrepreneurs in Africa to increase their exports.
What kind of potential does Africa represent as a viable investment destination in today's macroeconomic climate?
This is an extraordinary moment to focus on the African continent and engage in business. While challenges still exist in various regions, Africa boasts strong leadership in many countries. It's essential to acknowledge the ongoing issues in parts of Africa, including conflicts, governance concerns, democracy and corruption challenges. However, it's crucial to note that Africa isn't alone in facing such complex governance matters. African markets offer significant potential, and it's crucial to recognize that no major global issue can be effectively addressed without involving Africa.
For example, Africa's role in the critical areas of climate change and energy transition is indispensable. Additionally, Africa's large youth population is positioned to become a substantial part of the global labor force within the coming decades. The continent's vast resources, including crucial minerals, are pivotal for various industries. Take, for instance, the indispensable role African minerals play in manufacturing batteries for electric vehicles. In agribusiness, Africa's possession of 60% of the world's arable land makes it a key player in enhancing global food security. Lessons from the COVID-19 pandemic highlight the interconnectedness of our world, and Africa can serve as a platform for global health issues through organizations such as the Africa CDC, the African Medical Association and the African Union. In the digital economy, Africa has already developed many innovative technologies.