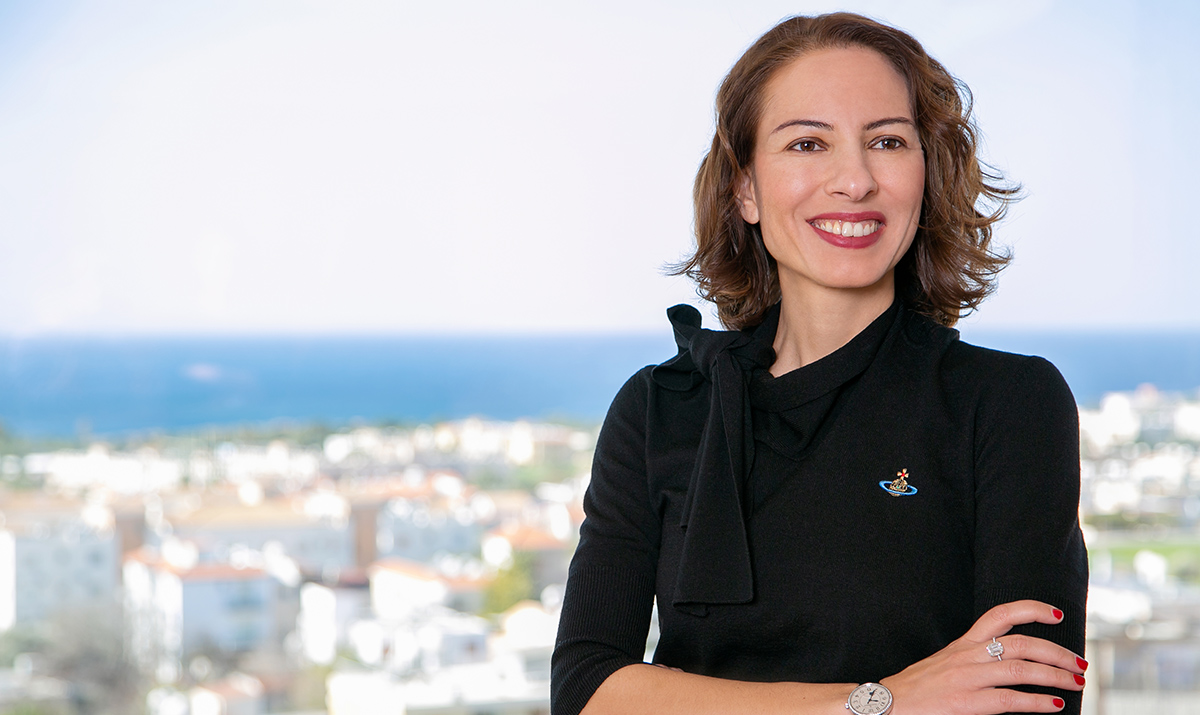 21 Nov

Interview with Evangelia Eliadou, Executive Director, Pafilia Property Developers, Cyprus

 

 

BF: Cyprus' real estate market is booming as real estate prices have continued to rise in all regions. In the first five months of the year, house prices in Paphos and Limassol rose 10.4% and 7.1% y-o-y, respectively, and apartment prices in those areas rose by 8.6% and 9.3 % y-o-y, respectively. What are the key trends and factors contributing to this success?

 

Evangelia Eliadou: One clear trend that has emerged amid all the geopolitical events of the last three years is that people want a Plan B. Instability has spread in this period, making people – especially high net-worth individuals – want another base or residency somewhere else for their family. They want somewhere nice as a getaway; in case something happens. Cyprus presents a very good proposition in that regard because it's an island and a country at the same time. The latter means we have all the infrastructure, education and medical services, and the former gives us nice nature, sea and a beautiful climate with over 300 days of sunshine a year. Our weather is very comfortable: it's the only European country with such a mild climate, and we can swim until the end of the year here.

The Cypriot real estate market has proved to be very resilient. Trends come and go, while external factors like the war in Ukraine and Covid, interrupt business and make us re-evaluate our priorities. What we have learned through experience is that Cyprus will always be a popular destination because of its lifestyle, location and year-round climate. Cyprus can offer them some great incentives, for both lifestyle and investment purchases, for individuals and families, as well as businesses.

In the past, Cyprus attracted lots of foreign investment in real estate with people buying to invest, to relocate or for retirement purposes, or driven by the Citizenship Program which gave a great boost. Now, buyers just want to satisfy themselves and their families. It's more personal now because circumstances made them realize that is the right way to move on. A new trend post-pandemic is that people really enjoy nature. A lot of people now want to go back to nature: they want houses with gardens and open spaces.

BF: How has the local market responded to recent macroeconomic challenges such as the pandemic, the conflict in Ukraine and increasing energy and material costs? How have these impacted the sector?

Evangelia Eliadou: They impacted our capability because construction costs rose in certain areas by up to 30%. At the same time, the whole global economy and the European economy were not doing great, so you couldn't pass this increase to the consumer or end client. So, you had to try to compromise the quality of what you wanted to achieve as a final product, or absorb this extra cost. Pafilia is a family company, we have been in this business for over 40 years, and premium quality is very important for us; it's what sets us apart. It was a conscious decision to absorb this extra cost, although it made the last two years very difficult.

BF: Wha makes Cyprus an attractive market for foreign investors looking to move in on the real estate market? What would you say was the impact of the Citizenship Program on the market?

Evangelia Eliadou: The termination of the Citizenship Program was very abrupt. That was wrong, in my opinion. From the moment the government sets up a program, there must be a warning when this program stops and a period of communication to the businesspeople, because in the case of Pafilia, we created big infrastructure projects like Minthis and ONE with millions of euros investment funding. Stopping it abruptly definitely had a huge impact. However, the Cypriot economy and businesspeople are very reactive because we are a small economy. Despite these difficulties that this abrupt termination caused, we didn't change our vision of transforming Cyprus into an international hub. Transforming Cyprus is not only about the government implementing certain policies, but also about the private sector following this lead by improving the quality of the projects, creating infrastructure and real estate for the people. Everything goes together. Although the Citizenship Program stopped suddenly, we reacted correctly and continued to deliver on our vision to transform the real estate through huge projects. We have the tallest residential tower on the seafront in the Eastern Mediterranean and another big seafront project in Limassol. We didn't stop these projects as we believe people appreciate the premium quality, the concept, and they want something different, not conventional real estate. So, we have continued, all of us, not only Pafilia but other businesses in real estate.

The passport program helped to highlight our island transforming it into an internationally recognized business destination. It opened new markets to Cyprus, bringing more high-net-worth-individuals who considered Cyprus for the first time due to the program and the island's many benefits.

Since the program ended, we have been focusing on the unique set of selling points that set us apart from other European destinations. These factors are the backbone of our market and sustain its strength and resilience. The incentives that surround these fundamentals and make Cyprus more attractive and appealing to high-net-worth individuals include factors such as immigration with the permanent residency scheme, the tax advantages, headquartering and business incentives and, of course, the ideal Mediterranean lifestyle.

Transforming Cyprus is not only about the government implementing certain policies, but also about us, the private sector, improving the quality of the projects, creating infrastructure and world-class facilities that people want to experience, as well as highlighting this and making them aware of everything Cyprus has to offer.

Although we were hit by the pandemic right after which made 2021 a difficult year, the sector showed resilience and still proved to be attractive to high-net-worth individuals despite there no longer being a Citizenship Program. This is because the tax regime is very favorable and transparent. The government introduced a scheme for high-net-worth individuals where they establish tax residency in Cyprus and certain incentives for companies to establish their headquarters here. All these things, along with the recent developments in the region, continue this momentum of real estate in Cyprus.

BF: Pafilia Property Developers has done extremely well since it started back in 1977 and is now one of Cyprus' largest real estate firms. What kind of contribution does the company make towards Cyprus' greater economy and how is it supporting national development?

Evangelia Eliadou: The company was founded by my father and is the best-established developer on the island. Our history and reputation are filled with numerous industry awards, both at international and local level. The projects that we have created are mainly focused on Paphos and Limassol. It was always our strategy to sell to foreigners. We've delivered more than 2,000 projects. In the last decade, we saw the need to upgrade the local real estate and so focused on creating more concept-oriented projects – not only premium quality in real estate, but premium design and premium services. At the end of the day, it's about creating a proposition to the buyer and the proposition has to do with their lifestyle, the way they want to live and the way they want to enjoy life. These trends have been more active in the last 5-10 years, and they have become stronger after Covid. That is why we focused on Minthis, a resort project which is over five million square meters and we only developed 3% of the available land, leaving the rest untouched. In this project, everything is about blending with nature, everything is made with natural materials. You feel respect for nature and that you are in touch with nature.

Pafilia has always had a bold vision to transform the real estate sector. It is a goal which we are proud to say we have reached with our ground-breaking and innovative developments. Delivering genuine quality, value and absolute customer satisfaction has earned us a leadership reputation and a place at the forefront of the country's property industry. However, our vision goes further with a keenness to embrace new approaches and maintaining open minds for fresh thinking, consistently challenging ourselves and the norm to reach new standards. We have developed a strong international team and a culture to create projects that are extraordinary, relevant and lasting.

We were the first to dare to challenge the norms and develop a high-rise tower in Limassol, now the tallest residential seafront tower in Europe. ONE is a pioneering 37-storey landmark that exudes rarity, exclusivity and privacy. To bring this outstanding project to life we employed many different specialists and over 200 contractors, who brought new skills and helped to educate and train the local workforce.

With Minthis we are building a long-term sustainable resort which adds a new dimension to the real estate sector and the hospitality and wellness industries. It's a unique concept and a new destination inspired by its surrounding nature and the natural landscape which we work hard to protect. As part of a Natura 2000 site, spanning five million square meters, nature and the environment is deeply embedded in our DNA and influences all our strategies. Our CSR policy covers all elements of the resort business including our luxury accommodation, the golf course and the specially designed infrastructure for the residences ensuring the preservation and protection of the area. These strategies and policies fall under three core pillars: environment and innovative sustainability, local culture and heritage and social responsibility.

Projects of this magnitude support the country in various ways, including bringing new levels of tourism, highlighting the local culture, bringing new skills and creating more jobs for the local workforce.

Another project that is more urban and dynamic is the iconic ONE building. It was a benchmark project, which gave the boost for everybody else to follow and for the transformation of the whole coastline.

Pafilia has contributed to creating awareness about Cyprus internationally as to attract these clients we travel all over the world. We hold roadshows to create awareness and bring people to Cyprus – not only to buy real estate. They support the local economy, go to schools and so on; it's a chain effect. Cyprus doesn't yet have the brand strength of Greece, Portugal and Spain, so a lot of the clients that arrive are clients that the developers and businesspeople have found themselves. That is one key contribution of the developers in Cyprus – the awareness. As far as Pafilia is concerned, it's the projects that we have created that are iconic and contribute to the image of Cyprus as a whole – specifically Minthis Resort and ONE.

BF: Pafilia has two major flagship properties and has developed a slew of other luxury projects. What recent milestones has ONE passed and what does it offer to prospective buyers?

Evangelia Eliadou: The ONE project was very challenging because it was the first high rise project in Cyprus. We had more than 200 different consultants for this project from all over the world. The result is an iconic building, a beautiful building, designed by one of the most well-known architects in the world, Atkins and WKK Architects. In a high-rise project, you have the more advantageous units, the ones with the side views and the ones which are not so prime. The way ONE was built, there are only three properties per floor so all of them are equally fine and all have an unobstructed sea view, so it's a very exclusive, residential building.

ONE, is quite literally one of our greatest achievements. It's the ultimate definition of the word "landmark" and "luxury". It's not only the first high-rise building in Limassol, but the interiors and facilities within the walls of the building are unrivaled in Cyprus and the Mediterranean. The refined, yet elegant design of the building and its adorned crown demonstrates the power of architectural brilliance with its advancements in aerodynamics and safety. Standing 170m tall and with 83 luxurious apartments, all properties are exclusive with uninterrupted sea views and a wealth of private facilities and services.

ONE was not built overnight by Pafilia; it took many years of planning, patience, perseverance and professionalism by a world-class team of dedicated professionals who united to build a tower which literally redefined luxury real estate in Cyprus.

The master planner of ONE is no other than Atkins, one of the world's largest consultancies with a rich portfolio of projects such as the stunning Burj Al Arab. In addition, the supervision of the project by WKK Architects ensured that the purest manifestation of luxury would come to life with unparalleled quality, materials and advanced techniques.

BF: What kind of awards has Pafilia won recently and how have these awards put your properties on the map for international investors?

Evangelia Eliadou: We are very proud to say that we have over 60 international awards for our design and quality.

ONE has won many awards for its ground-breaking architecture and design, including Best Residential High-Rise Development in Europe in the prestigious International Property Awards and it was highlighted in the "Top 21 Projects Launching in 2021" in a report released by The B1M, the world's leading video channel for the architecture and construction industry.

More recently, Minthis was awarded best Leisure Development in Europe at the International Property Awards, while the Minthis Spa, in its first year of operation, received a prestigious accolade in the World Luxury Spa Awards. In the last few years, Minthis has also won many awards for our sustainability practices, including the GEO certification which is one of the most significant and important awards in sustainability for a golf course.

BF: How significant is the US in terms of foreign investment into Pafilia's properties and the larger real estate market? What are you doing to market itself to US investors?

Evangelia Eliadou: Actually, we haven't done much because Americans traditionally haven't bought much in Cyprus. We have a lot of Europeans, Israelis, Russians and a lot of Asians, but very few Americans. I think we are a bit too far for Americans, but North America is a huge market. If an American is looking at Europe, Cyprus represents a very good proposition as Cypriot people are very open, hospitable and you feel at ease in Cyprus. The food, climate and products are all nice and the real estate is very good and comparable to the best projects in America. Before we built ONE, I traveled all over New York City (NYC) for the high-rise projects, and ONE is as good as the best high rise in NYC or better. It's very important to have a matching proposition real estate wise as well. Cyprus has a lot to offer Americans.

The Cypriot property market is going from strength to strength and offers some great investment and lifestyle opportunities. It's easy to travel and live here as English is widely spoken. Of course, there are also the prices and tax advantages. There are so many benefits which compete and often surpass the expectations of some of the more well-known destinations in Europe.

BF: The global real estate market is doing well as economies around the world balance and investment confidence rises. Pafilia has expanded beyond Cyprus to properties in Athens. How important is the Greek market and which other markets are you considering?

Evangelia Eliadou:  The reason we have expanded in Greece is because Greece has the Golden Visa Program. There's a lot of activity now, as far as real estate in Greece, and the main reason is the immigration program. Being very strong in this market and having land in Greece, it makes sense for us to expand so that we can also retain our network and continue this aspect of the business.

BF: Back in 2019 you were quoted as saying "To succeed, you need to innovate". Recently, the industrial world has been rocked by two major trends – digitization and sustainability. Please tell us a little bit about the efforts that Pafilia is making to incorporate new digital technologies, both in its operation and its properties.

Evangelia Eliadou: Digitization was always on the agenda and when COVID-19 came it just forced all of us to move ahead very fast. Now, on the commercial side of the business, we can do a transaction completely remotely.

At Pafilia, we have invested heavily in new technologies and systems which offer support to our members of staff and to the company in general from our marketing materials including VR, AI, CRM and an online sales process. A new era of operations in every company around the world has arrived. I'm happy to say that Pafilia responded and is moving to the future by investing in technology.

Digitalization can be a tool to help us meet growing demands for sustainability and reduced climate impact, while at the same time meet the increased energy needs. Properties are a key component of the smart and sustainable city in everything from energy systems and to logistics and deliveries, this is something which we are very passionate about and continue to develop.

Our CSR policy covers all elements of our business including luxury accommodation, golf course management and the specially designed infrastructure for the residences that ensure the preservation and protection of the area.

BF: You've been Executive Director of Pafilia for almost a quarter of a century and have seen the real estate market go through many highs and lows. What are your top priorities for this year and your vision for the long term of the company?

Evangelia Eliadou: For 2023, we are at the phase of completing the main infrastructure of Minthis Resort – currently one of the biggest projects in Cyprus. My main vision is now to match this astonishing design and concept of Minthis with the services aspect because there is a hotel there. We are also entering the food and beverage (F&B) business with restaurants and bars. The challenge is to match this design and concept with the services aspect because, at the end of the day, it's the services aspect that leaves the client fully content. We want to really focus on the operation side this year and are facing a lot of challenges starting with finding personnel on the hospitality side, especially after COVID-19.

At Minthis, our priority has been to complete the infrastructure and main facilities including the destination wellness spa, our luxury suite accommodation and a village square full of

dining and shopping options. We have expanded our business into hospitality with the resort. The company is diversifying due to the growing demands of our clientele who want more than just a property; they want a home with lifestyle benefits that suit them and their entire family.

Over the last three years, even though the real estate market has changed dramatically, our strategy has not. We focus on delivering world-class, lifestyle and residential resorts that enrich people's daily lives. Our long-term vision is to continue our expansion throughout Cyprus and Greece, to engage in initiatives that strengthen the environment and the long-term sustainability of the communities we touch.

As for my long-term vision, I don't want Pafilia to just create numerous real estate projects, but to create things that will leave a footprint and perfect the image of Cyprus abroad. If you do things correctly with a good concept, quality and designers, if you invest money, and invest wisely with sophistication and care, then if all the businesspeople would do their work like that with care, the whole image and projection of Cyprus would change.

BF:  What is your final message to the readers of USA Today?

Evangelia Eliadou: People should visit Cyprus as it's a place that grows on you. The more you visit, the more you like it. If you experience the people, the climate, and everything else together, they make a really nice blend and a wonderful proposition in the long run. Cyprus is a wonderful place with so much to offer, you need to experience it for yourself to truly understand the beauty and opportunities.