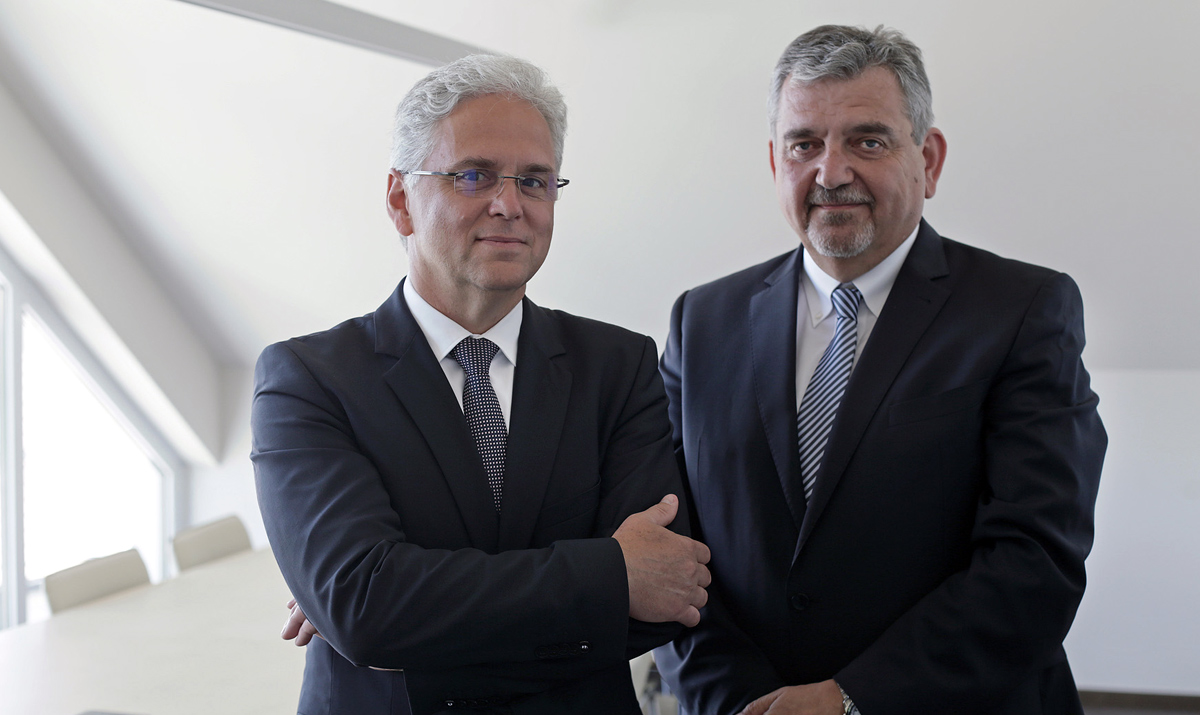 14 May

Interview with Dr. Zoltán Ács and Dr. Dávid Greskovits of MEDITOP, Hungary

BF: As the first non-privatized, private Hungarian pharmaceutical company, MEDITOP has evolved from being a small business to a reputable feature in the country's healthcare sector. Could you give us a quick presentation of MEDITOP's, its major milestones and recent performance? How has it grown and developed lately?

Dr. Dávid Greskovits:  MEDITOP was established in 1995. At the time it was mainly producing solid dosage forms of pharmaceuticals according to our manufacturing license, producing tablets, powders, capsules, and also some food supplements. We have started to develop our own pharmaceuticals for the Hungarian market and for export to Europe, Asia, and the Middle East. Our products are available in a lot of countries already. The company is privately owned. Dr. Zoltan Ács and I are the owners and founders of the company, and we manage it personally as well.

Dr. Zoltán Ács: MEDITOP was the first pharmaceutical company established after the political and economic changes here. The original founding of the company was in 1991, that's why we can say we were the first. But that was a very early phase of the company's life. Then we had a lot of small owners, and we did not even know in which direction to go. We had a solid idea that we wanted to establish a pharmaceutical manufacturing company, but there was no capital, no products, so we had to start the whole business from scratch. We are very proud that MEDITOP is not a privatized company: we established everything from nothing. It's not an old socialist company which was privatized by us. After the early phase of the company, in 1995, we decided to re-establish MEDITOP because the company was initially established by the owners for a 5-year trial period. Nobody wanted to have the obligation for continued cooperation. We two are the only active players originally involved in the daily operation of the company. We were very much self-driven, and we established the company in 1995 again.

Dr. Dávid Greskovits: Both of us are pharmacists. We started to work as industrial pharmacists in Richter Gedeon. We met each other in Nigeria at the airport in 1991, when we were working at a small pharmaceutical Hungarian-Swiss-Nigerian joint venture company. I was working as the manager of production and Dr. Ács was replacing me that year.

Dr. Zoltán Ács: It was a Medimpex joint venture with some Nigerian shareholders. We were sent by Medimpex because we were production pharmacists, because in Nigeria at that time, it was not allowed to establish a trading affiliate without local production. That is why there was also a small manufacturing facility there with about 250 workers, roughly the same as this company has today. Medimpex had to hire industrial pharmacists who could operate the facility. David was in charge as general manager for production with the previous managing director and I replaced him in 1991. We met each other for the first time at Murtala Mohammed Airport when I was arriving there, and David picked me up and explained to me how to survive the Nigerian life. The managing director was also leaving the company to go back to Hungary, so beside my original position as general manager for production, I became the managing director also. Then I finished this job. I came back to Hungary, sat down with Dávid, and we saw that there was a company that was just starting at that time. We thought if we worked at it for eight to 16 hours a day, it could be a real pharma company in the future.

BF:  How does MEDITOP stand out, and what does it stand for today on the pharmaceutical market in Hungary? Can you give me a couple of facts and figures to help the reader understand your significance?

Dr. Zoltán Ács:  The first important milestone was our agreement with Ciba-Geigy. Back then the Hungarian market revolved around pharmaceutical packaging activity only, but we had good cooperation with them. Ciba-Geigy and Sandoz merged to form Novartis. They made a competition among the local partners of the two companies which we won, and we continued cooperating with Novartis for almost 10 years. The Novartis period was not an easy one in our life. They continuously audited the company, but we learned a lot from these inspections. It was a win-win situation. They helped us a lot. They helped us to develop the quality assurance system as well as the whole organization of the company. In the meantime, we had also established our research and development laboratory in 1995 and started to develop new products. We knew that the only way out to independence would be if we had a solid portfolio managed by ourselves, with the ability to control the sale of these products by ourselves.

Aside from Novartis, which was our first, main and biggest partner, we had many multinational partners later, like Merck, AstraZeneca, and many other companies. This contract manufacturing activity is still on and makes up about 30% of our sales today. Since 1995 we have started to develop products, and the next big milestone was around 2004 or 2005, when the first product was registered outside Hungary, in Germany. It was the first product that was licensed to five big German generic companies. With this cooperation, we practically took over the market from the originator in Germany, which was a big success for such a small company like MEDITOP. Since that time, besides our developments, we are focusing on some of the old Hungarian molecules, which are mostly forgotten or not maintained on the level they should be. The company has registered products with some of these molecules and we are operating clinical studies to generate new evidences for them. Since they are old Hungarian molecules, they are not well known all over the world. Thanks to our activity, the products are already registered and established in some Western countries, such as Germany, the Netherlands, Belgium and Switzerland. We think if the company can generate new evidences, we can register and introduce these items all over Europe and other big markets. We already established a representative company in Switzerland operating with a Hungarian pharmacist.

BF:  R&D and innovation play a large role in MEDITOP. Which new products and new projects are in your pipeline? Which specific areas are you focusing on?

Dr. Dávid Greskovits:  The company is spending a large percentage of its revenue on research and development. We see it as an investment for the future. At the moment, we have 13 patents. Our research team developed a new product during the pandemic which contains Favipiravir, what was originally developed for flu by a Japanese company. The patent of the API already expired but there was a formulation patent still valid what was protecting the originator. We developed a new manufacturing process that didn't infringe the formulation patent of the originator. The company has patented this formulation, and currently the patent is granted in Hungary. The next stage is to extend the patent. The European Patent Office has already started its evaluation. With this product, we succeeded in Hungary and Romania also. The product is also under registration in Vietnam, for example.

Another product with a similar manufacturing process was also patented, this one for the treatment of epilepsy. The patent is already granted in the whole of Europe. It is also a non-infringing manufacturing process of eslicabazepine tablets, providing us secure sales until 2028, which is the expiry date of the originator's patent; our manufacturing process is protected until 2040. From what we can see today, there are many new generic players of this product, but these products are, according to our opinion, all infringing the patent of the originator. It is a little strange because we were expecting the originator to untap these products and, in that scenario, we could be in a very advanced position on the market.

MEDITOP is mainly focused on the CNS products, but we have products from other therapeutic fields also in our portfolio; some are OTC, some are prescribed products. The focus now is on the eslicabazepine tablet: we want to get that to the whole European market. It is already registered in five large countries.

Dr. Zoltán Ács: MEDITOP is already a key player in the epilepsy market in Hungary, with many products, including the top epilepsy treatment. Our company has better market position than Sandoz, which is a very nice achievement for such a small market member, and that is why we are focusing on this eslicabazepine product also. The company has registered the product in all the big countries of the EU through the DCP registration procedure: in Italy, Spain, Portugal, France, Germany, and Hungary. That was the first curve. UK was already in its Brexit period, so that's why we did not include it. We have plans for the remaining European countries. This product is under registration in many other countries worldwide, in regions such as Asia and the Middle East.

The biggest ongoing development from us over the past few years was a spasmolytic and muscle relaxant. These are the products for which we are generating new clinical evidences. There is a clinical study going at the Neurological Clinic at Semmelweis University and another multi-centric clinical study also in hospitals and outpatients' units in Hungary, with more than 300 patients targeting new evidences for an important indication of the product. The third study is collecting information at the Pharmacologic Clinic of Semmelweis University from the method of the acting of the molecule. They are measuring pain factors from the blood; in the neurologic clinic this is how this molecule is solving pain, the spasms in the muscle. There will be a complete package of clinical evidence that we are planning to submit to the authorities. The total value was about HUF 1.8 billion which is a huge amount for us, it's over €4 million. This study and research have been going on for the last 2-3 years. It was a little bit delayed because during the pandemic there was no possibility to carry on clinical studies as all clinics had closed.

BF: MEDITOP currently has a strong and reputable position in the local Hungarian healthcare market, but you also have an evolving portfolio abroad, with exports accounting for about 20%. Which markets, in priority, have you set your sights on aside from the European market?

Dr. Zoltán Ács: The company had 20% of exports in the year before last. We developed a little bit more in 2022 because our exports were about HUF 1.2 billion in 2021, but last year it was over HUF 2 billion, with a total turnover of HUF 7 billion. We have realized that the Hungarian market is small, even small for individual development, because it can never pay off the development of a pharmaceutical product. That's why we made the decision to open to the world two years ago, and we currently have ongoing registrations in 30 different countries. The total new manufacturing authorization (MAs) will be issued hopefully within 2-3 years, so more than 120 new MAs will be in our hand. We are undergoing a huge expansion, according to our expectations.

Dr. Dávid Greskovits: The company is active in many new countries; registration or execution of license agreements are going on. The Middle East is developing the most right now. We are hopeful for Vietnam, where we are registering almost the complete portfolio of our products. But the registration procedure is extremely long there. It will take at least 3-5 years. We are also active in Uzbekistan. The company is registering 15 new products there. The registration is easier, and you can receive the MA within 50 days. That's the promise.

BF:  You mentioned that you are in the U.S. with your epileptic medicine?

Dr. Zoltán Ács: There are two policies. One is to add our license to the products and the developments, and then to find a reliable partner to sell the license to and supply the product for. That is the main policy for Europe, with the exception of Switzerland where we operate our own company. We are thinking also to operate this way now in Germany. We are looking to find a new representative company and we will launch some products under our own label. The company has a similar cooperation in the Netherlands. But, for example, in the Middle East we are selling the products under our own label with a partner. MEDITOP wants to sell the products also under our label in Vietnam and Uzbekistan. The company has ongoing registrations in Israel, Jordan, Azerbaijan, Iraq, Yemen, Oman, Kuwait, all promising countries and markets. Coming back to your question, we are open for cooperation in U.S. market if the patent situation makes it possible for our epilepsy product.

BF: With Covid supply chain disruptions, the pharma industry was under pressure. Many medicines, even over the counter ones, are missing in the EU today, which is a big preoccupation. How is this opening a new opportunity for companies like MEDITOP?

Dr. Zoltán Ács:  The medicine shortages that we see now are a very solid sign that many companies from Europe are having difficulties with supplies from India and the Far East, in addition to the issues with the cost of supplies increasing and the reliability of suppliers. Sometimes they do not get the products on time. We can experience a lot of shortages of pharmaceuticals in Europe, and these signs can go back to the root problem: that Europe is receiving a lot of pharmaceutical products from the Far East, India, China, and those manufacturing markets.

Dr. Dávid Greskovits:  The main problem is that the European pharmaceutical industry outsourced the production of API, and also finished products, to the Far East, mainly to India and China. Nowadays the import of APIs from that area is usually difficult and also delayed because of COVID-19, because of the war, the energy crisis, the supply chains and many other reasons. The logistics take longer, the supply time is doubled or tripled, transport costs are more than five times higher than it was before the crisis, so it is not an easy period for Europe. But our future is to survive this and try to solve as much as possible this production problem in Europe itself.

Dr. Zoltán Ács:  This is, on the other hand, an opportunity for us because many companies already contacted us: they would be ready to move the production from India to Europe, to Hungary, for example. These are contract manufacturing activities, what is another important activity in our company. But this is really an ongoing procedure as we can see. I don't know what the end of the story will be, but for sure there is a need to secure pharmaceutical product supplies from Europe instead.

Dr. Dávid Greskovits: The other important problem is that the companies in China and India already established huge capacities. Europe is made up of much smaller countries; it's fragmented. It has a different demand of the quantity of production. India made huge batch sizes, and they cannot supply for the small countries in some cases because the requirement is small, so this is also a problem and opportunity. This is one reason why it is more economical to manufacture in Europe.

BF: What would you identify as the key strengths of Hungary's healthcare and pharmaceutical sector and how have these contributed to mitigating the unprecedented crises seen in the last few years?

Dr. Zoltán Ács: We have a lot of local well-trained professionals in Hungarian pharmaceutical manufacturing companies, which is a real strength for us. Hungary as a member state of EU has open borders, which is also an advantage. However, this period is not so easy for the Hungarian pharmaceutical industry since we have a different taxation structure with an extra tax in plan. The pharmaceutical associations have on-going negotiations with the government to solve this problem, to see how we can contribute together, how can we get a win-win situation with the pharmaceutical industry and the government.

Dr. Dávid Greskovits: The pharmaceutical industry is a traditional industry in Hungary, it has been around for more than 100 years. It survived the Second World Wars, the socialist regime, the privatizing, everything. There are more than 20 different pharmaceutical producers in Hungary, both big ones like Richter and very small ones. The total revenue of the industry was HUF 1.4 billion in 2021, with includes around 80% in export activities.

Dr. Zoltán Ács: Hungary is too small a market to have such a big pharma industry, so that's why all the companies are export driven. There is no other choice. Last year MEDITOP had 31% exports. Going forward, we would like to achieve at least 60% export of our sales, but we would also like to join the big pharma companies who have 80-90%.