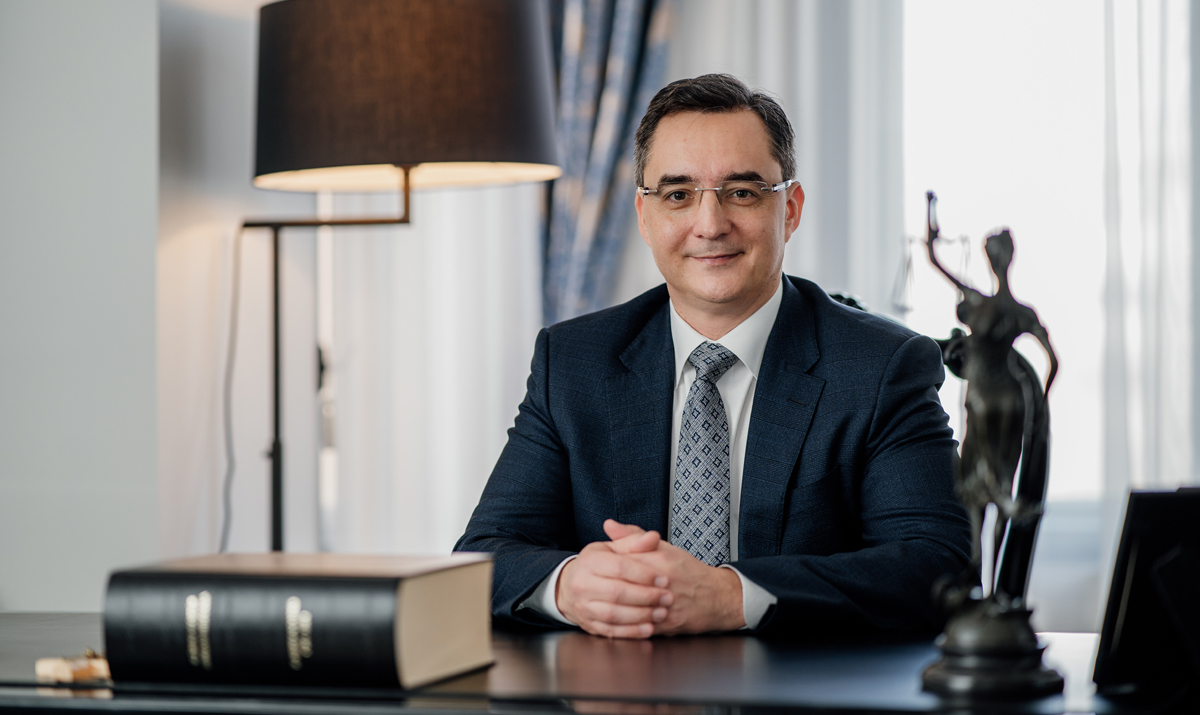 02 May

Interview with Dr. László Papp, Mayor of Debrecen, Hungary

BF: 2021 was a momentous year for Debrecen. In addition to bagging some of the biggest foreign investment projects in Hungary, the city also reached new heights in development and demonstrated remarkable resilience in the face of recent global challenges. As Mayor of one of Hungary's most prolific cities, could you give us a rapid overview of Debrecen? How does it stand out in Hungary's landscape, and are we are concluding what has been a challenging and difficult year, what have been the city's economic performance and the major milestones reached in 2022?

László Papp: Debrecen has always played a very important part in Hungarian history. It was the capital city of the country twice in very critical periods. Today, Debrecen is not only Hungary's second largest city, but one of country's strongest development centers, currently experiencing unprecedented growth across various fields.

For a long time now, Debrecen has invested in higher education and in developing schooling. We feel this is very important. Aside from a great education environment, Debrecen offers political stability which makes this city a very attractive place to do business in. I started my political career about 25 years ago in 1998, so I'm almost like an old piece of furniture in this building. When I was commissioned by the people of Debrecen to become their mayor in 2014, my top priority for the next decade was to strengthen the economy of our city. The truth is Debrecen was already in good standing when I stepped into office — the only weak link in this respect, was the economy. Debrecen was known as a work base, not just for our own citizens, but also for people in further regions such as the west of Hungary and even beyond. However, in spite of our high quality of education in both secondary and higher education levels, we noticed that young people were unable to find jobs in the city. So in 2014, we started to create a new kind of economic development strategy for the city. We developed the industrial infrastructure and created a new local support system for the economy. During this time, we also created a very coherent and well-grounded city development plan for ourselves. As a result of our efforts, we currently have €11 billion of investment capital. We could go on and increase the investment opportunities in city of Debrecen itself, however I feel that it's now time to focus our attention on the surrounding region.

The two most important entities within Debrecen's new development are BMW and CATL. We feel very proud that two of the largest industrial factories of the 21st century are here in our city, one working in the field of electro-mobility and the other the field of conservation and storage of energy. Together they are employing thousands of Hungarians and contributing to a healthy and dynamic local economy.

BF: Debrecen has been ranked by the Financial Times as one of Europe's Top FDI Destinations for the third consecutive year. In 2021 alone, the city saw €883 million worth of investments, and several foreign companies, including BMW, have moved their operations to Debrecen. What have been some of the reasons of this recognition? What is your strategy for attracting foreign investment and international partnerships for growth, what type of collaborations are you currently targeting?

László Papp: Debrecen has managed to attract such a high volume of investment because the city has established a strategic plan for the future that makes it look reliable in the eyes of investors. When I got elected as mayor, one of my priorities was to adopt a long-term development strategy that covers several decades and not only my term. Debrecen can also capitalize on its position as Hungary's second largest city and on its extensive higher-education system. Human resources development is key for us. In comparison to different cities, we aim to be always one step ahead. Although we had applied for quite a lot of government support for our development projects, we didn't wait for approval, but we proactively decided to create a financing system for our local investments. We made sure we started it as soon as possible.

BF: to what extend do you compete with other urban centers like Budapest in Hungary or beyond borders?

László Papp: In recent years there has been an unfortunate debate about whether Debrecen should be considered a rival of the capital city Budapest or not. The truth of the matter is, we do not want to compete with Budapest. I feel great respect toward the capital city, because it has huge values and assets. Back in 2016, I met with Prime Minister Victor Orbán to discuss future development possibilities for Debrecen. During this time, Budapest had a right-wing politician in the mayor's seat, so that Debrecen's development policy did not really depend on an opposition to Budapest. However, we must now state clearly that Hungary is not only about Budapest. I personally believe that Hungary, which remains a small 10 million inhabitant country, would benefit from having multiple regional city centers for future development possibilities. For example, cities like Szeged, Győr or Pécs make strong development centers for the regions to grow around. The question is whether these cities have ambitions to become regional centers. Perhaps Debrecen is in a better position than these other cities as our surrounding area is becoming more and more involved and organically integrated in its center. If we take, for example, Győr, which is in the northern part of Hungary, its position is not as good as Debrecen, as it is in the triangle between Vienna, Bratislava and Budapest. This is a difficult position to be in. Debrecen doesn't have that challenging position because we decided to expand our development beyond our borders. We created an imaginary circle that included three million people, so our area of influence is equivalent to the size of a country like Slovenia for example. In summary, we don't want to compete with Budapest, but we would like to become a local regional center that is viable, and that is at par with the capital city.

BF: Aside from electro-mobility and energy storage, which new and emerging markets is Debrecen's economy propagating, and which sectors will you be focusing on in the medium term?

László Papp: Electromobility and energy storage will be our two priorities. These are decisive areas for industries globally and in this century. I cannot imagine the green transition to be possible without energy storage. We know that the future of Debrecen will be written over by the arrival of these two companies. We had to change a lot of features in the city to accommodate these two giants. Both BMW and CATL will be decisive factors that will not only impact our population but also the education programs that we offer.

BF: Debrecen is renowned for its world-class universities and strong R&D culture. Its triple helix model — which fosters cooperation between academia, the government, and industry —  has cultivated a remarkably effective innovation ecosystem. How does the city work with the universities to develop a competitive advantage in terms of research and innovation, but also in terms of training and skills? How important is this aspect to attract international investors within Debrecen 2030 vision?

László Papp: Our master plan Debrecen 2030 is very much centered on education. Education will be a key pillar for the future of our city. The competition for the future labor market starts in the schools, and we should make sure that our schools cater for the future needs of the market. With that in mind, we had introduced some changes in our secondary and tertiary education programs back in 2015 already. Back then we had to convince the university leadership to choose between offering veterinary trainings — because of the importance of animal breeding in the region — and engineering programs. My position was that we should focus on what will be profitable for the city and take into consideration the future developments of the city. Given the growing emphasis on the automotive industry in the region, we have accelerated the transition of secondary school programs toward mechanical engineering. The university management is also open to make that shift and is willing to enhance cooperation with industrial partners to build further capacities in this specific field. That means that we could launch new programs which could in turn attract growing numbers of students both in our secondary and tertiary education system.

Debrecen also runs a couple of vocational training programs that run in conjunction with industrial and corporate partners, which means that secondary students in their 11th or 12th year of study can combine the school curriculum with practical courses or trainings in industries; and the same applies to university students also, they also have this possibility. After the arrival of BMW, we noticed a 40% increase in applications for our automotive engineering programs.

BF: Over the past year, Debrecen has made great strides toward a sustainable economy, securing several critical sustainability projects for the country, including a €7 billion investment into Europe's largest battery plant for electric vehicles. Could you share more about Debrecen's role in promoting the region's green goals, and how the city harnesses state-of-the-art technologies to incorporate renewable energies and more sustainable systems?

 

László Papp: In line with our economic expansion ambitions, one of our top priorities is green and sustainable development. Back in 2014, we started a program to transform the city's energy supplies toward more sustainable energy sources, with the objective to cut down the use of natural gas and replace fossil resources with solar and geothermal sources. The energy crisis that we experience these days is only forcing us to accelerate our energy transition. At the moment, we are implementing photovoltaic projects across the city. We want to greenify also our public transportation system. We want to replace our old diesel and traditional fuel propelled vehicles with electric vehicles, with the help of our solar and storage systems.

BF: Since unveiling Debrecen 2030, the city has attracted more than €2 billion in working capital and created more than 6000 jobs. If successful, this 2030 strategy could shape Debrecen into one of Central Europe's most prosperous cities. What are some of the biggest infrastructure projects that you have in your pipeline and how will these impact the city?

László Papp: Our investors need to have infrastructure available to carry their projects; that's a given for our municipality and a pre-requisite to their investments. One thing that we have managed to achieve is the expansion of our industrial parks areas. Eight years ago, we had 150 hectares, but now we have 10 times more space available for investors.

Economic development and expansion also bring huge changes in the real estate market. In practice the western side of the city hosts the industrial parks, while the eastern part of the city is more for residential areas. 16,000 new jobs were created in Debrecen in recent years, which entails a necessity to accommodate this new workforce and enlarge the residential supply. This significant increase in demand is impacting our real estate market, which has to follow this demand. In addition to residential development, we will need also to develop community transportation, which includes the modernization and expansion of the airport

BF: You took office as mayor of the city in 2014 and were later on reelected in 2019 for a second term. Under your leadership, Debrecen has undergone exceptional growth and has earned the title of Hungary's investment champion. Looking to the future, what are your personal vision and goals as mayor?

László Papp: I am a satisfied person overall. My motivation has always been to be happy with my job and do the best I can to serve Debrecen. Being the mayor of Debrecen is the best thing in the world! I love to set goals and strategies for myself and my community. In the case of Debrecen, we can say that we have reached our goals, and managed to complete our previous plans.

I started early in politics, from the lowest level of the ladder. I was a fraction deputy leader, then a fraction leader, a deputy mayor, and, now, the mayor. I never had to look for challenges, the challenges found me. That said, I don't have real political ambitions: I feel most comfortable in the position that I am in. I'm trying to do my job as best as I can: this is my ambition. I don't project myself in the future; I project only Debrecen in the future.

BF: Do you have a final message to the readers of USA Today about choosing Hungary as their next business and investment destination?

László Papp: One of my favorite quotes of Henry Ford is: "Whether you think you can, or you think you can't — you're right." This is true for my political activities. We must believe that we can create miracles. Debrecen was recognized by the Financial Times as the 10th best investment city; on the same list as New York City, which was in the first position. This is a big achievement for us, and now we know that we can do it.

Another important fact that we shouldn't forget is that behind any important political action there are people. We are impacting the lives of people, and we should never forget that. We should always work for the citizens of Debrecen first and not pursue personal political ambitions.