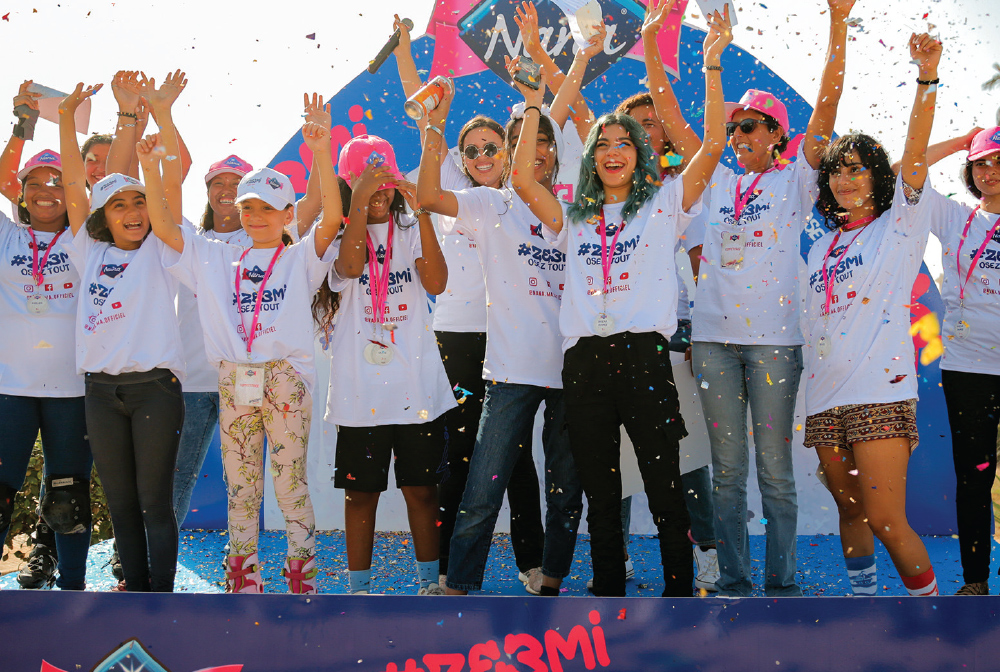 19 Jul

History-making soccer teams
The Atlas Lions' and Lionesses' performances on the global stage show Morocco is well on its way to becoming a soccer powerhouse
This summer marks the first time an Arab team has played in the FIFA Women's World Cup, with Morocco taking its place alongside the rest of the best in international women's soccer. The Atlas Lionesses booked their slot in the tournament held in Australia and New Zealand after putting in outstanding performances in 2022's Women's Africa Cup of Nations (WAFCON), which was hosted by their home country. Having never got past the group stages of WAFCON before, Morocco beat the huge favorites Nigeria in the semi-final before succumbing to South Africa in a close final. Both those games took place at the state-of-the-art Prince Moulay Abdellah Stadium in Rabat and both were attended by over 50,000 people: record crowds for women's football in Africa.
The Lionesses' achievement represents a rapid rise toward the pinnacle of the sport, which many think is unstoppable. "Morocco is going to be a powerhouse whether we like it or not, because they are in the right direction of making sure they empower the women's game in their country," South African and Racing Louisville Football Club forward Thembi Kgatlana told ESPN in the aftermath of WAFCON. "Everything that has been laid for them at club level and international level is giving them the rewards that they need."
A catalyst for this empowerment came in 2020, when the Royal Moroccan Football Federation announced it was creating a two-tier professional soccer league for women and launched a four-year strategy to develop the sport at all levels that was backed by heavy public investment.
Some local businesses have also played a substantial role in advancing women's soccer, with a prominent example being Sancella Maroc, a subsidiary of Tunisia-based Sotupa-Sancella Group that is one of the largest manufacturers, marketers and distributors of hygiene, health and beauty products on the continent. The group has a policy of investing to support young sportspeople and, as part of that, Sancella Maroc became an early, enthusiastic sponsor of the leading female Moroccan teams Raja Club Athletic Women and Sporting Club Casablanca through its Nana brand, which is the second-biggest player in the country's feminine-hygiene market. 
"We are delighted to bring our encouragement to Moroccan women's football," said Emir Ghozzia, general manager of Sancella Maroc, when the sponsorship with Raja was announced; "Sport conveys fundamental values such as respect, surpassing oneself, perseverance, teamwork and the search for excellence. These are values that Nana, our brand ambassador of femininity and living to the rhythm of women, defends and shares."
The Lionesses are not the only Moroccan soccer team to have made history recently: in December, their male counterparts, the Atlas Lions, became the first African and Arab side to reach the last four in the 2022 World Cup. Millions worldwide saw the team's semi-final against France on television, including President Joe Biden, who watched it in Washington with Morocco's Head of Government Aziz Akhannouch.
The genesis of Morocco's emergence as a force in male and female soccer was a 2008 direction from King Mohammed VI for a restructuring and modernization of the nation's sporting landscape. At his instigation, the Mohammed VI Football Academy in Salé was established and this was followed by many more significant investments into the sector and its infrastructure. For instance, the country is now home to six world-class stadiums that are FIFA-approved for international competitions and a seventh is being built that will have the largest capacity in Africa. 
One crucial motor driving the country's footballing success was inaugurated in 2019: the Mohammed VI Football Complex. Open to teams of both sexes, this training facility near Rabat cost over $60 million to complete and is among the largest complexes of its type globally. Within the cutting-edge complex are, among other things, a vast variety of indoor and outdoor pitches, 5-star hotels, an auditorium, an Olympic-sized pool, tennis courts and a next-generation, fully equipped medical center. 
The quality of Morocco's infrastructure has established it as a contender to host a future World Cup. That may well be the men's tournament in 2030, which it is bidding for in a joint proposal with Spain and Portugal. The bid has the backing of Africa's and Europe's soccer governing bodies and, if selected, would bring the first transcontinental World Cup and only the second in Africa. In March, King Mohammed VI delivered a message announcing Morocco was partnering on the project. "This joint bid, which is unprecedented in football history, will bring together Africa and Europe, the northern and southern Mediterranean, and the African, Arab and Euro-Mediterranean worlds," he said. "It will also bring out the best in all of us — in effect, a combination of genius, creativity, experience and means."