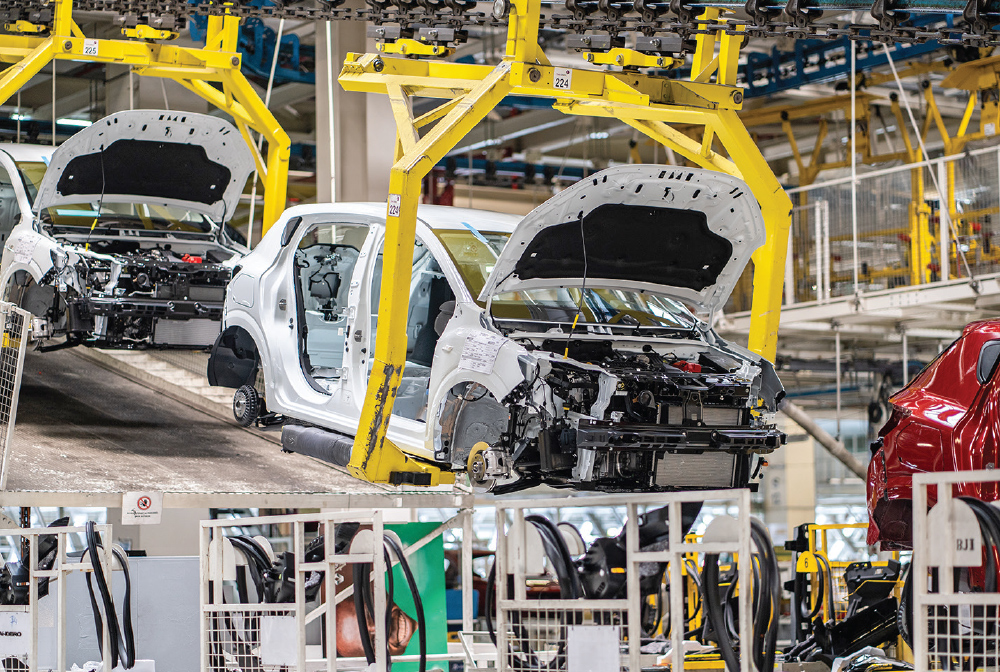 19 Jul

Gateway to trade and investment in Africa
Morocco and its international partners are in poll position to capitalize on the opportunities presented by the emerging continent
This June, the inaugural Bloomberg New Economy Gateway Africa conference was held in the Moroccan city of Marrakesh. The prestigious event was a regional offshoot of the business information company's annual Bloomberg New Economy Forum,  and it attracted a large number of global public- and private-sector leaders, who discussed and evaluated solutions to the most important issues facing the continent and world at the moment.
Topics tackled in Marrakesh included the slowing global economy, rising food and energy prices, supply-chain shocks, tightening financial conditions and debt sustainability. The event "put a special focus on sustainability and resilience, issues critical to the future of every country and of special importance to King Mohammed VI," according to Bloomberg's founder Michael R. Bloomberg, who noted that Morocco has become "a major gateway for global trade and climate action."
The conference's launch highlights the continent of 54 countries' growing economic importance. "Africa will shape the future of the global economy," explained US Treasury Secretary Janet Yellen during a trip to the continent in January. It is home to a wealth of agricultural, mineral and renewable energy resources, but the main factor behind her comment is a transforming population that will represent two-fifths of the world's total by 2030 and whose middle class is expanding by 30 million individuals a year. "People are becoming more educated, urbanized and connected to the world … And while many other regions face aging populations, Africa continues to lead as the youngest continent," she noted. 
This evolution is creating massive new markets for products, services and investments, and it opens up vast potential for further economic development, if the continent can address challenges it faces that include those being debated in Marrakesh. The Biden administration wants US institutions and companies to work with Africa to help it meet its potential. To encourage that, in December 2022 Biden invited the leaders of African countries, including Morocco's Head of Government Aziz Akhannouch, to a three-day US-Africa Leaders Summit in Washington. 
At the summit, Biden announced that the US will channel at least $55 billion into the continent over the next three years: "That number represents a comprehensive commitment from the US to invest in Africa's people, Africa's infrastructure, Africa's agriculture, Africa's health systems, Africa's security and more." Biden also made clear that the US was "investing to facilitate greater regional trade within Africa" and supporting the implementation of the African Continental Free Trade Area (AfCFTA), which will encompass a $3.4-trillion market of over 1.3 billion people.
Realizing the continent's potential
Morocco and its partners are in poll position to realize the opportunities presented by the emerging Africa and the country was honored to host the Bloomberg conference, Akhannouch revealed: "Morocco has undertaken numerous reforms to improve its business environment, becoming a regional hub for international investment. Morocco is the ideal place to host the event as we lead regional initiatives and projects on sustainable development and decarbonized manufacturing."
Indeed, under the direction of King Mohammed VI to foster stability and development in Africa, over the last two decades Morocco has generated significant political and commercial links throughout the region. It has also become the second-largest African investor in the continent. As a result of the financial and legal expertise gained from its investments across nations with diverse business frameworks, its financial capital Casablanca Finance City has become a leading hub for local and international investments into Africa. Moroccan companies have also built up robust continental presences in sectors ranging from banking to construction, telecommunications, pharmaceuticals and fertilizers, while the country has led many African capacity-building infrastructure projects in areas like transport, water, sanitation and, perhaps most notably, renewable energy.
Morocco ranks first in Africa on the Climate Change Performance Index 2022, thanks to its massive investment program in solar and wind facilities. This has not only turned Morocco into a platform for decarbonized industrial production, it has enabled it to use its extensive knowledge and capabilities to support other nations' transition to renewables. Morocco is now home to an integrated ecosystem for the development and manufacturing of green-energy technologies and international players, such as AMEA Power and EDF Renewables, have chosen to use the country as a base for exporting their products and services to the rest of the continent.
There are multiple reasons why they and global companies in many other industries see Morocco as the perfect manufacturing and export gateway into Africa. Not the least of them is its location as the closest African country to the US and Europe, which it has capitalized on by investing to become the top-rated nation on the continent for infrastructure. For example, Tanger Med Port is the largest container port in Africa and a new mega-port, even closer to the US, is under construction in the south of the country. Companies based in Morocco stand to benefit from it being a part of AfCFTA and the only African country to have a free trade agreement with the US as well.
In addition, Morocco provides political, social and economic stability, plus a modern legal and regulatory framework. It is also rated among the top-20 emerging markets globally in Kearney's FDI Confidence Index 2023 and it offers a young English- and French-speaking workforce with first-class skills covering the type of industries that are growing in relevance for the increasingly middle-class African population. 
A key illustration of this is the automotive sector. Morocco is the continent's biggest exporter of cars, which have traditionally been produced for Europe. Recent years have seen a shift, however, as demonstrated by Stellantis' 2022 investment to double production capacity at its plant in Kénitra to 400,000 cars a year. 
With this extra capacity, the manufacturer is ambitious to capture a large share of the expanding regional market, according to Samir Cherfan, chief operating officer of Stellantis Middle East and Africa: "Together [with the Moroccan government], we have succeeded in positioning Kénitra as a leading Stellantis industrial site and in converting it into a key contributor to our bold ambition."