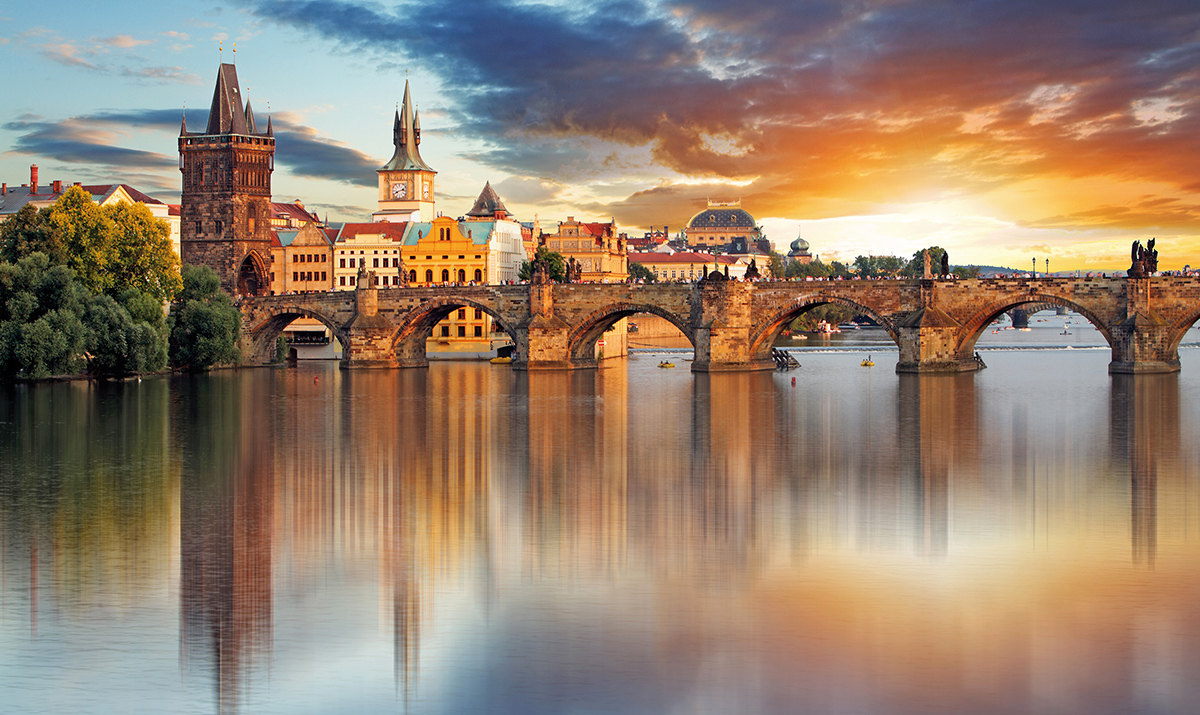 26 Oct

Czech Republic: A forward-thinking central European powerhouse committed to innovation

Nestled in the heart of Europe, the Czech Republic's dynamic and resilient economy has helped the country to achieve regional influence and catapult it onto the global stage. Boasting a GDP of more than $290 billion and attracting substantial foreign direct investment stock of over $185 billion, it is now recognized as one of the most prosperous nations in central Europe. 

Beyond its strategic location and economic resilience, the Czech Republic has demonstrated a commitment to innovation and advanced manufacturing that has propelled it to the forefront of global industry. Home to forward-thinking entrepreneurs and fast-growing start-ups, the country is leading the way in sectors such as automation, robotics, artificial intelligence and cybersecurity. 

There are also ambitious plans in place to become a leading player in the field of space exploration. Earlier this year, Czechia became the 24th country to sign the Artemis Accords — an American-led effort to return humans to the Moon by 2025, with the ultimate goal of expanding space exploration to Mars and beyond — with Minister of Foreign Affairs, Jan Lipavský, stating the importance of the accords. 

"I see this as a historic signature, not only because it opens up a new opportunity for cooperation between Czechia and the US but it also marks our dedication to peaceful, transparent and responsible conduct for space exploration," said Lipavský. 

Deputy Prime Minister for Digitalization and Minister of Regional Development, Ivan Bartoš, added: "In Prague we have the European Space Agency Centre and there are around 100 companies in the city that are related to that industry. We are definitely pursuing going to space.

"This is just one area where we have cutting-edge technology and where a significant transformation is underway. We also have projects that support the development of quantum computing and we are piloting hydrogen technologies."
Tourism targets

 
While the Czech Republic is in the midst of an innovation boom, the country also works hard to promote its cultural heritage and breathtaking landscapes. Its capital, Prague, remains one of Europe's most visited cities and provides visitors with the opportunity to immerse themselves in historic castles and medieval monuments. 
Away from Prague, beauty can be found throughout the country. Český Krumlov is home to Czechia's only Baroque theatre, Kutna Hora's gothic St. Barbara's Church is a UNESCO World Heritage site and Brno boasts a plethora of Baroque and Gothic architecture, while  Špindlerův Mlýnis is an in-demand ski resort in winter and a hiker's paradise during the rest of the year. 
With so much on offer, the government has worked tirelessly to improve transport connections throughout the country. "The Czech Republic, from the north to the south and the east to the west, varies and is easily accessible. There are incredible monuments across the country and you can easily do day trips from Prague to explore other areas. In fact, that is the main task of the Czech Tourism Agency, to promote the entire country as a tourist destination," explains Bartoš. 
"We have UNESCO sites throughout the country and visitors will find everything from hiking and skiing to culture and first-class gastronomy on offer."
In order to make experiences and sites even more accessible, the Czech Republic is pushing ahead with a digital transformation that will benefit numerous sectors, including tourism.
"We want e-tourism to be a main platform, as it is in Austria, where business entities in tourism, hospitality companies and the relevant ministries all work together," says Bartoš. "This ensures that visitor numbers and local fees are all registered on the same platform. It also means that tourists could bundle together a special multi-day travelling ticket in Prague, for example, that would include entry to specific monuments and even travel to other parts of the country. 
"Tourism is an area we are focused on as shown by the Czech Republic succeeding in becoming a member of the executive board of the United Nations World Tourism Organization. This was a significant diplomatic success that will enable us to influence global developments in the tourism industry."
With a diverse economy driven by multiple innovation-driven industries and a thriving tourism sector, the world is beginning to embrace the boundless potential of the Czech Republic. All bodes well for the future of this central European gem with both business and leisure endeavors seemingly destined to reach new heights.
Pro-business policies
A stable economy and legislation changes have boosted direct foreign investment
More than 20 years ago the Czech Republic introduced a series of incentives that stimulated a massive inflow of foreign direct investment. Since that moment the government has worked tirelessly to ensure the country remains attractive to foreign investors and it is still one of the most successful countries in Europe when it comes to bringing in investment from US companies.  
Bolstered by a strong and diverse economy, more than 150,000 Czech firms across all sectors are supported by foreign capital. Much of this success comes down to creating an enticing business environment that appeals to investors. 
Playing an important role in this area is the Association for Foreign Investment (AFI), a non-profit organization that was created by the Czech government and by international global service providers to attract foreign investors. 
"We were created in the 1990s to help change the legal, regulatory and political environment in a way that is attractive for investors and provides long-term stability," states Kamil Blažek, Chairman of the Steering Committee, AFI. "The concept of what we do is based on the idea that to have a successful investment you need trust. To build that trust it's helpful to have someone in between who can moderate the communication and help the public side to understand the needs of private investors. That's the role we play."
The ability to attract investment has made a substantial contribution to the country's economic growth and the creation of jobs, as well as fostered innovation and technological advancements. This has led to the Czech Republic earning a deserved reputation as a country where forward-thinking companies are developing cutting-edge technology that is being used on the global stage. In order to further develop these companies, incentives have been made available for foreign investments in certain sectors such as aerospace, nanotechnology and life sciences, and for those that require R&D activities or create jobs for university graduates. 
"We are very future-orientated and are currently supporting numerous areas that are still being developed. This covers industries such as biotechnology, nanotechnology and space-related ventures, which all require investment in order to grow," reveals Blažek. Ranked in the top quarter of the global Ease of Doing Business index, the AFI is working to further enhance the business environment for foreign investors and is hoping to attract more interest from the US. 
"We like to stress that Czech legislation is extremely similar to major players in the rest of Europe such as Germany, Spain and France," adds Blažek. 
"We find that a lot of investors from the US don't realize this fact so we highlight that we have identical rules and frameworks to those nations. That means you get the same level of protection as other western European jurisdictions. In fact, I am in no way hesitant to compare the Czech Republic to Scandinavia or other powerful European countries."