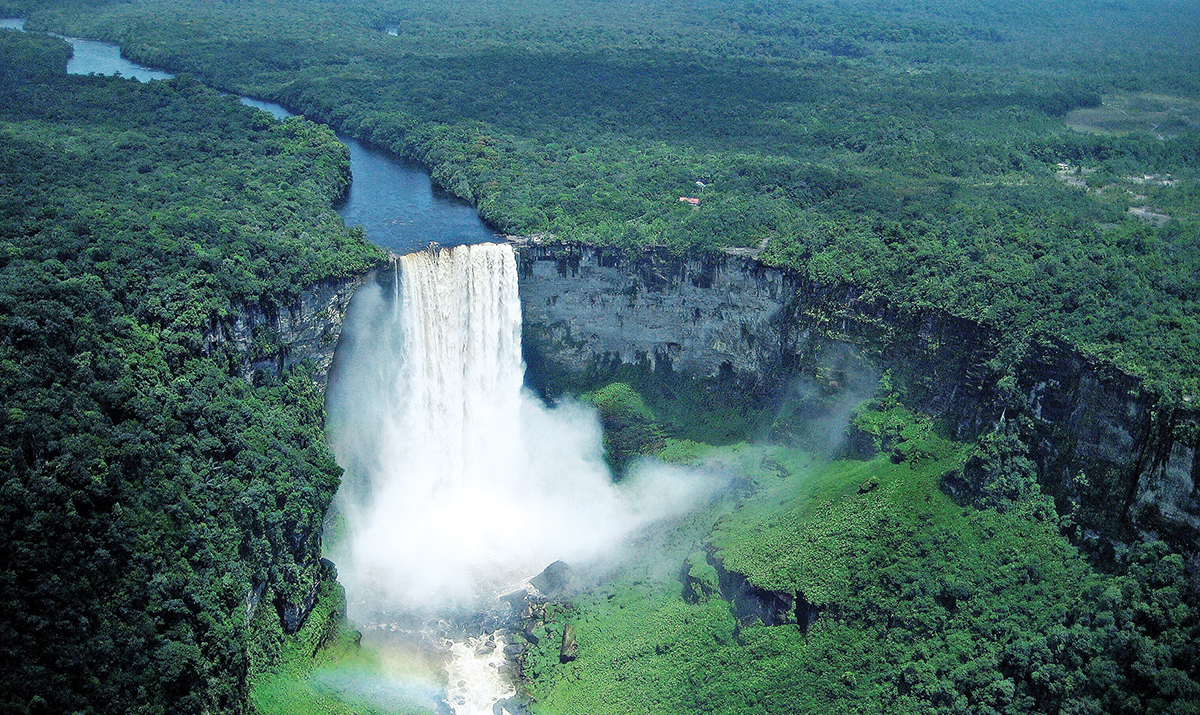 17 Aug

Crucial low carbon economy
Guyana's Low Carbon Development Strategy

 

is the centerpiece of diversification plans targeting five-fold economic growth in the next decade
With the clock ticking on efforts to prevent irreversible global warming and permanent damage to the world's delicate ecosystems, Guyana is striding toward the multiple targets featured in its comprehensive Low Carbon Development Strategy (LCDS) 2030.
Launched earlier this decade, the latest edition of a groundbreaking initiative sets out four key inter-linked objectives to ensure rainforest protection. The core principles are focused on value ecosystem services, investment in clean energy and stimulation of low carbon growth, protection against climate change and biodiversity loss, and alignment with global climate and biodiversity goals.
Guyana's rainforests comprise around 85% of its landmass and store approximately 22 billion tonnes of CO2, meaning if they were chopped down, that harmful gas would be released into the atmosphere. To ensure this never occurs, the government has introduced and enforces tough legislation that means only a minuscule amount of its forestry reserves — valued at $500 billion — can be cut down, although in reality the volume is even less.
"We harvest only 400,000 cubic meters of wood, not even close to 50% of our annual allowance," says President Ali, adding his country is sacrificing billions of dollars in potential revenue due to its protective stance. "If the world is to work in a fair manner, forget about oil and gas; our forests stand at $195 billion from a carbon perspective," he adds.
Despite that potentially mind-boggling windfall, over the past 14 years, Guyana has received close to $220 million from Norway via a results-based payment process hailed as a prime example of international collaboration.
The funds have been invested in low carbon development initiatives, as well as the financing of renewables — including large-scale solar energy projects — flood protection work, green job creation and land titling and development funds for indigenous peoples. The successful intercontinental alliance clearly shows it is possible to maintain forests while also creating prosperity and opportunities for Guyanese people to thrive.
Carbon credit windfall aids spending plans
Carbon credit revenues were boosted further in late 2022 when the inaugural payment under a multi-year agreement with US oil major Hess Corporation was received. The transaction of $75 million will be repeated this year and keep growing so that it reaches at least $750 million at the end of the current decade.
Officials allocated 15% of the first payment from Hess to community and/or village-led programs for indigenous peoples and local communities, with the balance set aside for national priorities outlined in the LCDS 2030.
Guyana has been so environmentally responsible that it has been rated as having one of the world's best forest monitoring, reporting and verification systems in the world. Years of progress in developing robust forest management and governance systems provide the overarching framework for sustainable forest management. These include a national log tracking and tagging system, forest inventory, annual planning for timber harvesting and community development structures, along with rigorous enforcement of stringent codes of practice.
On an individual basis, each of these measures would push Guyana closer to its LCDS 2030 goals, but when taken together, they prove the nation is determined to achieve its environmental targets, while at the same time generating funds for national socioeconomic development projects and ambitions.
Having already delivered on forest governance, transparency, international certification, community forestry and forest legality systems, Guyana is now advancing its work on the EU Forest Law Enforcement Governance and Trade initiative. Steady progress has been made on the path to the licensing of its timber products. 
In addition, the Guyana Forestry Commission has coordinated a multi-stakeholder process to inform the development of a country standard for forest certification. Such success has been repeated elsewhere, with over one million acres of state forest lands to date being allocated to communities for sustainable forestry activities and community development. These efforts mean Guyana is playing a vital role in the international fight against climate change.