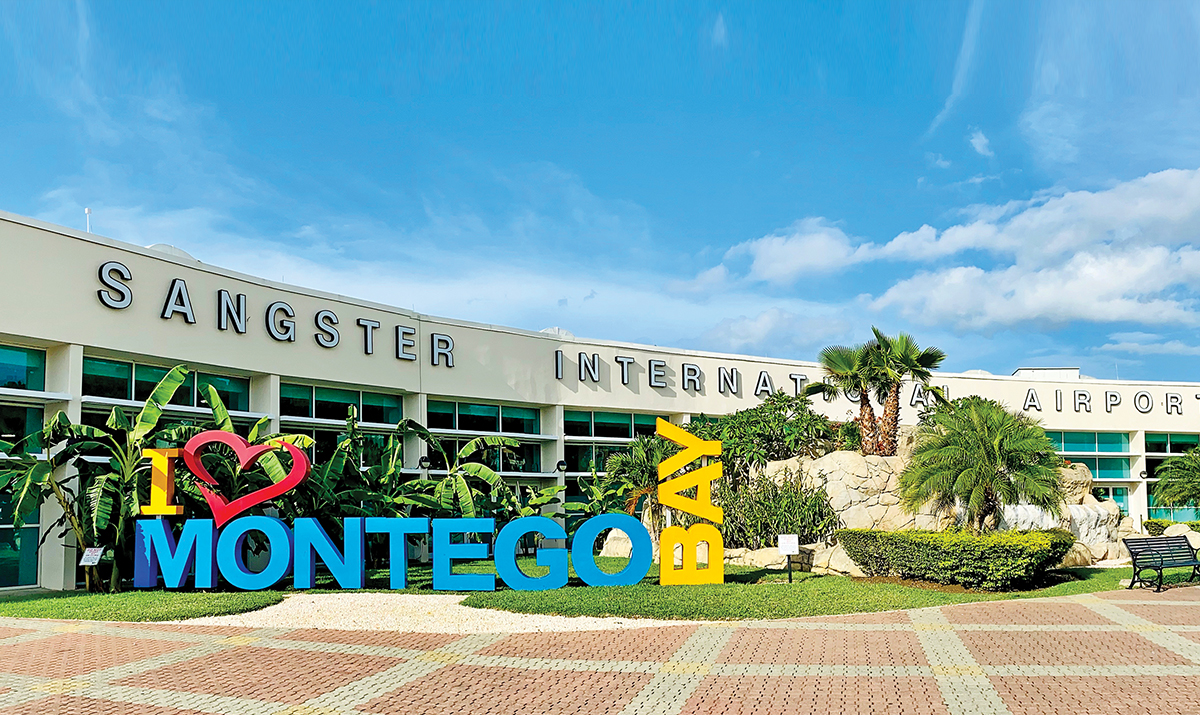 12 Sep

Clear skies all the way for aviation sector in Jamaica
Soaring visitor numbers mean international and domestic airports are already operating at near pre-COVID traffic levels once again
Like other island nations, Jamaica's economic health and pace of socioeconomic development is hugely dependent on a safe, efficient and extensive aviation industry that must be agile and flexible enough to cope with the 24/7 demands and pressures of today's hectic trade and tourism sectors.
The country's aviation presence is spearheaded by the Airports Authority of Jamaica (AAJ), an entity that is preparing to celebrate its 50th anniversary in 2024. The authority is an independent statutory body with initial responsibility — both ownership and concession oversight — for Jamaica's pair of key international airports: Norman Manley International Airport in Kingston and Sangster International Airport at tourist hotspot, Montego Bay, as well as ownership and management of Ian Fleming International Airport near Ocho Rios.
"There has been a significant increase in the number of tourism facilities and tourism developments in Jamaica," confirms AAJ President, Audley Deidrick. "The AAJ, lead by the government, embarked on major airport developments to deal with the growth in our tourism and aviation traffic and established our international facilities on a par with world standards.
"As a small country, major developments in infrastructure come at a very high cost. The government rightfully chose to use the vehicle of Public-Private Partnerships (PPPs) to develop our airports. The process began with the privatization of Sangster International Airport (SIA) in 2003. At that same time, Norman Manley International Airport (NMIA) was also operated along private lines, albeit as a subsidiary of the AAJ, NMIA Airports Limited."
In addition to overseeing those international aviation gateways and the famous Ian Fleming International Airport in St. Mary named after the creator of James Bond, the AAJ also works in close partnership with the firms involved in running and managing them, including MBJ Airports Limited (MBJ) at SIA and PAC Kingston Airport Limited (PACKAL) at NMIA. This ensures the AAJ has a say in new infrastructure investment and operations at the airports and keeps its fingers on the pulse of international aviation trends, developments and challenges.
Back in 2003, MBJ was awarded a 30-year concession agreement by the government to operate, maintain and develop SIA. The PPP has been an outstanding success as SIA has invested more than $300 million in airside and landside infrastructure in an expansion drive. This is reflected in SIA being named the region's leading airport for 15 consecutive years by industry judges.
That large capital expenditure program — which includes a modern Departures Lounge and central Food Court that officially opened last year — has seen SIA grow into the largest airport on the island in terms of flights and passenger numbers. Indeed, more than 95% of the passengers who transit SIA do so on international flights, mostly bound for markets throughout North America and across Europe, according to the latest data compiled by MBJ.
Passenger numbers soar on getaways
Jamaica's popularity and reputation as a leading vacation destination saw passenger numbers at SIA set new records in April-June 2023. More than 400,000 people per month used the airport and that extremely high passenger traffic volume is forecast to remain at that impressive level for the rest of the year.
"The recovery of Jamaica's aviation traffic coming out of the COVID-19 pandemic has been nothing but phenomenal," Deidrick states. 
"At the beginning of the pandemic in 2020, our prognosis was that traffic would take five to six years to recover. However, at the end of 2022, Jamaica — along with countries in Latin American and the Caribbean — had already hit 91% of 2019 traffic compared with a global traffic recovery rate of only 72%, according to statistics from Airports Council International.
"Our tourism traffic accounts for more than 80% of our aviation traffic so when we talk about recovery at this juncture, we are talking about traffic substantially influenced by the return of tourism."
A similar positive pattern has been recorded at NMIA, which sits on a picturesque peninsula just 20 minutes' drive from Kingston's business center. Bordered by the seventh largest natural harbor in the world, the modern airport is the primary gateway for business travel to and from Jamaica and for the movement of air freight.
PAC Kingston Airports Limited has operated NMIA under a 25-year concession agreement since 2019. The airport caters to over 1.7 million passengers, with an approximate 4% average growth rate and handles over 70% (17 million kilograms) of the island's air cargo per year. The airport business network now comprises more than 70 companies and government agencies, with over 3,500 persons directly employed at the airport.
Jamaica's third international airport, IFIA, is found in the tourism belt of northern Jamaica close to the city of Ocho Rios. More of a small boutique airport, given its modest 4,800 foot runway and associated infrastructure, IFIA caters to small turboprop and jet aircraft accommodating between 30 and 80 passengers. 
"We recently upgraded the facility to meet all requirements of an international commercial passenger airport in terms of customs, immigration, security requirements, terminal facilities and air navigation procedures," Deidrick reveals. "It is now ready as our third
international airport to receive commercial passenger traffic from all destinations with these aircraft sizes and range, as well as offering opportunities for Fixed Based Operations to cater to private aircraft."