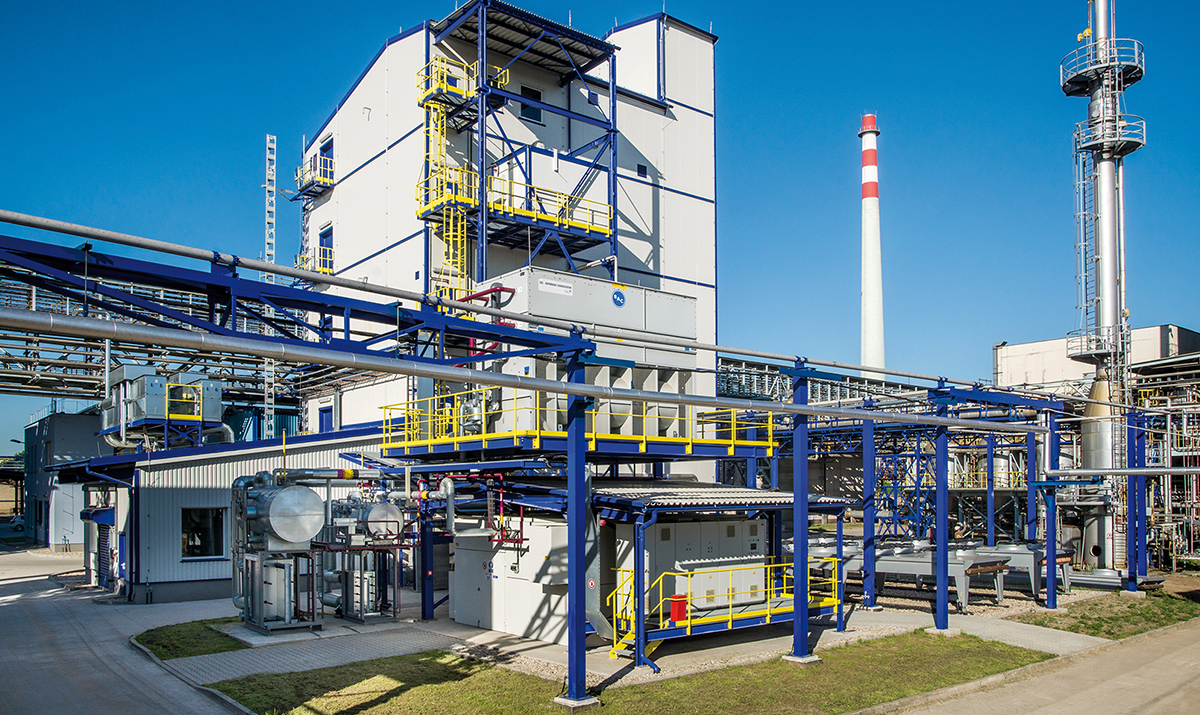 26 Oct

Chemistry expertise fueling sustainability across industries

Founded in 1906 and initially focusing on the research, development and production of hydrogen cyanide, Draslovka is now recognized as a pioneering technology leader that has brought revolutionary advancements to the mining, automotive and agricultural industries, further transforming the way that these sectors operate on an international scale. 

The CN-based chemicals produced by the family-owned company are also essential in the production of numerous items that are used on a daily basis by people around the world, such as smartphones and vitamins. This has helped the company to extend its footprint beyond the Czech Republic, with business units in seven territories and sales teams in more than 80 countries. 

In order to expand into new markets and bolster its global presence, Draslovka has established strategic partnerships, including a string of acquisitions in the last two years. 

"Our headquarters are in Prague but we are an international company and we implement best practices and transparent standards," explains the chairman of Draslovka, Petr Pudil. 

"We have a board of directors, with a majority of independent directors, as well as an advisory board. We are also financially backed by Oaktree Capital Management, which invested more than $150 million, after in-depth due diligence, through a preferred equity instrument in 2021."

This investment has been important as it has allowed the company to complete the acquisition of the revolutionary glycine leaching technology. The most cost-effective and environmentally sustainable way to produce precious metals and critical minerals, glycine is a cost-effective and non-toxic amino acid that is fully biodegradable. 

An environmentally friendly and stable reagent, it is easily metabolized by living organisms and plants and is used as a food additive for both humans and animals. This groundbreaking piece of technology highlights the company's commitment to safely and efficiently produce the highest-quality products that are driven by the need to protect the planet. 

"Our current focus is mining and the fumigation of agricultural products, which are both critical elements of the global economy and have an enormous environmental impact. To meet the challenges and maximize the opportunities of a green economy, we need new and much more sustainable chemicals as well as metals like copper, nickel and cobalt," says Pudil. 

"The issue is that current practices make mining these metals one of the dirtiest businesses. Draslovka is aiming to change this through the commercialization of our proprietary glycine technology. We are the only company in the world that is able to use glycine for the mining of metals. Using this process, gold, nickel, cobalt and copper can be extracted without using any toxic chemicals. Glycine is biodegradable and recyclable and it's even more efficient than recent methods. 

"The value proposition for customers is that the efficiency of their mining operations are greatly increased by using a naturally occurring, non-toxic substance that has no harmful impact on the environment. This is really revolutionary."

Pudil continues: "The speed with which we are commercializing the technology is partly driven by the fact that we are already a major player in the field of specialty chemicals for the mining industry. We achieved that through carefully selected acquisitions globally, such as in 2021 when we acquired a mining solutions business from American company Chemours with a large production capacity in Memphis. We have also acquired sales and marketing operations in many other countries. 

"By using glycine as a leaching method, C02 pollution is eliminated from the mining part of the supply chain. We are already commercializing this technology with many mining companies. This includes Barrick Gold, the world's second-biggest gold mining company, which has announced it is now finalizing the last tests with our technology and will implement it in all its mines globally."

Cutting-edge products

A global leader in the production of sustainable fumigants and biocides, part of Draslovka's expansion plans include developing new biodegradable products that will become essential within the enormous $6.2 billion fumigation market. 

In order to create these new products, the company has invested heavily in research and development and has acquired fumigation companies based in Europe, South Africa and Australia. 

"We have developed various new fumigants and biocides that will make an essential part of the economy more resilient and more efficient. The issue is that the industry currently uses very archaic chemicals which cause significant harm to our ozone layer and pollute the atmosphere with an incredible amount of carbon dioxide," reveals Pudil. 

"Most of them are cancerogenic. As these old molecules are banned or being phased out, we are replacing them with biodegradable substitutes which have no negative impact on the ozone layer, have no C0₂ emissions, and can be controlled and used without any substantial hazards to the health of the people who are working with these fumigants. 

"Our fumigants product line is a transformative collection of products which Draslovka is successfully registering all around the world. We are working closely with the biggest fumigation companies and we have acquired a company in Belgium, which is the second biggest fumigation company in Europe."

This is the latest example of Draslovka's forward-thinking approach that has led the company to produce cutting-edge products and technologies for more than a century. These have been created in the agricultural solutions, mining solutions and specialty chemicals sectors and have ensured that outdated practices and solutions are replaced. 

One of the most significant achievements was the development of its proprietary glycine leaching technology that allows companies to substantially enlarge their production capacity at existing mines without having to increase their environmental footprint. 

"With glycine leaching technology we addressed two critical global issues. One is the need to make the economy greener while the second is to alleviate a potential shortage of precious and critical metals, which if left unchecked is expected to lead to a sharp price increase due to lack of supply," says Pudil, who also serves as a member of the Board of Directors of GLOBSEC, a leading think-tank in Central Europe. 

"With our technology, we can reopen existing tailings to extract the remaining valuable content in a sustainable way, which is a real revolution, because we are making something that has a negative value on the balance sheet of the mining company into a valuable asset. 

"We are also bringing additional value to our value proposition with an AI-driven metallurgical assistant, to help improve the throughput of existing operations. 

"Our sensors test the quality of customers' ore, verifying results in 15 seconds instead of 24 hours, which is the standard business practice. There is no other company in the world which has such a highly advanced set of solutions for optimizing mining."
A commitment to sustainability
An intrinsic part of the solutions it provides and within the industry it operates, sustainability has always been a critical consideration for Draslovka. In fact, the company's commitment to the environment has been widely recognized, as evidenced when it won the prestigious Solar Impulse Efficient Solution Award in 2020, which further highlighted its ability to bring innovative and eco-friendly solutions to life. 
Further highlighting its efforts to create a positive impact on the environment, the company recently released its first-ever sustainability report which showcases the efforts to integrate ESG considerations into its operations. It also discusses Draslovka's core strategy for the future. 
"Draslovka's mission is to harness technology to transform critical industries for people and the planet and at the very heart of this mission is sustainability. Our strategy rests on four core pillars guiding our efforts to improve the sustainability of our business. These are innovating for sustainability, preserving the environment, protecting and developing our people, and operating responsibly," states Pudil. 
"If we take a step back to look at society and the global community, our sustainability strategy fits seamlessly. We carefully select opportunities that bring our customers economic value and environment-friendly benefits that are also appreciated by the market. This last point is important because if you are not in sync with the market, you are creating structures which are not sustainable. You are also undermining the financial stability of states and creating high inflation and high interest rates."
With sustainability a key issue moving forward, Pudil believes that Draslovka's ability to constantly innovate will prove crucial if the company is to achieve its lofty growth and diversification goals. 
Discussing where he sees the company growing in the next five years, he concludes: "Ultimately, our vision is to become the biggest provider of solutions for mining and fumigation and to harness the power of technology to transform critical industries for people and the planet. That is why innovation has always been at the center of our activities, because without innovation we would not be able to help humanity overcome the critical issues it faces, such as climate change."