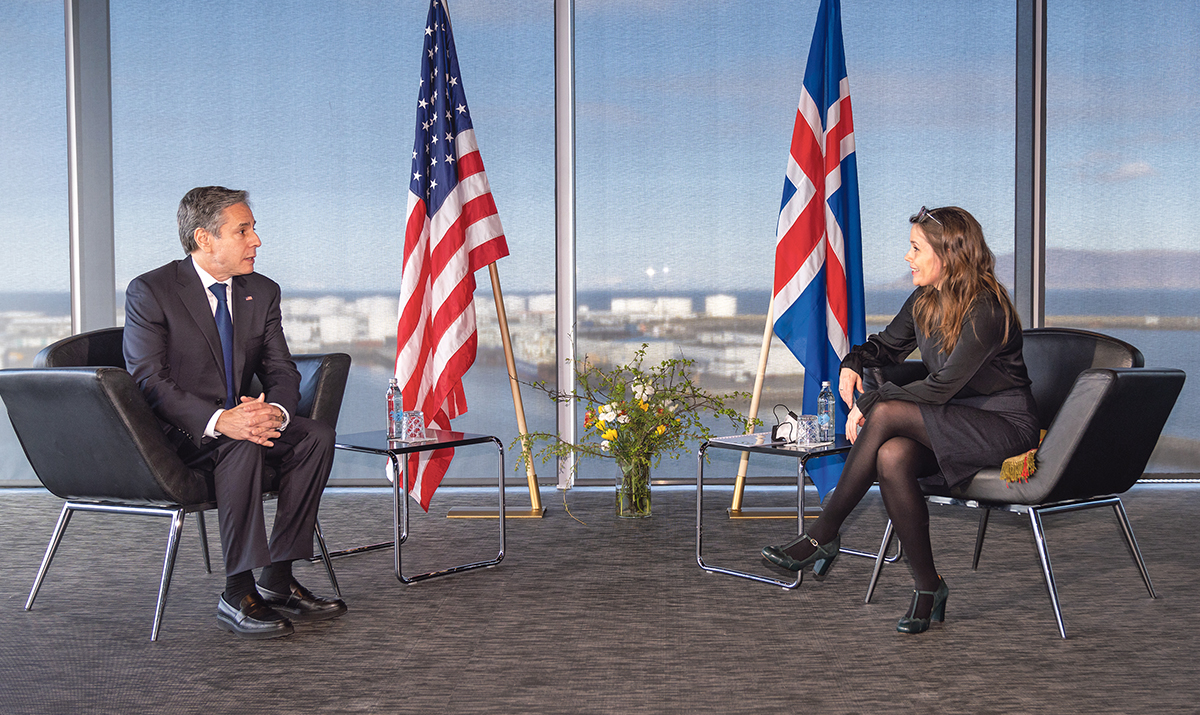 04 Oct

Beautiful and innovative, Iceland is an Arctic masterpiece

Every year on October 9, communities across North America celebrate Leif Erikson Day to mark the arrival on the continent of the Icelander and his ship's Nordic crew, who are widely believed to be the first Europeans to cross the Atlantic more than 1,000 years ago.  

"We share a long history! Iceland was settled in the ninth century and, not many decades later, we started sailing to the west. Since then, Iceland has always been at the center between Europe and North America," states Prime Minister Katrín Jakobsdóttir. "We're located in the middle of the North Atlantic Ocean at the junction of the European and North American tectonic plates. That makes us a connection point between the two continents, which has formed the basis of our relationship with the US over the centuries." 

The US was the first country to recognize the island nation's independence from Denmark in 1944 and the two have sustained over 80 years of unbroken diplomatic relations and a 70-year bilateral defense agreement. 

According to a statement made by Secretary of State Antony J. Blinken in June: "The US and Iceland share a strong and enduring friendship, based on commitments to democratic principles, freedom and our collective security as NATO allies. We are working together to address the shared challenges in the region and globally across a wide range of economic, human rights, security and climate issues, as well as through cooperation in the Arctic Council … I look forward to jointly creating a bright future for our peoples in the years to come."

With the Biden administration keen to deepen US ties with Nordic nations, Blinken visited Reykjavík in 2021 to reenergize the US-Iceland relationship, as well as their collaborative efforts toward protecting the Arctic's environment and promoting the region's sustainable, peaceful development. 

During his trip, he conveyed the US's commitment to the partnership. "I particularly want to commend Iceland for its leadership on gender equality, from equal pay to political representation; its contributions to strengthening human rights worldwide … Iceland's voice is a powerful one, a voice of integrity, a voice that is heard and listened to around the world." 

The volcanic and glacial island is also an example to others when it comes to hydropower, geothermal energy and decarbonization, he added: "Iceland is increasingly a source of innovative climate technologies, not just for Iceland but for the world."

The countries' robust links extend beyond diplomacy, says Jakobsdóttir: "We enjoy a very close relationship with the US in trade, education and many other sectors of society; and we welcome a lot of US tourists." 
New opportunities for trade and investment
The US is currently Iceland's biggest trade partner and among its largest inward investors. To date, private-sector investment has mainly gone into aluminum, one of the Nordic nation's three major traditional industries alongside fisheries and tourism. However, the number of sectors attracting investment is rising in line with Iceland's rapid diversification into a broad range of innovative high-tech, blue and green areas. 
"A few years ago, the government significantly increased its support for research and development, which isn't limited to specific industries. By encouraging companies to choose Iceland as their R&D destination, we aimed to generate knowledge that would translate into increased export income, solidifying Iceland's position as a forward-looking and competitive player in the global marketplace," explains Minister of Finance and Economic Affairs Bjarni Benediktsson.
This approach is paying off. In 2022, the country's gross domestic product rebounded from COVID-19 with a growth rate of 7.2% to reach $28.5 billion, while preliminary data from Statistics Iceland suggest it was the third-best performing economy in the European Economic Area (EEA) in the second quarter of this year after Ireland and Lithuania. Inward investment flows are also on the up: rising from $153 million in 2021 to $620 million in 2022. 
The land of fire and ice's many advantages for investors mean that these flows are sure to continue growing. For example, its membership of the EEA gives its exporters free access to a market of over 450 million people, its digital infrastructure is world class, it is extremely well ranked for quality of life, its young, highly educated population speaks English and, of course, Iceland is in a very convenient location between the US and Europe. 
In addition, notes Minister of Infrastructure Sigurður Ingi Jóhannsson: "Our successful transition to renewable energy sources offers vast potential for investors and opens up numerous exciting avenues for sustainable growth and development."