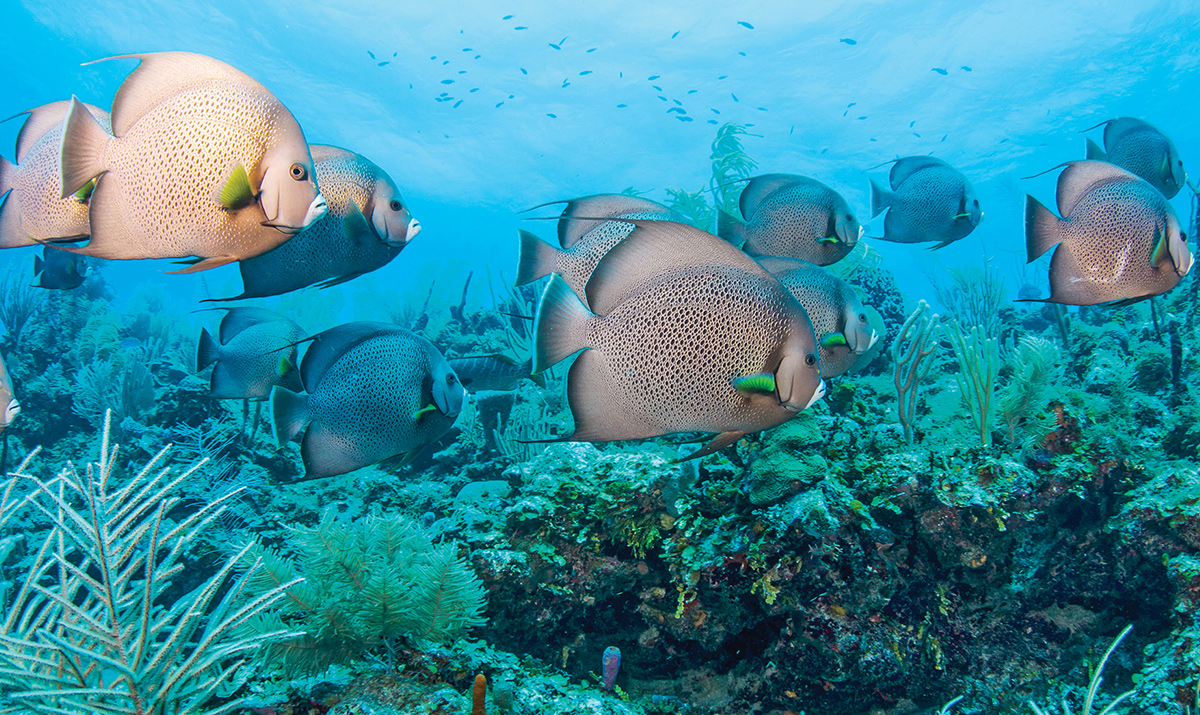 22 Aug

A unique and sustainable destination
Home to the second-largest living barrier reef in the world, remarkable Maya sites and tropical rainforests, Belize is a nature-lover's dream

 
Over the four decades since the Central American nation gained its independence in 1981, Belize has ramped up its infrastructure and transformed itself into a viable and extremely desirable destination for international tourists. 
Tourism plays a fundamental role in Belize's economy and sits alongside agriculture as the country's most important industry. In line with most nations around the world, global travel restrictions imposed by the COVID-19 pandemic severely impacted Belize's tourism sector and its economy felt the strain. However, the moment restrictions began to be lifted, tourists started returning to the country and arrival numbers have been steadily rising ever since. 
According to the latest figures from the Belize Tourism Board, the nation welcomed 370,524 оvеrnіght tоurіѕt аrrіvаlѕ in 2022, an increase of 69% on the previous year, which represents аррrохіmаtеlу 73% оf thе 503,166 guests thаt vіѕіtеd Веlіzе іn 2019. This strong recovery has come largely from air travel, in particular from the US, which is the source of around 70% of all arrivals into the country. Belize's cruise market also saw a 52% year-on-year rebound in 2022. 
With the recovery predicted to continue again this year, Minister of Tourism and Diaspora Relations Anthony Mahler is not at all surprised to see the country's tourism industry bounce back so quickly and he attributes this to the considerable draws of Belize's striking natural beauty and memorable historical landmarks. 
"We're very optimistic that visitor numbers will continue to increase, because Belize, as it says in our national anthem, is blessed with wealth untold," states Mahler. "We have the second-largest living barrier reef in the world. We also have three of the four atolls [ring-shaped islands formed of coral] in the Western Hemisphere: Glover's Reef Atoll, Lighthouse Reef Atoll and Turneffe Atoll. And we can't forget the Great Blue Hole, a globally famous diving zone. 
"In addition, we have rich tropical rainforests, with many rivers and jungles that are all teeming with wildlife, flora and fauna, plus we have the heritage of the Maya civilization and of the Garifuna people. We're a diverse country in our tourism product and in our people, which gives us the opportunity to use the sector as a vehicle for economic development in order to improve the quality of life for all of the people in Belize."
Natural beauty and stunning attractions
Located between Mexico and Guatemala, in many ways Belize has more in common with Caribbean islands than it does with its Central American neighbors. Home to many different ethnic groups, including Chinese, Creole, East Indian, European, Garifuna, Lebanese, Maya, Mennonite and Mestizo, each with their own cultural traditions, the country's east coast boasts beautiful beaches, while its massive barrier reef is dotted with more than 400 low-lying islands that make it a firm favorite with snorkelers and divers. 
The Great Blue Hole, a striking giant marine sinkhole, has become one of the world's most beloved dive sites thanks to its crystal-clear waters that contain a myriad of marine life, including tropical fish and spectacular coral formations. Located 62 miles from Belize City on the mainland, the vast expanse of interconnected underwater caverns provide divers with the opportunity to explore the country's awe-inspiring barrier reef and to see giant groupers, reef sharks and nursing sharks, along with many other reef residents. 
Travel to the west of the country and there are rainforests packed with incredible wildlife, exotic birds and striking plants. These jungles are also peppered with Maya sites like Caracol, which is renowned for its towering pyramid. Discovered in 1938, excavations uncovered royal tombs, monuments, murals, altars and ceramics. Lamanai Archaeological Reserve is another ancient site that houses a diversity of attractions, including Maya temples, a museum, a 16th-century Spanish church and a colonial sugar mill. Just north of Belize City is another impressive site, Altun Ha, which was an important Maya trading and agricultural town that existed to at least 200 BC. 
Originally excavated in the 1960s, a conservation program took place at the ancient town in the early 2000s and visitors can wander through the pristine central ceremonial precinct of two plazas and temples.
While there is plenty to entice those seeking to understand the culture of Belize, the country is also a perfect destination for those travelers who love nothing more than sitting back and relaxing on sandy beaches. The mainland itself boasts a long coastline and one of the other sun-and-sand hotspots for tourists is the small, limestone island of Caye Caulker, which has a relaxed, carefree Caribbean atmosphere, fabulous clear waters and some of the most fascinating scuba-diving and snorkeling sites in the country. 
An eco-friendly destination
One of just two English-speaking countries in all of Latin America, the other being Guyana in South America, Belize could have looked to capitalize on its growing popularity by constructing sprawling resorts and modern attractions. Instead, the government has placed an emphasis on cultural heritage and minimizing the impact caused by tourists by focusing on the eco-tourism market. 
Belize is a destination for sustainable resort stays, where people can immerse themselves in nature and culture, and the country has worked hard over the last 15 years to cultivate a reputation as an eco-friendly location. One of the most important decisions it took was when it stepped up its efforts to ban offshore drilling, which played a crucial role in reclaiming the reef and removing it from UNESCO's danger list in 2018. 
"We know that climate change is a real issue and for far too long the developed world has been able to get away with polluting the environment," explains Mahler. "Now that is having an impact on smaller destinations like Belize, so we should all be more responsible when it comes to managing our world. That is an important message I like to deliver when I travel to other nations. 
"For instance, we have a small village in the southern part of Belize called Monkey River Town. Because of rising water levels, half of the village has been washed away. Coral bleaching is another issue. However, we have made a concerted effort to tackle the impact of climate change in Belize and are proud to be home to the world's second-largest living barrier reef."
The country is also looking to improve sustainability metrics across its tourism industry and several of its resorts have already been named Green Globe Certified destinations. These boutique hotels place an emphasis on reducing their carbon footprints and, at the same time, ensuring they do not sacrifice on luxury or comfort. 
The Chaa Creek resort, for instance, has been voted one of the world's best eco-lodges and donates 10% of all its accommodation revenues to environmental and community projects under the Chaa Creek Cares initiative, while Hamanasi Adventure and Dive Resort was recognized as the first beach resort in Belize to be Green Globe Certified. 
Answering the demand for adventure
In addition to leading the way in sustainable practices and making sure that an impressive 40% of territory is under protected status, Belize is also a global frontrunner when it comes to eco-adventure tourism. Especially popular with hikers and watersport enthusiasts, there are numerous guided tours through some of the phenomenal jungles that are prevalent throughout the west of the country. 
As an illustration, Chaa Creek Nature Reserve is a 400-acre protected area near San Ignacio Town that offers extensive eco-tours through its jungle resort, or thrill seekers can try their hand at zip-lining above the jungle canopy in Mayflower Bocawina and Nohoch Che'en Caves Branch. 
Perhaps the most popular destination for those seeking adventure is Actun Tunichil Muknal. Located deep within the forest around a 45-minute drive from San Ignacio and a 45-minute hike through Tapir Mountain Nature Reserve, visitors will find a clear stream flowing from an ancient cave opening. 
Guided tours are run throughout the day, with visitors swimming into the cave before hiking along the underground river into one of the most impressive Maya sites in Belize. Known locally as 'Xibalba', there are numerous artifacts to see there, from ancient ceramics to stoneware. 
One named the Monkey Pot is among just four of its type found across Central America, while a skeleton known as the Crystal Maiden is the calcified remains of a young girl that has an almost sparkling appearance. 
Another popular experience for tourists is canoeing and there are plenty of places worth visiting in Belize to enjoy that activity. Tour companies and jungle lodges cater to those looking for this type of adventure, with some of the best areas being on the Mopan and Macal Rivers in the Cayo District, where you can paddle through the jungle and spot a variety of wildlife before making your way to small villages where locals are more than happy to discuss the beauty of the country. 
In a similar vein, kayaking provides the chance to island hop across the country's blue waters, passing coral reefs, fish, rays and even sea turtles on your journey. Horse riding tours are also increasingly in demand, with options available to, for example, explore the jungles of the Cayo District or Maya sites like El Pilar, Xunantunich and Cahal Pech.
Although all of these experiences are continually attracting more participants, it is scuba diving that remains the most sought-after activity for those traveling to Belize and by far the most prominent site for international divers is the 10,000-year-old Belize Barrier Reef. Extending the full length of the country, it forms an enormous lagoon that protects the shoreline from large waves, even during the most extreme weather. 
Appealing to both new and experienced divers, the reef is home to endangered sea turtles and more than 500 species of fish. Stretching for a staggering 185 miles, it contains an amazing array of diving sites and visitors can be assured that — unlike well-known diving locations in many other countries — even the Great Blue Hole never gets too crowded, making it even more attractive for those who love to immerse themselves in marine life.