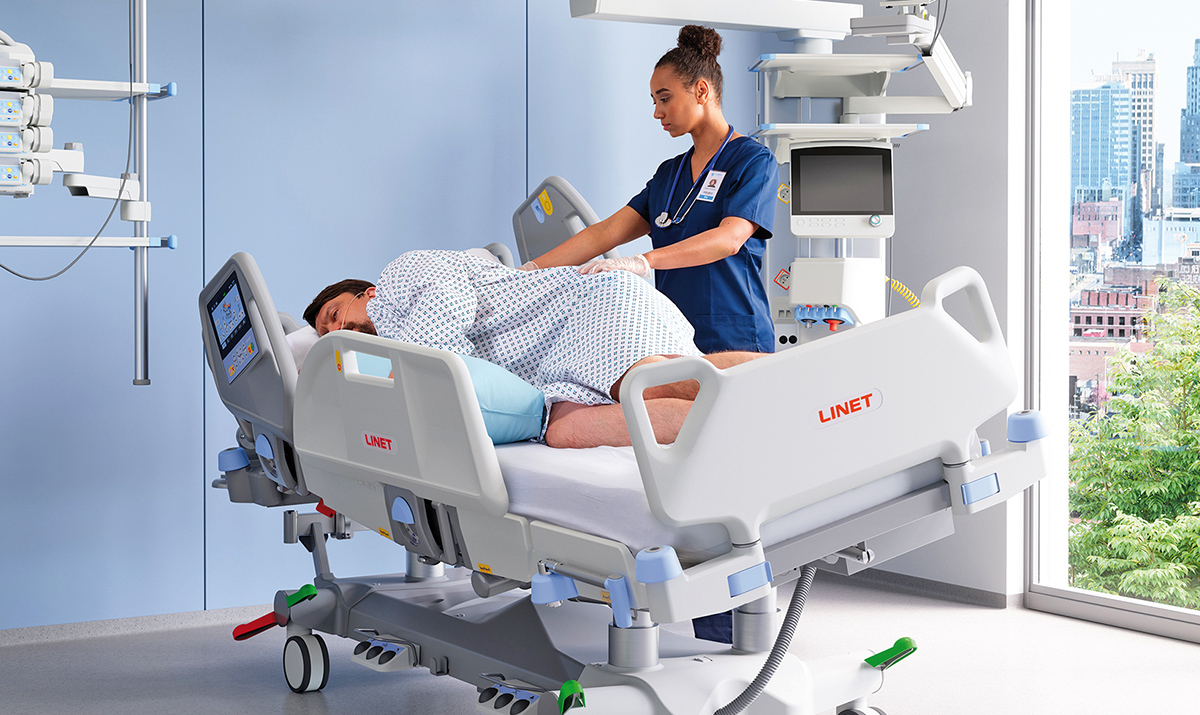 26 Oct

A leading light in the healthcare sector

When Czech entrepreneur Zbyněk Frolík purchased an abandoned farmhouse in 1990 and invited hundreds of nurses to help address the problem with medical beds, he could never have imagined that 33 years later his company would become one of the world's leading manufacturers of advanced care beds. 

It has been a remarkable last three decades for Frolík whose desire to improve the conditions for many caregivers facing hardships at work led to the establishment of LINET. After merging with Wissner-Bosserhoff, a German family business with decades of experience in innovating beds and furniture for nursing homes, LINET Group has become the global leader in developing and manufacturing advanced care beds for any hospital or nursing home ward. 

A truly global company with four production facilities, LINET products can be found around the world, with the US being the largest market outside of Europe. This is thanks to the company providing equipment for ICU, emergency and delivery rooms, as well as medical-surgical equipment and beds. 

LINET now boasts a comprehensive product portfolio of beds, stretchers, chairs, mattresses and accessories, which, in recent years, have become even more in demand. This is due to countries around the world spending more on healthcare after the significant impact of the COVID-19 pandemic. 

"The pandemic was a big shock for everybody because most of the industry completely stopped and there was a lack of beds in countries such as Italy, Spain and the United Kingdom," explains Tomáš Kolář, Managing Director, LINET Group. "If you look at the number of beds per 1,000 inhabitants, Italy has the lowest number: there are only three beds per 10,000 inhabitants. It's a similar number in Spain and in the UK, so they didn't have enough capacity for the extraordinary volume of COVID patients. Therefore they needed to build up some additional capacities, so it was very important for us to support them with the highest priority. To achieve this, we ran three shifts, 24 hours a day, seven days a week. We felt like we were only a small part of the solution but we understood we had to help them, otherwise they would have had no way to treat patients. At the same time, we are a global company and we have global sourcing. It became impossible to get steel from Italy and other components from Hungary and the UK because they were locked down. It became a real challenge to get the materials needed to produce beds and to keep people working. Fortunately, we were able to source what was needed and we followed all of the safety measures to make sure everyone working in production was checked and machinery was regularly disinfected."

The COVID-19 pandemic also highlighted the shortage of nurses in some of the world's most powerful countries. While nations are attempting to address this issue by investing in education, Kolář believes that technology could provide a solution. 

"It is a very important issue as in the US and across Europe, there is a shortage of nurses. Many didn't return to their job after the pandemic and it really is a drastic issue," he explains. "However, we believe that technology can reduce the workload for nurses. I'm speaking specifically about the monitoring of a patient whether in a hospital or a care home. 

"We have a monitoring system that is built into the room and can raise an alarm if a patient is in need of assistance. We can even measure some bio-signals and alert staff much earlier than if they were simply being visited sporadically on a ward. I'm a strong believer in new technologies being introduced in healthcare and nursing."
Embracing technology
Having successfully navigated the company through the challenges of the pandemic, Kolář, who stepped up to the role of Managing Director in 2016, is now contemplating how to take LINET forward. One issue that he believes needs addressing is the willingness of the healthcare sector to embrace a more technological approach. 
LINET invests substantial funds into its R&D activities in order to bring innovative solutions to the market and currently owns approximately 50 patents, 30 industrial models and 100 registered trademarks. This focus on developing new products with the help of the latest technology has been instrumental in the company's success. 
"I'm a strong believer in changing healthcare to a more technological sector and bringing new technologies to healthcare," he states. "This is not only about digitalization now; it's about completely new technologies and more efficient healthcare. It's also about the older generation and the transition from traditional nursing care to home care. We have to look at these directions and look at these opportunities because it will be critically important in the years ahead. 
"I believe that one day we will recognize the Czech Republic as a leader in healthcare digitalization."
With the Czech Republic emerging as a technology hub, there has been serious investment coming into the country. The US had 259 active investment projects in 2022 and Kolář is hopeful that LINET will attract some interest from investors in the years ahead. "We know how to produce our products in a modern and efficient way and we have very highly educated and technical staff," he adds. "We are also in the heart of Europe which provides links to the biggest economy in the continent, which is Germany. More than half of our exports go to Germany which is definitely a great advantage."
Investing in the future
One of Czechia's biggest success stories, LINET has grown significantly thanks to the ability of its board to recognize the areas in which it can improve. Moving forward, the company has identified two key issues that need to be addressed: one being sustainability and the other being education. 
Green investment is rising as the EU gears up to meet its 2050 net zero target, with large investments made in the manufacturing sector. This has led to LINET incorporating new sustainable approaches throughout the business. 
"We do everything we can to reduce the material which we have in our products and to produce green energy with solar stations. It comes from small things, which are somehow not very comfortable for people. But only reducing the heating by two Celsius in winter makes a big change as does switching off the air conditioner," states Kolář. 
"It's not only about solutions, it's also about behavior and communication as every little bit helps. We have taken measures such as running electric cars and producing green energy, but we're even looking at design to see if products can be produced in a more sustainable way."
This idea of planning for the future can also be seen in the education programs that are being run within LINET as it aims to fill gaps in the local medical manufacturing sector.
"We have quite a need for highly-educated workers. This is being addressed by the government but the industry itself needs to step up and produce this talent," says Kolář. "That is why we have an education program that trains people in R&D positions and production. We are seeing more and more people interested in this program and it is definitely working."