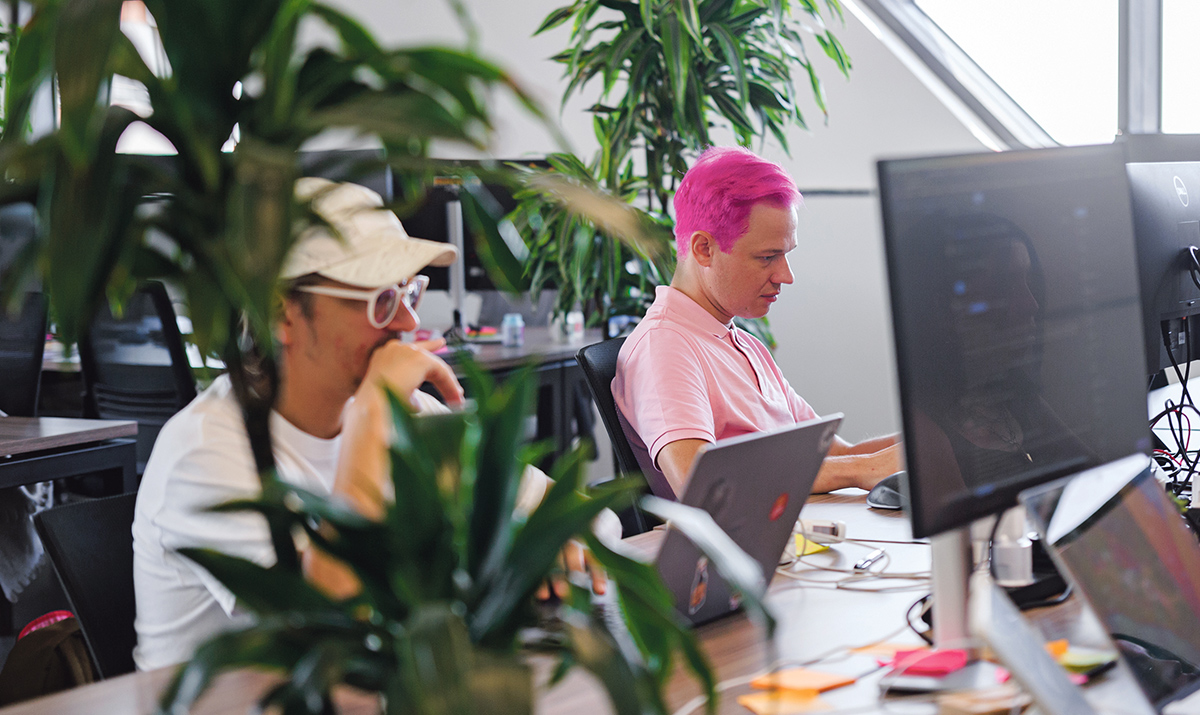 20 Nov

A favorite jurisdiction for gaming firms
Thanks to its talented and creative workforce, Cyprus is now a magnet for gaming companies
The reputation of Cyprus as a dynamic base for international video game developers and companies involved in innovative technologies has already been established, as companies here truly thrive — one example being the industry powerhouse GDEV, which has had its own evolutionary adventure.
Standing at the European forefront of the lucrative industry and as the only Cypriot firm listed on the Nasdaq stock exchange, GDEV recently rebranded from Nexters in a move marking another milestone on its journey from small developer to multinational. The group comprises a diverse range of subsidiaries that create fun, inspiring and engaging games for countless players.
GDEV's award-winning franchises, such as Hero Wars, Island Questaway, Pixel Gun 3D, Throne Rush and others, have accumulated hundreds of millions of installs worldwide, particularly in the US. "We have designated GDEV as a central hub, responsible for consolidating and nurturing the growth of our studios and successful franchises," explained Andrey Fadeev, the company's founder and CEO, when celebrating the restructuring this June. 
"Concurrently, Nexters and our other studios will concentrate their efforts on the intricate art of game development. By implementing this approach, our goal is to optimize efficiency and cultivate a culture of transparency and cooperation within our organization."
More than a decade of outstanding success
The company has certainly come a long way from its humble beginnings in 2010, which is when its founders first met. At the start of that decade, Fadeev was running a social games development studio, Progrestar, while Boris Gertsovskiy was putting the finishing touches to his plan to start a game business.
Within four years, Nexters was born and the company grew rapidly, particularly following the launch of its blockbuster title — Hero Wars — that first brought it international acclaim. However, it was the strategic decision of 2018 to scale on mobile that really powered the firm to the next level. Since then, Nexters has vastly increased its player base, revenue and team to total over 700 professionals, the bulk of them located in Cyprus.
Recalling his progress and development, and that of GDEV, Fadeev states: "The world called Hero Wars a hit, but we called it a lot of hard work. It's a mobile role-playing game that has been in top charts for over seven years.
"In 2019, we ranked among the top 10 independent mobile game developers in Europe. The following year, we reached the top five. Over a third of our revenue stems from the US. Back then, we had a player base nearing 100 million and our stability and growth were solidified.
"The turning point occurred in 2021 with our successful Nasdaq listing. GDEV is the only Cypriot company listed on the Nasdaq and the only European gaming company whose shares are listed on the exchange. That same year, we first released two new games and commenced negotiations for one of the largest acquisition deals. It culminated in 2022 in a $100 million acquisition that included the renowned Pixel Gun 3D (a popular game among teenagers in the US), a unique game from one of our new studios, with almost 200 million installs." 
Dynamic business climate remains key
While his raw talent, drive and ambition were undoubtedly key to his company's huge success, the enthusiastic CEO is eager to highlight the crucial role that Cyprus and its pro-business and pro-investment government has played.  Mostly known as a tourist destination, the island has been transformed in recent years into a hotspot for the tech and gaming industry.
"This didn't happen by accident, but was helped by the country's solid working infrastructure, effective tax management, stable economic climate and minimal government interference," he explains. "Modern entrepreneurs feel empowered here: they have what they need to make things happen, and the game development community in Cyprus has grown large and is still expanding as companies continue to relocate high-class specialists to the region."
Asked to expand on this point, Fadeev hails the low-tax environment as being crucial to the sector's runaway growth. "The first and main reason why Cyprus is so attractive for game developers and tech entrepreneurs is the intellectual property box regime, which slashes corporate income tax to 2.5%," he says. 
"Given that game companies must earn from app store royalties, this is really a huge benefit. There are also other taxes like 12% income tax, 0% on dividends and 0% on capital gains. All this makes it appealing for both business owners and top-tier employees.
"The gaming industry is blossoming. Cyprus is nurturing it with the right balance of freedom and support. It's a place now where creativity and development can truly thrive. Taxes are certainly a good incentive to come here in the first place, but that said, I don't know anyone who has stayed purely because of this."
It is not just the company's popular games that have a global reach: along with its modern headquarters in Limassol, the firm operates from various countries as it owns a number of overseas companies and utilizes several remote and in-house teams across Europe, including in Armenia and Kazakhstan.
Overcoming unprecedented disruption
As an enterprise with Russian origins, the gaming giant was also affected by the conflict in Ukraine that broke out last year, not to mention the subsequent geopolitical tension, Fadeev notes. In order to remain a global company listed on Nasdaq, "significant changes" to its operating structure were implemented, including the relocation of hundreds of employees and their families from Russia, Ukraine and Belarus, Fadeev reveals.
However, despite that massive upheaval and disruption to global markets and trade patterns, the company still posted excellent financial results, with record annual revenues of $480 million achieved and nearly $100 million in earnings before interest, taxes, depreciation and amortization registered. 
"2022 was an incredibly challenging year, bringing not only macroeconomic turmoil and industry-specific difficulties, but also unprecedented geopolitical tension," he acknowledges, before turning his attention to current and future performance and opportunities.
"The current strategy of GDEV is focused on growing and enhancing our diversified portfolio of studios and game franchises. We are considering various tools for that, including launching new games within our franchises, expanding into new game platforms and experimenting with non-gaming media.
"We are also actively looking at potential partnerships and acquisitions that can expedite our strategy execution in gaming. The US is our top revenue-generating market, and we believe that the successful execution of our strategy will help to improve our presence there even more. 
"The game development industry is highly dynamic and knowledge that was relevant two years ago may become entirely unusable. What always remains crucial is the ability to learn new things and test hypotheses. It doesn't matter what is happening today. What matters is how fast you can learn and how fast you can adapt; Cyprus' government and people are quite adaptive in this respect."
Cutting-edge technologies support talent
Cyprus is certainly determined to attract the industry's most promising talent as it looks to build its video games sector even more. This approach is music to the ears of Fadeev as he looks to launch GDEV's next growth phase with the help of the brightest and the best. "We are particularly excited by the rapid growth of the internal tech talent market," he states. "It's expanding and new specializations are emerging. Companies consist of talent and innovation. At GDEV, the desire to make a significant impact on the game development industry is not just words. It's a real task and daily workflow that's been there for the last 13 years.
"We are committed to being on trend and applying new practices that provide multiple growth opportunities. Certainly, this includes using artificial intelligence to simplify routine tasks like chatbot automation, to free our time for the creative process. Our belief in an international talent community extends to Cyprus, where we actively participate in helping to build expertise in the local market. We share our expertise, not only within our portfolio company, but with other businesses."
Having come so far in less than a decade and a half, Fadeev has no intention of taking his foot off the gas. Reflecting on his extraordinary journey, he says people should pursue what they love and search for what inspires them. "If you share our passion for games, know that we will do everything in our power to walk this path with you, and meet our audience expectations," he enthuses. "We invest our skills, our experiences and our lives into what we love, and it's always rewarded. That's why we have not only survived but thrived as a company. We will continue following this path in the future. We stand at a crossroads, witnessing the evolution of fascinating technologies. It's a time that demands belief and complete dedication to what we are doing, learning from diverse fields and experiences."