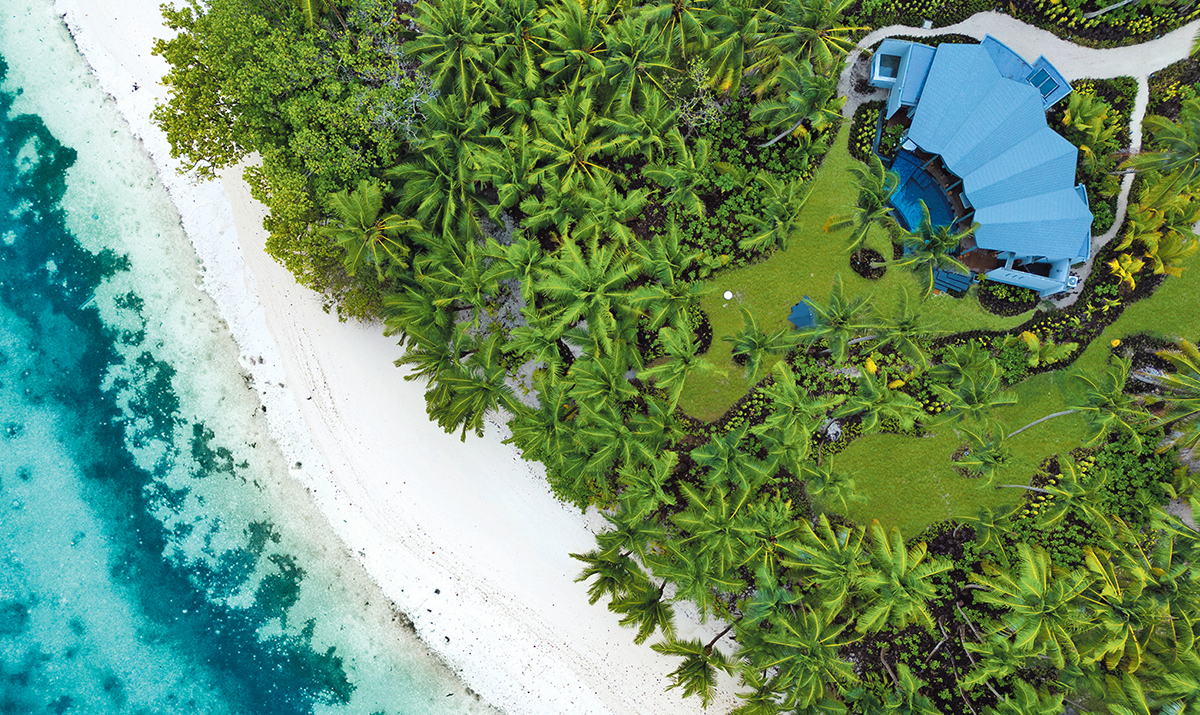 12 Oct

A conscious hospitality industry
The government and leading hotel operators are working together to ensure the country's natural beauty is promoted and protected
Blessed with pristine waters, mile-upon-mile of sandy beaches and exquisite flora and fauna, Seychelles has never struggled to attract visitors. The tourism industry has long been the top contributor to the nation's economy, with the value it added to Seychelles' gross domestic product measuring $559 million in 2019. This figure more than halved in 2020 due to the COVID-19 pandemic, which was near catastrophic for the country, but with visitor numbers once again on the rise there is reason to be optimistic about the future. 
According to the islands' National Bureau of Statistics, visitor numbers reached more than 332,000 last year, marking an 82% increase in arrivals from 2021. With travel restrictions being lifted around the world, Seychelles is expecting these numbers to increase in 2023 thanks to a host of marketing campaigns and new developments in the hospitality industry. 
"By early 2025 there will be around 2,000 more beds available to add to the over 14,000 that we already have," explains Sylvestre Radegonde, Minister of Foreign Affairs and Tourism. "Those beds are mostly spread on Mahé, Praslin and La Digue, our three main islands. We are also hoping to improve connectivity as, right now, we don't have direct flights to and from Europe. Most of our visitors have to fly through Turkey or the Middle East and, ideally, we would like to offer direct flights," he notes.
"One of our objectives is also to diversify our market, trying to tap into other source countries in Eastern Europe, Asia and the Middle East. We have been marketing our product in these regions and showing what we offer: much more than just sand and beaches, Seychelles is a beautiful country with a rich culture that we want people to explore."
Highlighting its unique offering
Enjoying a warm, tropical climate all year round, Seychelles is an all-season destination, appealing not only to couples on their honeymoon, but also to families and single travelers. In addition to its picturesque beaches, spotted with granite rocks that give it an unmistakeable look, more than 40 of the 115 islands on the archipelago provide a wealth of unforgettable experiences. 
Seychelles displays a variety of sought-after scuba-diving spots and a fascinating underwater world to investigate, while those seeking an adventure can follow hiking trails to mountain tops. There are so many natural wonders to explore, from the world's largest coconuts and giant tortoises, to nesting sites for the endangered hawksbill turtle, while the country's Creole cuisine is another major draw. 
"Seychelles really is a unique destination thanks to its natural beauty, diverse wildlife and fascinating culture. Those visiting the Indian Ocean paradise can enjoy comfort and luxury with international hotel operators such as Hilton Worldwide. Hilton offers a diverse range of brands that cater to the preferences and needs of every traveler. We have some of the most stunning beaches in the world and an abundance of marine and national parks," states Hilton country general manager, Andre Borg.
A well-established operator with a significant presence in Seychelles, Hilton currently manages more than 230 rooms across four properties: Hilton Seychelles Northolme Resort & Spa; Hilton Seychelles Labriz Resort & Spa; DoubleTree by Hilton Seychelles — Allamanda Resort & Spa; and Mango House Seychelles, LXR Hotels & Resorts. Hilton also has plans to expand its offering in the coming months with the addition of Waldorf Astoria Seychelles Platte Island and Canopy by Hilton Mahé, thus capitalizing on the return of guests to the country.
"The highly anticipated Waldorf Astoria Seychelles Platte Island will be an eco-friendly destination comprising 50 unique seafront villas, completely powered by solar energy. The resort will be home to native hawksbill turtles, eagle rays and manta rays to name a few, and the island's garden will provide a large portion of its fruits and vegetables, which will deliver a sustainable farm-to-table culinary experience for guests," says Borg.
"Canopy by Hilton Mahé will mark the introduction of the first lifestyle property for Hilton in Seychelles. The hotel is a 120-room property located in Anse à la Mouche, which is in close proximity to the beach," he adds.
Much like the country itself, Hilton has placed a firm emphasis on sustainability and protecting the destinations where it operates. "We focus on local sourcing using indigenous ingredients from local farmers," explains Borg. "At Hilton Seychelles Northolme Resort & Spa, we collaborate with the Marine Conservation Society of Seychelles to develop coral reef restoration programs."
On Silhouette Island, where Hilton Seychelles Labriz Resort & Spa property itself covers only around 7% of the land, Hilton works as custodian for the rest of the island as well. "We made sure that the rest is untouched so the natural beauty and endangered species such as the Seychelles sheath-tailed bat and the Aldabra giant tortoise are protected," enthuses Borg.
Alongside the government of Seychelles, Borg believes that private hospitality companies such as Hilton have a strong role to play to minimize their environmental impact. "At Hilton we are passionate about driving development in Seychelles and we're constantly looking for ways to enhance the guest experience," he adds. "Through our Travel with Purpose commitment and partnerships with local businesses, we've been able to create a sustainable tourism industry that benefits the local community and our guests. Ultimately, our goal is to leave a positive lasting impact in Seychelles and its community, while providing our guests with an unforgettable holiday experience."
An attractive all-year-round destination

 
Luxury hospitality brands are helping to entice visitors from the US, the Middle East and Asia

 
The tourism industry in Seychelles has traditionally flourished thanks to an influx of visitors from across Europe. Last year alone, almost 45,000 visitors flocked in from Germany and a similar number from France. Last year also saw a significant rise in the number of tourists from countries such as Israel, India and the United Arab Emirates. 
These three countries combined brought in 51,668 visitors in 2022, while the US registered 12,000 visitors — a significant rise of 104% compared to the figures for 2021. 
"The US remains a key market for us and we like to promote the fact that not only does Seychelles have some of the most beautiful beaches in the world, but the country offers an amazing culture that is influenced by Asia, France and Africa, making it truly unique," reveals Andre Borg, country general manager at Hilton.
While connectivity has been pinpointed as a challenge, Seychelles' proximity to the African continent is definitely an advantage for remote visitors, including from the US. "There is a lot of demand in the US for twin or combined destinations. We are close to Kenya and Ethiopia so you can do a safari in those countries and then have a beach holiday in Seychelles. This makes it a very enticing destination," Borg states.
In addition to Hilton, luxury hospitality brands based in the archipelago include Le Méridien Hotels and Resorts, Kempinski, Raffles and Four Seasons. The latter currently operates two properties in the country — the Four Seasons Resort Seychelles hotel and a private island retreat on Desroches Island — both of which regularly host visitors from North America. 
"The US traveler who comes to Seychelles is well traveled and appreciates the finer things in life, which is why our two properties are always popular," says Renan Astolpho, general manager of the Four Seasons Resort Seychelles. 
"The Four Seasons Resort Seychelles was established in 2009 and offers 76 luxurious villas, suites and private homes, each with a private infinity pool and stunning views of the Indian Ocean. It is located on the western coast of Mahé and offers the most mesmerizing sunsets plus access to one of the prettiest beaches in the world, Petite Anse. Meanwhile, our retreat on Desroches Island is a secluded paradise that has nearly 9 miles of private beaches and luxurious accommodation options that include homes and suites that all come with their own plunge pool or a full-sized pool, as well as direct beach access. It's the perfect place to come for a beach holiday and is great when combined with a safari holiday in Africa," concludes Astolpho.