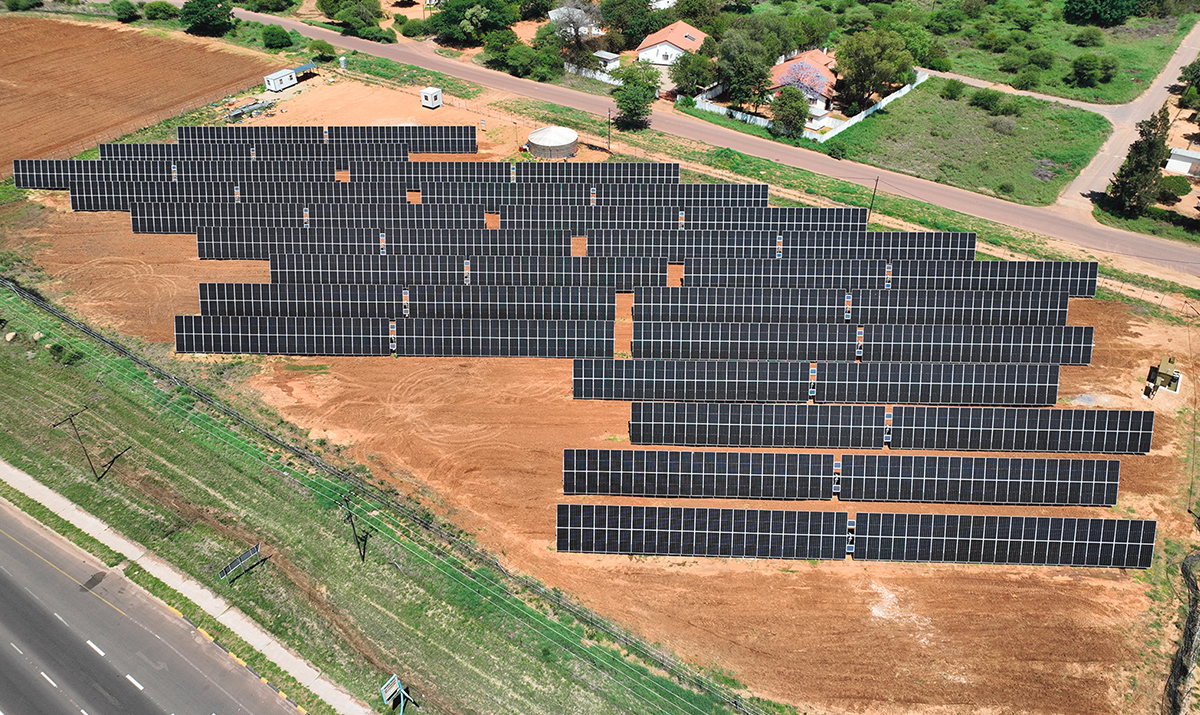 07 Nov

A commitment to deliver a greener future
The Ministry of Minerals and Energy reveal the many ways in which Botswana is embracing renewable energy sources

 
Much like South Africa, Zimbabwe and Zambia, Botswana has traditionally relied upon the use of coal in order to generate electricity. With no petroleum reserves, the country generates the bulk of its power from coal and sits on large reserves of around 200 billion tons. However, the southern African nation has recently shown considerable interest in renewable energy sources and has completed a comprehensive strategy that may attract investors in the wind, solar and biomass renewable energy industries. 
This comes after the International Renewable Energy Agency conducted an evaluation of the national energy sector in 2021 and found that Botswana could meet 15% of its energy needs in 2030 from its indigenous solar, wind and bioenergy resources. The country had already published an Integrated Renewable Energy Plan at the end of 2020 but introduced further revisions last year and has now committed to having renewable energy make up at least 30% of its energy mix by 2030, and 50% by 2036.
This has led to the government shifting its policies and making investment in solar and other renewable energy sources more appealing. The effects of these changes are already being felt with the country commissioning its first-ever utility-scale solar plant in 2022. In fact, solar could well become a leading source of energy in the future thanks to Botswana having more than 3,200 hours of sunshine per year, as well as some of the world's highest levels of direct normal irradiation. 
"Our national vision for 2036 sets a target of achieving a 50% penetration of renewables by that year and becoming a net exporter of electricity to the region," explains Lefoko Moagi, Minister of Minerals and Energy. "To support this vision, the National Energy Policy has been approved by parliament, with its overarching goal to ensure energy security and improve access to reliable and sufficient energy supply, fostering low-carbon and sustainable economic development in Botswana.
"We are committed to driving the development of 900 megawatts of new generation capacity by 2027 and this includes the addition of 200 megawatts of concentrated solar power, as well as various photovoltaic projects scheduled to come online between 2022 and 2025. 
"While we prioritize baseload generation, we recognize the need to address the emissions associated with our older coal plants. Therefore, we have recently refurbished these power stations and incorporated newer technologies to reduce emissions. These advancements will form part of our new generation coal capacity, alongside our ongoing efforts to improve emission controls.
"By combining a hybrid approach of fossil fuels and renewables, we believe we can facilitate a just transition without significant disruptions to our economy or the well-being of our people. It is essential for countries like Botswana to carefully manage the integration of renewables, considering the unique challenges that  we face. 
"We remain committed to improving emissions and advancing our energy infrastructure while also maintaining a balanced energy mix."
Attracting investment
In order to reach its renewable energy targets, the government recognized that the transition away from coal would need to be private-sector-led, with large-scale projects, in particular, requiring external financing. Fortunately, the country has a great deal of experience when it comes to attracting foreign investment, especially in the mining industry. 
Most recently, an online system was created to provide information for potential investors looking to explore prospecting activities throughout the country. This portal would also provide information on licences and the availability of unallocated areas to mine. 
"Our goal is to attract potential investors by providing them with valuable information and ensuring they are not left in the dark. Unlike countries with stringent legislation and environmental activism that hinder mineral exploitation, Botswana remains open for investment. While we have strict laws and a rigorous impact assessment process that considers both the environment and minerals, we strive to find the right balance. If the environment takes precedence, mining operations will not proceed in that area," states Moagi. 
"This approach creates opportunities for investors, not only in mining but also in the energy sector. Botswana has abundant solar radiation, making it favorable for renewable energy development. We are exploring solar and wind energy options to create a hybrid energy generation system. The availability of reliable power in specific mining areas is crucial as it reduces costs and supports mining investments. 
"To illustrate, we supported a copper mining project in the northwest of the country that initially faced high costs due to diesel-powered mining. As a government, we expedited the grid connection to the mine, resolving their power issues and improving cost-effectiveness."
The future of the energy sector
Botswana has already begun to explore the possibility of solar power and in September of last year, the state-owned Botswana Power Corporation awarded one of Norway's leading renewable energy firms, Scatec ACA, a contract to build a 50-megawatt solar plant. The country also invited bids last year from independent power producers to build another 200-megawatt solar plant which they hope to be functional by 2027.
Botswana also introduced a rooftop solar programme in 2020 that allows citizens and companies to generate their own power and sell any excess back to the grid. Now there is a growing hope that the country could even become an exporter of clean energy throughout Africa. 
"First and foremost, our priority is to ensure energy self-sufficiency in the country and even become a net exporter of energy to the region," says Moagi. "Energy is the lifeblood of our economy, enabling the functioning of industries, mines and businesses. Without sufficient energy, everything comes to a halt, as we have witnessed in neighboring countries. 
"To achieve this, we are accelerating the implementation of various energy projects. We have invited independent power producers
to participate, allowing them to quickly establish power generation facilities. We have
already awarded several solar and coal projects, recognizing their significance in powering our economy.
"Fuel is another critical aspect we focus on. As a land-linked country, we heavily rely on external refineries for fuel supply. To enhance fuel security, we are advancing the coal-to-liquids project to produce fuel domestically. Moreover, we establish alliances with other countries to ensure efficient fuel delivery through pipelines and alternative routes. 
"This approach not only impacts the economy but also supports other sectors such as agriculture. We recognize that farmers heavily rely on diesel, and by ensuring fuel sufficiency, we contribute to food security within the country. In addition to these key initiatives, we pursue various other projects, such as biodiesel and biogas, which reduce costs, promote sustainability and provide energy solutions for institutions, farms and remote areas. Our ministry is dedicated to advancing these initiatives to ensure Botswana's widespread access to energy, off-grid solutions, and associated benefits, ultimately improving the lives of our citizens."
Moagi and his ministry are also acutely aware of the need to consider the entire value chain when it comes to renewables, and not just the end product. 
He concludes: "Furthermore, it is crucial to recognize that every energy source has dependencies and impacts throughout its lifecycle. It is not as simple as saying, 'Here is a solar panel, use it'. We must understand the processes and resources involved in reaching that point."