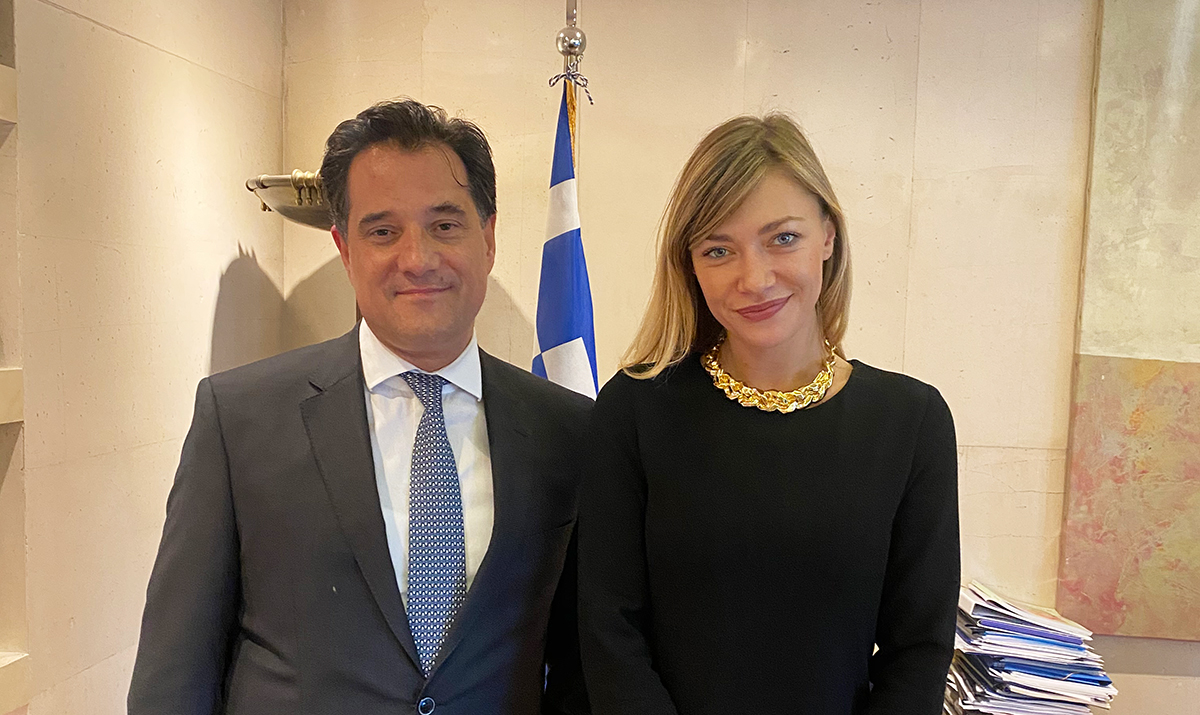 03 Feb

Interview with Mr. Adonis Georgiadis, Minister of Development and Investments, Greece

You recently attended the Capital Link investor forum in New York, where you delivered an inspiring keynote address, talking about the cultural shift that has been experienced in Greece by the people. Tell us a bit more about the transformation that is happening in Greece today and what your vision is for the new economic era the country has embarked on?

The main effort that I am undertaking this month, when I go abroad, is to promote and explain to the investors that now we have a totally new Greece. This is especially because the people have changed their opinion of certain things. Kyriakos Mitsotakis won the recent election with a total majority, not by saying irrational things and giving empty promises, but by being rational and logical. The last Prime Minister Tsipras was elected by promising to the people that he would stop the privatization program and give pension to the people. Mitsotakis was elected by saying that he will not give a pension and will accelerate the privatization program. Now, I am able to travel everywhere promoting this privatization program, give specific orders to accelerate the procedure and move as fast as possible. This is a major switch for the country. In the past, if a government said that it was planning to privatize something there would be strikes and demonstrations in response. Currently, every week we announce a new privatization but the people is happy about it.

Throughout your many conversations with international investors, both abroad but also at events here in Greece, how would you describe the current sentiment or perception of Greece as a lucrative investment destination?

The people following Greece are aware that a change has occurred. This is the reason that the interest in investment is much higher. There are many people now that have not realized yet that this change has taken place. We are trying to spread awareness. I am optimistic that 2020 will be an excellent year for foreign direct investment in Greece.

In addition to the recent upgrades announced by the leading credit rating agencies, the Athens Stock Exchange is one of the top performing worldwide, up 39% year-on-year, compared to the S&P 500's 28% gain. In terms of numbers, how are these achievements being translated into FDI entering Greece?

Greece's past performance in terms of FDI was not very good, especially because during the crisis it was difficult for someone to come and invest here. The bureaucracy and taxation here made matters worse. Now, as I have mentioned, everything has changed, and for 2020 we are very ambitious about foreign direct investment. We will likely be one of the big surprises of 2020 in the EU.

 

We must talk about Greece's flagship investment project – HELLENIKON – worth an estimated €8 billion and tapped to be Europe's largest urban redevelopment project. You have spoken largely about the Government's commitment to this project and how it is a priority for you. What is the current status of the project? What milestones can we expect to see accomplished in 2020?

In early 2020, you will be invited to participate in the opening ceremony of the construction in the field. Up to now we have submitted all of the required licenses, we are awaiting the result of the casino tender, and that will be decided in the next 30 days. Construction work will begin after that. The target was early 2020 and we are on track.

Last week's election in the UK has finally given some certainty to the country's future, with the reelected PM vowing to push Brexit through by the end of January 2020. What are the types of opportunities that this new paradigm will open for Greek-UK relations?

I was very sad to hear of the decision of the British people to exit the EU but I respect their decision. The UK has always been a friend of Greece, and I am sure that in the new environment we will find many ways to cooperate with each other, and some new opportunities will arise. I understand that the main goal of the people of the UK is to be in a more flexible situation and we will find ways to work together. I wish them success, and I want to congratulate Mr. Johnson on his victory.

Tell us a bit about your vision for Greece's investment landscape in the coming decade, both in terms of privatization, but also private sector-led initiatives. In your opinion, what are some of the most attractive opportunities in Greece today?

Today we had a Common Ministerial Committee meeting, which is in charge of approving big strategic investments. We approved two big investments in renewable energy. One is 300 million Euro and the other is 250 million Euro in solar power. They applied in August, we gave the licenses today, and they will start their business in 2020. It is not just about talk and interest but real projects and real money is coming to the country.

Tourism is another opportunity, as one of the traditional big markets in Greece, and it is doing very well. We are in a transformative period in the tourism industry because we are trying to improve our tourism projects in order to attract more high-income travelers. When I came here in July, there was a man from Russia with a hotel in Elounda, Crete, and he applied for a new investment in hotel and tourist houses in Elounda for half a billion. We calculated the timeline we would need to give the license, and we saw that it would take a year to a year and a half. My office worked very hard over the summer and today we were able to get the final approval for this project. The year and a half became less than six months. The real work will start shortly and that's another half billion going into the tourism industry. It is not just a matter of will; we deliver. The message I want to send to investors is this: if they decide to come to Greece now, they will find a government that is really ready to help them make their vision a reality.

You have recently tabled an amendment to the Golden Visa investments program, allowing a new channel to process these payments, specifically by use of credit cards. Do you think this measure will attract a new wave of UK investors in the post-Brexit Europe?

We made these adjustments because we had many clients from abroad, especially from countries that had capital controls, and we wanted to give them the option to pay this way for the Golden Visa program. Since we voted, a new wave of clients have come to Greece. It has helped us to increase the value of properties here in Athens.

 

As the new government wraps up its first 6 months in office, what are some of the highlights so far in terms of implementing your mandate to make Greece one of the most business-friendly economies in the EU? Tax cuts accomplished so far and in the pipeline for 2020?

The fact that we have political stability in the country is a big highlight. We have managed to quickly build a very good relationship with the lenders. We have managed to keep rates at the lowest they have ever been in the history of the Greek Republic. We have managed to reached new heights in terms of ratings, very quickly, since we have been able to stabilize the PPC and move forward with privatization efforts. We have managed to unblock many of the big projects and are ready to start them, and we have accelerated procedures and have minimized bureaucracy by half. We have shown the market that we really mean to transform our country into a very business friendly environment. These are all things that make us proud. Additionally, we are making an effort to normalize the universities and limit riots in the center of Athens.

I'd like to invite you now to make some concluding remarks and share a powerful and insightful message about Greece with the readers of The Guardian.

First of all, since the Brexit decision is finalized, I wish success to the British people and I want to invite them to find common ways to cooperate with us in the future, even better ways than those we have had before. I understand that this was a difficult decision, but since it has been made, we will do whatever it takes to make it work.